Winter doesn't officially arrive until December 21st.  However,
meteorological winter
begins December 1st.  Meteorologists typically define winter as December, January, and February.  These are the three months with the lowest average temperatures.  And right on cue, some very cold air is set to invade the continental U.S. in early December. Beginning on Monday, the jetstream will sag to the south, allowing very cold air to plunge into the northern two thirds of the U.S.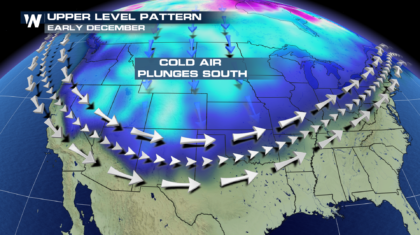 Check out the high temps on Monday.  20's and 30's will filter all the down into Oklahoma.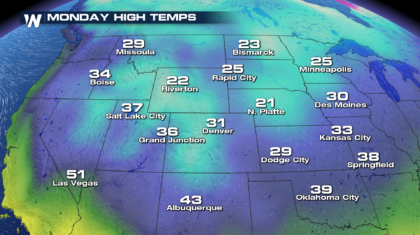 Temperatures from Missoula, down to Las Vegas, and over to Kansas City will all be well below average for this time of year.  North Platte's Monday high of 21 degrees will be 22 degrees below average!  Now that's cold.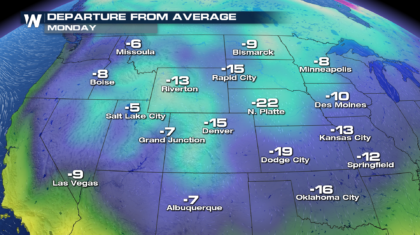 Things are not going to be much warmer on Tuesday.  Temperatures will stay very chilly, as the cold air is locked into place across the country.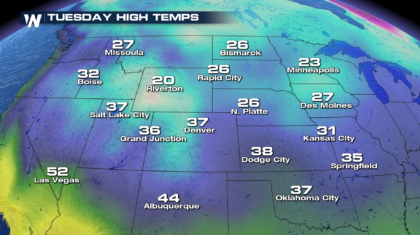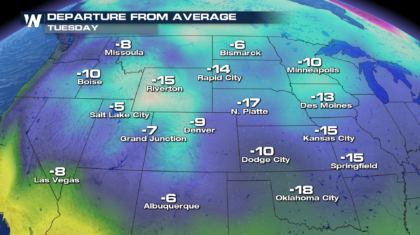 In fact, the cold air will stay in place through at least December 8th.  Look at the dark blue shaded area.  Cities like Omaha, Des Moines, Kansas City, and Pierre, will stay well below average!  And just about the entire country will have temps below average.  It's a big time cool down for the U.S.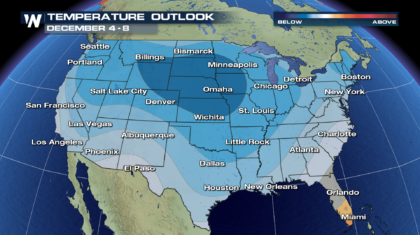 To illustrate the point further, look at the temperature profile for St. Louis over the next several days.  Upper 60's on Saturday, will drop to the mid 30's for high temps on Tuesday and Wednesday.  That's a 35 degree drop in just a few short days.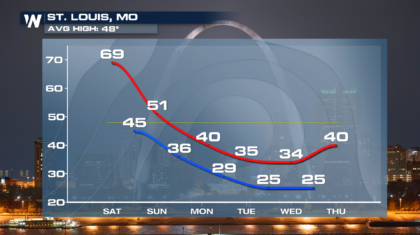 Oklahoma City will also see sharp temperature drops.  From a high of 63 degrees on Saturday, down to a high of 37 degrees on Tuesday.  That's certainly going from fall to winter in a hurry!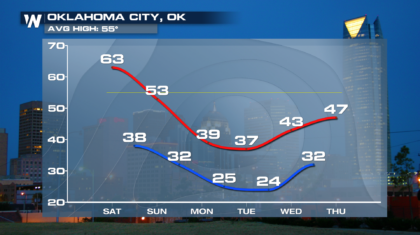 So if you haven't already, break out your winter gear.  Most of us are certainly going to need it over the next week or two.  And for the latest weather information, tune into WeatherNation on the Dish Network, Roku, Amazon Fire TV, and Apple TV. For WeatherNation:  Meteorologist Matt Monroe