We have been telling you for days now about the risk of severe weather across the Plains from Sunday to Wednesday. Let's take that forecast to the next level to what we should be doing right now. Follow and remember these four steps:
Monitor the forecast for your area
Have a plan in place
Know where to go
Prepare any essentials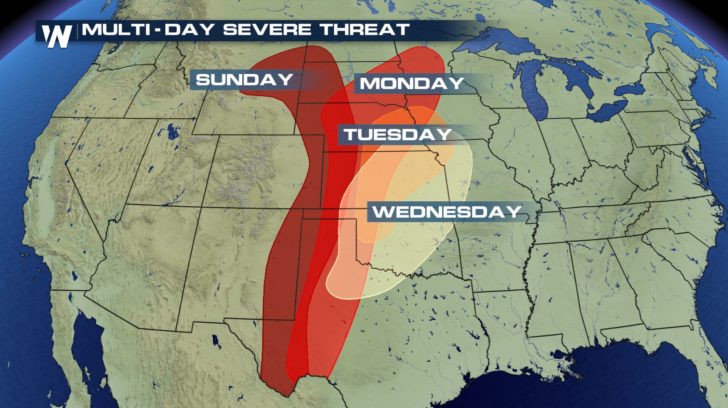 Once again, this is the area where we are watching for severe thunderstorms between Sunday and Wednesday (the 29th to 2nd). We have written extensively about the expectations, locations, and timing
with Meteorologist Nick Merianos's story here
.
Step One: Monitor the forecast
As we get closer to each day, we will have more detail on the forecast and what to expect. Since we are depending on weather models, the models can change from update to update. That said, there may be subtle shifts in where and when severe weather will be more likely. As long as you check in on the forecast at least a few times each day, you will know what to expect.
Step Two: Have a plan in place
Let's say you're at work Monday, or have softball practice outside Tuesday, or plan to take a road trip Wednesday. It's smartest to have a plan of 'what would I do if a storm is coming my way when I'm at work, at home, etc.' If you have a plan ready, it's much easier to execute if you only have a few minutes to take action
Step Three: Know where to go
Taking step two a bit further, knowing where to go is vitally important. If you're in a house and a storm is coming, you'll want to get to the lowest, most-interior-section of the home, away from windows and preferably a cellar or underground shelter. Mobile homes are never a safe place because they sustain the most damage (regarding structures) within these storms. So if there is time and it's safe to do so, leave the mobile home and go to a secure structure. If driving, drive away from the storm. If you must leave your car, lie flat in a low area or ditch and cover your head. We can go on for various situations but it's best to know where the safest structure is near you.
Step Four: Prepare any essentials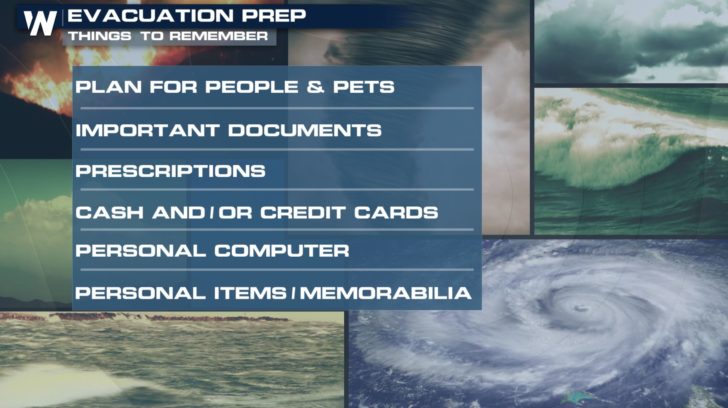 This can be applied to any natural disaster, whether it be tornadoes, hurricanes, earthquakes, fires, etc. Having your most important personal belongings gathered together is best so you can pick them up and rush out to your safe place quickly. Having storm supplies is great too. This would include bottled water, non-perishable food, battery chargers, a generator with fuel, etc. These are essential because you may not know the next time you'll end up needing them. It's always best to be
prepared
for the storm and more
proactive
rather than
reactive
. On the day of the storms (for your area) you'll want to monitor the forecast and conditions around you even more than before. Know the difference between a weather WATCH and a weather WARNING.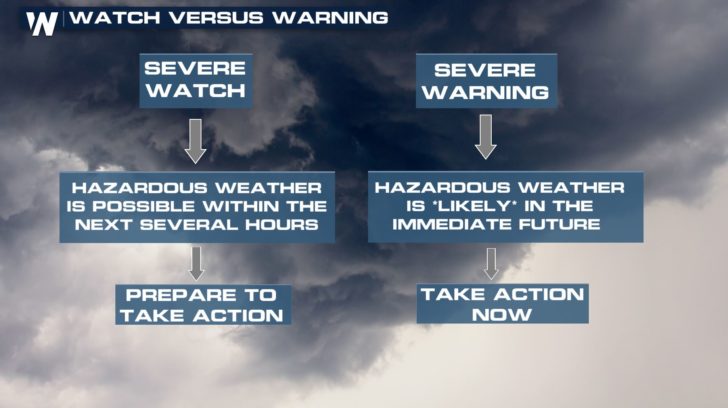 We wish you a safe few days ahead and thank you for reading, For WeatherNation, Meteorologist Steve Glazier