Believe it or not, winter weather is headed to the mountains of California in late May!! A Winter Weather Advisory is in effect for portions of the Sierra Nevada Mountains from 5AM Friday morning, until 5AM Saturday morning.  This advisory is for elevations at or above 8,000 feet.  One to three inches of snow are expected, with localized amounts up to 6 inches.  While this isn't exactly a huge dumping of snow, keep in mind, it's almost June!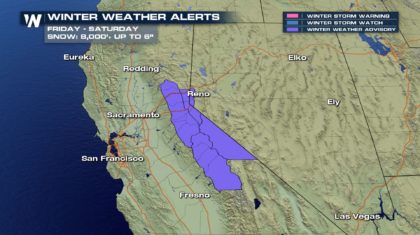 The snow could affect travel over Donner Pass near Truckee, California.  This would impact heavy holiday traffic on Interstate 80.  Snowfall is also expected in Yosemite National Park.  However, the elevation of Yosemite Valley, where most visitor activities are located, only has an elevation of 4,000 feet, and will most likely not see snow.  However, Tioga Road is open at the moment, but has an elevation of 9,943 feet at pass level.  So travel may be hazardous and closures are possible with this latest round of snowfall. The following areas could all be affected by the snowfall: Sierra Nevada high country from Yosemite to Kings Canyon.  This includes Tuolumne Meadows and near Tioga Pass. Mt Rose, Carson, Ebbetts, and Sonora passes, along with high elevation hiking trails around the Lake Tahoe area, Alpine County, and Mono County. A Winter Weather Advisory for snow means that periods of snow will cause primarily travel difficulties.  Be prepared for snow covered roads and limited visibilities, and use caution while driving. The latest road conditions can be obtained by calling 5 1 1.  If you are camping or hiking in that area be prepared for snowy conditions.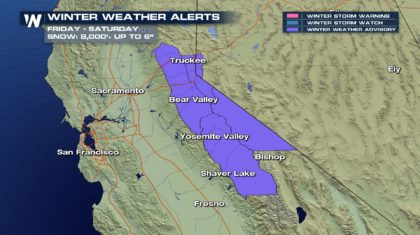 The weather set-up is perfect for a bit of late season snow.  Low pressure in northern Nevada will spin cold air and some moisture up and over the Sierra Nevada Mountains.  Snow will begin very early Friday morning.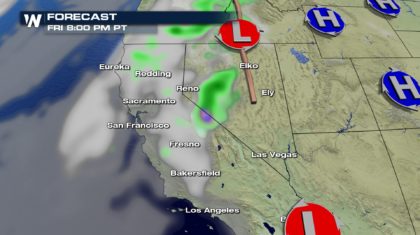 The snow should clear out quickly.  By sunrise Saturday morning, the event should be over.  What's left behind, will be the majestic Sierra Nevada high country, covered in a fresh blanket of springtime snow.  It will be a photographers paradise.  Travel safely, and enjoy the magnificent scenery. For WeatherNation:  Meteorologist Matt Monroe