For skiers in Colorado, this winter has been a dream, with countless storms dropping fresh powder on a regular basis.  But for others, the over-abundance of snow has been more of a nightmare.  Avalanches have been happening across the state, and the number and size of these slides have been historic.  It's being called a once in 30 or 40 year event.  Roads have been shut down, cars buried, utility infrastructure damaged, and unfortunately, lives lost, all due to the slides. On average, about 2,500 avalanches happen each year in Colorado.  And on average, 6 people die in avalanches in Colorado every year.  Both of those numbers have already been eclipsed, and we are not done yet.  March and early April are often busy when it comes to snow.  Sadly, 8 people have lost their lives so far this year.  The latest fatality came over the weekend, in Crested Butte, when two people were clearing snow off a roof.  The snow avalanched off the roof, carrying the people with the slide and burying them.  One of the workers was rescued.  The other did not survive. But why so many deadly and destructive avalanches this year?  Answer... a seemingly endless cycle of storms.  The winter storms have been coming into Colorado about three or four days apart.  A typical storm drops a foot of snow.  Then, a layer of ice forms on top of the snow.  A few days later, another storm comes in and drops another foot of snow.  This has been happening over and over, creating alternating layers of snow and ice.  This combination of snow and ice is incredibly unstable, and when the weight reaches a certain point, the whole mass starts to slide downhill, forming an avalanche.
The last ten days have been incredibly active, with nearly 300 avalanches.  And some of the slides have been particularly large and strong.  A recent avalanche in Aspen was nearly a mile wide, and dropped over 3,000 vertical feet.  It destroyed thousands of mature trees.  Other slides are reaching roads that have never been hit, like highway 91, near Copper Mountain, Colorado. The Colorado Avalanche Information Center issues avalanche forecast maps throughout winter.  Over the weekend, parts of Colorado were under the highest category for avalanche danger, "Extreme", or "Category 5".  The center rarely issues warnings for this threat level.  Since then, (at the time of this article on Monday), the avalanche forecast has dropped into the "Moderate" and "Considerable" risk levels.  This is still cause for a great deal of concern.  However, the next storm is already on the way!  So threat levels are likely to rise again this week.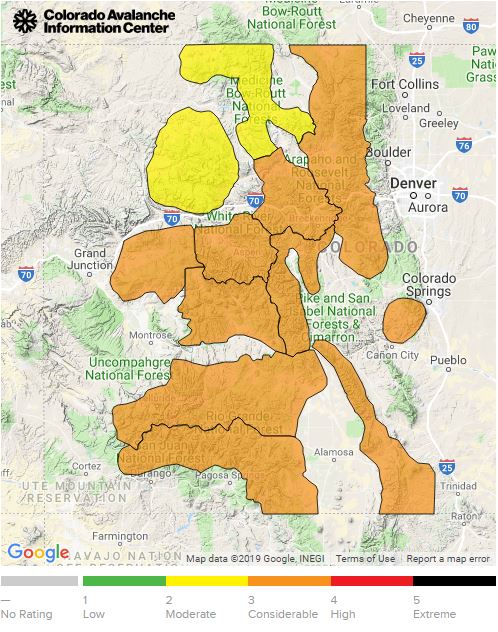 NEXT STORM:
A storm will approach from the southwest, and spread heavy snow across Colorado.  Snow will begin Tuesday night, continue through the day on Wednesday, and end early Thursday morning.  Snow will be very heavy in the mountains.  10 to 20 inches of snow could fall in the Rockies.  Winter Storm Warnings are in effect for the pink shaded areas.  Even cities along the Front Range will see substantial snow.  Fort Collins, Denver, and Colorado Springs are all under Winter Storm Watches as of Monday.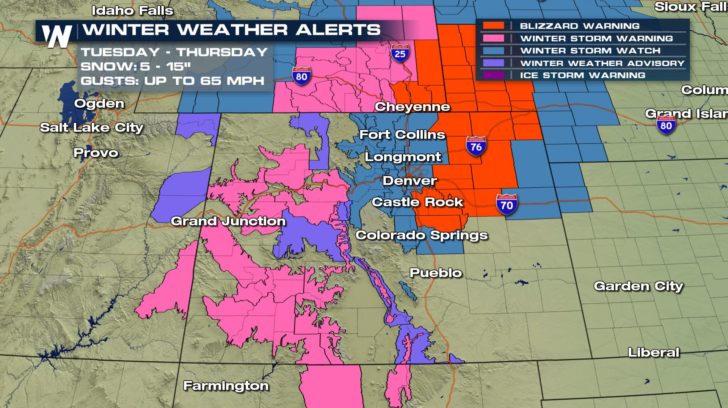 The highest snowfall totals will likely be found in the purple and pink areas, in the high country of Colorado.  The storm will add another layer of heavy snow, making the existing snowpack even more unstable.  More avalanches are almost certain to follow in the wake of this next big winter storm.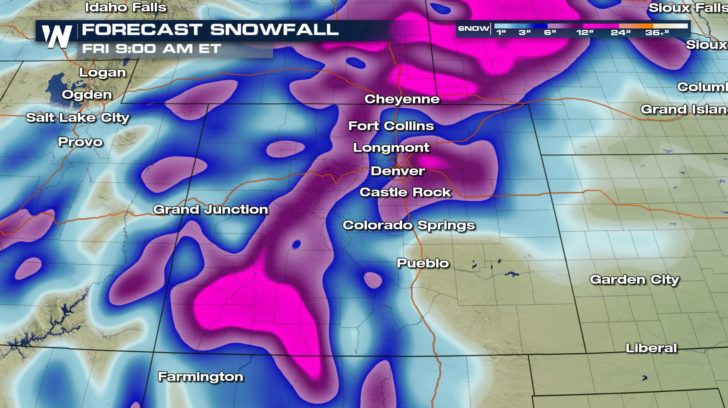 With the enormous popularity of winter sports in Colorado, avalanches pose a risk to skiers, snowboarders, hikers and snowmobilers.  Anyone who travels into the high country in the winter should be prepared for avalanches and know how to avoid them.  And with some of the slides reaching roads and highways, even drivers should have a keen knowledge of avalanche safety.
KEY AVALANCHE NOTES:
It's important to recognize where and when the slides are most likely to occur. Most avalanches happen during or just after a snowstorm.  By waiting 36 hours after a big snowstorm you may allow the snow to become more stable. And most occur on a slope of 30 to 45 degrees.
AVALANCHE SAFETY:
When you're in the mountains during avalanche season, there are many things you can do to stay safe.
 Stay in valleys, away from avalanche chutes, in stands of dense trees, or on gentle slopes.
 If you are skiing or snowboarding at a commercial ski area, do not stray out of bounds. Ski areas work to reduce the danger from avalanches within their bounded terrain, but out of bounds, a serious avalanche risk may exist. Minimize your risk by staying in bounds.
Check the current avalanche forecast to get information on current and forecast avalanche conditions. Also check the latest weather forecast to see if conditions are likely to change while you are in the backcountry.
Never travel alone. Always have one or more companions. Even small avalanches can be fatal. If you are alone and get trapped, you may not be found until spring.
If crossing a slope that may be prone to avalanches, do it one person at a time. You want to minimize the impact on your party if an avalanche is accidentally released.
In avalanche country, all members of your party should carry avalanche rescue equipment including an avalanche beacon, shovel, and probe pole. This increases your chances of a successful rescue and finding your friends alive.
Avalanche conditions and forecasts in Colorado are provided by the Colorado Avalanche Information Center (CAIC).  You can get more information on avalanches and avalanche safety from CAIC at 303-499-9650 or 
https://avalanche.state.co.us
.
For WeatherNation:  Meteorologist Matt Monroe