[A heat wave and smog shown by the shoreline in Chicago. From iStock via NOAA]
From
NOAA
After a cold April in many areas, in May the U.S. sizzled with record warmth. It also had drenching rains in the East, with lingering drought conditions in the Southwest and Great Plains. Let's see how May 2018 and spring fared in terms of the climate record:
May 2018 The average May temperature across the contiguous U.S. was 65.4 degrees F, 5.2 degrees above average, making it the warmest May in the 124-year record, according to scientists at NOAA's National Centers for Environmental Information.  This surpassed the previous record of 64.7°F set in 1934, during the dust bowl era. There were more than 8,590 daily warm station records broken, or tied, in May.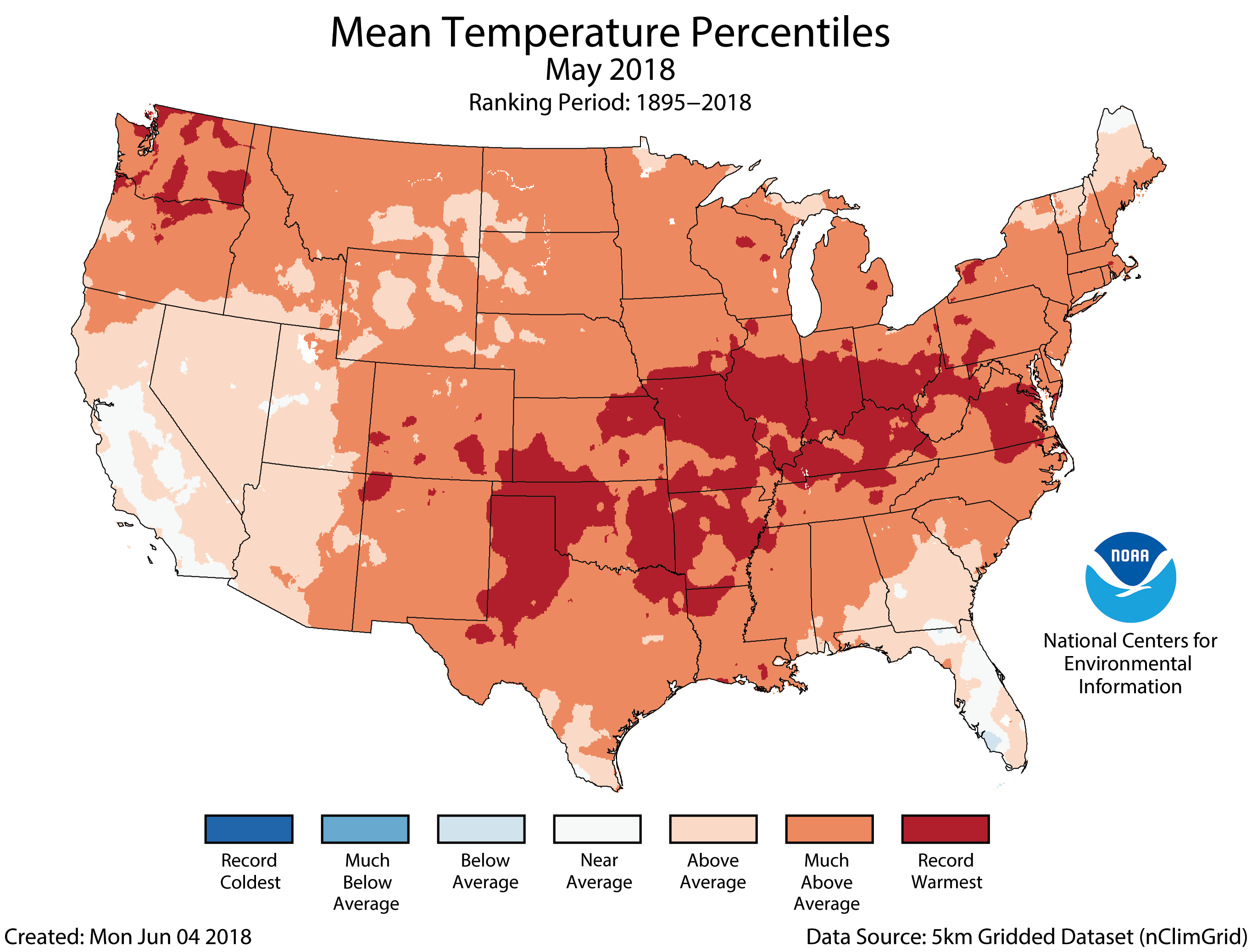 The average precipitation for May was 2.97 inches (0.06 inch above average), which ranked near the middle of the record books. Two weather systems, including  Subtropical Storm Alberto, helped bring record and near-record rain across the Southeast and Mid-Atlantic. Meanwhile, more than a quarter of the contiguous U.S. remained in drought.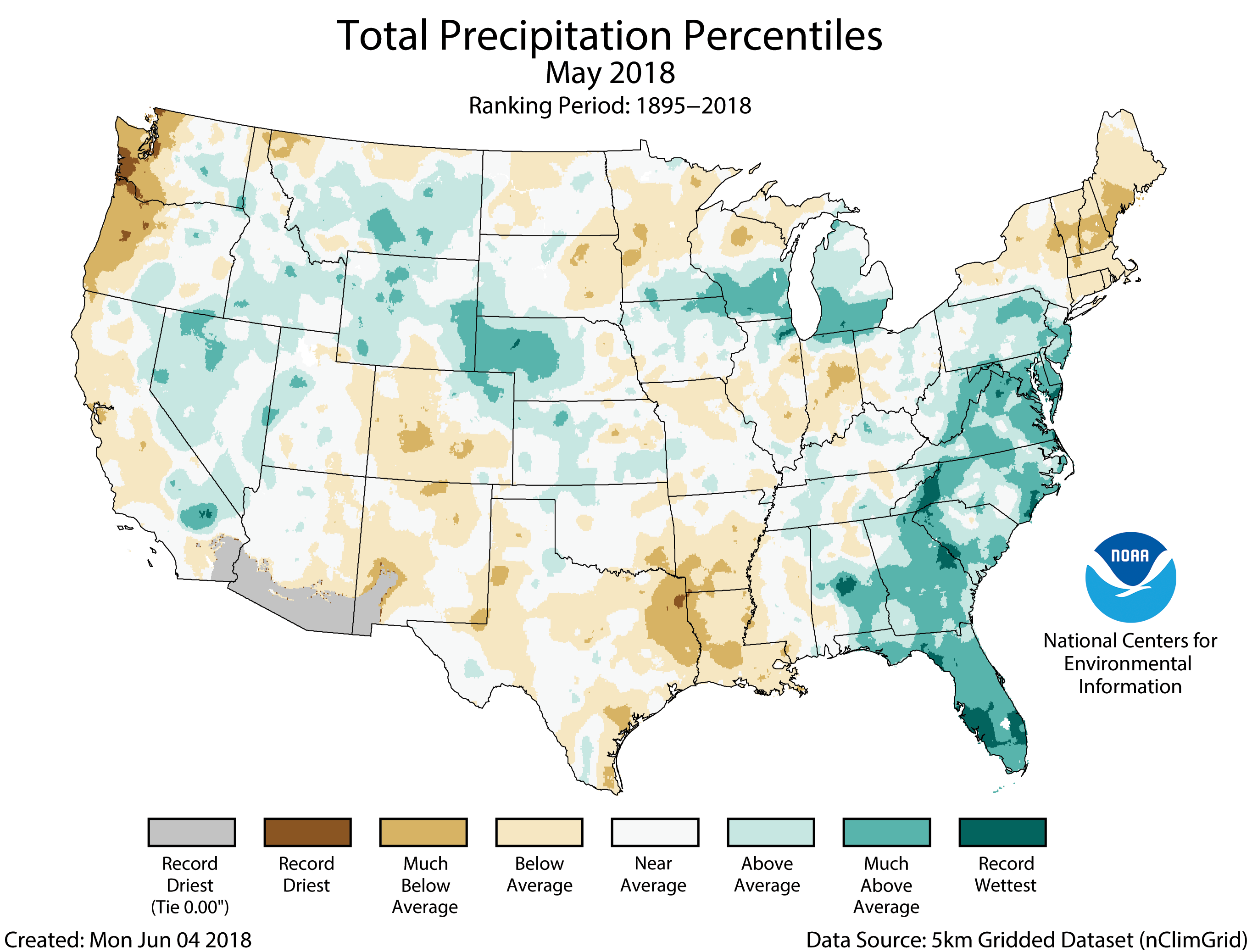 Year to Date I Meteorological Spring (March – May) The average U.S. temperature for the year to date (January through May) was 45 degrees F, 1.6 degrees above normal and the 21st warmest on record. The average temperature for the contiguous U.S. during Meteorological Spring (March through May) was 52.4 degrees, 1.5 degrees above average and ranked as the 22nd warmest on record.
The average precipitation for the year to date was 12.66 inches, 0.27 inch above average. For the Meteorological Spring, the average precipitation was 7.91 inches, which ranked near average.
Other notable climate events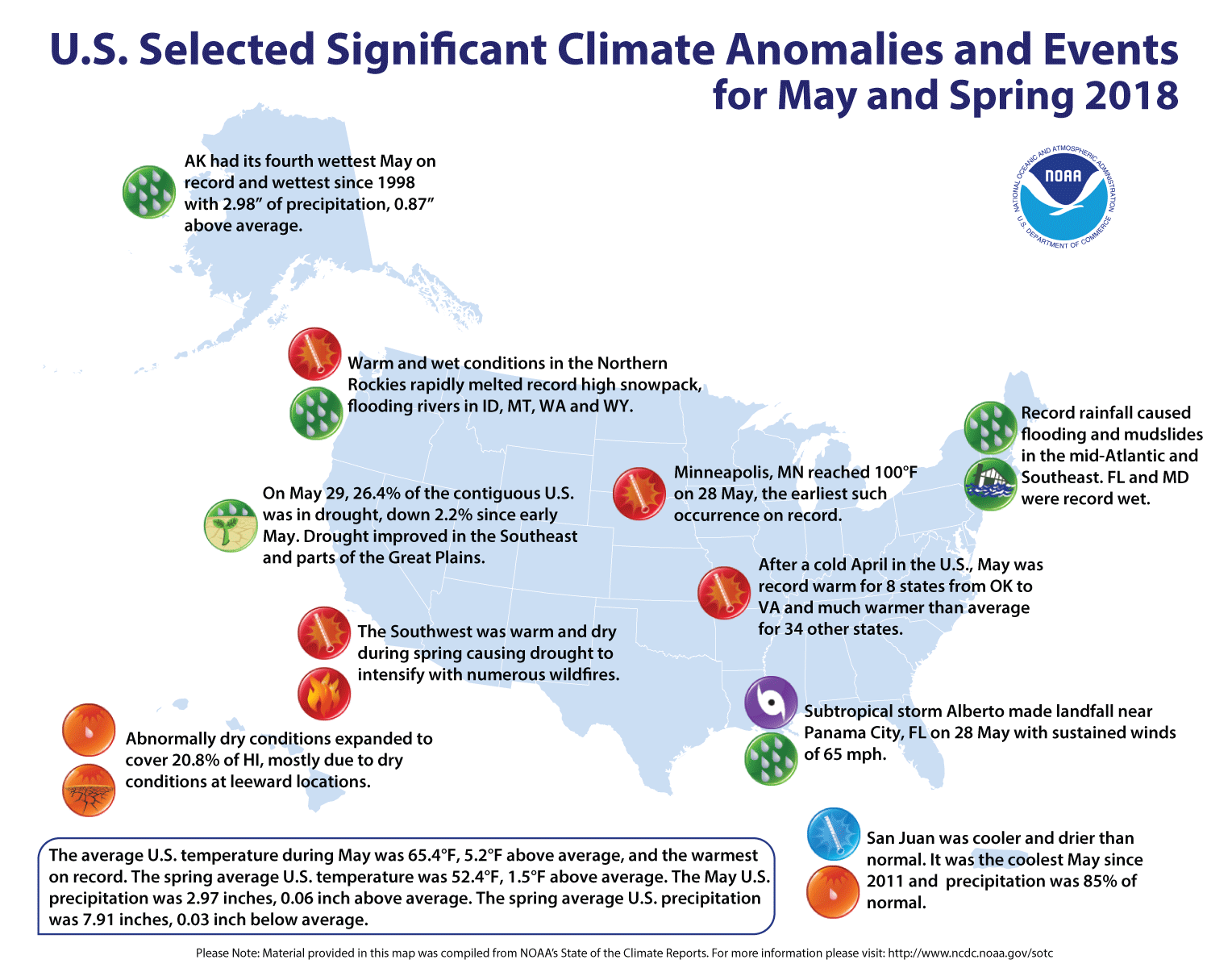 Subtropical Storm Alberto: Three days before the official start of hurricane season, Alberto made landfall along the panhandle of Florida, packing 65 mph winds and bringing torrential rain to parts of the South.

Soggy Conditions: Record rainfall triggered floods and mudslides in the Mid-Atlantic and Southeast regions. Florida and Maryland saw record-wet conditions.

Temperature spike: Record warmth was observed in parts of the Northwest and stretching from the Southern Plains through the Midwest and into the Mid-Atlantic. On May 28, Minneapolis, Minn., hit 100 degrees F – the earliest on record it got that hot.

Cool, dry Puerto Rico: San Juan was cooler and drier than normal. It was the coolest May since 2011 and precipitation was 85 percent of normal.

Coastal high tide flooding increased last year: An update to NOAA's annual State of high tide flooding and outlook found that the Southeastern U.S. is currently experiencing the fastest rate of increase in annual high tide flood days, with more than a 150 percent increase since 2000 predicted for the coming year (May 2018 - April 2019) at most locations.
Edited for WeatherNation by Meteorologist Mace Michaels