In the southern Hemisphere, Cyclone "Freddy" is the equivalent of a CAT 2 hurricane yet again, after a full 31 days after the storm developed off the coast of Australia. Freddy developed off the coast of Indonesia on February 5 according to NOAA. The storm has traveled over 5,000 miles and is now one of the longest lasting cyclone ever on Earth, tying Typhoon John in the Pacific Ocean from 1994 which survived 31 days. With further strengthening anticipated in the next few days, the storm will likely surpass Typhoon John's record. Additionally the storm is the strongest by measure of accumulated cyclone energy (ACE) in the southern Hemisphere, and second only to cyclone Ioke in 2006.
The storm is now in the Mozambique channel after meandering the area for multiple days and bringing deadly impacts to the southern half of Africa. It made landfall as the equivalent of a CAT 3 hurricane in Madagascar on February 22. Freddy is lashing the countries with heavy rainfall and winds, as it intensifies yet again over the open waters. According to the Joint Typhoon Warning Center, "Freddy is forecast to continue Northwestward under the steering influence of a building str to the southwest. currently in a favorable environment characterized by warm sea surface temperatures, good outflow aloft and low vertical wind shear, TC 11S [Freddy] is forecast to continue its intensification trend as it progresses into the Mozambique channel".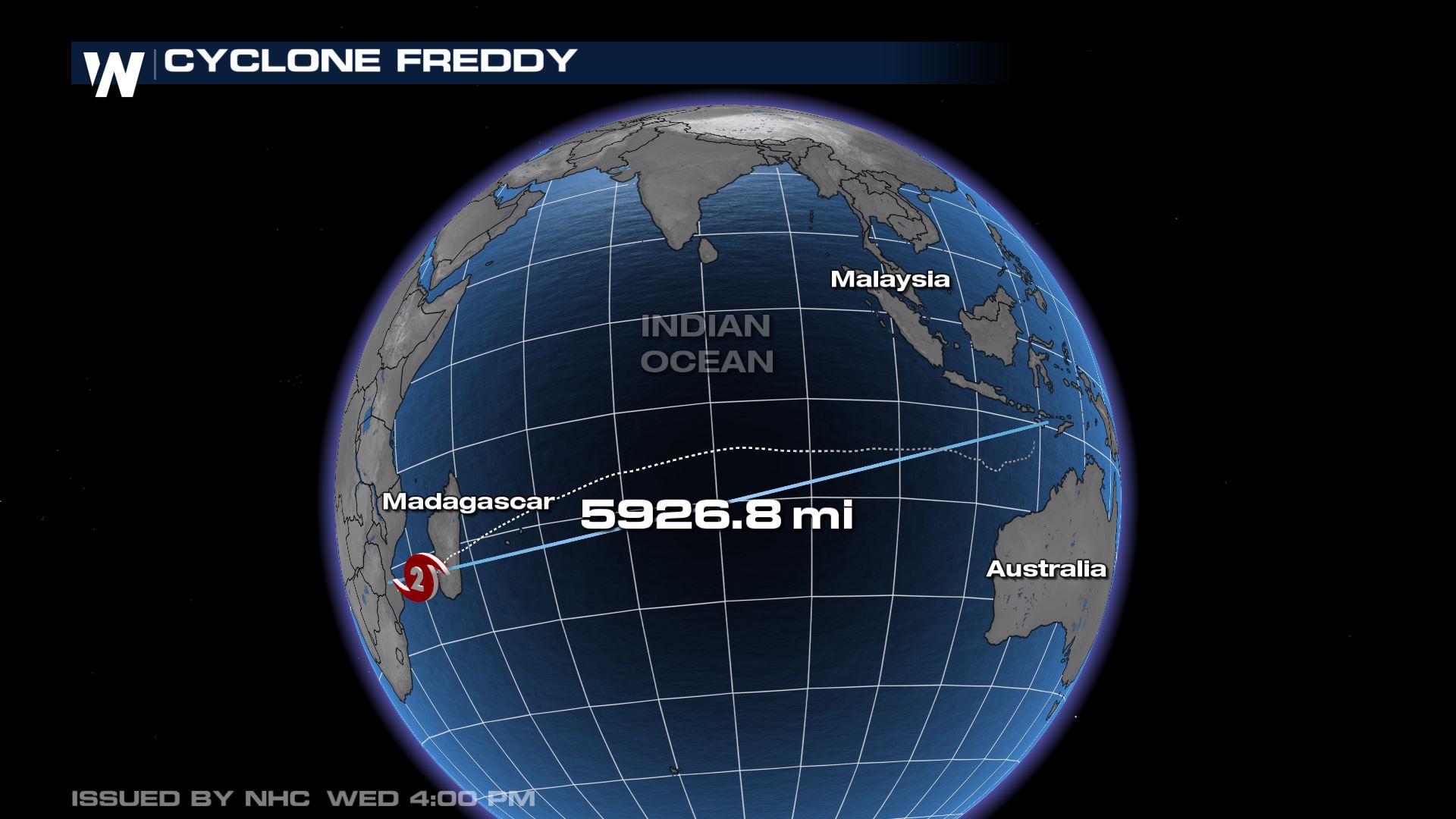 Freddy reached the equivalent of CAT 5 Hurricane strength in the southern Indian Ocean before weakening to a CAT 3 and slamming into Madagascar. It is only one of four storms to travel the entire length of the Indian Ocean, and the first in over 20 years. During the journey, Cyclone Freddy rapidly intensified 4 times, meaning an increase of 30 kts (35 mph) in 24 hours. This is a sign of extreme strength of a storm.
Atlantic Hurricane Season is less than 3 months away - stay with WeatherNation for the latest on storms that will impact the U.S..