The western United States are moving in a direction far less desired; a worsening drought with very little light at the end of the tunnel.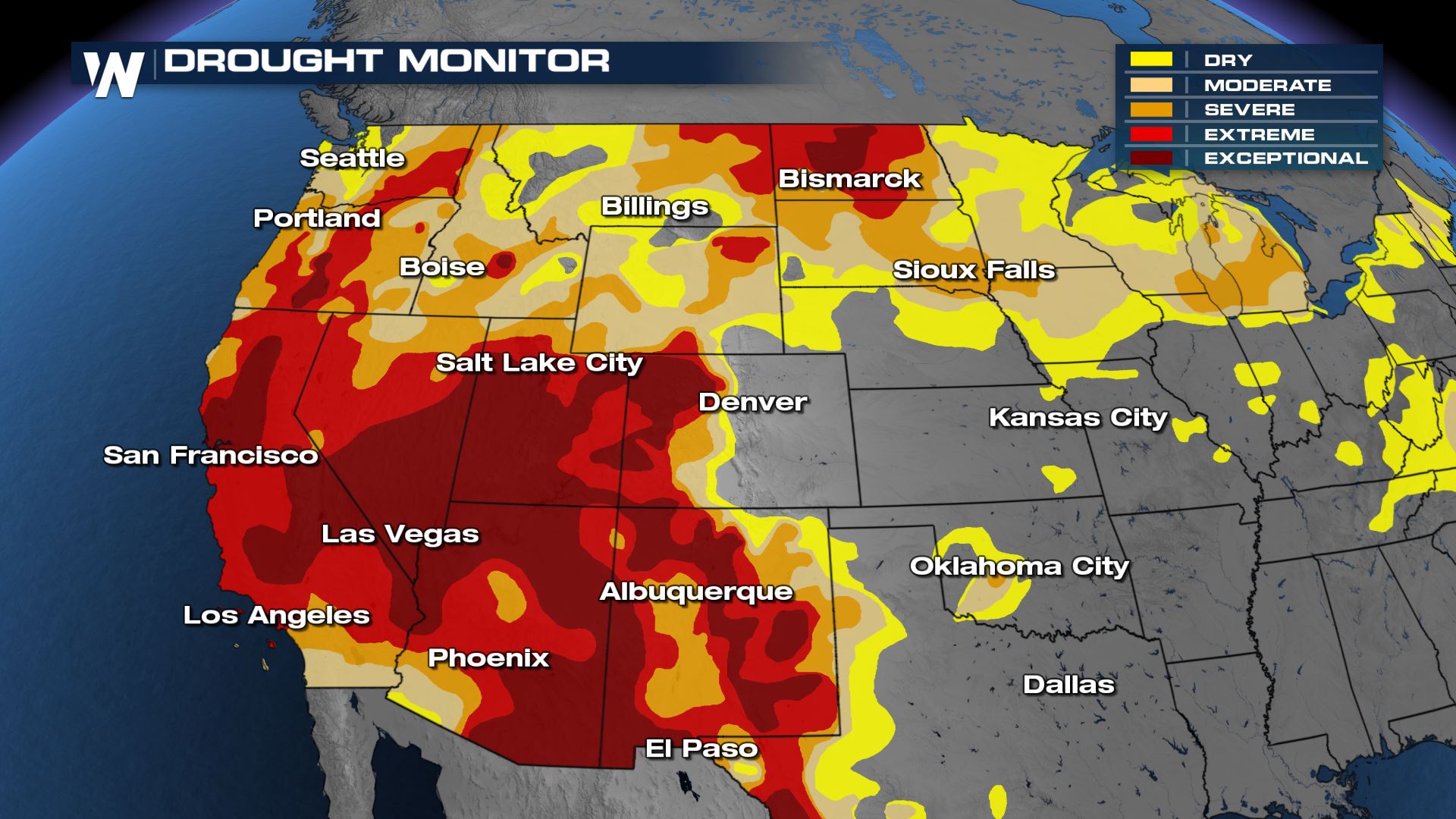 The Drought Monitor across the western United States as of Thursday, June 10. The Drought Monitor follows the short and long-term impacts from ongoing drought across the United States, its territories, and North America. It is a partnership between the National Drought Mitigation Center (NDMC) at the University of Nebraska-Lincoln, along with the National Oceanic and Atmospheric Administration (NOAA) and the United States Department of Agriculture (USDA). We show you these blobs of yellow to maroon colors all the time, but what do they mean? Yellow represents Abnormally Dry conditions, beige is Moderate Drought, orange is Severe Drought, red is Extreme Drought, and maroon is Exceptional Drought.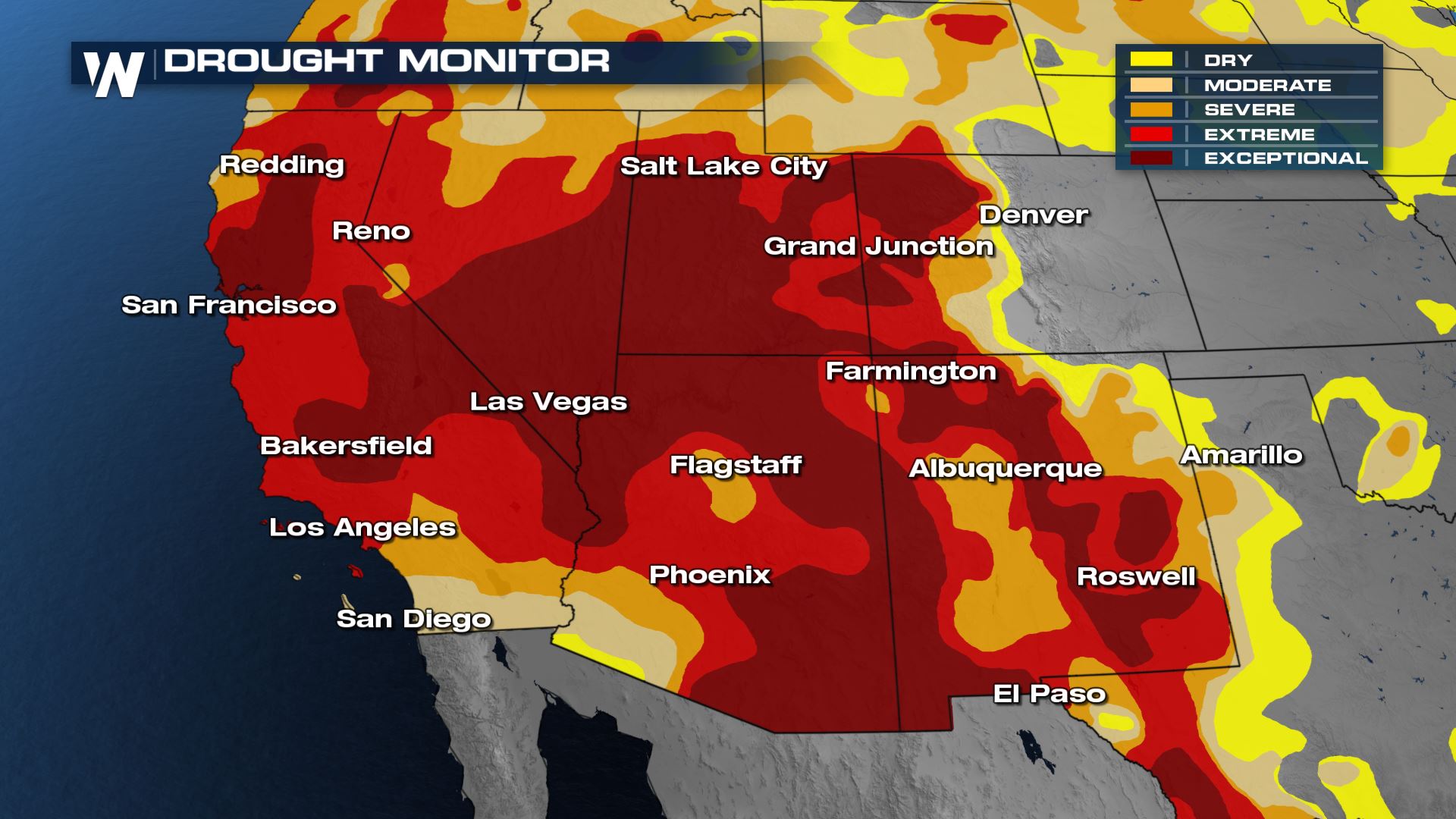 The Southwest United States are in the poorest of drought conditions, from a regional perspective. Several adjacent states all share the same story of Moderate to Exceptional drought, with perhaps Utah, Nevada, and California experiencing the worst of the worst.
Related Story: Dangerous Heat Continues Through The Weekend
This past winter of 2020-2021 was very dry for many spots, plus that season followed a lackluster monsoon season of 2020 when the Desert Southwest usually gets the summer thunderstorms. Now heading into the hottest time of the year (typically July and August) the dry conditions will bring dangerous wildfire conditions.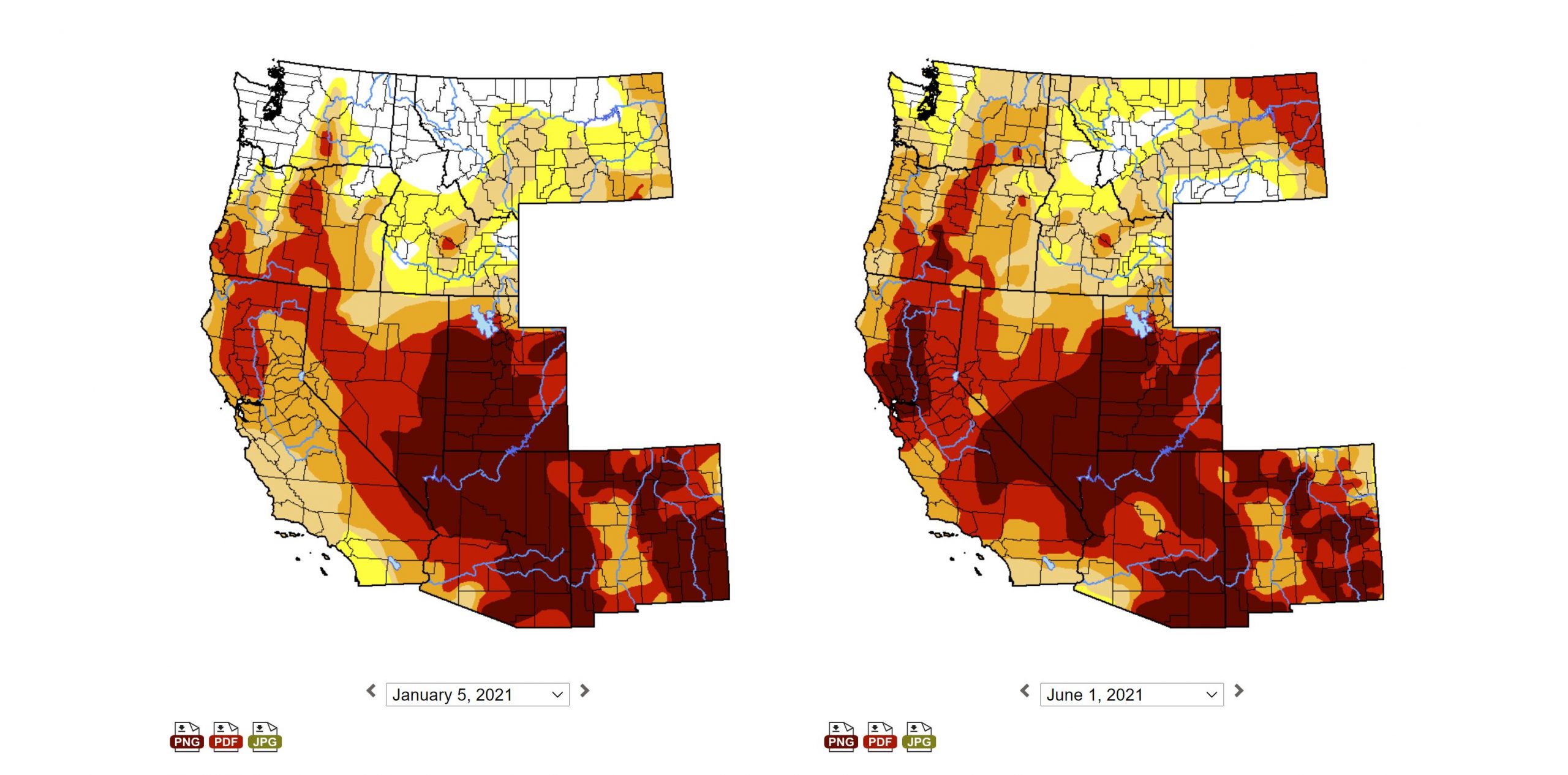 A comparison of the Drought Monitor from the beginning of the year (2021) left and June 10, 2021 (right). Since the beginning of the year, each drought category (from Abnormally Dry to Exceptional) has increased across the West. States with the worst increase in drought are California, Nevada, Utah, Arizona, and Oregon.
Related Story: Fires Continue To Burn In The Southwest
As a result, water conservations efforts are underway in many cities and communities and burn bans are going into effect left and right. We're entering the (typically) hottest and driest part of the year for many in the Southwest, until the monsoonal rains kick in (usually closer to August).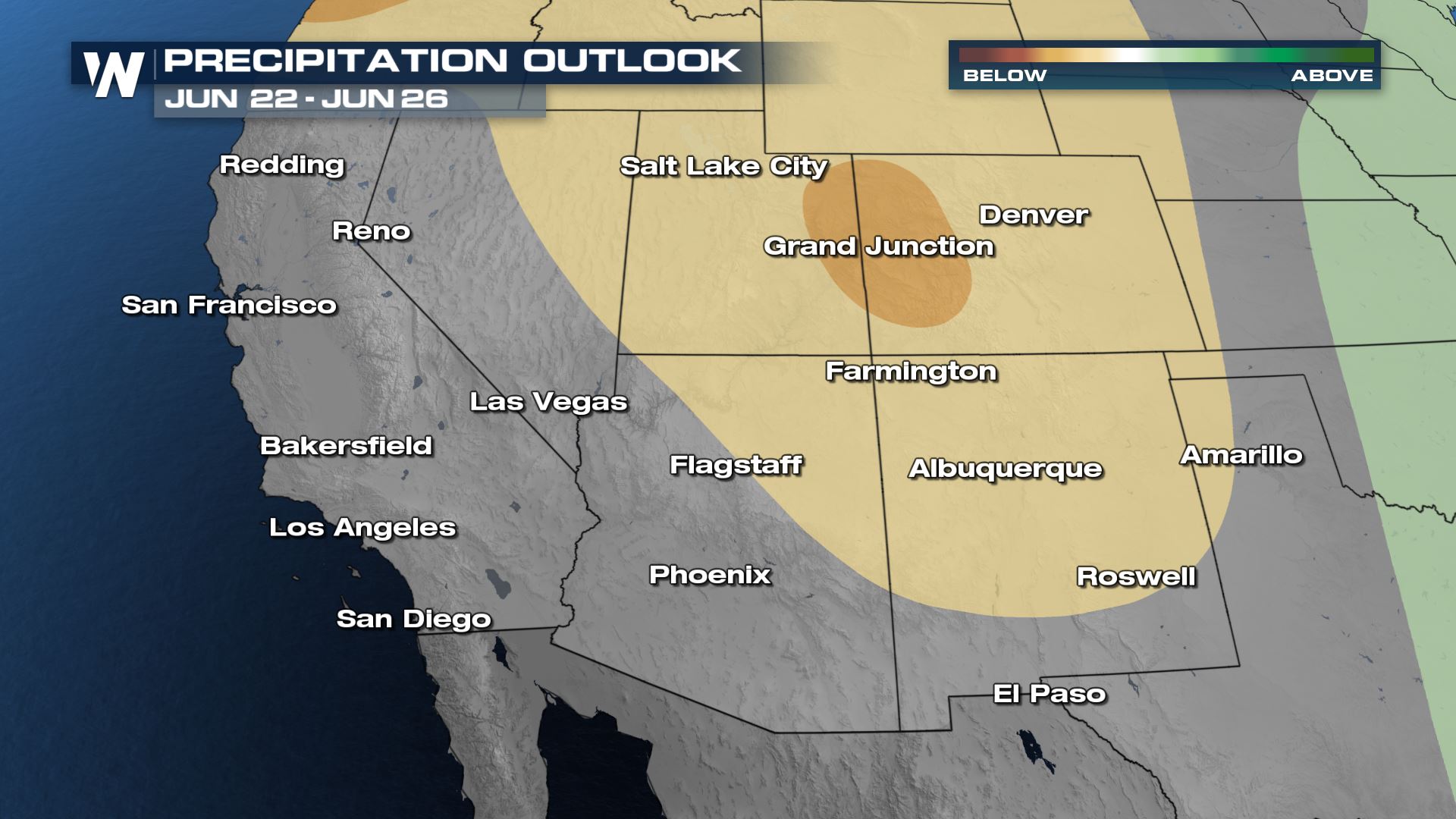 The precipitation outlook from June 22-26, 2021 where beige/brown areas show where it will likely be drier-than-average.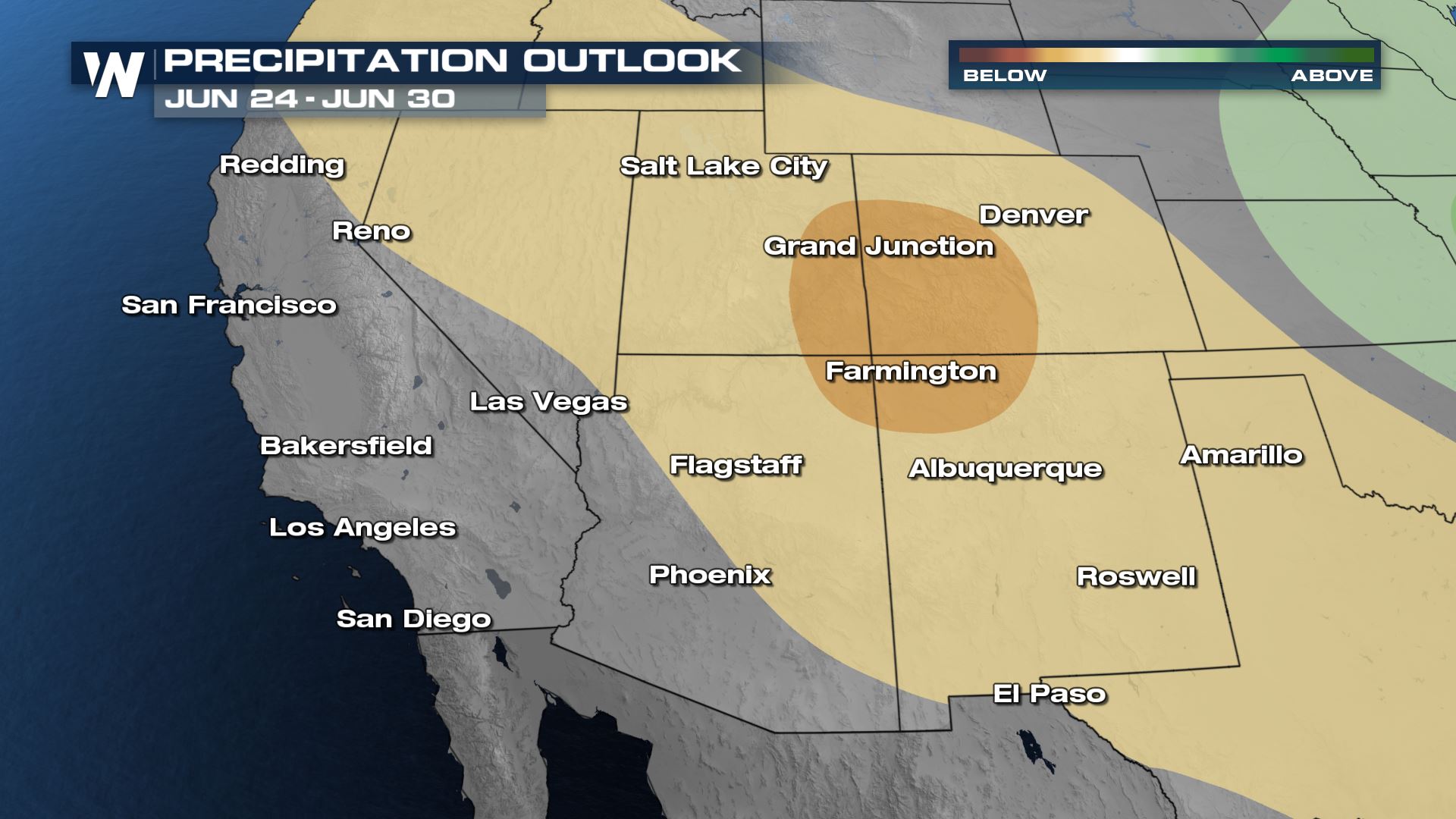 The precipitation outlook from June 24-30, 2021 where beige/brown areas show where it will likely be drier-than-average. The precipitation outlook through the end of June 2021 continues to show a likely chance of drier-than-average precipitation for the drought-stricken areas in the West. The next Drought Monitor update will be released Thursday morning, the 17th of June, and we'll update this story with the latest headlines/changes within the past week.