New data released this week from USANPN (USA's National Phenology Network) shows that parts of the southeastern United States are greening up far ahead of schedule.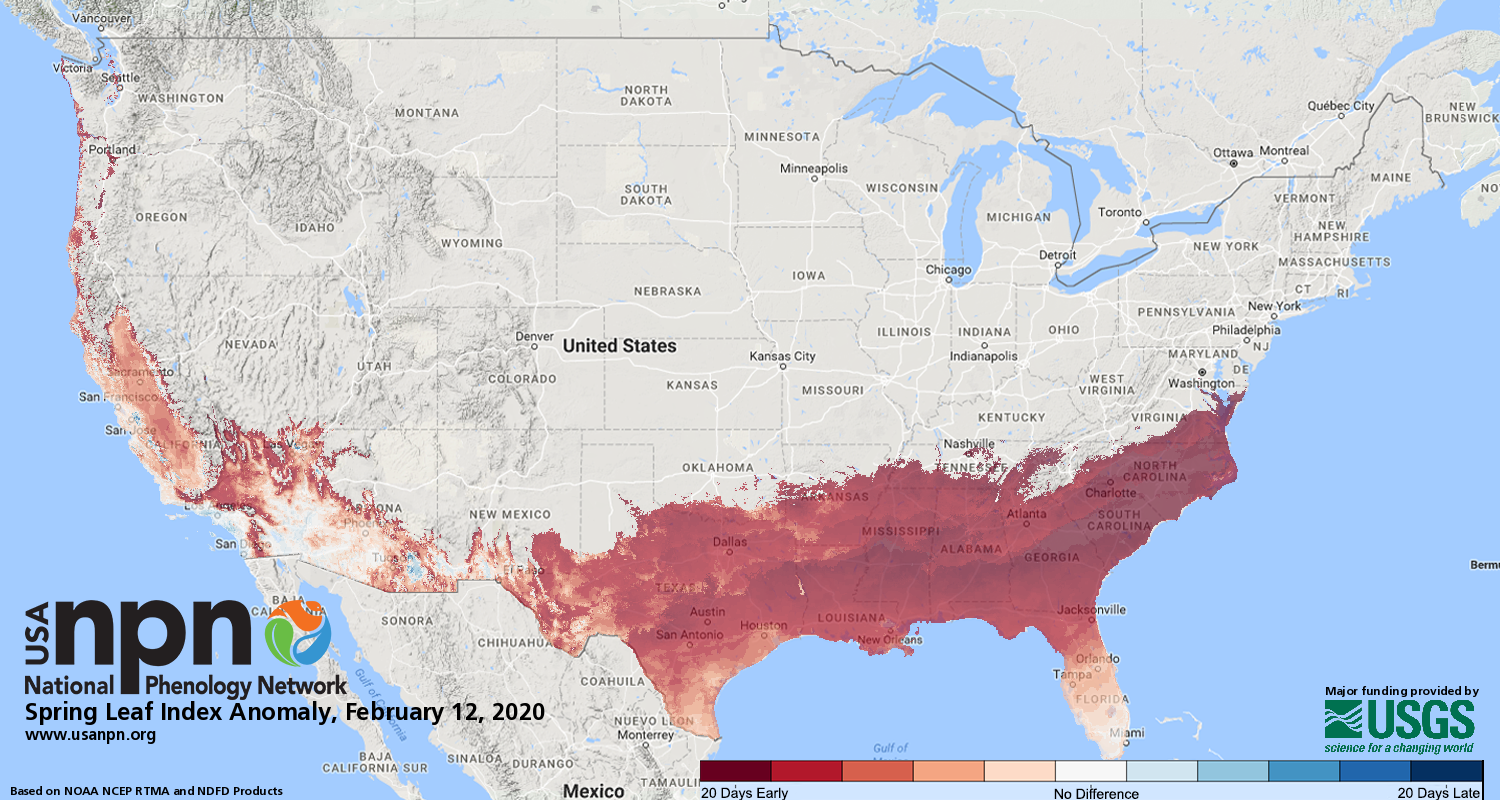 Source: USA National Phenology Network (www.usanpn.org)Areas shaded in red in the above image are experiencing vegetation "leafing out" weeks earlier than average. The average is based on the most recent climate time period between 1981 and 2010. So far this year, 2020, observers in the Southeast have noted vegetation greening up as early as 24 days ahead of schedule in Charlottesville, Virginia. The spring leaf out has arrived 20 days early in Knoxville, Tennessee and 18 days early in Nashville, according to www.usanpn.org. The leaf out has also arrived about 10 days early in Portland, Oregon and Seattle, Washington according to the website.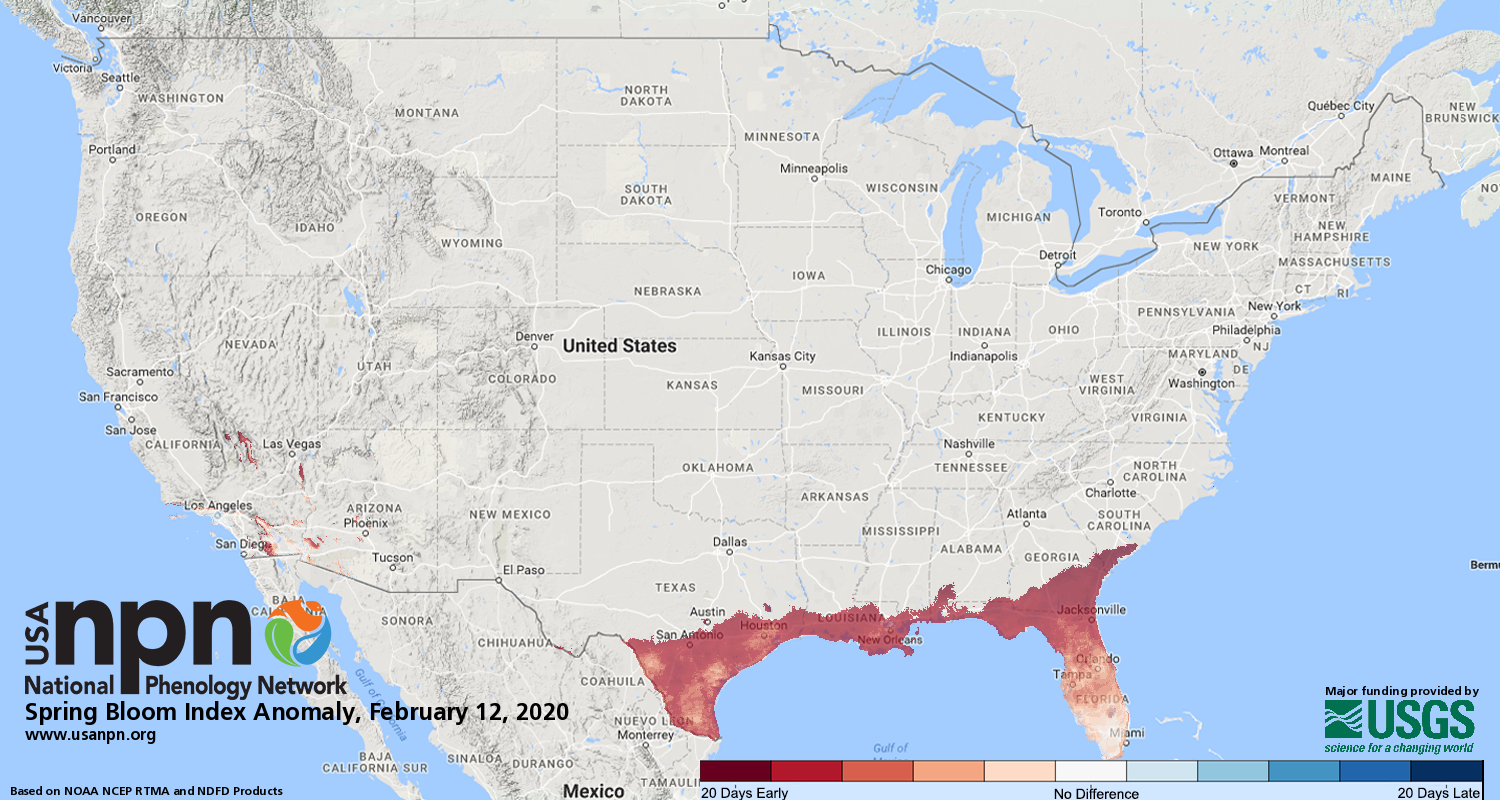 Source: USA National Phenology Network (www.usanpn.org) In terms of the spring "bloom" that's running ahead of schedule too. Areas near the Gulf of Mexico are experiencing a bloom one to two weeks early. The difference between the leaf out and the bloom is as follows,
"The First Leaf Index is based on the leaf out of lilacs and honeysuckles, which are among the first plants to show their leaves in the spring. This Index is associated with the first leafing of early-spring shrubs and other plants,"
 according to USANPN.
"The First Bloom Index is based on the flowering of lilacs and honeysuckles. This Index is associated with blooming of early-spring shrubs and leaf out of deciduous trees."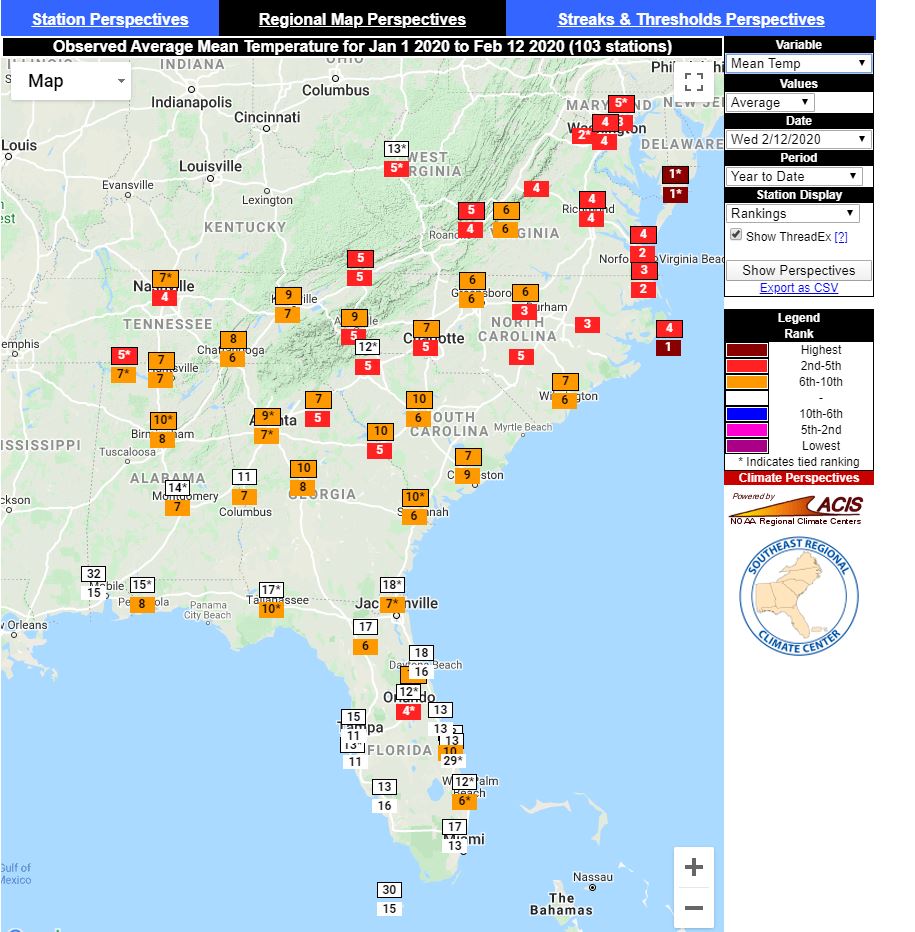 This early green-up may be in part to the warmer-than-average and wetter-than-average weather conditions observed so far this year. Many areas are several inches above average in the precipitation department so far this year. The image above shows where the average temperature in 2020 ranks historically. Most areas are having their top 10 warmest start to the year and a few spots are in the top 5. So what's the good and the bad in all this? A good could be the fact that folks in this area are getting out of their 'winter doldrums' a bit earlier and starting to get some green back in their life. The daily chores of tending to a garden or getting plants ready for the season may be underway soon. However some negative effects may come in the next several weeks. If these plants start to leaf out and bloom now in mid-February, they'll be subject to very harsh frosts, freezes and potentially cold-killing temperatures before winter is finally over. It can still get very chilly the next few weeks and if a hard freeze hits, it may kill the sensitive blooms. Watch for frost and freeze alerts in this area for any upcoming cold snaps.