[
Highway bridge during a heavy snow squall. From iStock via NOAA
] [
NOAA
] If you have a smartphone, you've likely received a severe weather alert warning of an impending flash flooding event, a tornado or a dangerous thunderstorm, and that's in part thanks to information provided by the
National Weather Service (NWS)
. Up until this year, however, the NWS didn't have an alert system in place for a form of severe winter weather that is known to cause multi-car pile ups: snow squalls. On Nov. 1, the NWS expanded its winter weather warning program to include snow squalls. Snow squall alerts were primarily
tested in the Northeast last year
, but now any NWS office can issue alerts when conditions warrant.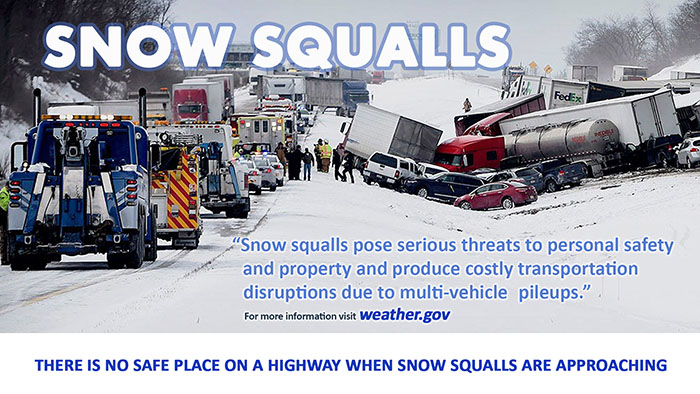 What is a snow squall?
Snow squalls are short-lived bursts of heavy snowfall that result in the rapid onset of near-zero visibilities and are often accompanied by gusty winds, according to the 
NWS
. Randy Graham, the regional science officer at the NWS's Central Region Headquarters, explained that snow squalls are different from a typical winter storm. For instance, Graham noted that snow squalls typically last 30-60 minutes in one location, but winter snowstorms can last hours or even days.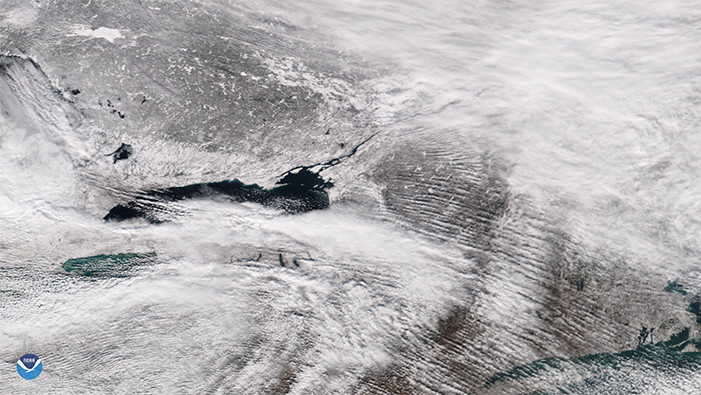 [
NOAA-20 imagery from Jan. 18, 2016, showing lake effect snow bands moving off the southern edge of Lake Ontario and blowing eastward into New York.
] The following are two conditions in which the NWS will issue snow squall warnings:
When visibilities are at a quarter-mile or less of falling snow with gusty winds and sub-freezing road temperatures
When temperatures drop behind a cold front and produce gusty winds that blow snow off the ground
How do satellites play a role in issuing snow squall warnings? 
While recent improvements in doppler radar, increased supercomputing capacity, and more detailed weather models have contributed to making these snow squall warnings possible, Graham said satellite data offer some things that radar can't. For example, radar beams are sometimes blocked by terrain or only catch a portion of a snow squall. Graham said that can sometimes make a snow squall appear less intense. With satellite data, NWS forecasters can quickly identify rapidly cooling cloud tops within a snow squall, which Graham said indicates that it's intensifying. https://twitter.com/stevesilberman/status/534738598361182208 "You can really see the evolution of the event and see where the cloud tops are cooling," Graham said, adding that imagery of that nature can help forecasters make a warning decision. NWS forecasters can also use GOES East mesoscale sectors, which provide updated satellite imagery every minute, to monitor areas where there's a chance snow squalls could occur in a given day. Overall, Graham said satellite data "definitely plays a critical role in the snow squall warning program."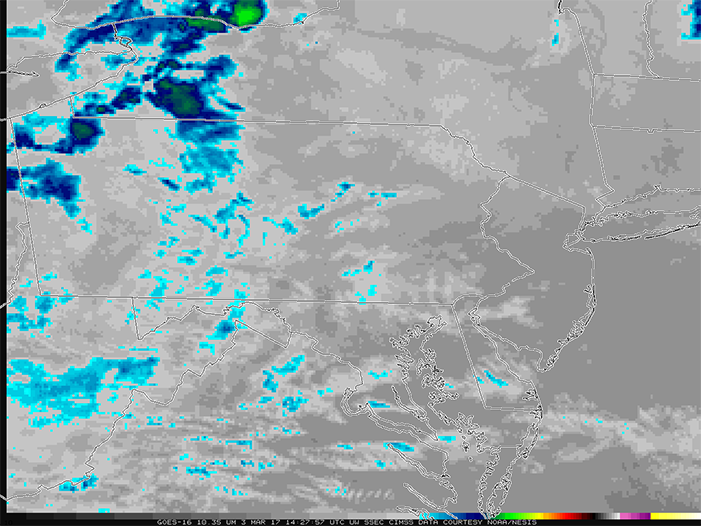 [
This infrared satellite imagery from GOES East, shows the cloud top temperatures. The cool colors indicate colder cloud tops and highlight areas where snow squalls would be more intense.
]
What the new warnings tell you
Snow squalls move quickly, so the NWS wouldn't issue a traditional winter storm warning or a winter weather advisory. Until recently, Graham said snow squalls were "a problem that wasn't very well covered by any of our [the NWS's] traditional warning products." These new snow squalls warnings fall into a category similar to severe thunderstorm warnings and tornado warnings because they're short-duration warnings. The new snow squall warnings, Graham explained, are meant to give anyone, but especially drivers, potentially life-saving information if they could be traveling into one of these "short-term blizzard situations."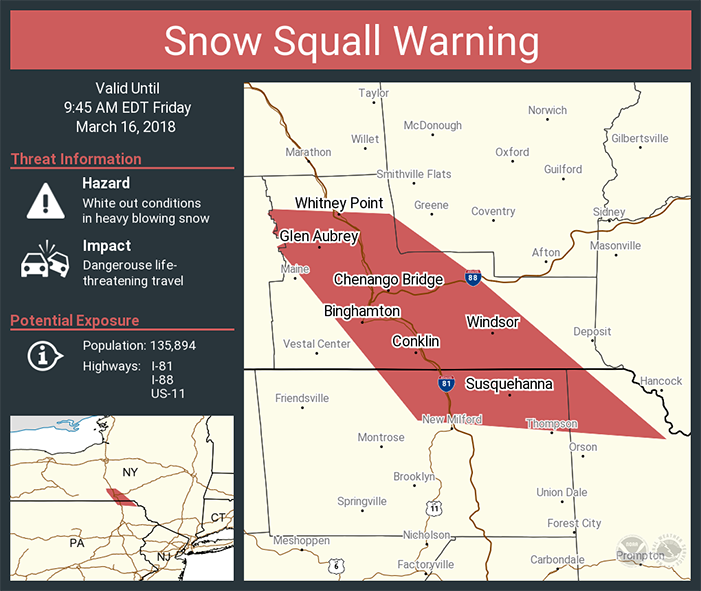 [
Example of a social media graphic used by the National Weather Service when a snow squall
warning is issued.
] When an alert is issued, Graham recommends that those driving on an impacted interstate or highway slow down and turn on their headlights. Ideally, a driver should pull over and wait until the snow squall passes. "There's no safe way to go through these because the visibilities are near-zero and if there's an accident there, you're not going to see it until it's too late," Graham added. The hope is that these warnings will deter people from driving in snow squall conditions, and thus prevent big chain reaction crashes from happening. Edited for WeatherNation by Meteorologist Mace Michaels