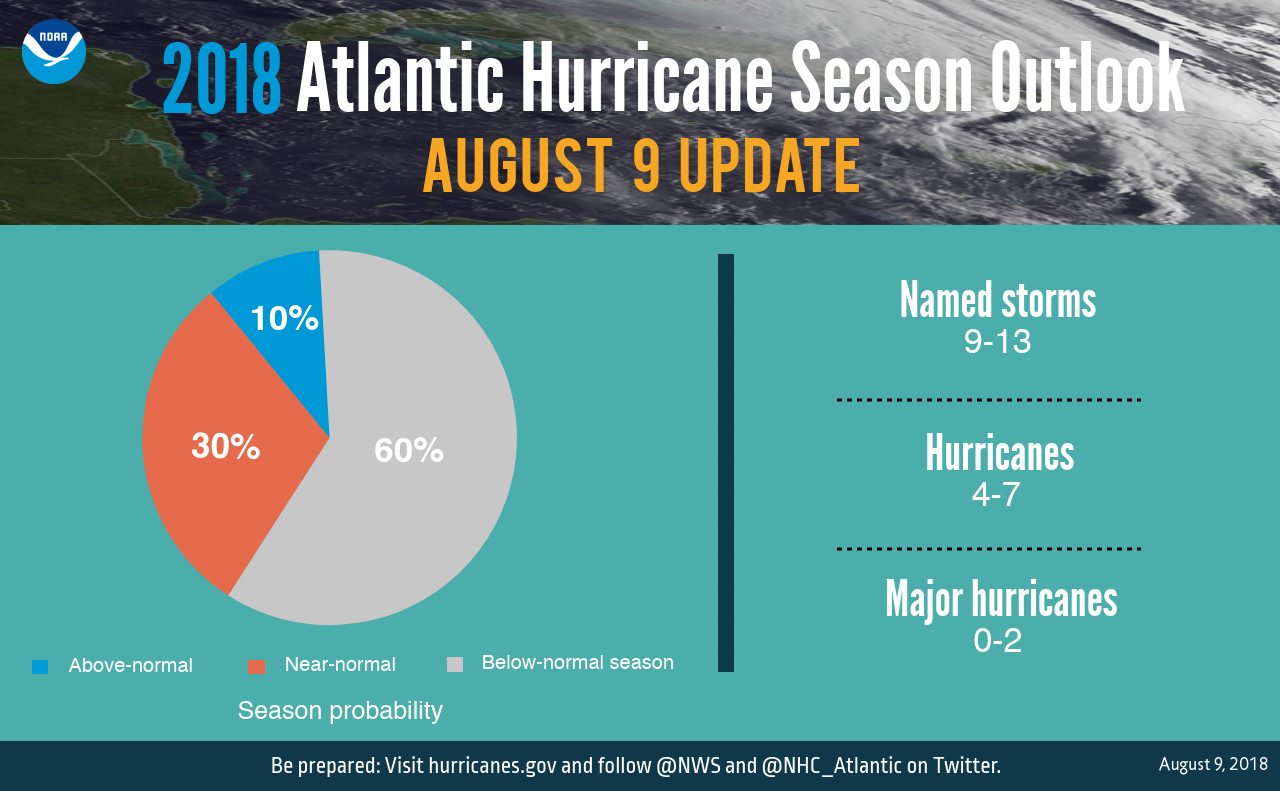 The National Oceanic and Atmospheric Administration forecasters are lowering their forecast numbers for the 2018 Atlantic hurricane season. Forecasters are calling for 9 to 13 named total storms, with 4 to 7 hurricanes, and between 0 to 2 major hurricanes, which are hurricanes of category 3 or higher.
So far this 2018 hurricane season there have been four named storms, including two hurricanes. An average six-month hurricane season produces 12 named storms, of which six become hurricanes, including three major hurricanes.
One factor incorporated in to the update was the El Nino Southern Oscillation and the fact that an El Nino is much more likely to form and become strong enough to inhibit or suppress storm develop across the Atlantic during the later half of the season.
The El Nino Southern Oscillation or ENSO, is an climate index that's a measure of the sea surface temperature anomalies across the central tropical Pacific Ocean, west of South America. If the index or anomalies are positive, this is referred to as an "El Nino", with warmer than average sea surface temperatures for this region. If the anomalies are negative, then this is referred to as "La Nina", with cooler than average sea-surface temperatures for this region.
This is important because warmer waters typically lead to more thunderstorm activity across this region of the Pacific, and the fast winds associated with these storms can spread across the atmosphere, in to the tropical Atlantic and lead to a less favorable environment for tropical storms and hurricanes to form. According to NOAA, there is nearly a 70 percent chance of El Nino during this Atlantic Hurricane Season.
Some additional factors leading to a drop in the forecast numbers for storms include sea surface temperatures across the tropical Atlantic and Caribbean being lower than average, drier air, and increased instability of the atmosphere, will likely lead to lower numbers of storms in the Atlantic.
NOAA forecasters originally called for 10 to 16 name storms, 5 to 9 hurricanes and 1 to 4 major hurricanes.
Tune into WeatherNation for the latest on the updated Atlantic Hurricane Season outlook and other top weather stories from across the nation.
For WeatherNation - Meteorologist Marcus Walter.