With April upon us, it's time to dissect some of the record-breaking weather that happened during the previous month---March.  The National Weather Service has 122 local weather forecast offices.  Each office keeps weather and climate records for several cities in their jurisdiction.  These include---but are not limited to---daily, monthly, and yearly temperature and precipitation records.  Over the next few days, local weather forecast offices will issue record event reports for any city that may have set a new monthly record for March.
MARCH HEAT
In some cities across the southern United States, March 2020 will enter the weather history books as the warmest on record.  During a typical March, much of the continental United States can have wild temperature swings, as the seasons are changing from Winter to Spring.  During March 2020, however, a good swath of the southern United States stayed consistently warm.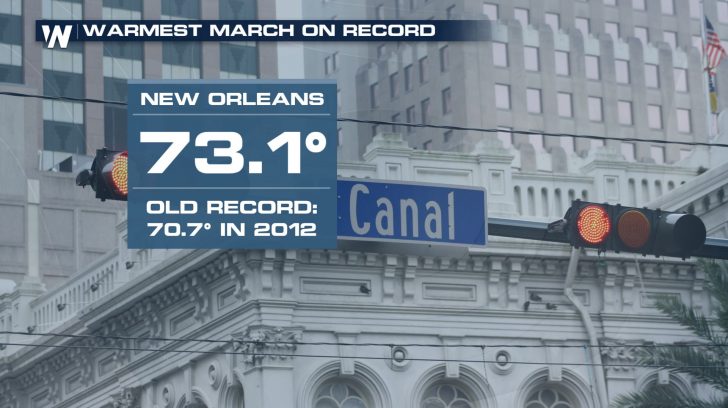 In New Orleans, the average temperature for March 2020 was a record-breaking 73.1 degrees.  The "average temperature" is calculated by adding the observed high and low temperatures for each day of the month together, then dividing by the total number of data points.  Records have been kept in New Orleans since 1871.  A "normal" March in the city has an average temperature of 62.6 degrees.  So March 2020 was 10.5 degrees above normal and 2.4 degrees warmer than the previous monthly record. Nearby Baton Rouge also had their record warmest March.  With an average temperature of 70.3 degrees, the capital city of Louisiana was 8.8 degrees above normal and beat the previous record by 1.6 degrees.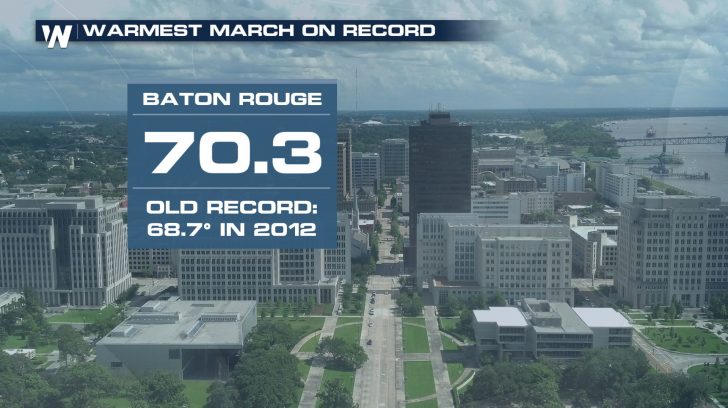 States like Florida also endured plenty of heat during the month of March.  The city of Naples along the Gulf Coast in the southwestern part of the state observed their warmest March on record with an average temperature of 75.6 degrees.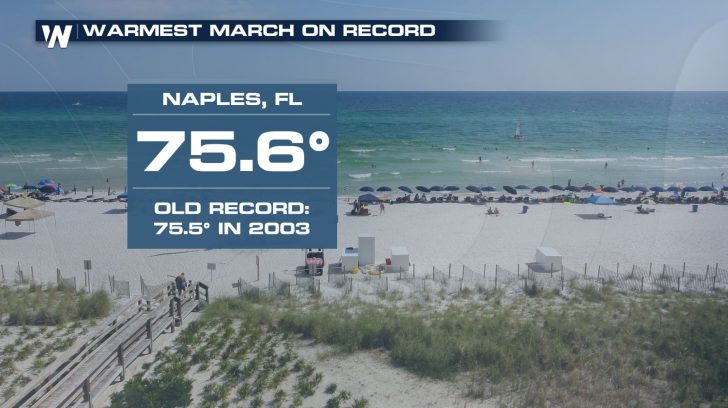 The city of Jacksonville witnessed a temperature that had never been observed during the month of March.  On Saturday, March 28th, the thermometer soared to 94 degrees!  The previous hottest March temperature in Jacksonville was 91 degrees, which occurred in 1974.  Weather records have been kept in the city since 1871. In the Rio Grande Valley region of south Texas, it was the warmest March on record for all three cities that keep weather records---Brownsville, Harlingen, and McAllen. https://twitter.com/NWSBrownsville/status/1245441861524713472
RECORD RAINFALL
Staying in the Lone Star State, the west Texas city of Midland experienced their wettest March on record.  The official rain gauge for that city observed 3.44 inches of rain.  The previous record from March 1970 was 2.86 inches.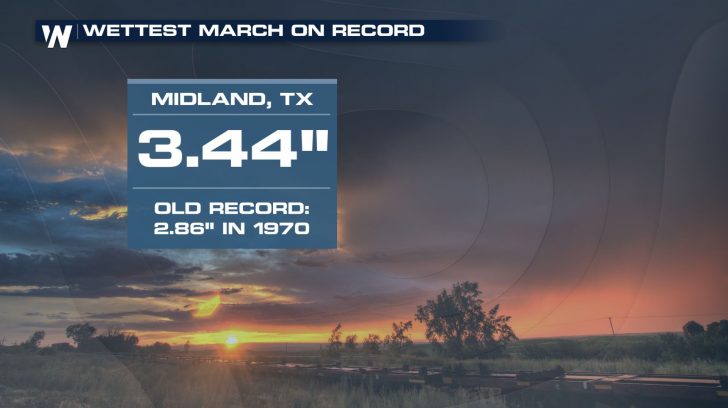 Across the continental United States, it is easy to see where things were wetter than normal.  On this map, anything shaded in green and blue are areas where monthly precipitation was at or above normal.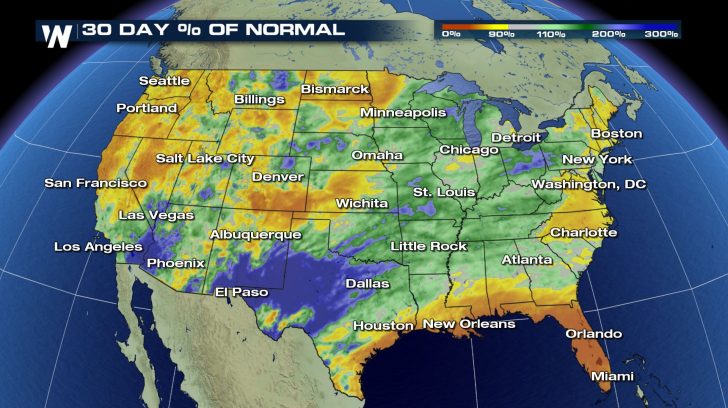 In Yuma, Arizona---in the heart of the Desert Southwest---March 2020 will enter the history books as the second-wettest on record.  A total of 2.70 inches of rain fell in Yuma, where average March rainfall is just 0.33 inches.  Average yearly rainfall in Yuma is just 3.56 inches! In the days ahead,
WeatherNation
will keep you up-to-date with anymore March records that may be posted from the National Weather Service.  If you'd like to explore more record information on your own, click
HERE
.  If you're curious about what April 2020 may have in store, click
HERE
. For WeatherNation, I'm Meteorologist Joe Astolfi.