[Written from
NOAA
and
NOAA Climate
] According to the
latest
U.S. monthly climate summary from the National Centers for Environmental Information, the average temperature for March 2021 was 45.5 degrees Fahrenheit, 4 degrees warmer than the twentieth-century average. This ranked in the warmest third of the 127-year period of record.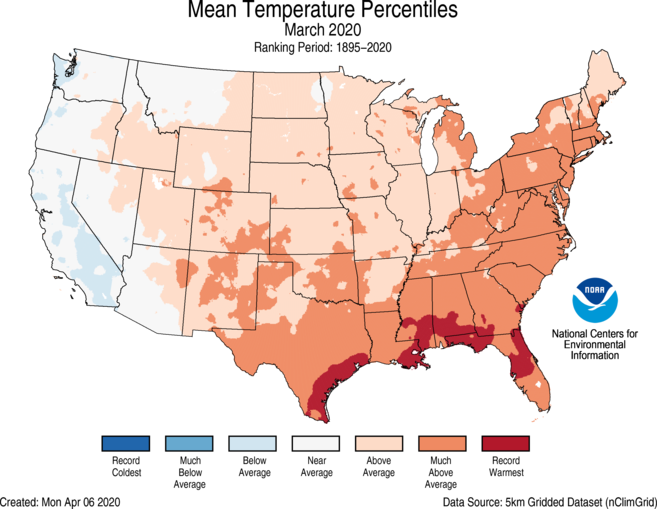 Above-average temperatures were observed across much of the country, from the Northwest to the Northeast, as well as from the Great Lakes to the Gulf of Mexico. North Dakota, for example, had its fourth-warmest March on record. Across the Lower 48 states, 
daytime high temperatures in March
 have warmed by 0.28 degrees Fahrenheit per decade over the 127-year record (1895-2021). Overnight lows 
have warmed 
at 0.24 degrees Fahrenheit per decade over the same period.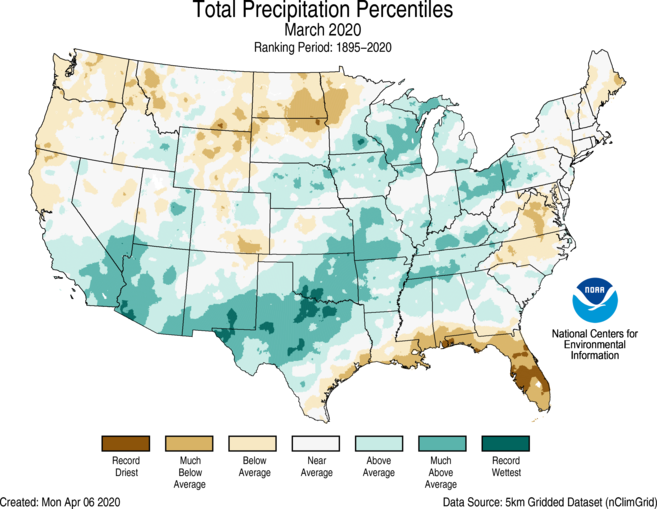 Average March precipitation for the contiguous U.S. was 2.45 inches, just a smidge below average (0.06 inches), which ranks in the middle third of the 127-year period of record. Precipitation was above average—even much above average—in the center of the country, including parts of Nebraska, Oklahoma, Missouri, Kentucky, and Tennessee.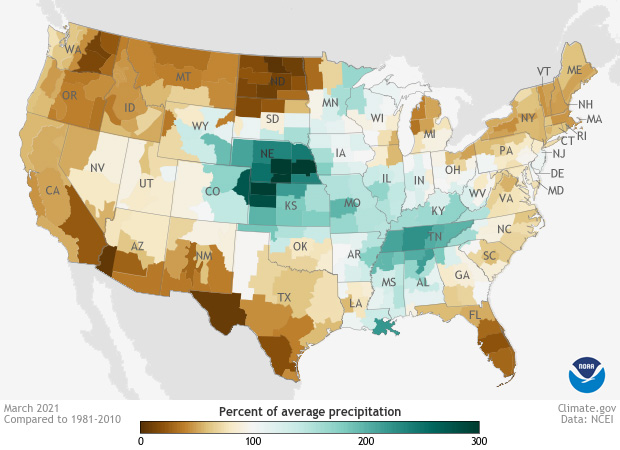 The heavy rains in the Central Plains moderated the drought in parts of Nebraska, Kansas, and eastern Colorado. But according to the U.S. Drought Monitor project, nearly 64 percent of the contiguous United States was at least "abnormally dry" in early April, and 45 percent remained in some level of drought. The drought was classified as "extreme" in parts of 14 states and "exceptional" in 8: Oregon, California, Nevada, Utah, Arizona, Colorado, New Mexico, and Texas.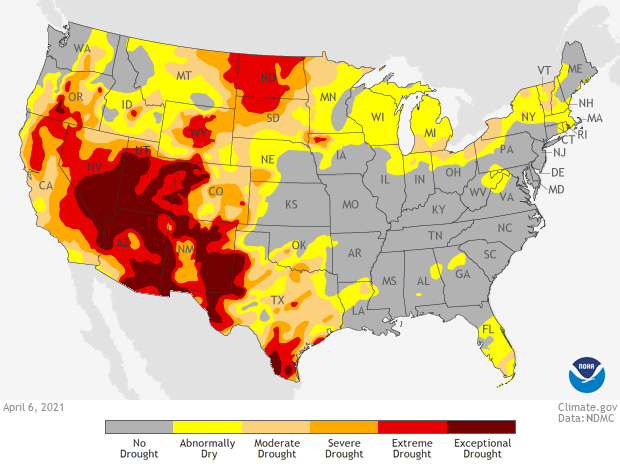 Meanwhile, around the perimeter of the country, dry conditions were the norm, with below to much below average precipitation across many states along the northern and southern borders of the country. Below-average precipitation fell across the Northwest, northern Plains, and Northeast, as well as portions of the Southeast, Deep South and West. Both Montana and North Dakota saw their second-driest March in 127 years.
More notable climate events in March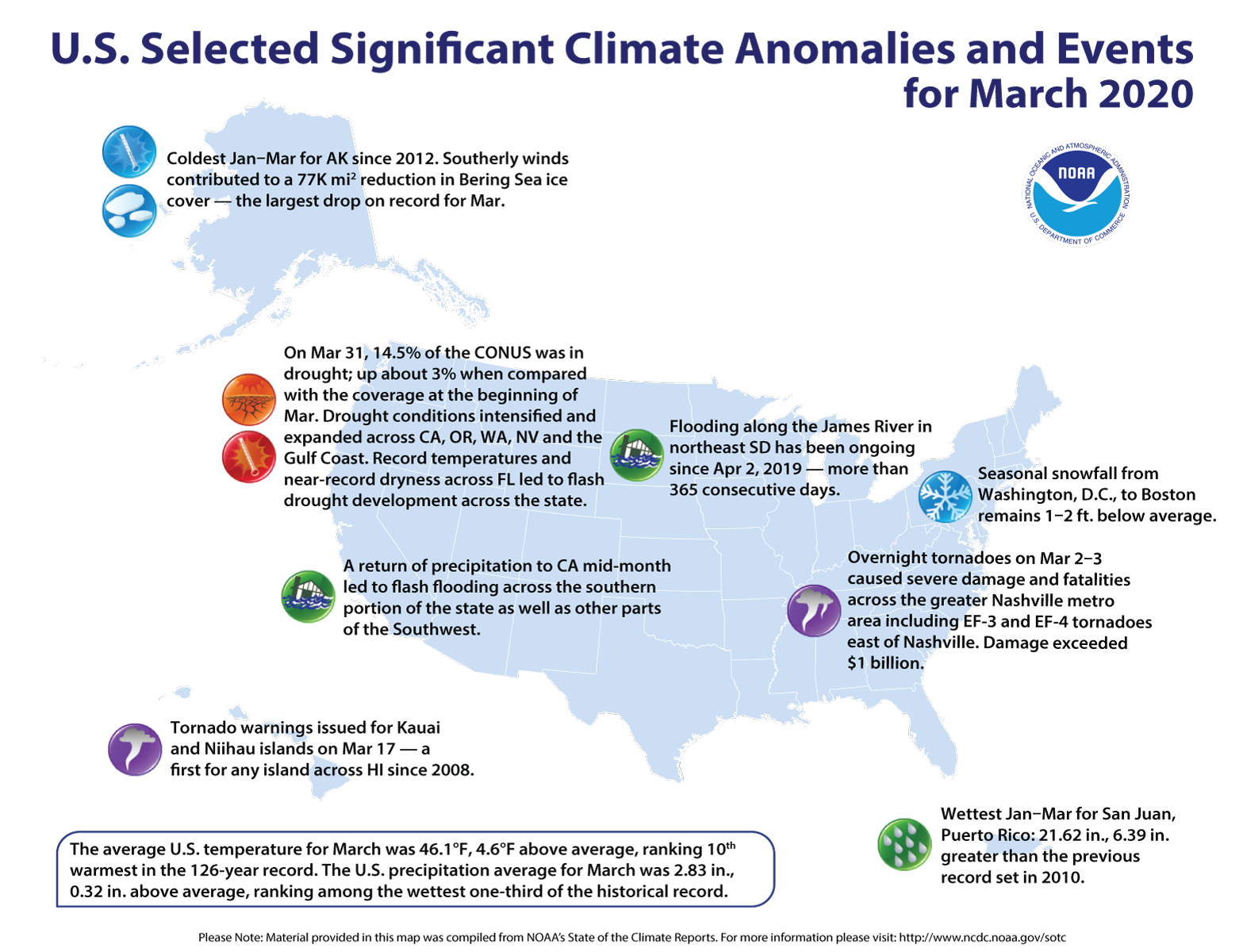 Deadly tornado outbreaks: In March, two rounds of deadly severe weather and tornadoes raked the U.S. South. More than 100 tornadoes were reported during the two outbreaks (March 17-18 and March 25-27). One particularly violent EF3-tornado struck Calhoun County, Alabama, on March 25 and caused five deaths.

A chilly, wintry month for Alaska: The state shivered through its coldest March in four years. The average March temperature for Alaska was 7.2 degrees F, 3.6 degrees below the long-term average. The capital city of Juneau reported its snowiest March since 2007.

Drought improved slightly: By the end of March, the U.S. Drought Monitoroffsite link reported that nearly 44% of the contiguous U.S. was in drought, down from 46.6% at the beginning of the month. Drought improved across parts of the central Rockies, central Plains, Puerto Rico and Hawaii.
Edited for WeatherNation by Mace Michaels