The Stone County Sheriff's Office in Missouri held a press conference at 9 a.m. local time Friday. Here are the latest details on this story:
17 people confirmed dead
Captain of the duck boat survived, driver did not
First 911 call came in at 7:09 p.m. CT Thursday
Sheriff's office does not know if captain/driver checked/knew the weather forecast before going out
Sheriff's office does not know if people were wearing the life jackets (provided on boat) at the time
Sheriff's office is asking if anyone has video of it, to share it on the Stone County Sheriff's Office Facebook Page here
https://www.facebook.com/Stone-County-Sheriffs-Office-593899137316212/
A line of severe storms were moved through Kansas and into Missouri yesterday evening. As they moved through southwestern Missouri, they produced strong, gusting winds that capsized a boat and sank it on Table Rock Lake in Branson, MO. There have been at least 13 fatalities and there are still severe people missing.  Officials say the victims range in ages of 1 to 70-years-old https://twitter.com/kytv/status/1020156122274070528 The National Weather Service office in Springfield, MO issued a Severe Thunderstorm Warning just after 6:30pm Thursday evening. This warning was for winds over 60 mph. Just about half an hour later, the boat capsized. https://twitter.com/NWSSpringfield/status/1020089081198514182 https://twitter.com/bill_line/status/1020147395907194881 The strongest wind gust reported in Branson, MO was 63 mph Thursday night.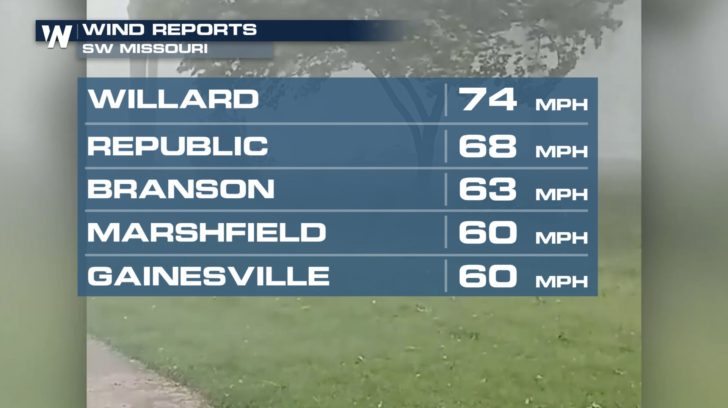 For those unfamiliar with the area, Branson is in southwestern Missouri and is a popular tourist town. Table Rock Lake is a vacation spot enjoyed by many. To read about where the severe threat will be on Friday, click
here
. For WeatherNation, Meteorologist Kate Mantych.