The western U.S is going to stay very active over the next few days.  Waves of moisture will be coming in off the Pacific Ocean.  Along the coast, this means plenty of rain along the California and Oregon coastlines.  But as this moisture moves to the east, and runs up mountains, the rain will transition into snow.  Lots of snow!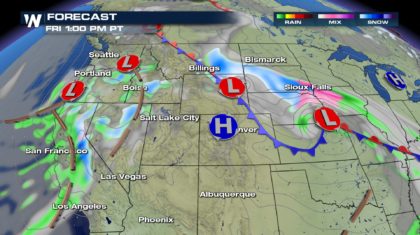 Check out the image below.  Everywhere you see purple shading, that's at least 6 to 12 inches of snow through Saturday.  The highest peaks in the Sierra Nevada could see 2 to 4 feet of snow.  This is great news for that area.  Snowpack has been way down this year.  The Sierra Nevada region is now playing catch-up, and this latest round of snow will help them to do just that.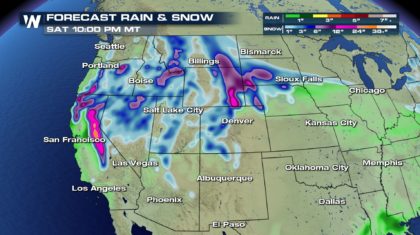 Winter storm alerts are up for California and Nevada.  Winter Storm Warnings are in pink.  Winter Weather Advisories are in purple.  In northern California, 3" to 6" is expected above 2,000 feet.  Some spots could receive 12 inches.  3" to 8" are expected along highway 395 and in the Sierra Valley.  1 to 3 feet of snow is on the way above 5,000 feet.  2 to 4 feet of snow is expected above 7,000 feet!  Then the moisture spreads across northern Nevada.  3" to 6" is the general amount across the state.  However, the mountains of Nevada could see up to a foot of snow.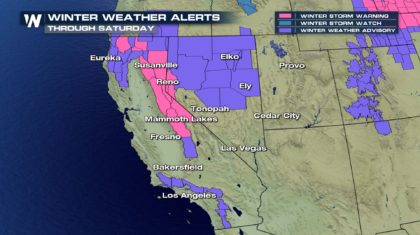 Farther to the east, the Colorado Rockies will get some much needed snow Thursday night into Friday morning.  4" to 8" of fresh powder is on the way for the skiers.  Like the Sierra Nevada, snowpack in the Rockies is also below normal this year.  So the snow is also good news for water replenishment later this Spring.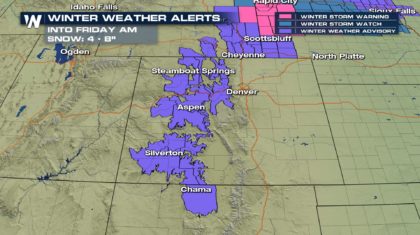 And to the north of the Rockies, the High Plains will also see significant snowfall.  Winter weather alerts are up for Montana, Wyoming, South Dakota, and Nebraska.  Overall, snow totals in this region will be a little lighter, mainly between 3" and 7".  The snow will run on a northwest to southeast axis, between Great Falls, Montana and Sioux Falls, South Dakota.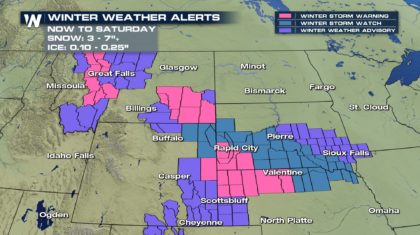 Ice could also be a problem from the High Plains to the Midwest.  A tenth to a quarter inch of ice is possible from South Dakota and Nebraska, down through Iowa, into Illinois, Indiana, and Ohio.  That amount of ice isn't expected to cause major power outages.  However, it's enough ice to cause issues on roads.  Black Ice on highways could lead to very hazardous driving conditions.  Please use extreme caution if you have to drive in icy conditions.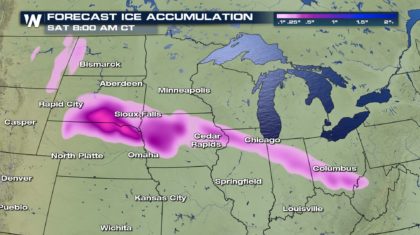 For WeatherNation:  Meteorologist Matt Monroe