February is not quite over, but it has already become one of the snowiest months on record for Portland.  Portland typically averages about 3 inches of snow during the month of January, and about one inch of snow during the month of February.  After multiple rounds of snow last week, and 6.6 inches for the month,  February 2018 is now the 5th snowiest February on record for the Rose City.  The snowiest February came back in 1949 with over 13 inches of snow!  Here's the Top 5 list: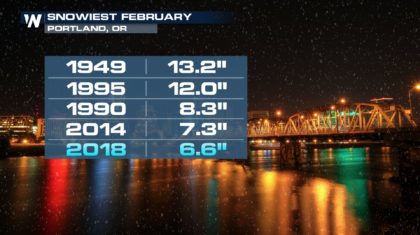 By Thursday of last week, the snow was really starting to pile up.  It wasn't exactly Mt. Hood snow, with several feet on the ground, but it was certainly looking very winter-like in many backyards across town.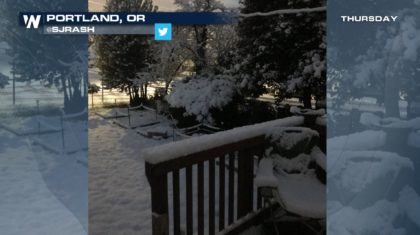 Thursday, February 22nd, was actually a day for the record books.  Portland saw record snowfall of 1.7 inches.  That doesn't seem like much, but again, this is a city that usually deals with rain, not snow.  The old record of just one inch stood for 61 years!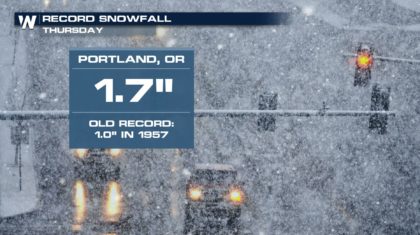 There are three more days left in February, and there's more moisture on the way Monday, Tuesday, and Wednesday.  Will Portland add to their historic monthly snow totals?  Probably not.  Portland will have daytime highs in the 40's for the next several days, too warm for snow.  Overnight Sunday night, and again overnight Monday night, temperatures will fall into the lower 30's.  There could be some snow showers mixing in with temps that cold, but little to no accumulation is expected.  On Tuesday night, temps will be in the upper 30's, too warm for any snow.  After that, February will come to a close.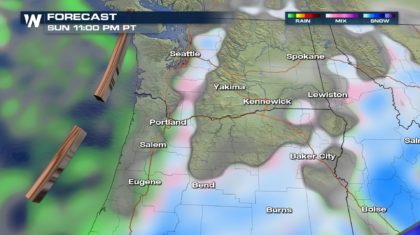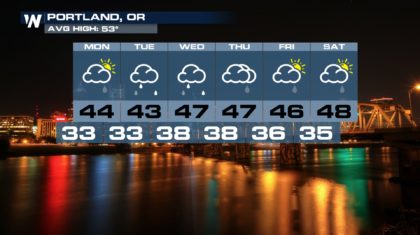 Of course, snow is still possible in March, and April.  On March 8, 1951, Portland got a whopping 7.6 inches of snow.  And on April 7, 1933, the city saw 1.4 inches.  So we'll have to see if any snowfall records are broken over the next couple of months. For WeatherNation:  Meteorologist Matt Monroe