Florida has enjoyed some great beach weather this week.  Many were hoping for the sunshine and dry conditions to continue right though the weekend.  However, this will not be the case for the central and southern portions of the state.  A big ridge of high pressure is moving east into the Atlantic, and low pressure from the Bahamas and Cuba is moving in from the south.  This will end the string of dry days, and usher in some much needed rainfall.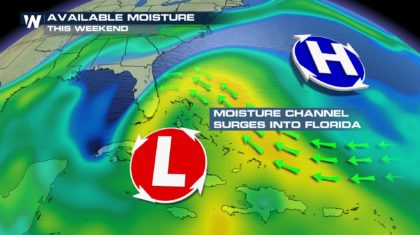 The rest of Friday looks dry.  But overnight into Saturday morning, the clouds and showers will roll in.  Things should remain dry north of Orlando.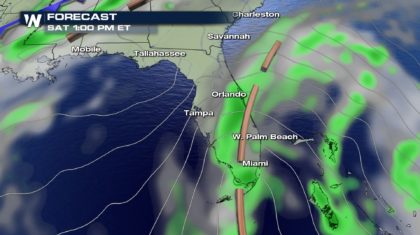 Rain chances will continue throughout Saturday and much of Sunday.  The center of the disturbance will begin to cross over Florida by Sunday afternoon.  Rain may spread a bit farther north at that point.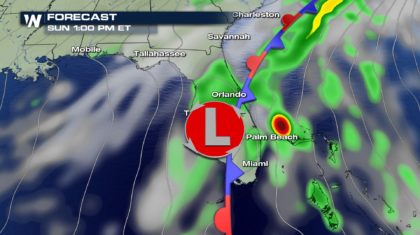 By early Monday morning, the center of the system will start to move offshore near Jacksonville.  A few lingering showers are possible in south Florida as the trailing front kicks up some moisture.  But most of the rain will have ended by this time.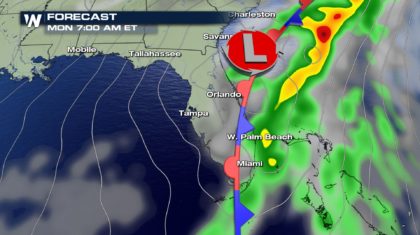 Rainfall totals could be significant in many spots.  Our computer models are targeting a couple of areas, outlined for the heaviest rainfall amounts.  Orlando is one of these spots.  One to three inches of rain are possible there over the weekend.  Similar amounts could also fall in southeastern Florida, between Port St. Lucie and Miami.  West Palm and Ft. Lauderdale are included in this area.  At the time of this article, severe weather is not expected in Florida over the weekend.  However, periods of very heavy rain could cause some localized flooding.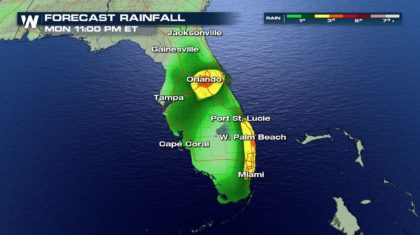 Although many people won't be happy that the rain is coming during the weekend, it's actually needed.  Checking the drought monitor, it has been relatively dry in central and southern Florida.  Parts of Orlando are in a Moderate Drought stage.  And Miami is currently in Severe Drought stage.  Wildfire season is rapidly approaching, and this rain may help to mitigate the fire threat.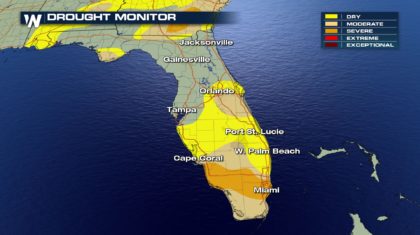 Despite the rain, temperatures in Miami and Orlando will stay at or above average for this time of year.  Most of the rain in Miami will fall over the weekend.  However, there will be small chances for scattered showers right through Tuesday.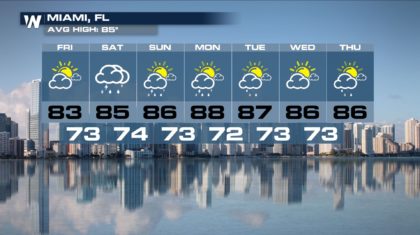 Skies over Orlando should dry out after Sunday.  Plenty of sunshine and dry conditions are back in town Monday through Thursday.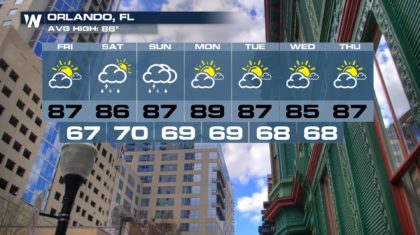 For WeatherNation:  Meteorologist Matt Monroe