https://youtu.be/mk3iySY8u5g In 2016,
GOES-16
, the first of NOAA's n
ext generation of geostationary weather satellites
soared into space. 
Two years later
,
GOES-17
  followed suit with both replacing the previous series of operational satellites watching over the Western Hemisphere from 22,300 miles above! "The purpose of the satellite is incredible, you can see it day to day with the two spacecraft that are already up," said Shelby Mason, GOES-T Mechanical Lead at Lockheed Martin.  "We're working on T and U, the third and fourth in the series, while already seeing the data and the benefits that the two that are already up there already in orbit, have provided."
MORE: WHAT IS A GEOSTATIONARY SATELLITE?
https://twitter.com/i/status/967157935062228992 "Now we've got two operational, it's turning into the legacy," said Pam Sullivan, NOAA's GOES-R System Program Director.  "And really once we get the spare up there we'll be full into the operational swing of the GOES-R series. Just to give you an idea how much this satellite weighs, without fuel, it's around 6,000 lbs. But once fuel is added, you're getting it up to around 14,000 lbs!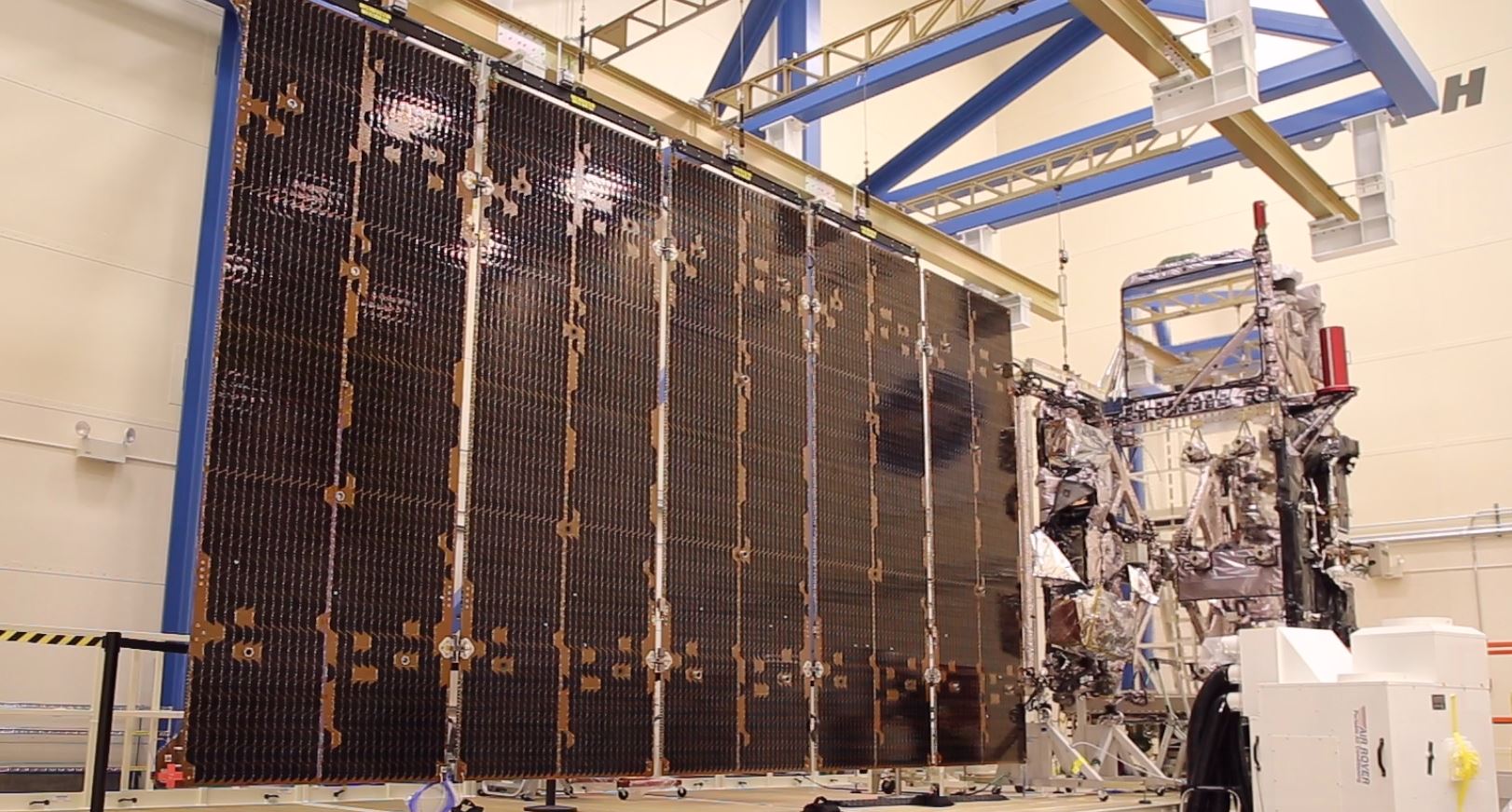 READ: THE GOES-WEST (GOES-17) EXCLUSIVE JOURNEY WITH WEATHERNATION
GOES-T
is the third satellite in a series of four.  Just like the previous two satellites, once fully assembled i
t has to undergo meticulous testing
at
Lockheed Martin
in Littleton, CO before launch, currently slated for December of 2021. "We put it in a big chamber, we suck the air out to create a vacuum like it will see in space, and in that chamber we can simulate the temperatures that you'll see on orbit," Sullivan explained.  "So we take it very hot and very cold because it will get very hot and very cold on orbit and so we want to make sure that when it happens on orbit everything still works."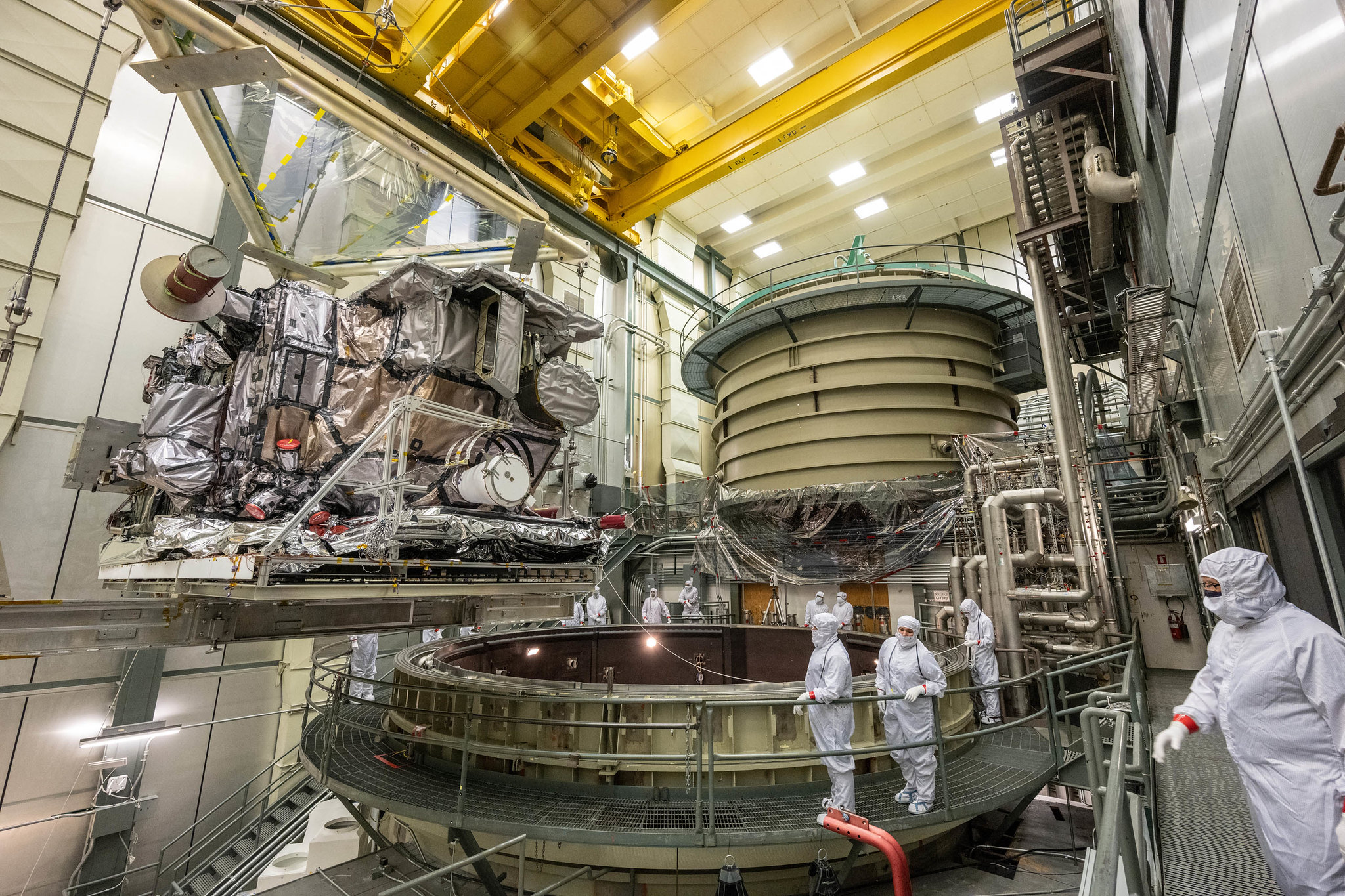 GOES-T is lifted into the Thermal Vacuum Chamber in Littleton, Colorado. This environmental test ensures the satellite can operate in the harsh environment of space. Credit: Lockheed Martin
"Come spring, we're going through our vibe and acoustics and then we have EMI testing so that's electromagnetic interference testing, and going all the way through launch," Mason said.  "I mean this is such a long process and it's really rewarding when we get to that end point." But even before this satellite got to where it is today, there were tweaks that needed to be made to the initial design. "We've taken a lot of lessons learned from the previous two vehicles and had a very concerted effort to make sure they were incorporated into this vehicle so things could be a lot smoother," said Jagdeep Shergill, GOES-R Chief Engineer at Lockheed Martin.  "The biggest change is our updated ABI instrument that's been modified from the
lessons learned on GOES-17
." The ABI, Known as
the Advanced Baseline Imager,
is one of the most important tools we rely on as meteorologists to provide us this incredible imagery at a faster speed to aid with forecasts and showcase weather events as they are happening.
READ: GOES-R SERIES MISSION OVERVIEW AND APPLICATIONS
"These satellites are in my mind very cool to work on because they effect everyone's lives, " Shergill said.  "These spacecrafts do so much for the lives and welfare of our population here in the United States and that's really exciting to work on something like that." https://twitter.com/i/status/1299406196575789057 "GOES is really about protecting life and property so everything we do is about how do we make it easier for forecasters to able to help the decision makers make the decisions faster and better," said Adrian Cuadra, Lockheed Martin's GOES Program Manager.  "We're seeing up to about a mile of accuracy with where the hurricane is going to hit, up over a week of lead time in terms of seeing the hurricane form and start coming in and really start narrowing down what that path is going to be."
READ: HURRICANE MODELS GET A BOOST FROM NEW SATELLITE DATA
The satellite also includes special instruments to help us better understand space weather and how it impacts us here on Earth. "It's important for us here on Earth because it actually directly impacts it but it's also as you mentioned going to be important as we look at what it means to spacewalks and what it means to the
Artemis program
going forward," said Cuadra. The GOES-R series fleet of satellites will continue to provide a better scope of the weather both on Earth and throughout outer space as well as paint a picture like we've never seen before our changing planet. "The data that is coming out of these satellites is so critical to the nation and so critical to the world that we need to insure the data will be continuous and so after these satellites fulfill their mission and are done with their operational mission life, we need to have the next generation ready and available," Cuadra said. https://twitter.com/i/status/1334947156197842950 We will continue to follow the journey of GOES-T every step of the way, watch for the latest updates on this satellite and others right here on WeatherNation.