While hundreds of water rescues took place Thursday and more and more people were told to get to higher ground, it was still raining. What seemed to be a nonstop rain from Imelda finally began to break apart Thursday evening, but not before doing most of its damage. Preliminary rainfall totals from Imelda show the storm has topped 40 inches. The worst of this rainfall came on Wednesday night into Thursday. The National Weather Service office in Houston released preliminary data Thursday afternoon showing how much rain fell in just a 24-hour period.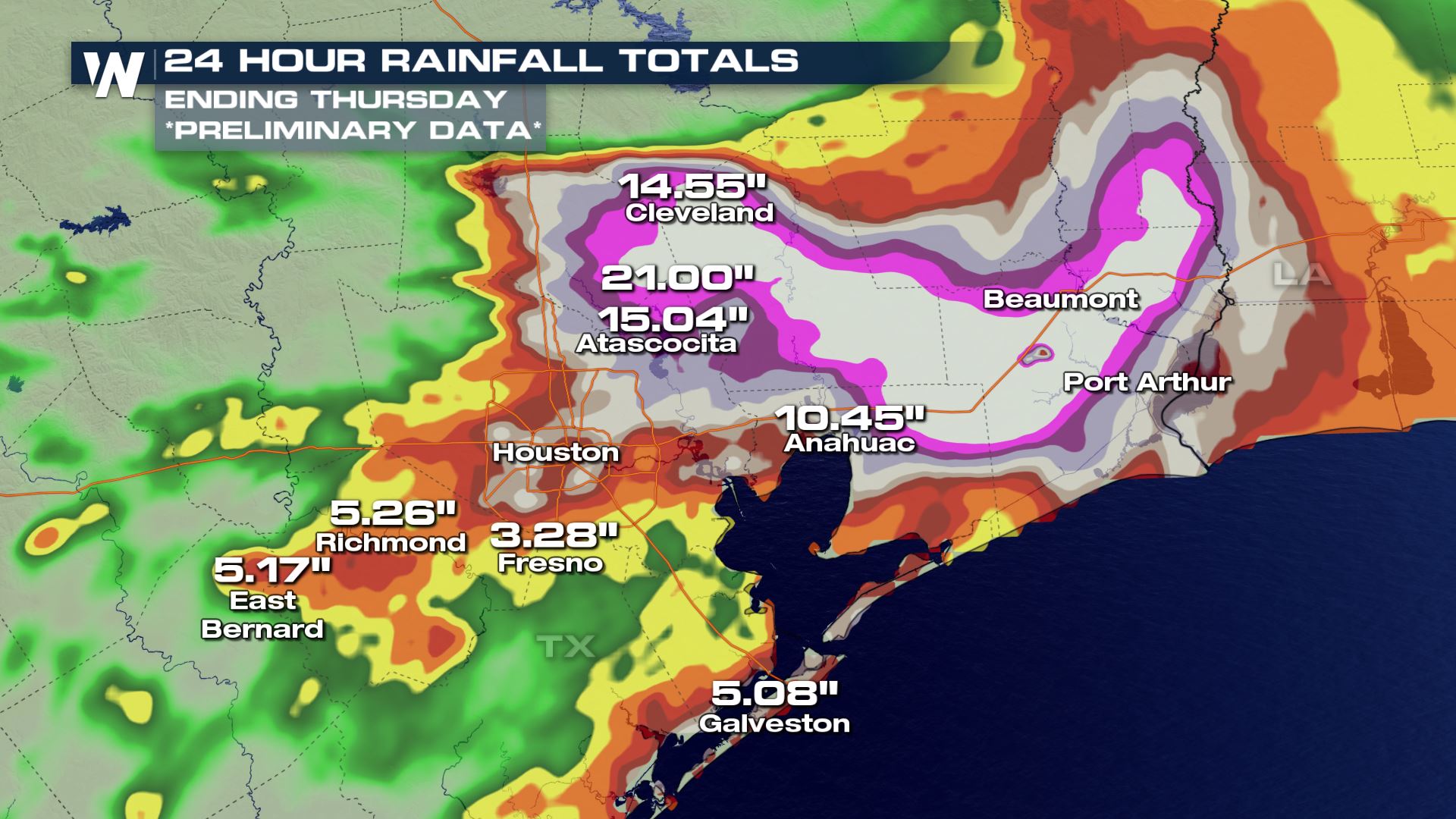 Parts of southeast Texas received 10 to 15 inches of rain in just a 24-hour period. The top (preliminary)* amount fell along the East Fork of the San Jacinto River between Atascocita and Cleveland coming in at 21 inches in 24 hours. According to the Harris County Flood Warning System, it was raining upwards of 5 inches each hour! This incredibly-heavy rain caused flash flooding in many communities, resulting in the numerous water evacuations and rescues. Here are a couple of the highest hourly rainfall rates from Thursday.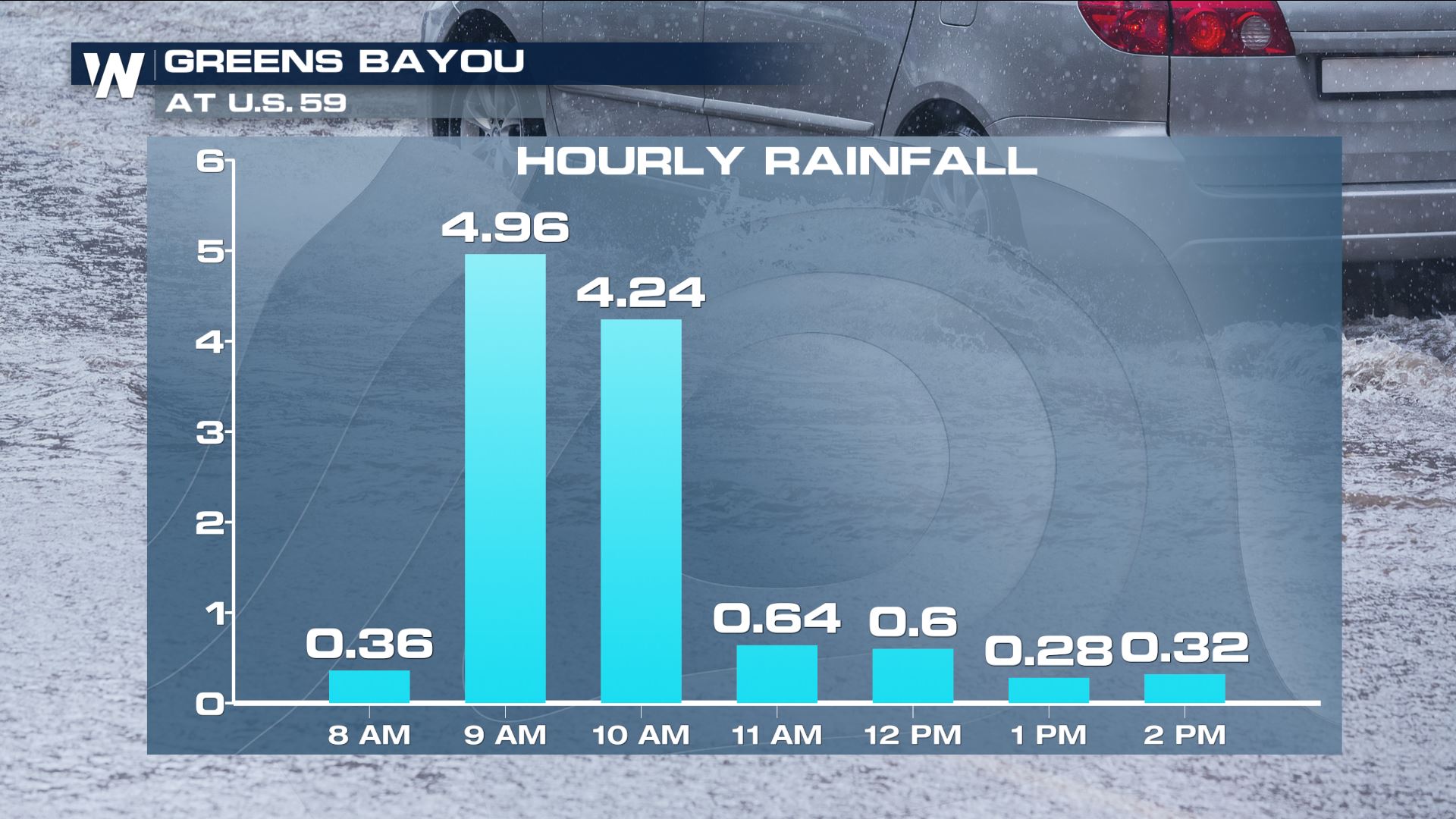 Rainfall observations on Thursday, September 19 in Texas.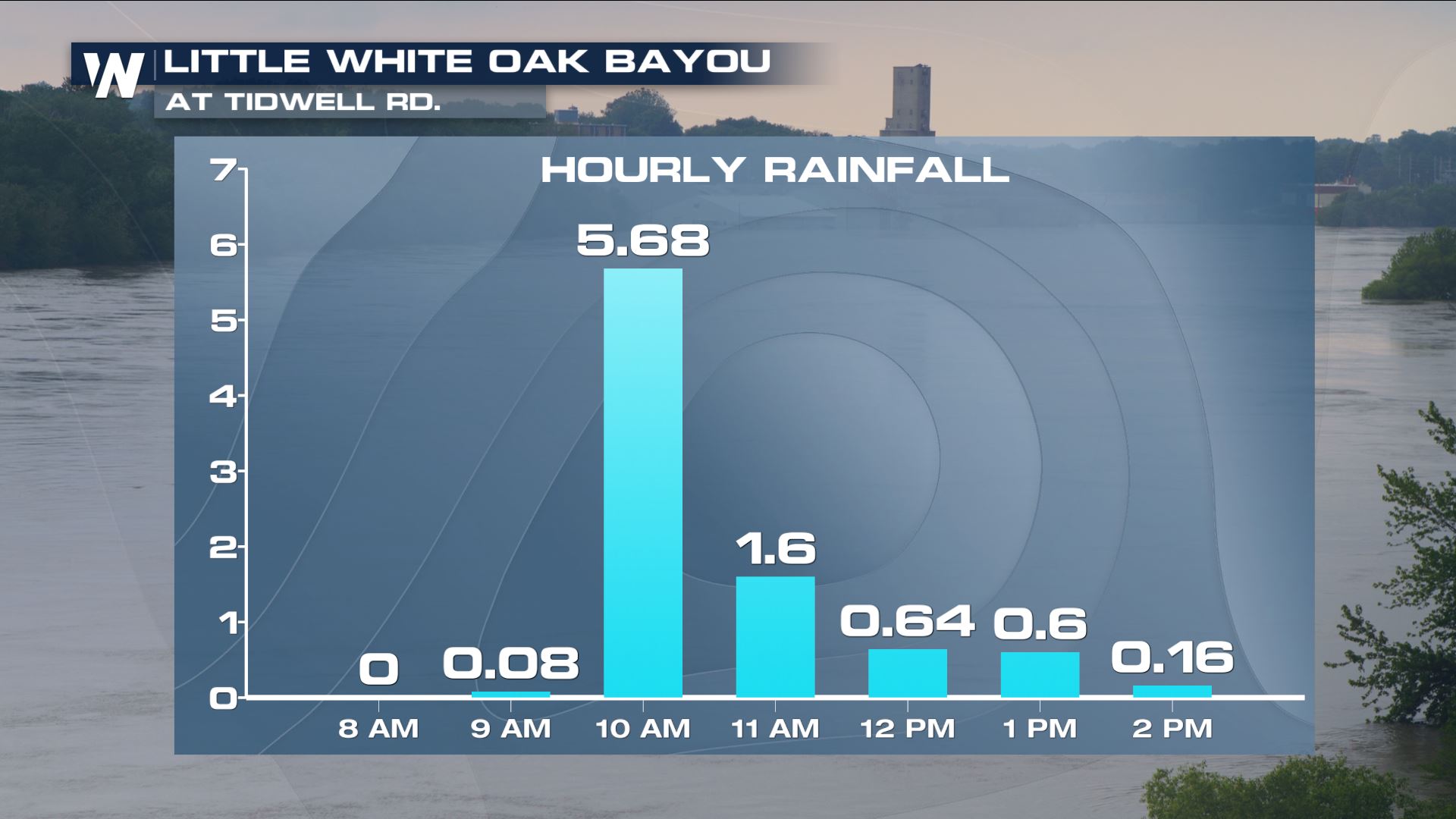 Rainfall observations on Thursday, September 19 in Texas. No matter how well your area can handle heavy rain, it's going to flood with accumulations of 5 inches in 1 hour or 9" in 2 hours. Take a look at what this heavy rain did to one of the area waterways.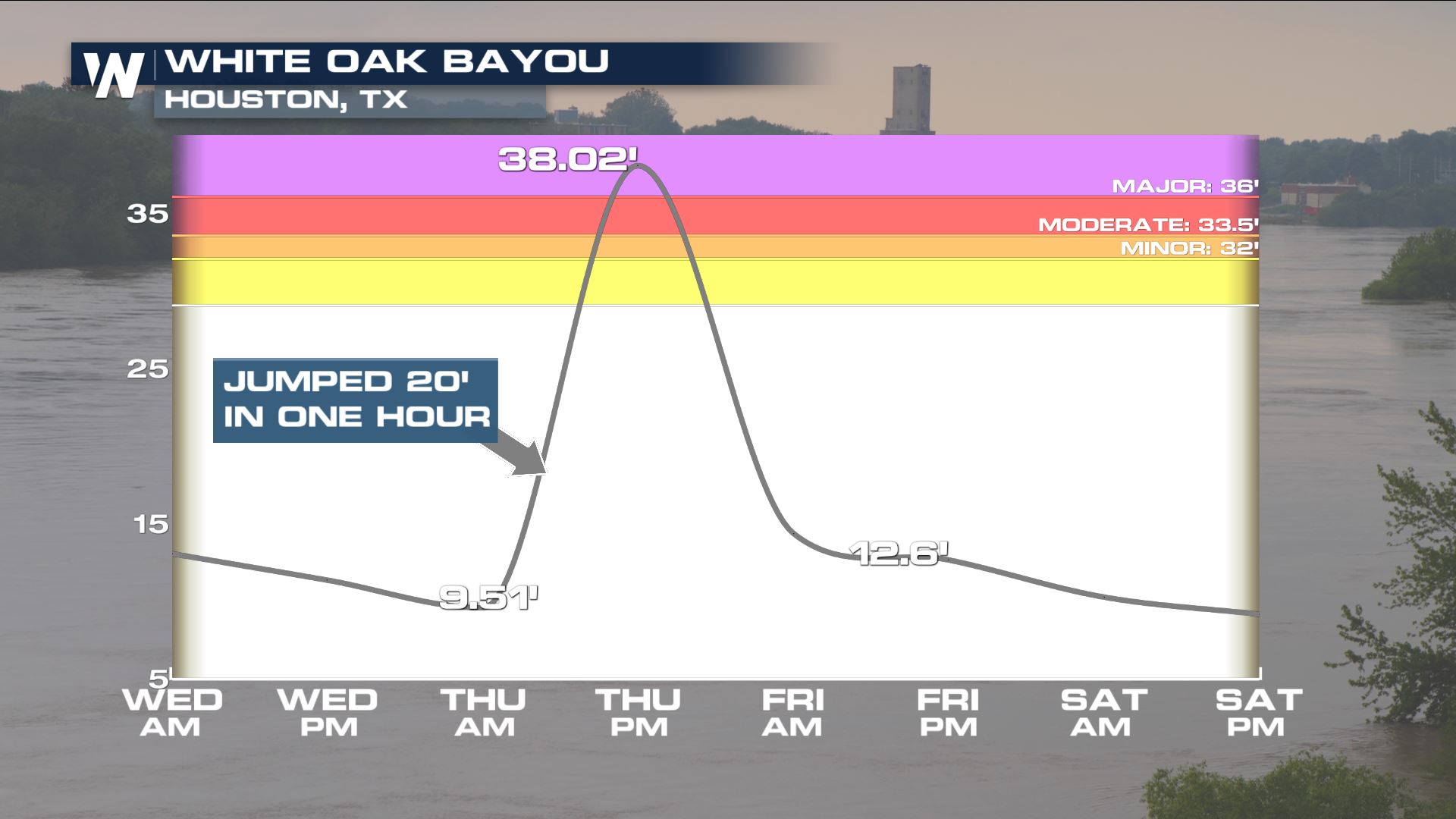 Observed water levels up to Thursday, September 19 and forecast water levels through Saturday, September 21. The White Oak Bayou in Houston jumped about 20 feet in just 1 hour! Talk about flash flooding. The Bayou peaked Thursday afternoon at 38 feet and is now receding. The heavy rain Wednesday night and Thursday morning was sort-of a knock out punch. Consider how the week has been in southeast Texas. There were rounds of rain beginning Monday, continuing Tuesday with the landfall of Tropical Storm Imelda, on and off again Wednesday and finally another big blast on Thursday. Think of it as a long boxing match where the fight's duration wears down on the boxer before one last heavy blow ends it. The ground was getting more and more saturated with the rain this week before the heaviest of it came Wednesday-Thursday, resulting in this flooding.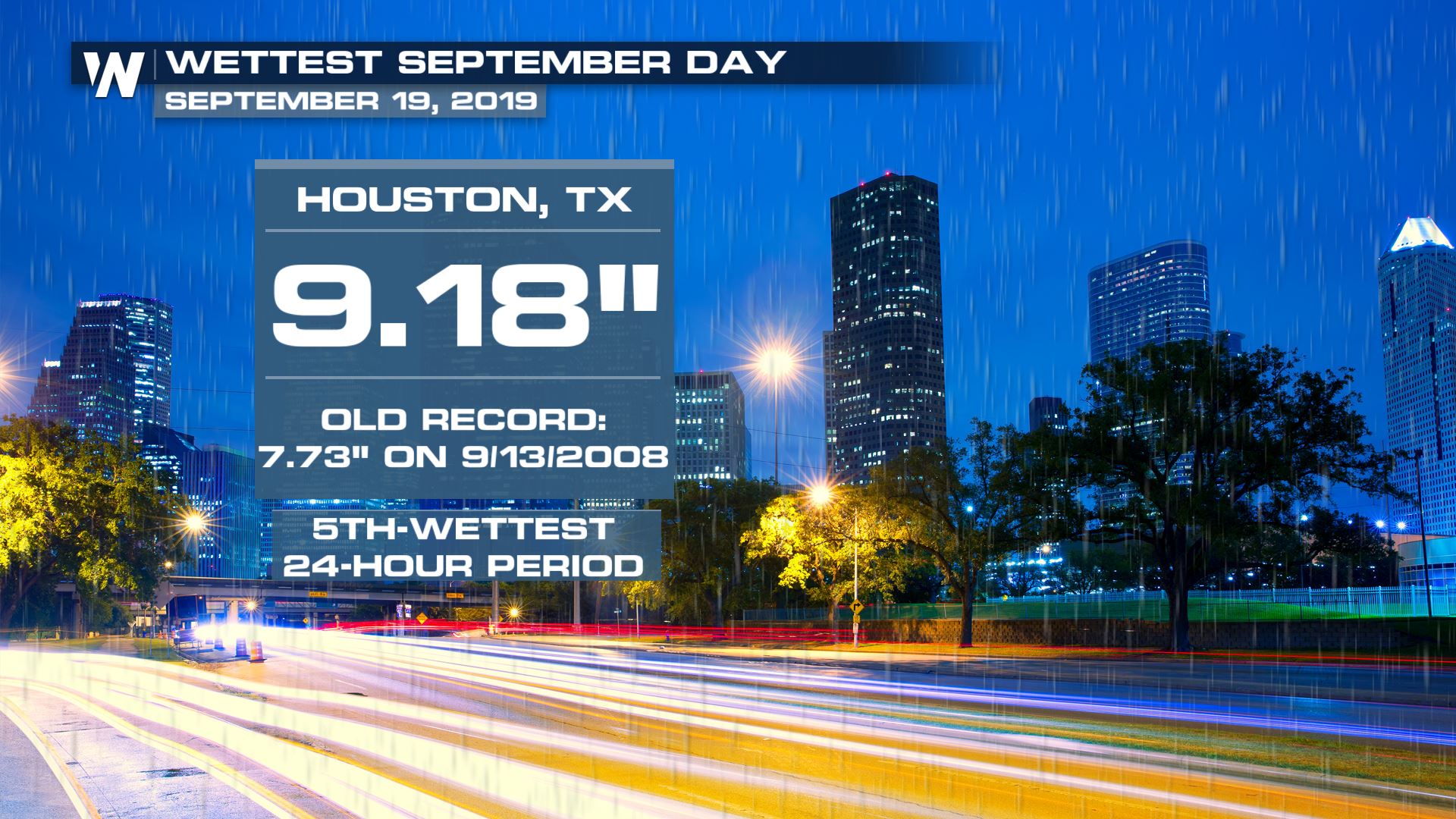 Preliminary data shows that Tropical Storm Imelda will go down as one the wettest tropical cyclones to hit Texas and the United States. The storm only moved around 5 miles per hour throughout the event. Due to the slow movement of this system, heavy rain and flooding was inevitable. Some gradually-brighter skies are ahead for this region. The storm is expected to slowly move away and dry up by this weekend. *All data considered preliminary before verified by state climatologists and NOAA/NCDC.