On Wednesday, winter weather once again visited the southeast.  Icy conditions made for treacherous driving conditions in places like Baton Rouge, Louisiana.  Streets were virtual ice rinks, with cars and trucks sliding off roads. https://www.facebook.com/WeatherNation/videos/10156166879274874/ In Charlotte, it was a snow event.  But drivers still had a tough time staying on area roads. https://www.facebook.com/WeatherNation/videos/10156166620869874/ Some of the snowfall totals were actually pretty impressive.  The Raleigh-Durham metro had about a foot of snow!  And temperatures on Thursday were very slow to warm above the freezing mark.  So many roads, especially secondary roads, are still covered with snow.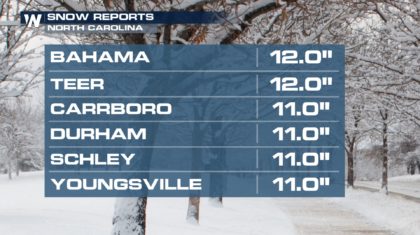 Overnight, temperatures across North Carolina are expected to drop well below freezing, into the lower 20's.  Many roads will remain snow-covered, and there will be re-freeze overnight as well.  This will create dangerous driving conditions Friday morning.  The National Weather Service has opted to keep Winter Weather Advisories in effect for most of North Carolina through Friday morning.   Temps should rise into the lower 50's by the afternoon.  This will clear the majority of snow and ice from roads.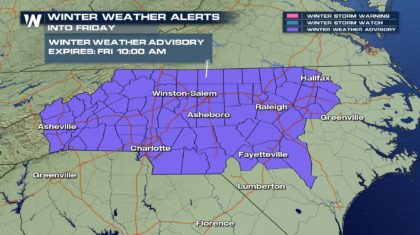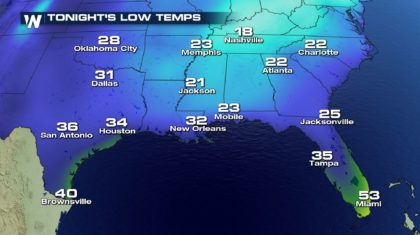 Temperatures tonight will also hoover near the freezing mark along the Gulf Coast, all the way down into central Florida.  Freeze Warnings and Freeze Watches have been posted for Thursday night into Friday morning.  Residents in these warning and watch areas should remember the Four P's... People, Pets, Pipes, and Plants.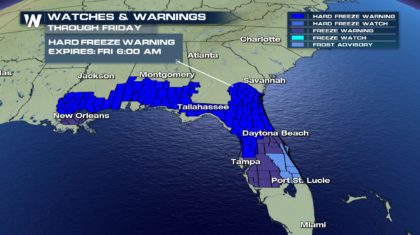 But changes are coming for the southeast.  High pressure off the east coast, along with an approaching storm system from the west, will funnel up much warmer air from the Gulf of Mexico.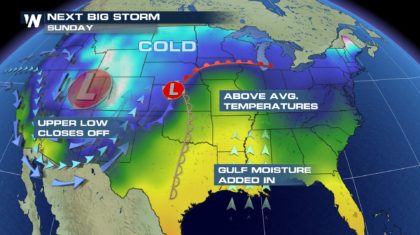 Check out the warm-up that's on the way for Friday and Saturday.  Charlotte and Atlanta will be near 50 on Friday, and rise to about 54 degrees on Saturday.  Orlando will be near 63 on Friday and approach the 70 degree  mark on Saturday.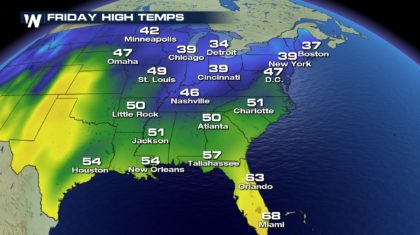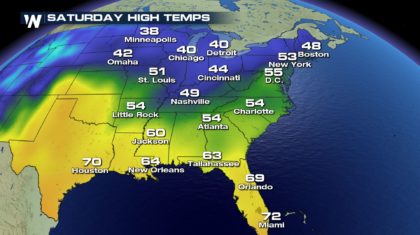 As far as precipitation, the next few days look dry.  After a quiet and relatively mild weekend, the next storm system will bring a chance for precipitation on Monday.  But this storm system will bring rain, not snow and ice.  It will be a nice break from the winter weather as of late in the southeast.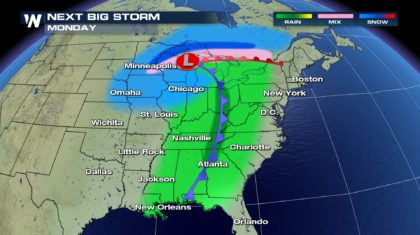 For WeatherNation:  Meteorologist Matt Monroe