Here are the latest details regarding a weekend winter storm to move across the eastern half of the country.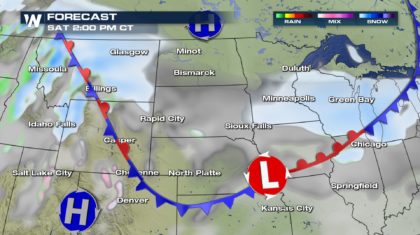 Forecast for Saturday, February 3 where the gray shows clouds, white and blue shows snow, and green shows rain. Low pressure will eject from the Rocky Mountains and into the Plains. This will spread light to moderate snow across parts of the Plains and Upper Midwest with a widely-ranging snowfall of 1 to 4 inches. The mountains of Montana and Wyoming will get 6-12" of snowfall. Meanwhile, another cold shot of air will rush in behind this low pressure area Saturday night through Sunday. The wind will blow the snow around creating a low visibility, but also bringing a dangerous wind chill Saturday night.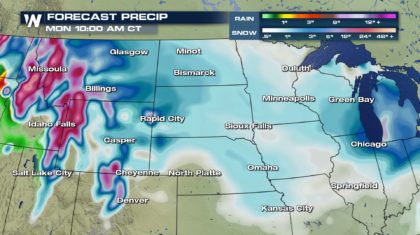 Forecast snowfall between Thursday night, February 1 and Sunday night, February 4. Blues indicate 1-6" of snow and purples indicate about 8"+ and deeper purples 12"+ Once departing the Upper Midwest, this low pressure system slowly gains strength as it moves across the central and eastern United States.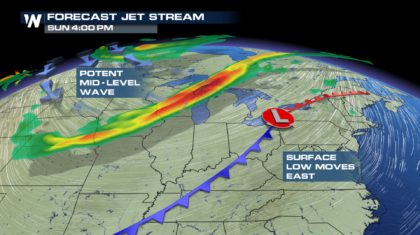 Middle and upper-level energy will help enhance precipitation along the Ohio River Valley, Appalachians, and rest of the East Sunday. Here's the timeline below: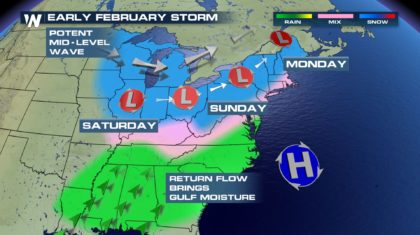 Early Sunday morning, some areas in Tennessee, Kentucky, North Carolina, Virginia, and West Virginia have the potential for light to moderate freezing rain. This will be very dependent on the surface temperature which will be hovering near 32 to 35 degrees. Check conditions before you venture out Sunday morning. The most likely chance of snowfall will be farther north/west where colder air will hang on longest.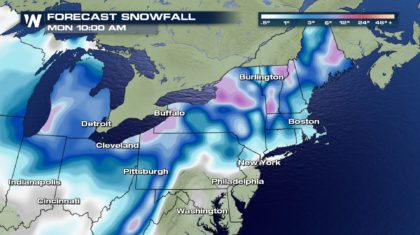 Forecast snowfall between Thursday night, February 1 and Sunday night, February 4. Blues indicate 1-6" of snow and purples indicate about 8"+ and deeper purples 12"+ As you can see, heaviest snowfall will be likely across the mountains of West Virginia, Pennsylvania, upstate New York, and northern New England. Overall, this storm system does not appear to be a large and widespread disruptive weather event, but certainly moderate on a scale of low, moderate, and high. We will keep you updated daily with the latest expectations! For WeatherNation,  Meteorologist Steve Glazier