[NOAA] Winter is just around the corner, and 
NOAA's U.S. winter outlook
 for 2019-20 is out.  For meteorological winter, which extends from December through February, NOAA's Climate Prediction Center forecasts warmer-than-average temperatures for much of the U.S., with wetter-than-average conditions most likely across the Northern Tier of the U.S. As we move into the colder and snowy months of the year, NOAA's next generation of geostationary and polar-orbiting satellites will be a critical source for monitoring and forecasting whatever weather winter throws our way.
A Lofty Look at Winter Weather 
Orbiting at 22,300 miles above the Earth, NOAA's new series of Geostationary Operational Environmental Satellites (GOES-R) monitor and track the world's weather — from eastern Australia to western Africa.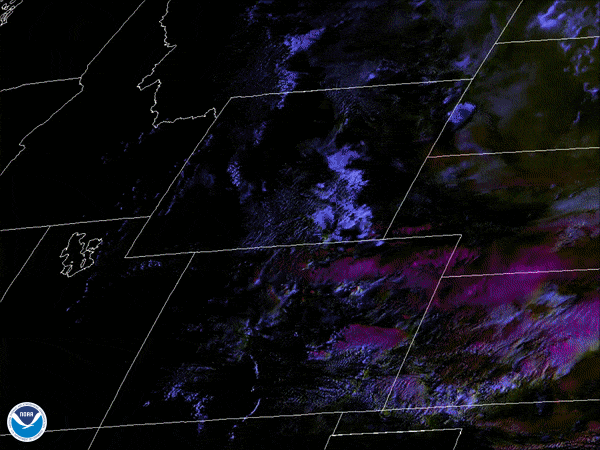 [
Credit: NOAA/CIRA
] Several instruments onboard NOAA's new geostationary satellites, GOES-16 and GOES-17, bring state-of-the-art observational capabilities, including the 16-band Advanced Baseline Imager (ABI) and the Geostationary Lightning Mapper (GLM).  These sensors give scientists and forecasters better and faster weather data during the United States' often-turbulent winter months. The ABI contributes nine of its bands to a product called the Cloud Layers and Snow Cover Discriminator, developed by NOAA's partners at the Cooperative Institute for Research in the Atmosphere (CIRA). This 
imagery
 helps observers see the difference between clouds and snow-covered ground, even at night. High cirrus clouds (composed of ice) appear magenta, low clouds are yellow, snow cover is white, and bare land appears green.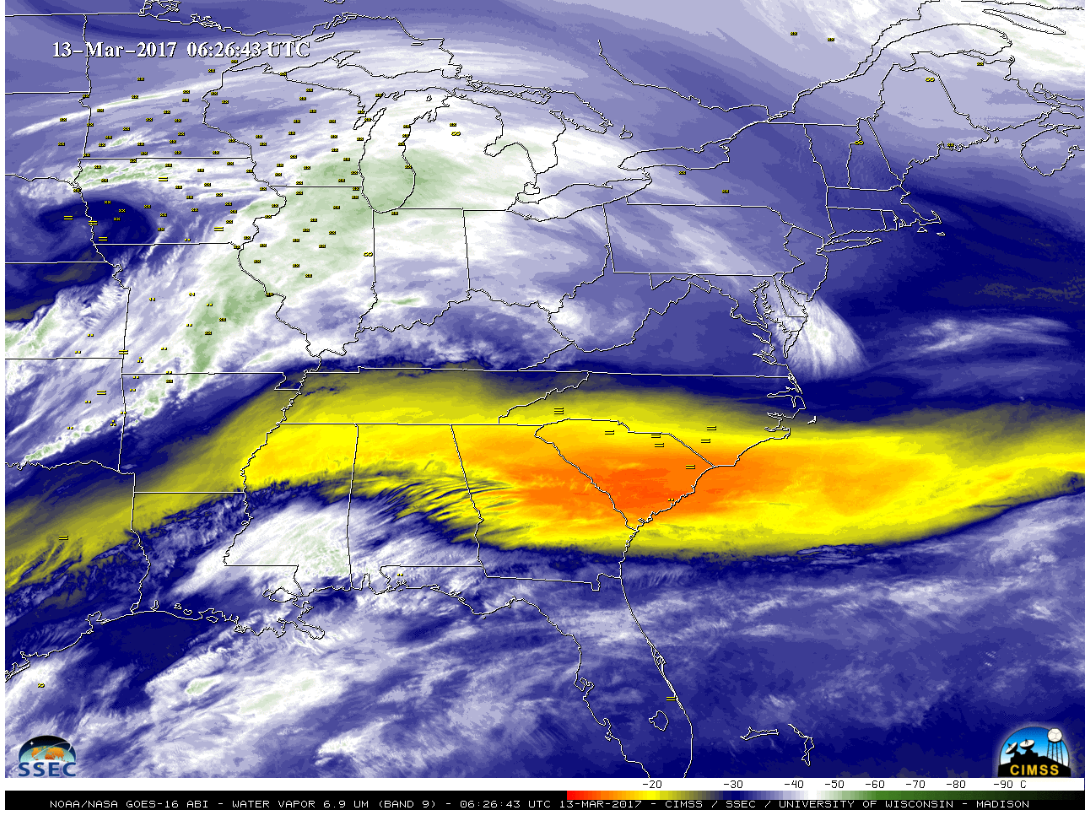 [
Credit: NOAA/CIMMS/SSEC
] The ABI also offers three bands that detect water vapor in the atmosphere. Capturing water vapor features and atmospheric motion within more layers of the atmosphere helps weather forecast models better depict the total amount of moisture that can turn into rain and snow. This leads to better forecasts of winter storm development and movement.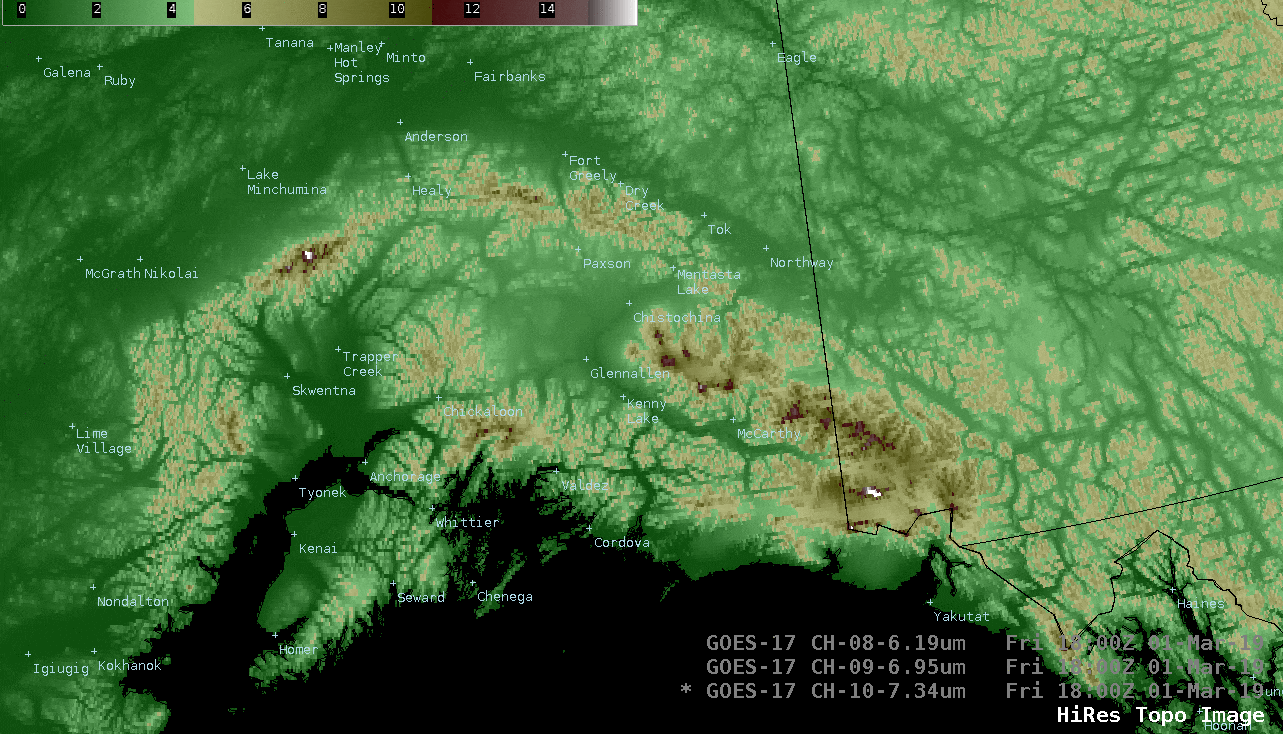 [
Credit: NOAA/CIMMS/SSEC
] In particular, the ABI onboard GOES-17 has helped Alaskan forecasters dramatically improve their ability to distinguish between clouds, snow-covered ground and sea ice around Alaska's coasts. These advanced imaging capabilities mean safer, more accurate aviation and shipping forecasts. This is especially true during Alaska's long, dark winter months when visible satellite imagery is less useful because visible imagery requires sunlight reflecting off of cloud cover. "In my nearly six years forecasting here, I have never seen a product revolutionize our ability to forecast the way GOES-17 has," said Michael Ottenweller, a NOAA National Weather Service (NWS) forecaster at the Anchorage, Alaska field office. "The advent of GOES over our domain makes forecasting tangibly easier and better."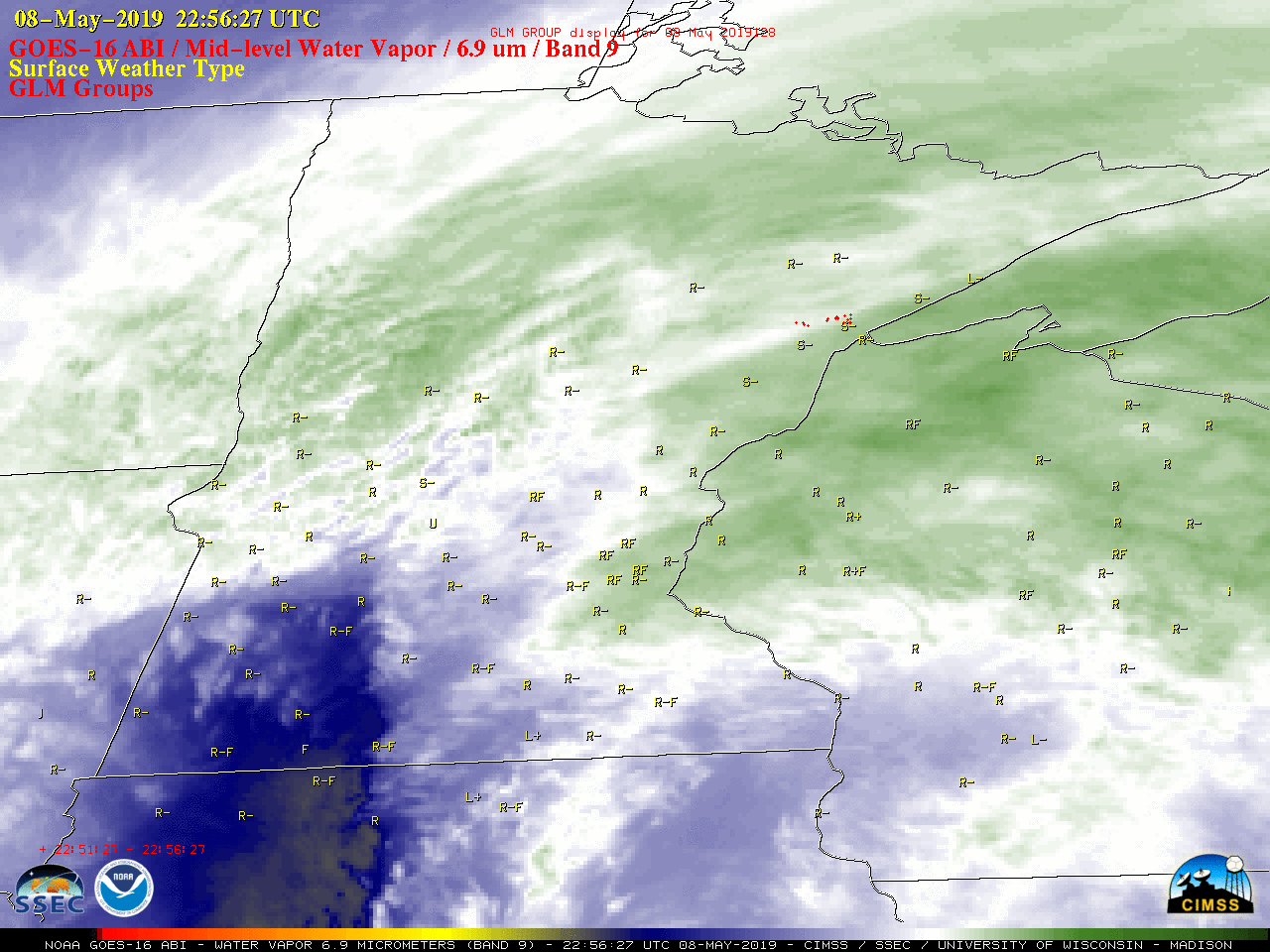 [
Credit: NOAA/CIMMS/SSEC
] Though lightning is usually considered a warm-season phenomenon, it occurs in winter storms as well.  Known as thundersnow, lightning during a winter storm can indicate its strength. The Geostationary Lightning Mapper (GLM) on GOES-16 and 17 monitors lightning around the globe. The location and frequency of lightning detected by GOES can be used to derive snowflake growth and snowfall intensity. These observations provide scientists and forecasters with a deeper understanding of the role of lightning in anticipating heavy snow bands and intense snowfall rates.
A Closer Perspective from Pole to Pole
Hugging the Earth in a much tighter orbit, the Joint Polar Satellite System (JPSS) views the entire globe from about 500 miles in space.  These satellites circle the poles about 14 times a day and provide unparalleled views of our planet, especially in the Arctic and Antarctic regions. They also serve an important role in winter weather tracking and forecasting in the U.S.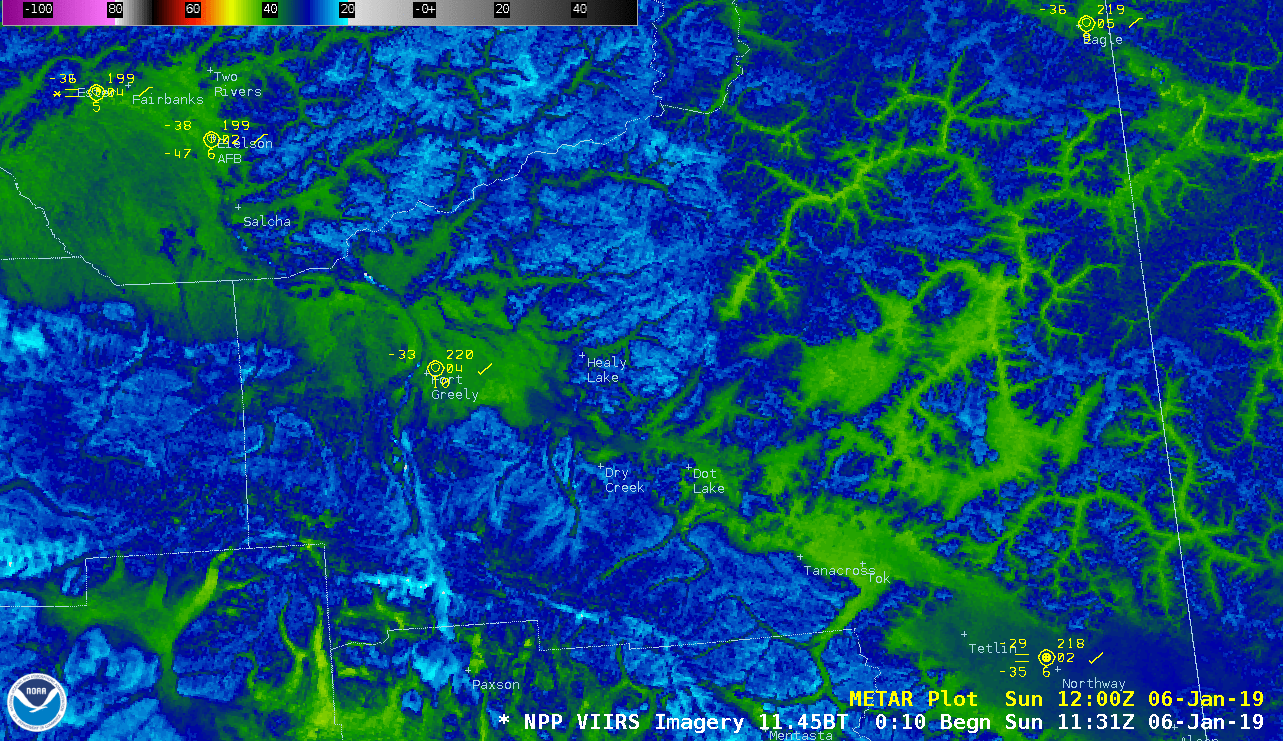 [
Credit: NOAA/CIMMS/SSEC
] Both JPSS satellites — NOAA-20 and Suomi-NPP — carry the Visible Infrared Imaging Radiometer Suite (VIIRS), which features continuous multi-band, high-resolution imaging capabilities, including a unique detector for visible imagery at night, called the Day/Night Band. This helps forecasters monitor weather and environmental features across the U.S. around the clock, which is especially essential for Alaska during its dark winter months.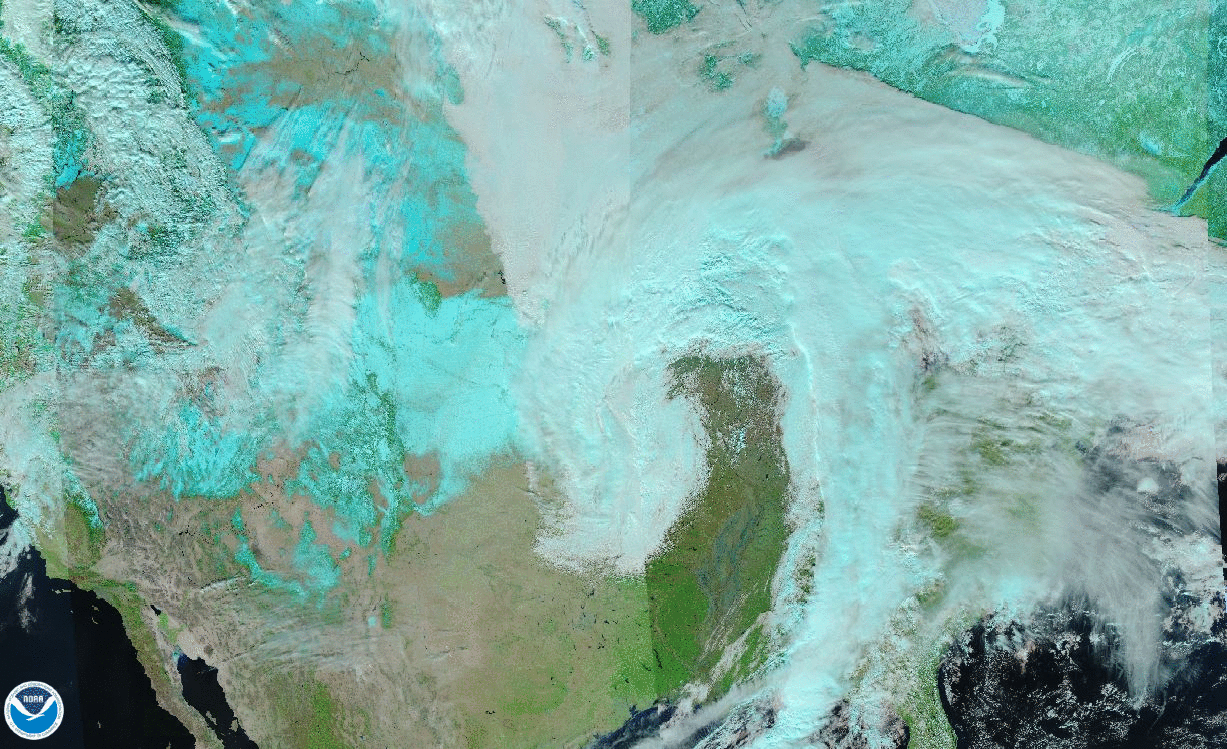 [
Credit: NOAA/SSEC
] VIIRS also helps forecasters differentiate between snow and cloud cover through the use of so-called "natural-color" images, like this one above. This image was created with data from the Red-Green-Blue (RGB) channels of the VIIRS instrument, but the calculations used to process it depicts snow cover as a blue-green color, which helps it stand out from the clouds, which appear in white.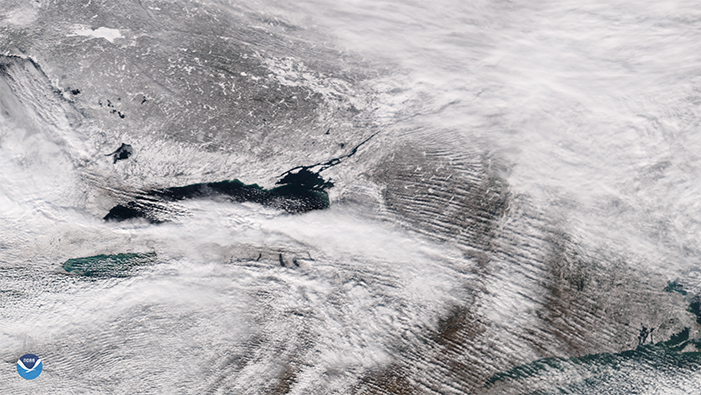 [
Credit: NOAA
] During times when ground-based radar is blocked by terrain, or only seeing a portion of a storm, JPSS satellites can assist in monitoring lake-effect 
snow squalls
. With satellite data, NWS forecasters can quickly identify rapidly cooling cloud tops within a snow squall, which according to Randy Graham, the regional science officer at the NOAA NWS Central Region Headquarters, indicates the squall is intensifying. "You can really see the evolution of the event and see where the cloud tops are cooling," Graham added, noting that imagery of that nature can help forecasters make a warning decision.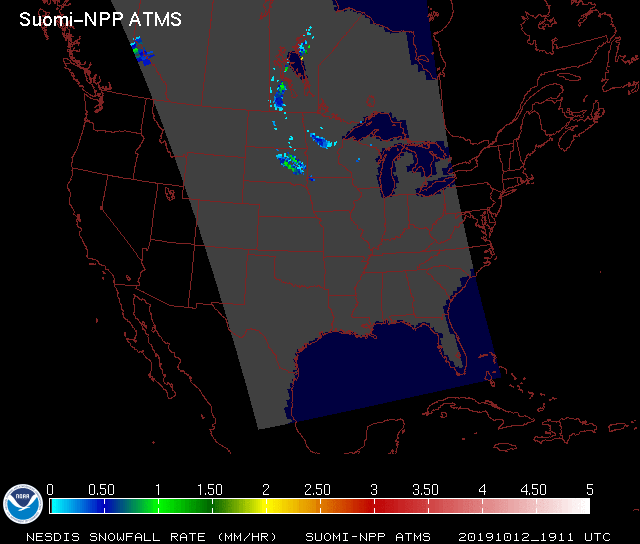 [
Credit: NOAA
] Moreover, another sensor on Suomi-NPP and NOAA-20, the Advanced Technology Microwave Sounder (ATMS), provides atmospheric temperature and moisture data for operational weather and climate applications. ATMS can help forecasters derive a winter storm's snowfall rate, which is useful for anticipating or validating snowfall in radar-deprived regions and also for tracking areas of maximum snowfall. For the scientists who work around the clock to provide better and more accurate winter weather monitoring and forecasting, NOAA's advanced satellites have been a game-changer. "NOAA's GOES-R and JPSS satellites provide forecasters with crucial data and imagery about winter storm formation and evolution across the country," said Greg Carbin, the forecast operations branch chief for NOAA's Weather Prediction Center. "These satellites also feed essential atmospheric data into the numerical weather simulation models, contributing substantially to winter storm forecast improvement."