[
GOES-T lifted to the thermal vacuum chamber. Credit: Lockheed Martin
] [Written by
NASA
and
NOAA
]  GOES-T, the third satellite in NOAA's GOES-R Series, is fully assembled and beginning a set of rigorous tests to ensure it can withstand the harsh conditions of launch and the space environment in which it will reside once it reaches geostationary orbit 22,236 miles above Earth. The testing is taking place at Lockheed Martin Corporation's Littleton, Colorado, facility, where the spacecraft was built. GOES-T is currently undergoing thermal vacuum testing in a large 29' x 65' chamber. During thermal vacuum testing, the spacecraft will experience a vast range of temperatures, with some parts reaching as high as 188 degrees Fahrenheit (87 degrees Celsius) and others dropping as low as minus 67 degrees Fahrenheit (minus 55 degrees Celsius). This testing simulates the extreme temperatures of launch and the space environment.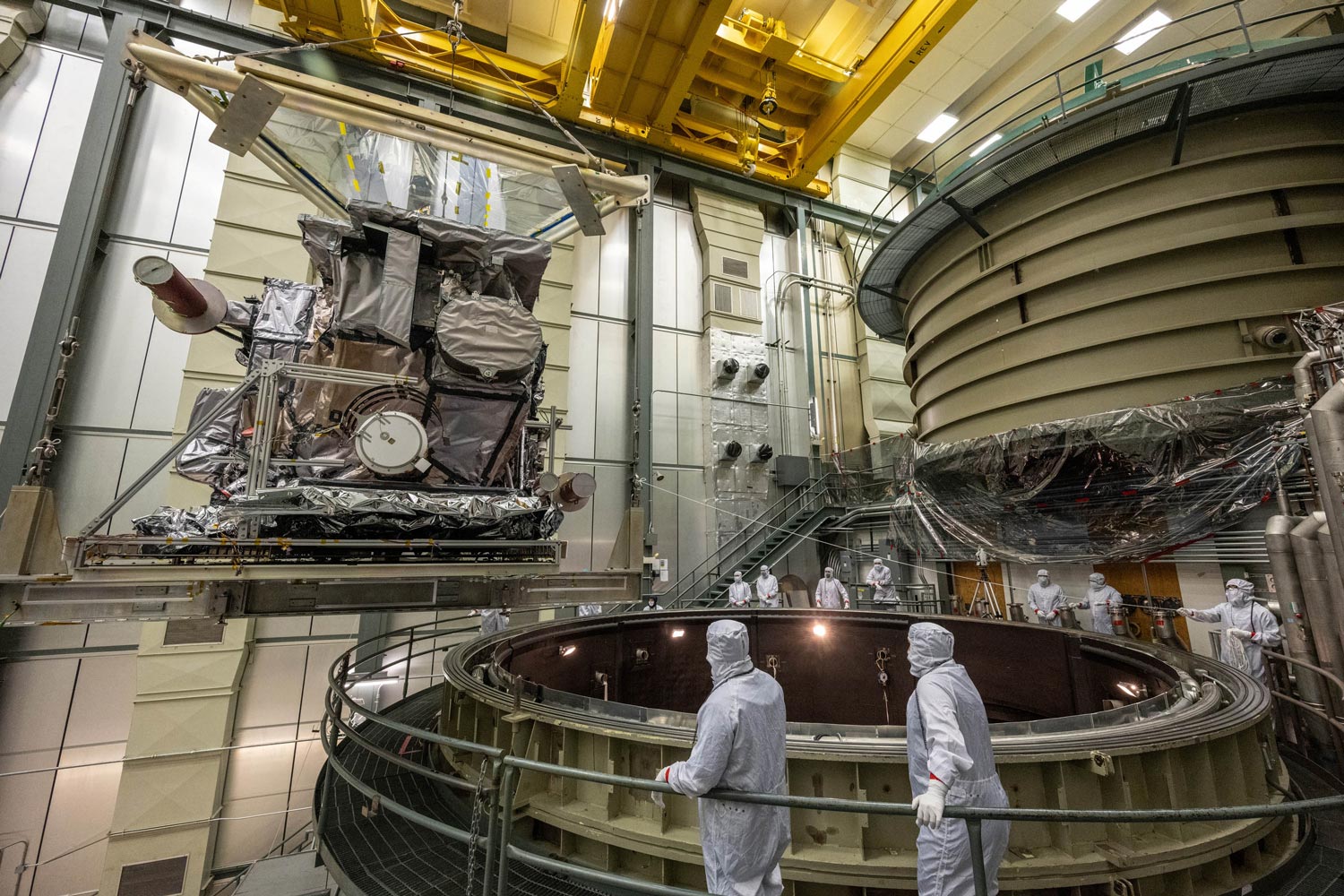 [
GOES-T lifted to the thermal vacuum chamber. Credit: Lockheed Martin
] After GOES-T is removed from the thermal vacuum chamber, several other tests will follow. The satellite will undergo 
vibration testing
 to simulate the stresses experienced during launch to ensure there are no structural weaknesses. 
Shock testing
 will make sure the spacecraft can withstand the shocks encountered during separation from the launch vehicle and deployment of the solar panels. 
Acoustics testing
 will use high-intensity horns to subject the satellite to extremely high sound pressure that simulates the noises created when the rocket is launched. Finally, GOES-T will undergo 
electromagnetic testing
 to ensure that the electromagnetic signals produced by satellite components do not interfere with its operation. At specific points during the testing, the Mission Operations Team (MOST) will conduct a set of 
end-to-end tests
 that command the spacecraft from the ground system. The end-to-end tests validate the compatibility of flight and ground hardware, software, and communications interfaces in a mission operations context. The full set of environmental, mechanical, end-to-end, and electromagnetic tests will take approximately ten months to complete. GOES-T faced some unique challenges to get to this point. 
In 2018, during post-launch testing of the GOES-17 Advanced Baseline Imager (ABI), scientists discovered an issue with the instrument's cooling system
. The loop heat pipe (LHP) subsystem, which transfers heat from the ABI electronics to the radiator, is not operating as designed. As a result, the ABI detectors can't be maintained at their intended temperatures under specific orbital conditions, leading to a partial loss of infrared imagery at certain times.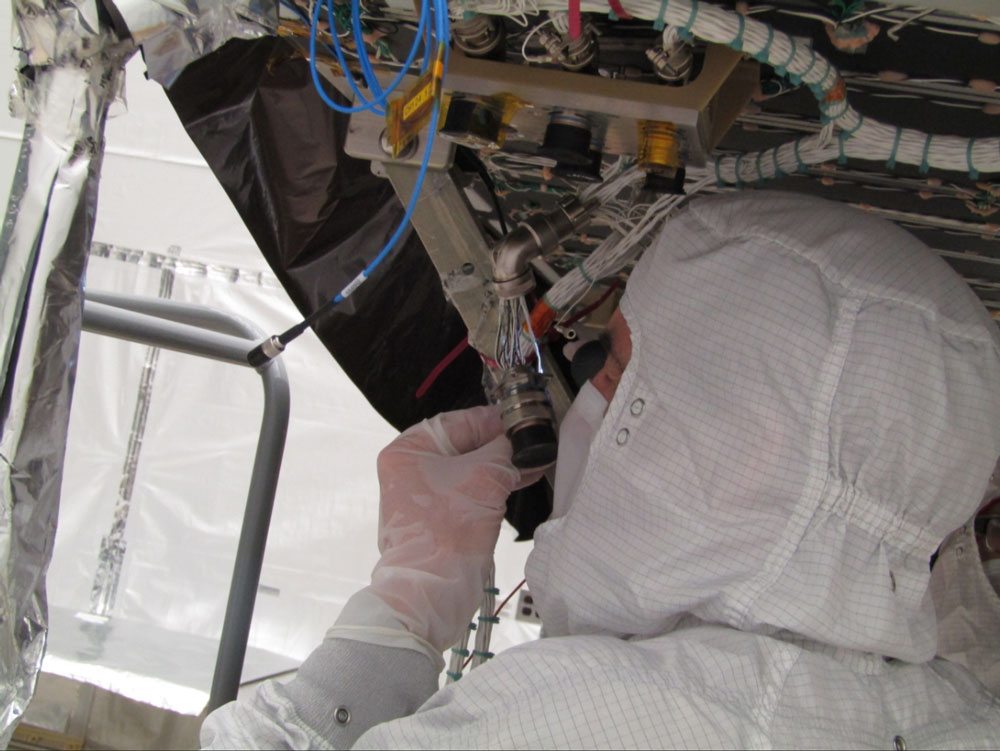 [
Technician Chris Haag works on a connector in the GOES-T ABI radiator at the L3Harris facility in Rochester, New York. Credit: L3Harris
] An investigation found the most likely cause of the thermal performance issue to be foreign object debris blocking the flow of the coolant in the loop heat pipes. As a result, an independent review team recommended changes to the design of the ABI radiator and loop heat pipes for GOES-T and GOES-U to decrease the chance of future cooling system anomalies. The new design utilizes a simpler hardware configuration that eliminates the filters that are susceptible to debris. In addition to changes in the ABI cooling system design, the GOES-T and GOES-U satellites will carry an upgraded magnetometer instrument from the one aboard GOES-16 and GOES-17. The magnetometer, built by NASA's Goddard Space Flight Center and known as GMAG, is expected to provide improved performance to meet mission requirements. The magnetometer measures magnetic field variations that are associated with space weather.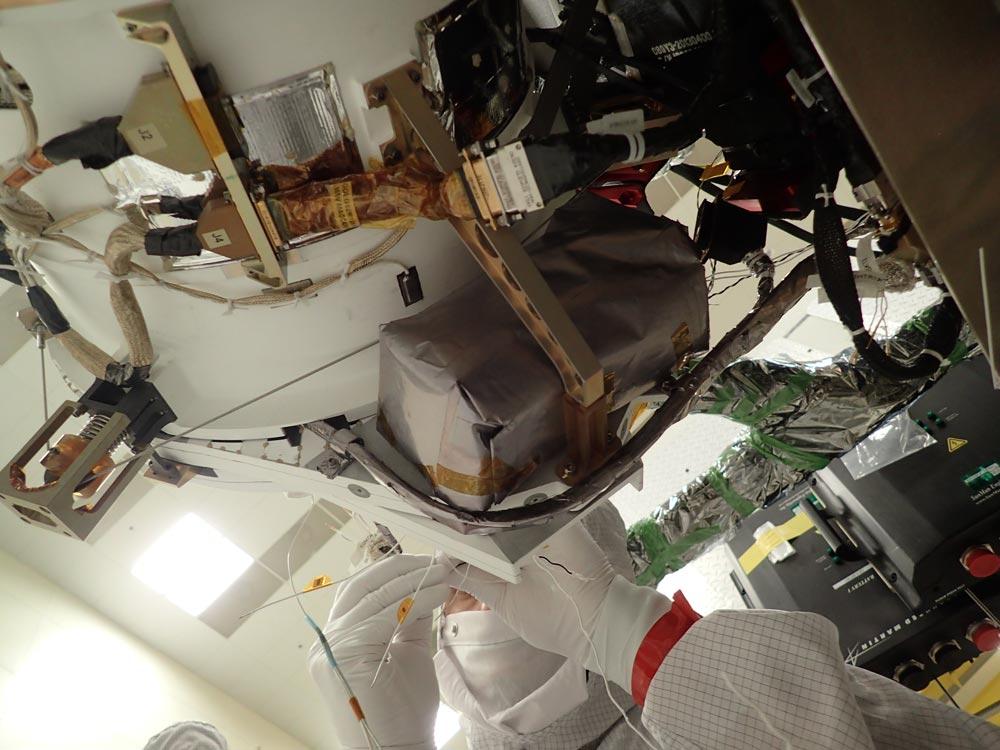 [
A technician works to install GMAG on the GOES-T spacecraft. Credit: Lockheed Martin
] The team also had to contend with a pandemic while integrating the GOES-T instruments and spacecraft. "Our work environment changed dramatically in March with the arrival of COVID-19," said Pam Sullivan, GOES-R System Program Director. "With most personnel working remotely and on-site work limited to critical operations, we had to adapt how we accomplished the mission. My main concern is the safety and wellbeing of our people." New safety and social-distancing procedures have been put in place for personnel who remained on-site at facilities across the country, and new remote access and monitoring systems were implemented. "Our team continues to rise to the challenge and keep critical work going during this very uncertain time. I couldn't be prouder of everyone for staying positive, being flexible and compassionate, and meeting adversity with determination and ingenuity," said Sullivan.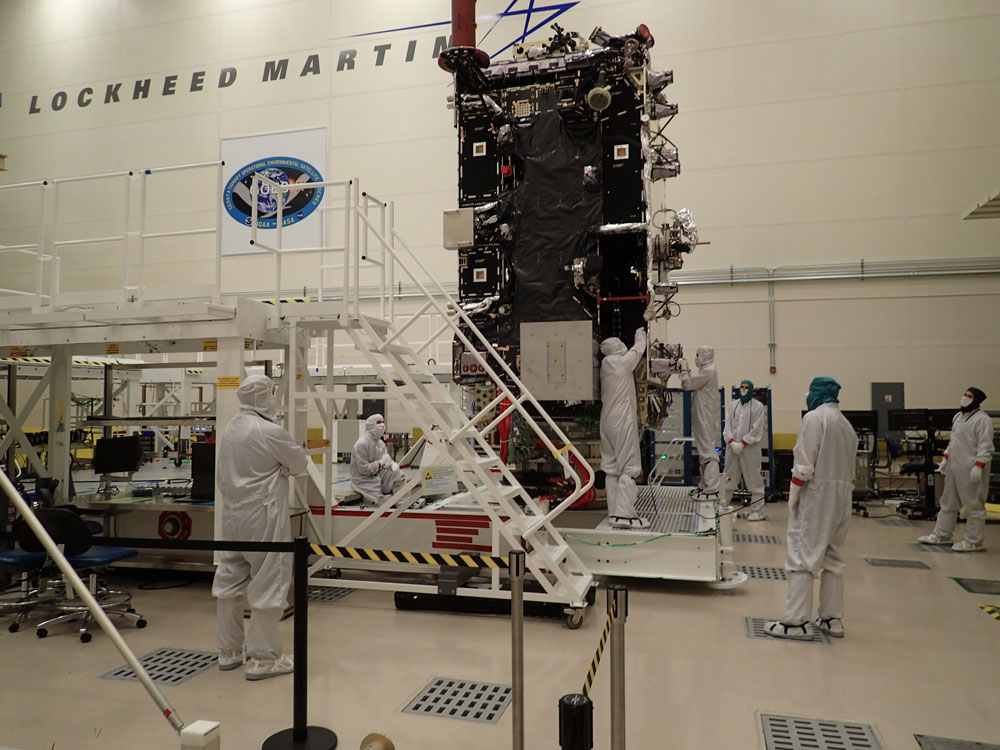 [
Technicians work on GOES-T in a clean room at Lockheed Martin in Littleton, Colorado. Credit: Lockheed Martin
] GOES-T is scheduled to launch in December 2021 from Cape Canaveral Air Force Station in Florida. The satellite will be renamed GOES-18 once it reaches geostationary orbit, and is currently planned to reside in on-orbit storage until it transitions to operational service. It will also be available to provide backup operations for GOES-16 (GOES-East) and GOES-17 (GOES-West), which serve as NOAA's current operational constellation. The centrally located on-orbit storage will allow GOES-18 to quickly move into position if either GOES-16 or GOES-17 experience an anomaly and to eventually transition to operations as GOES-West. The GOES-R Program is a four-satellite mission that includes GOES-R (GOES-16, launched in 2016), GOES-S (GOES-17, launched in 2018), GOES-T and GOES-U. GOES-U is currently scheduled for launch in 2024. The program is a collaborative effort between NOAA and NASA. NASA builds and launches the satellites for NOAA, which operates them. The satellites provide critical data for weather forecasts and warnings, detection and monitoring of environmental hazards like fire, smoke, fog, volcanic ash, and dust, and monitoring of solar activity and space weather.
Edited for WeatherNation by Mace Michaels