91F in Washington D.C. Wednesday – Foot of Snow for Central Minnesota Today (tracking more crazy extremes)
"Less Riff-Raff"
When I got to Minnesota in 1983 someone quickly set me straight. "The cold and snow serves a purpose, Paul. It keeps the riff-raff out."
Really? How did I get in?
That said, I realize if we had San Diego's weather year-round MSP would have a population of 10 million.
The national media will be chatting up today's snow burst; the heaviest snow coming this morning. Rush hour will be anything but. A snow ratio of 6:1 or 7:1 will probably mean 5-8 sloppy inches before snow starts tapers this afternoon.
Spring is on life support – but this too shall pass. The trends are encouraging: more big, wet storms pulling moisture northward from the Gulf of Mexico. The atmosphere should be warm enough aloft for rain Sunday, another rain event shaping up by the middle of next week. Call me a naive optimist (or worse), but I still believe the drought will ease by June.
Unusual chill and additional snow is delaying spring flood season, but rain next week may accelerate snow melt. Some drought counties may experience river flooding, especially along the Red River. Go figure.
Long-range models hint at 50s next weekend (April 20-21), maybe 60F after the 25th?
I know. I'll believe it when I see it.
A Sloppy Snowfall. WSI's 4km. RPM model is suggesting 4-7″, with some 8-9″ amounts northern and western suburbs by Friday morning (total). As much as 12-16″ could pile up over southwestern Minnesota, deeper into the cold air.

Winter Storm Warning. NOAA has expanded the number of counties under a Winter Storm Warning; now as far north as Fergus Falls and Brainerd, extending into much of central and northern Wisconsin. Ice Storm Warnings are posted for southeastern Minnesota and southwest Wisconsin. Details from the Twin Cities NWS:
...LONG DURATION SIGNIFICANT WINTER STORM TO BRING MORE HEAVY
WINTRY PRECIPITATION THROUGH AT LEAST THURSDAY...

.A POWERFUL STORM SYSTEM WILL BRING WINTRY PRECIPITATION THROUGH
AT LEAST THURSDAY. THE MOST SIGNIFICANT PART OF THIS STORM IS
EXPECTED THROUGH EARLY THURSDAY MORNING...WHEN SNOWFALL RATES
WILL EXCEED AN INCH PER HOUR AT TIMES. ISOLATED THUNDERSTORMS CAN
ALSO BE EXPECTED...WHICH WOULD LEAD TO EVEN GREATER SNOW RATES OF
2 INCHES OR MORE PER HOUR.

PRECIPITATION WILL BE MAINLY SNOW NORTHWEST OF A FAIRMONT...TO
THE SOUTHEASTERN TWIN CITIES METRO...TO RICE LAKE LINE. A MIX OF
FREEZING RAIN...SLEET AND SOME SNOW IS EXPECTED SOUTHEAST OF THIS
LINE...GRADUALLY TURNING TO ALL SNOW BY LATE THURSDAY MORNING.
THIS WINTER STORM WILL HAVE SIGNIFICANT IMPACTS ON THE THURSDAY
MORNING COMMUTE.

SNOWFALL ACCUMULATIONS OF 8 TO 12 INCHES ARE EXPECTED IN A BAND
CENTERED ALONG A LINE FROM REDWOOD FALLS...TO ST CLOUD AND THE
TWIN CITIES METRO...TO RICE LAKE WISCONSIN. SOME LOCATIONS...
ESPECIALLY THOSE THAT RECEIVE THUNDERSNOW...COULD SEE HIGHER
TOTALS OF 12 TO 15 INCHES. SNOW TOTALS WILL DROP OFF TO THE NORTH
AND SOUTH OF THIS HEAVY BAND TO 6 TO 8 INCHES NEAR ALEXANDRIA AND
LITTLE FALLS...AND PERHAPS AS LITTLE AS 2 TO 5 INCHES NEAR ALBERT
LEA AND EAU CLAIRE WHERE A MIX OF FREEZING RAIN AND SLEET IS
EXPECTED TO PERSIST THE LONGEST. ICE ACCUMULATIONS THERE MAY ALSO
REACH BETWEEN A TENTH AND A QUARTER OF AN INCH.
Cue The Dueling Models for the Twin Cities. It's a little troubling that, 6-12 hours before a significant snow event, the models still vary as much as they do, ranging from 2 to 10″. I still think something in the 4-8″ range makes sense, based on a snow ratio of 6:1 or 7:1, and a little rain/sleet mixing in at times. The best chance of 6-8″: northern and western suburbs. The local NWS office was predicting about 8-9″ as of late last night.

Snow Burst. The high-resolution RAP model from NOAA shows a surge of moisture and energy rotating in from the southeast this morning; the heaviest snow between 3 am and 11 am or so, when slush may pile up at the rate of 2″/hour (even some thunder and lightning). Snow tapers slightly this afternoon – by then many lawns and fields will be sporting a 5-8″ blanket of white.
Progress? No More Slushy Snowfalls. I can't promise 50s looking out 8 days or so, but in all probability we won't have to hear about "plowable snowfalls" again anytime soon. The atmosphere should be warm enough aloft for rain Sunday, another chance of rain showers next Tuesday and Wednesday. ECMWF data above, forecast highs in Celsius.
Here is an excerpt of an Alerts Broadcaster Briefing, issued Wednesday afternoon: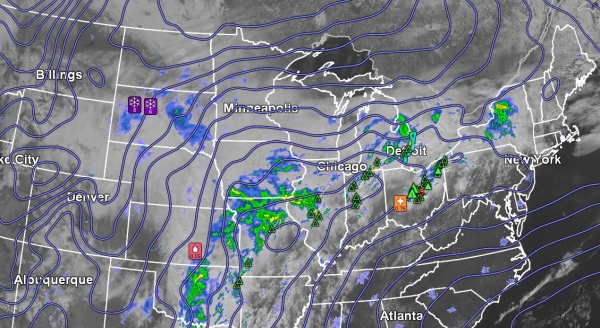 It's one mixed-up weather map: instant July for much of the eastern seaboard, with record-setting 80s, even a slight shot at 90F in Washington D.C. later today. Temperatures are 80 degrees colder in Colorado and the western High Plains, setting the stage for a major snow storm over the Upper Midwest and Great Lakes, with enough rain to accelerate stream and river flooding from Iowa and Wisconsin into Missouri and Lower Michigan. Highlights:
* Another 4-9″ slushy snow may fall on the Twin Cities tonight thru Thursday afternoon; a plowable snow event. As much as 15-18″ may fall on southwestern Minnesota.
* River flooding is increasing across the Midwest and Great Lakes; heavy rain falling on partially frozen ground complicating the flood outlook.
* Severe thunderstorms are likely later today from the Mississippi River Valley into the Ohio Valley, as far east as Philadelphia and metro New York City. The odds of tornadoes are low, but not zero.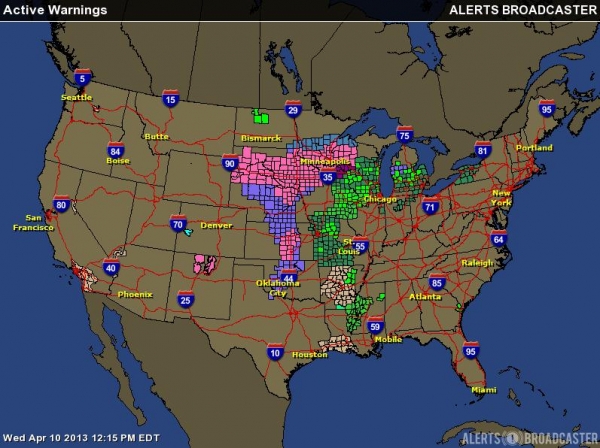 Latest Warnings. Winter Storm Warnings are posted for much of the Upper Midwest for ice and another round of heavy, wet snow tonight into Thursday. All the green counties are under Flash Flood Watches or Warnings. Data courtesy of NOAA.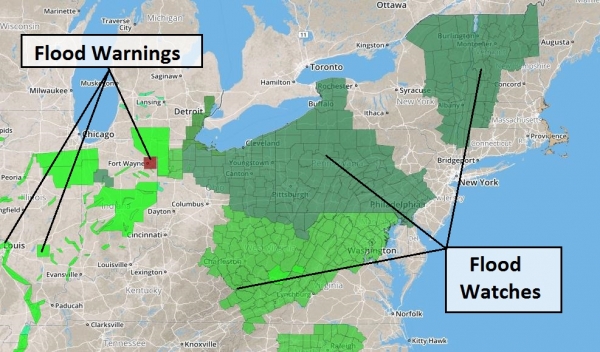 Most Weather Headaches. Ice Storm Warnings are posted for southeastern Minnesota and southwest Wisconsin, for a significant accumulation of glaze ice on roads and powerlines. Some power outages are possible from Rochester and LaCrosse to Menomonie, WI. Flood Warnings (bright green counties) are in effect from Wisconsin into eastern Iowa, northwest Illinois, Lower Michigan and much of Missouri.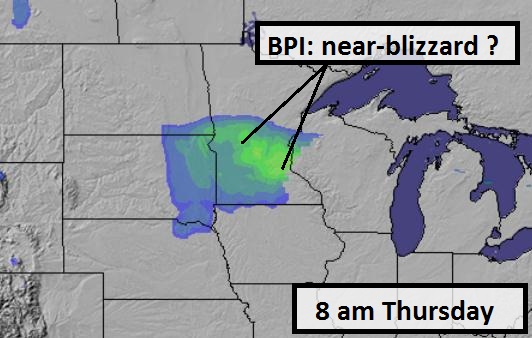 Blizzard Potential Index. One of the models we run in-house here at Alerts Broadcaster is the BPI, the Blizzard Potential Index, which factors predicted snowfall rates, wind speeds and visibilities. Models are suggesting near-blizzard criteria from Alexandria and St. Cloud into the suburbs of the Twin Cities tomorrow morning; conditions improving by afternoon. Odds are morning rush hour will be anything but.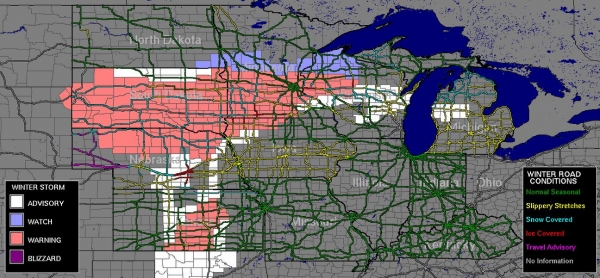 Highway Conditions. Roads are snow and ice covered from Nebraska and South Dakota into southwestern Minnesota. I expect travel conditions to worsen again tonight into Thursday, before improving across the Midwest during the day Friday. Latest conditions are here.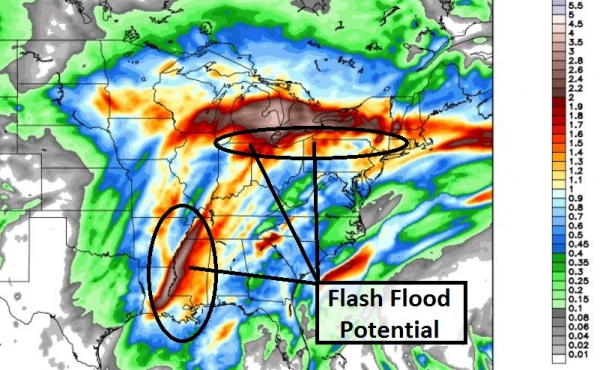 Predicted Rainfall. The NAM model is predicting some 2″+ precipitation amounts for the Great Lakes and Mississippi Valley. Much of that moisture will fall as snow over Lower Michigan, but heavy rain on partially frozen ground may lead to run-off problems from near Chicago and Detroit into upstate New York, more flash flooding possible Memphis to New Orleans.
Current River/Stream Flooding. NOAA is reporting major flooding in Devil's Lake, North Dakota and the East Fork of the Black River in Wisconsin. Minor to moderate stream/river flooding is reported across much of Wisconsin, southeastern Minnesota, northeast Iowa, Lower Michigan and the suburbs of Buffalo, New York.
Wednesday Storm Reports. As of late last night 6 tornadoes were reported, most of them in Arkansas, but a few touch-downs over the eastern suburbs of St. Louis. In all 138 reports of damaging straight-line winds, with hail and highs winds as far east as metro New York City. Detailed storm reports from SPC are here.

Severe Risk Shifts East. Today the severe risk extends from the Ohio Valley southward to Huntsville and Atlanta. By Friday a few storms may exceed severe criteria over the Carolinas and Tidewater region of Virginia. I could see a few very strong T-storms Friday from D.C. to New York City.
Summary: Another surge of heavy wet snow and ice pushes across the Upper Midwest into the Great Lakes into Friday morning. River flooding continues to increase over the Midwest, and will be a factor for the next couple of weeks as we continue in a very wet, unsettled pattern. Severe storms will fire up later today over the central USA, pushing to the east coast by Friday. We'll continue to monitor this unusually intense April storm and keep you in the loop.
Major League Extremes. I can't remember the last time I saw this during the second week of April. Strange….
Flood-Weary North Dakota Residents Keep An Eye On Snowmelt As River Peak Headed Toward End Of The Month. The latest details from AP and The Republic: "The annual Red River Valley pastime of moisture monitoring came to a bone-chilling halt Tuesday when temperatures failed to creep above the freezing mark in eastern North Dakota and put both the gradual snowmelt and nervous flood watchers on hold. The last few weeks have seen above freezing temperatures during the day and below freezing at night, which are usually conducive to a gradual thaw — but now it's a tad too chilly for comfort, said weather service meteorologist Greg Gust. "We aren't doing a good job of getting rid of the snowpack or the water by conventional means," Gust said, referring to a slow ground thaw and evaporation. "So at some point it does need to get a bit warmer and stay a bit warmer to really do this right…"
* experimental long-range flood risk graphic courtesy of NOAA.
Report: 243 Million Americans Affected By Weather Disasters Since 2007. Here are more details in the latest report from Environment America, as detailed by The Washington Post – here's an excerpt: "Among some of the report's major findings:

About 4 out of 5 Americans live in counties that have been declared federal disaster areas in the past six years.
In 2012, the U.S. recorded 11 weather disasters causing economic losses of $1 billion or more, including Hurricane Sandy.
Sandy claimed 72 lives in the Northeast and caused over $70 billion in damages, making it the costliest hurricane ever to hit the East Coast and the costliest weather disaster since Hurricane Katrina in 2005.
77 million Americans live in counties that experienced federally declared weather-related disasters in 2012 alone.
19 million Americans live in counties that have averaged one or more such weather-related disasters per year since 2007…"
Broadcasters Circle Wagons Against A Streaming TV Upstart. More background on how Aereo has the potential to disrupt local broadcasting, and yes, it's coming to the Twin Cities. Details from the New York Times (paywall means a subscription is necessary to read the entire article). Here's an excerpt: "…The networks aren't just concerned about Aereo, which has a tiny following, but about copycats. "It's Aereo today, but it could be something else tomorrow," said Robin Flynn, a senior analyst at SNL Kagan. For several decades companies that were lucky enough to own licenses for local TV stations thrived on advertising revenue alone, and because there was relatively little competition they enjoyed huge audiences and profit margins to match. As cable and then the Internet introduced new competitors, station owners began to rely on a second revenue source, the so-called retransmission fees that come from the cable and satellite operators that pick up their signals and repackage them for subscribers. Now that they've had a taste of these fees, the stations aren't willing — or able, they say — to go back to the old model of advertising alone…"
Why Is Addiction Still Considered A Personal Weakness? It's a disease, like epilepsy or diabetes, and yet the stigma is still very strong. Here's an excerpt of an article at LinkedIn: "When we hear about someone with a heart problem, HIV, cancer or diabetes we conclude they are ill. If we encounter people whose throats close when they eat peanuts or require epinephrine shots if they mistakenly eat shellfish, we understand there are aspects of their genetic wiring that make them susceptible. Yet when we hear about someone with a drug or alcohol problem, they are all too easily dismissed as weak, self-indulgent, indolent, sinful, narcissistic, debauched and feeble failures. Why don't we assume that drug and alcohol addicts are ill and often seriously and chronically sick? That's one of the questions raised by Clean: Overcoming Addiction and Ending America's Greatest Tragedy, David Sheff's new book that studiously documents his reflections on the place of addicts in America. Sheff knows whereof he writes. He documented the calamity of drugs in his previous work, Beautiful Boy, which described in horrifying detail the descent into life's basement of his son, Nic, who took his first puff of pot at the age of 12, feasted on pills of all concoctions, later started shooting up cocaine, heroin and crystal meth and subsequently ricocheted between the streets, halfway houses and all manner of treatment centers…"
The Man Who Pierced The Sky. Here's an excerpt of a fascinating read from Vanity Fair: "When Felix Baumgartner set out to make a living by stunt jumping—from cliffs, buildings, and bridges—the young Austrian had no idea where it would take him: to a pressurized capsule nearly 24 miles above New Mexico, last October 14, preparing to free-fall farther than any man in history, and at supersonic speed. Detailing Baumgartner's quest, William Langewiesche explores what drove him to ever greater heights…"
Photo credit: "Felix Baumgartner, at the summit of Hoher Kasten, Switzerland, a few months after his record-setting free fall." Courtesy: Vanity Fair.
The End Of Sleep? Will new technologies make sleep optional? What a sad world that would be. Here's a snippet of a story at aeonmagazine.com: "…With military personnel in mind, ABM has developed a mask called the Somneo Sleep Trainer that exploits one- or two-hour windows for strategic naps in mobile sleeping environments. Screening out ambient noise and visual distractions, the mask carries a heating element around the eyes, based on the finding that facial warming helps send people to sleep. It also carries a blue light that gradually brightens as your set alarm time approaches, suppressing the sleep hormone melatonin for a less groggy awakening. Sleep ideally contains multiple 60- to 90-minute cycles, from slow-wave sleep back up to REM, but a 20-minute nap is all about dipping into Stage 2 as quickly as possible. The idea of the Somneo is to fast-track through Stage 1 sleep, a gateway stage with few inherent benefits, and enter Stage 2, which at least restores fatigued muscles and replenishes alertness…"
Spectrolab Claims Record Efficiency For New Solar Cell. I thought this was vaguely interesting; an excerpt from gizmag.com: "Spectrolab, a Boeing subsidiary known for the manufacture of solar cells for satellites and spacecraft, has in recent years turned its attention to terrestrial solar cells to tap into the expanding alternative energy market. Now the California-based company has claimed a new solar cell efficiency record of 37.8 percent for a ground-based multi-junction cell without solar concentration. While Spectrolab and others have achieved higher efficiencies with multi-junction solar cells, these were done using sunlight concentrated by lenses or mirrors onto the solar cells. The company says it was able to set a new record without concentration using a new class of high-efficiency multi-junction solar cell…"
Photo credit above: "Spectrolab has achieved a record 37.8 percent efficiency with a new multi-junction solar cell (not pictured)." (Photo: Shutterstock).
Climate Stories….
U.S. Admiral: Global Warming Threat Dwarfs North Korea. This one made me do a double-take; here's an excerpt from WND: "The military officer charged with monitoring North Korea at a time when the rogue nation is threatening to unleash missile attacks worldwide has used a Senate hearing to double down on his claim that it is global warming that is the real danger. Navy Adm. Samuel Locklear III originally caused a stir just weeks ago when in a speech to scholars at Harvard and Tufts universities in Cambridge, Mass., he said the climate change factor should be the focus of American concern. At today's hearing before the Senate Armed Services Committee he defended his assessment that global warming is the greatest threat to security in that part of the world…"
Republican Skepticism Toward Global Warming Eases. The graphic and story from Gallup: "Democrats and Republicans retain markedly different views about global warming, with 75% of Democrats versus 40% of Republicans saying they personally worry about it a "great deal" or "fair amount." Both groups' levels of concern about global warming have fluctuated in recent years. Republicans — as well as independents, at 59% — show slightly increased levels of worry in 2013, following 10-year lows in 2010 and 2011. Concern has held steady at a high level among Democrats throughout the past decade…"
Pat Roberts: "I Don't Know What We've Done To Mother Nature". Pat Roberts is a Republican politician from Kansas, who is as baffled about the recent weather in his home state as his constituents. Huffington Post has the video of his testimony; here's an excerpt: "Sen. Pat Roberts (R-Kan.) took to the Senate floor Tuesday to lament the need for crop insurance, pointing out that extreme weather has battered the nation in recent years. He cited historic drought and floods in the Midwest and Superstorm Sandy in the East. But Roberts, who receives poor ratings from environmental groups, avoided linking the natural disasters to any kind of human-generated climate change, suggesting Mother Nature simply has it in for America. "I don't know what we've done to Mother Nature, but she sure hasn't been very kind to us," Roberts said. The senator has previously acknowledged that the globe is warming, but declared he didn't know what it meant, saying of the science that connects greenhouse gases to climate change: "A lot of this is condescending elitism." The Government Accountability Office earlier this year added climate change to its list of the greatest risks facing the federal government. Nearly all scientists agree that humans are most likely to blame for the planet's rapid warming, according to NASA…"
Global Warming And Climate Change Myths. Uncle Joe still thinks it's all some left-wing, liberal, one-world, U.N. conspiracy? Here are a few suggestions for debunking some of the prevailing climate change (myths) from Skeptical Science: "Here is a summary of global warming and climate change myths, sorted by recent popularity vs what science says. Click the response for a more detailed response. You can also view them sorted by taxonomy, by popularity, in a print-friendly version, with short URLs or with fixed numbers you can use for permanent references."
Climate Change Included In U.S. Education Guidelines For The First Time. Here's an excerpt of a story at The Guardian: "American school children will for the first time receive extensive lessons on climate change following the adoption on Tuesday of new science education guidelines. However, the final standards were substantially weakened from earlier drafts. The final guidelines cut by about a third the amount of time devoted to a subject seen as critical to future generations. They are also less explicit than earlier drafts about the human role as a driver for climate change. "It's buried at best," said Mark McCaffrey, policy director for the National Center for Science Education…"
Photo credit above: "The final standards are much more vague about the causes of climate change." Photograph: Kevin Schmidt/Corbis.
Sea Level Rise. I'd think twice about buying coastal property, especially in Louisiana. At Grand Isle, LA sea levels are rising at the rate of 9.24 mm/year, with a 95% confidence level, according to NOAA.
Setting The Temperature Record Straight: The Last 11,300 Years Explained. Climate Science Watch and Climate Nexus have details on a recent study (Marcott) that has generated controversy; here's an excerpt: "Authors Marcott et al. recently published a study of global temperatures over the Holocene period, or past 11,300 years. The study reconstructed past temperatures using data from sources such as ice cores and ocean bottom cores that are known to record changes in temperature, allowing them to be used as proxies in the absence of a thermometer record. The study found that current temperatures measured by thermometers are warmer than a large majority (~75%) of the temperatures of the last 11,300 years.  In interviews, the authors explained that the warming trend over the past century is more rapid than temperature changes that took place over the past 11,300 years. The study conclusions and author interviews received harsh criticism from some…" (graphic: The Atlantic).


_____________________________________________________
ABOUT ME
Welcome to the WeatherNation blog. Every day I sift through hundreds of stories, maps, graphics and meteorological web sites, trying to capture some of the most interesting weather nuggets, the stories behind the forecast. I'll link to stories and share some of the web sites I use. I'm still passionate about the weather, have been ever since Tropical Storm Agnes flooded my home in Lancaster, PA in 1972. I've started 5 weather-related companies. "EarthWatch" created the world's first 3-D weather graphics for TV stations – Steven Spielberg used our software in "Jurassic Park" and "Twister". My last company, "Digital Cyclone", personalized weather for cell phones. "My-Cast" was launched in 2001 and is still going strong on iPhone, Android and Blackberry. I sold DCI to Garmin in 2007 so I could focus on my latest venture: WeatherNation. I also write a daily weather column for The Star Tribune startribune.com/weather And if you're on Twitter, you'll find me @pdouglasweather