[
August sunset in Monument Valley, Utah from pixabay.com via NOAA
] As the Southwest and Northeast broiled under record heat in August, below-average temperatures were observed in the Plains and Southeast. Let's take a closer look at highlights from NOAA's latest U.S. climate analysis: The average August temperature across the contiguous U.S. was 73.6 degrees F (1.5 degrees above average), making it the 17th-warmest August in the 124-year record, according to
NOAA's National Centers for Environmental Information (NCEI)
. Parts of the Southwest had temperatures in the top 10 for warmth, while several Northeast states experienced record heat, largely due to record-warm overnight temperatures.
Above-average August temperatures were observed along both coasts. Five states in the Northeast – Connecticut, Delaware, Massachusetts, New Hampshire and Rhode Island – each had a record warm August with six additional states in the region having a top 10 warm August. The record and near-record warmth across the Northeast was driven largely by record warm overnight low temperatures. Four states in the Southwest also had a top 10 warm month.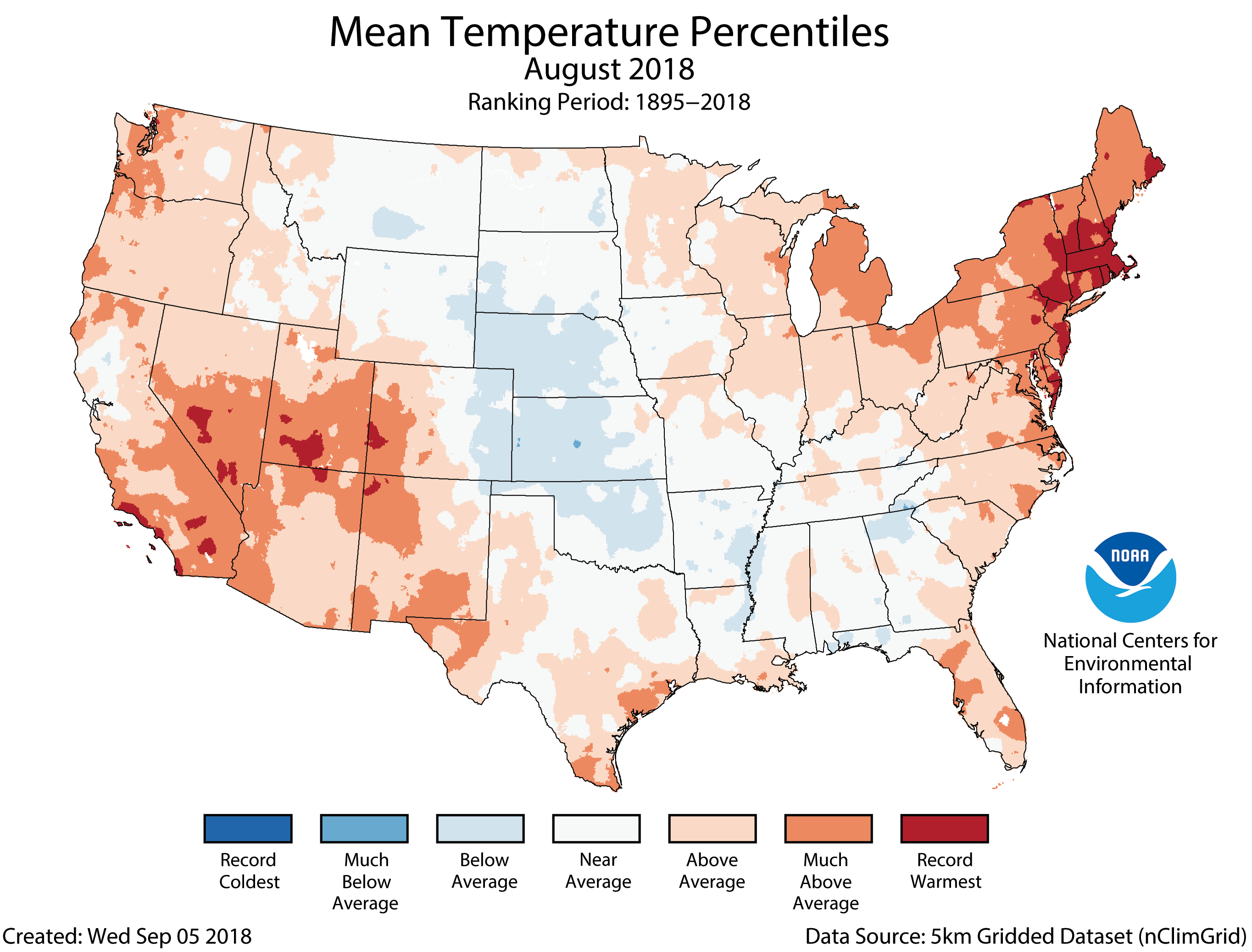 Near- to below-average conditions were present in the Plains and parts of the Southeast. Kansas and Nebraska were both cooler than average. To the north, parts of Alaska were much cooler than average in August. Barrow (Utqiaġvik) had its coldest August since 2006.
The average precipitation for August was 2.99 inches (0.37 inch above average), making it the 20th wettest August on record, tied with 1979 and 2005. Areas from the Great Plains to the East Coast had above-average precipitation thanks to slow-moving storm systems that dropped heavy rain. The Mid-Atlantic region saw record precipitation. Eight states from the Lower Mississippi Valley to New England had much wetter than average conditions with record precipitation in parts of the Midwest and Mid-Atlantic. Alaska had its fourth wettest August on record. No state was record wet.
Below-average precipitation stretched from the West Coast to Rockies with California tying its 10th driest August on record. Across the West, several large and destructive wildfires, including many that began earlier in the summer, burned in August. Monsoonal moisture helped to boost precipitation totals for localized areas in the Southwest.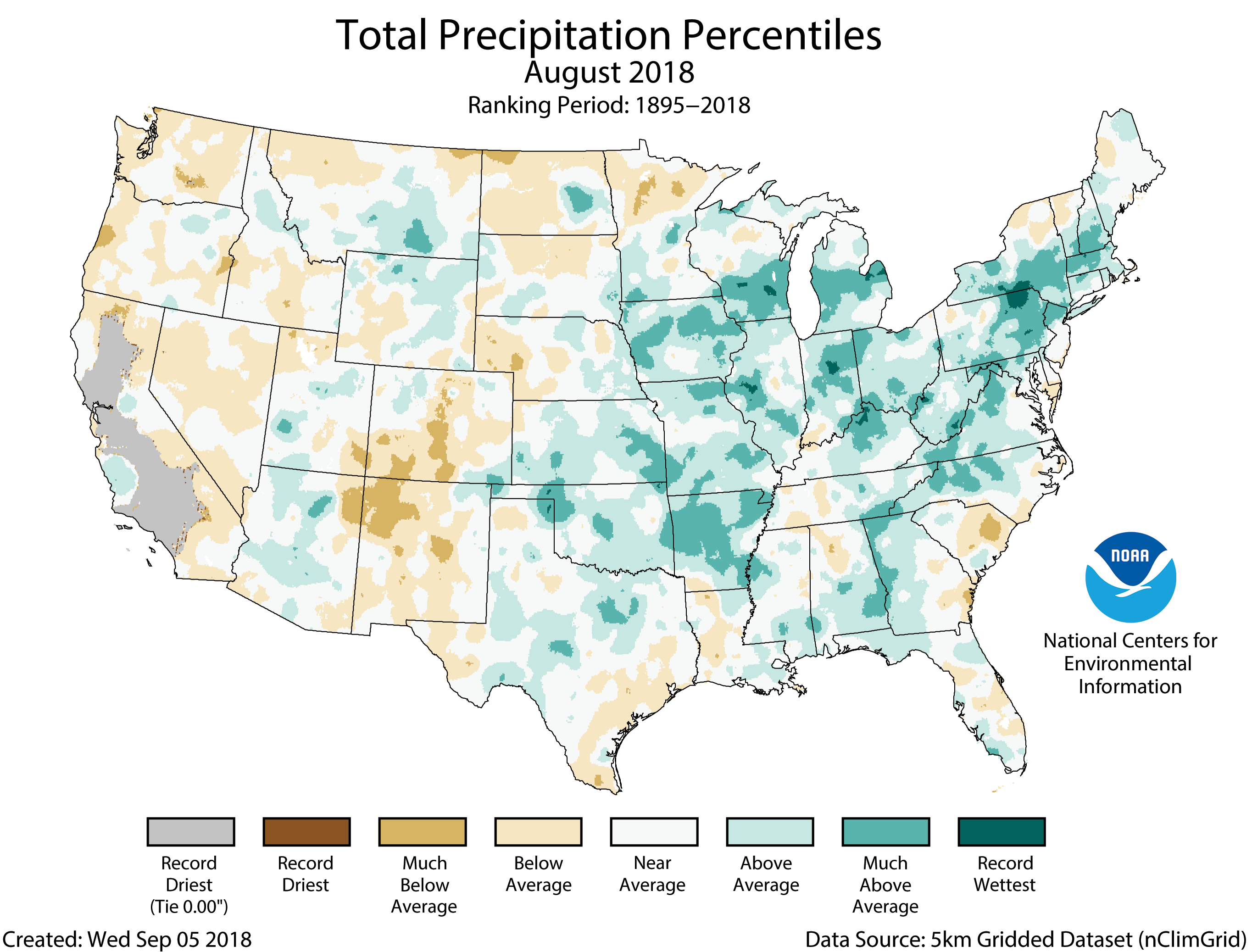 According to the August 28 U.S. Drought Monitor report, 34.4 percent of the contiguous U.S. was in drought, up slightly from 34.1 percent at the end of July. Drought conditions improved in parts of the Southwest, Central to Southern Plains, Deep South and Northeast. Drought conditions worsened in parts of the Northwest, Northern Plains, mid-Mississippi Valley, central Great Lakes and southern Texas. Drought only improved slightly in Hawaii with many of the drought-stricken parts of the state missing out on the heavy rains from Lane.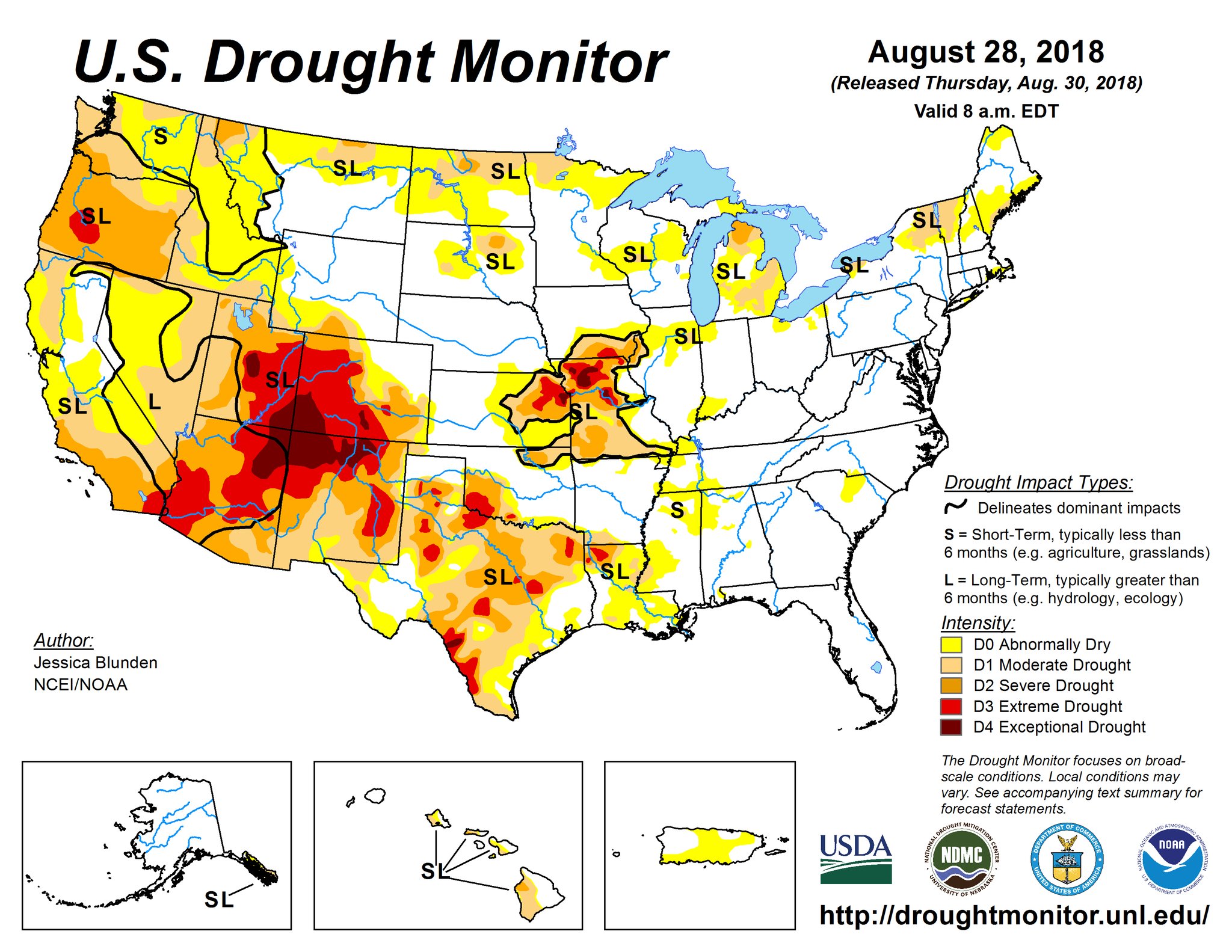 Information from NOAA and NCEI
For WeatherNation: Meteorologist Mace Michaels