The stats are in
for 2019
, but let's also take a look back to last month. Here's the
December 2019 Climate Highlights
from NOAA NCEI:
TEMPERATURE
December was a relatively warm month across most of the Lower 48. Much-above-average temperatures were observed from the South to the central Plains and into the Great Lakes as well as across much of the Tennessee Valley and Florida. Nine states throughout the South and Southeast ranked in the top ten percent of the 125-year record. No state had a December average temperature which ranked below-average.
For December, the average contiguous U.S. temperature was 36.5°F, 3.8°F above the 20th century average. This ranked as the sixth warmest December in the 125-year period of record and was the warmest such month since the record warm December of 2015.  Warm records in December outpaced cold records by a six-to-one margin. There were 4,098 warm daily high (1,890) and low (2,208) temperature records tied or broken during December. There were approximately 643 daily cold high (399) and low (244) temperature records set during the month.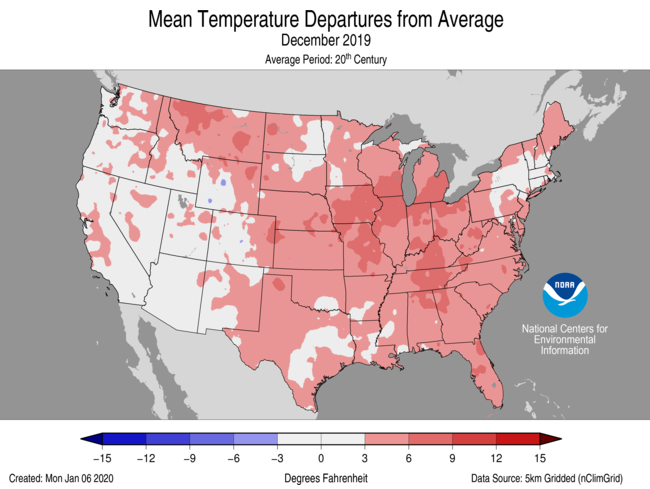 PRECIPITATION
The December precipitation total for the contiguous U.S. was 2.53 inches, 0.18 inch above average, and ranked in the middle third of the 125-year period of record.
Above-average precipitation occurred across parts of the West, central and northern Plains, Great Lakes and from the Southeast into parts of New England. Minnesota ranked fourth wettest for December. Below-average precipitation fell across portions of the Northwest, South and Mississippi Valley. Louisiana ranked eighth driest for the month.
According to the December 31 U.S. Drought Monitor report, approximately 11 percent of the contiguous U.S. was in drought, which is similar to the extent of drought noted at the beginning of December. By the end of 2019, drought was entrenched across the Southwest, Texas, the Pacific Northwest and across portions of the Alaskan Panhandle, Hawaii and Puerto Rico.