[Early colors of a rising sun approach the horizon behind NOAA's Atmospheric Research Observatory at the Amundsen-Scott South Pole Station on September 8. (Courtesy of Robert Schwarz/University of Minnesota)]
[NOAA] The fall equinox means the end of summer for the Northern Hemisphere, but marks the beginning of spring — and the first glimpse of the sun since March — for scientists at NOAA's South Pole Atmospheric Baseline Observatory located at the Amundsen-Scott South Pole Research Station.
For NOAA Corps Officer Cherisa Friedlander and NOAA engineer Sabrina Shemet, NOAA's first all-women winter South Pole research team, early colors from sun starting to rise above the horizon in late August means the end of the Antarctic winter is approaching. Come November, it will finally be warm enough for aircraft to safely land at Earth's southernmost point, which will bring fresh, well rested researchers and critical support staff.
"The return of the sun is a warm welcoming and a reminder to appreciate the last bit of time we have left here," said Friedlander. "I will never forget the Southern Lights and night sky in winter, but I cannot wait to see the ocean, smell the flowers and eat lobster rolls with family back in New England."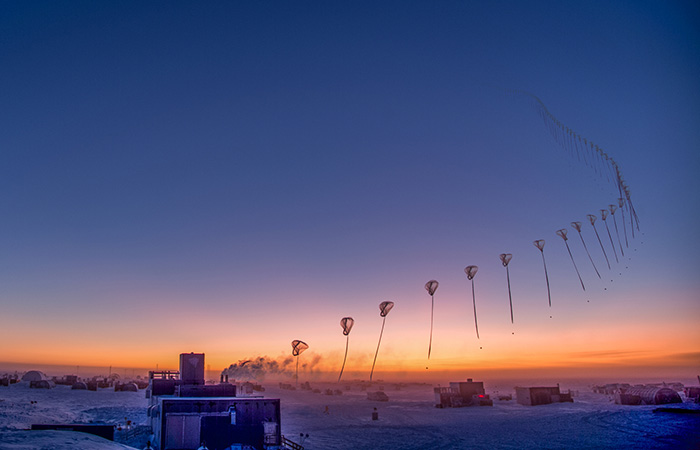 [This time-lapse photo from September 10 shows the flight path of an ozonesonde as it rises into the atmosphere over the South Pole from the Amundsen-Scott South Pole Station. Scientists release these balloon-borne sensors to measure the thickness of the protective ozone layer high up in the atmosphere. (Credit: Courtesy of Robert Schwarz/University of Minnesota)]
The South Pole team of so-called winter-overs endured a very blustery Winter 2018 that broke records for the highest wind speeds in June and July (51.8mph and 54.1mph, respectively). The strong storms and constant winter winds created large snow drifts around station buildings.
The South Pole has some of the cleanest air in the world, which makes it an ideal location for NOAA scientists to take long-term climatological measurements, continuously sample for greenhouse gases like carbon dioxide, monitor air quality and study the Antarctic ozone hole in September and October (see balloon launch photo above).  You can see what the weather's like at the South Pole today with the live camera feed from NOAA.
Edited for WeatherNation by Meteorologist Mace Michaels