Today marked the
105th anniversary
of the hottest temperature ever recorded in the United States---and the world.  The thermometer soared to
134 degrees Fahrenheit 
on July 10, 1913 in the Greenland Ranch area of Death Valley in California.  This was midway through a stretch of ten days where afternoon temperatures reached or exceeded 125 degrees. For many years, the 134°F record was considered the hottest temperature in the world (since human record-keeping began).  In 1922, a temperature of 136°F was recorded at a weather station in Libya.  This reading was eventually certified by the World Meteorological Organization as the hottest air temperature ever recorded on the planet.  However, further investigation found that the 136°F reading was invalid.  
On September 12, 2012, the World Meteorological Organization officially certified the 134°F reading at Death Valley as the all-time highest surface air temperature
 on Earth. How common is heat of this magnitude in Death Valley?  The average high during the month of July is around 116°F.  Temperatures can frequently reach or exceed 100°F from mid-May until early October.  The short-term forecast calls for a fairly typical mid-summer forecast for Death Valley.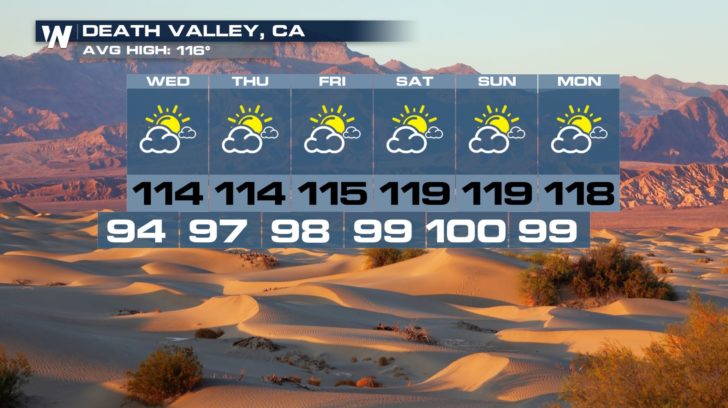 Too hot?  Looking for your local forecast?  Click
HERE
. -
Meteorologist Joe Astolfi