Barbara formed far off the southern coast of Mexico on Sunday. Within a span of just 48 hours, Barbara intensified very quickly and is now a Category 4 hurricane! As of the latest hurricane center update, Barbara has maximum winds of 130 mph. Barbara was located about 1000 miles southwest of Baja California. The minimum central pressure continues to fall, now at 948 mb. The storm is moving to the WNW at roughly 14 mph.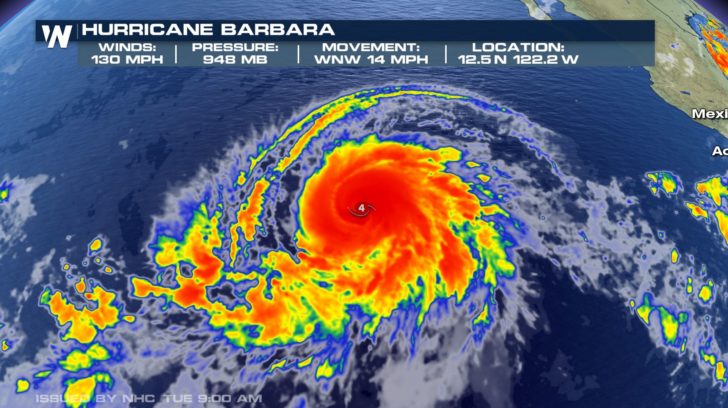 Barbara will continue on the WNW track over the next few days. Once we head into the weekend, Barbara is projected to veer more to the west towards Hawaii. At the same time, Barbara will weaken back to tropical storm. This storm could potentially bring rough seas and rain to the Hawaiian islands by this time next week.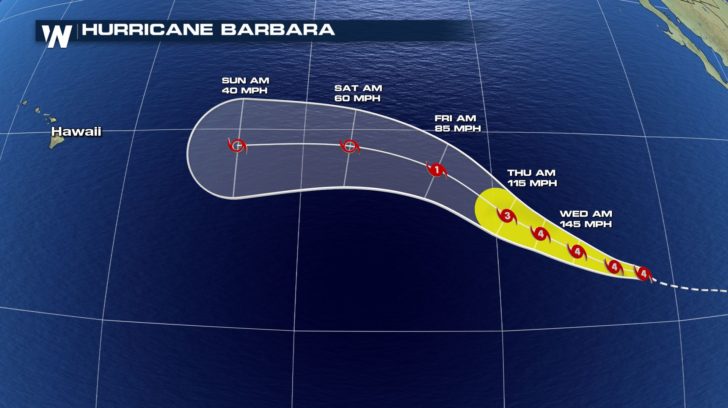 Barbara is the second named storm of the Pacific season, and has brought the relatively slow start to the E. Pacific hurricane season up to speed. It is typical by late June to have had about 2 named storms. The first storm,
Alvin, formed on June 25, which briefly strengthened to a hurricane
. We're keeping our eye on the eastern Pacific due to all the activity that is popping up. Right behind Barbara, another system is slowly becoming more organized and has a high chance of developing into our next named storm. If this storm does develop into something tropical, the next name on the list would be Cosme.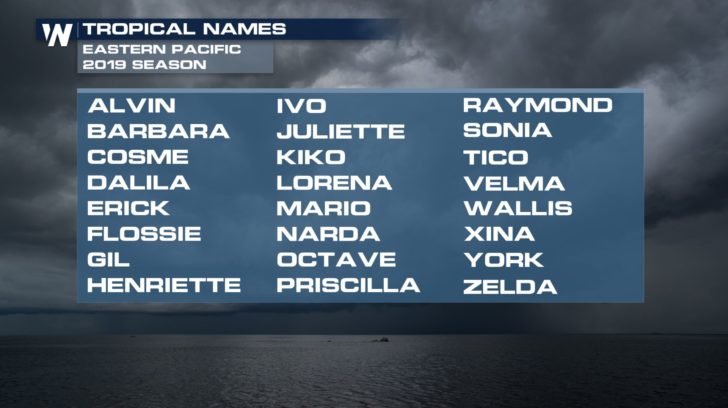 In the Atlantic, the season is also off to a quiet start (thankfully!). So far, there has been just one named storm,
Andrea, which formed on May 20
, and quickly faded with overall little impact except to shipping routes and Bermuda, causing high surf and rip currents. This system was short lived, and not fully tropical, as it exhibited both tropical and non-tropical characteristics in its overall structure. As of late June, there are no  areas of interest in the tropical Atlantic that show signs of tropical development. Abundant dry air and dust streaming from Africa has kept thunderstorm and tropical activity to a minimum- thunderstorms and tropical waves off of Africa are the first steps to the creation of a tropical cyclone. The official NOAA outlook for the Atlantic hurricane season calls for a near normal season for overall number of storms, with roughly 9-15 named storms, 4-8 of those which will become hurricanes. Of the hurricanes, NOAA expects 2-4 to become major hurricanes.
[Related Article: NOAA releases Atlantic Hurricane Season Forecast
]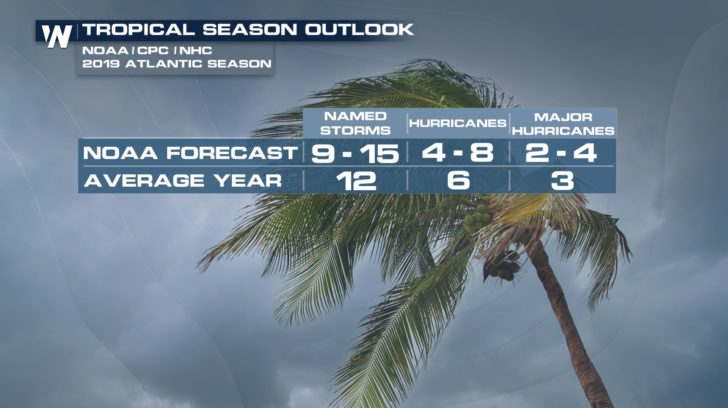 Stay with WeatherNation as we continue to track any and all systems in the Pacific and Atlantic basins throughout hurricane season.