The changes are rather significant in the
February outlook
updated Thursday from
NOAA's Climate Prediction Center (CPC)
. Colder than average temperature are now expected from the northern Plains into the West.
The previous forecast
, issued in the middle of January, had warmer than normal temperatures for this area. In another flip-flop, above average temperatures are in the forecast for the Southeast, which had been predicted to see a below average month. https://twitter.com/NWSCPC/status/1091066446778638336 The changes are also very noticeable in the precipitation forecast. Wetter than normal weather is predicted for much of the nation, excluding the Pacific Northwest. The earlier issued forecast had only a small area of above normal precipitation in the High Plains, with drier than normal weather forecast for the Southwest and Tennessee Valley. The updates are good news for the drought forecast, which shows improvement across many areas in the West. https://twitter.com/NWSCPC/status/1091067288709681152 The
CPC states
that the "substantial changes" are due to "considerable variability anticipated during at least the first half of the month...the highly amplified, potent trough responsible for much below-normal and record cold temperatures for much of the central and eastern CONUS lifts out and is replaced with a very impressive, rapid warmup." Also noted are "considerable differences in the next strong trough to amplify and extend across the CONUS...uncertainty increases during the final two weeks (of the month)."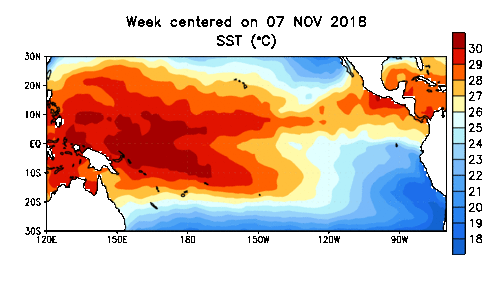 Surprisingly, there is no mention of El Nino in the
updated forecast discussion
. El Nino has been discussed extensively for months in previous outlooks, including both 30 and 90 day outlooks. An 
extensively discussed El Nino temperature pattern is underway
 in the Pacific Ocean, but the atmosphere has been slow to respond. Observed sea surface temperatures in the Pacific are warmer than normal as expected, with computer models expecting this trend to continue. But the overall global pattern resembles neutral conditions. 
The last CPC El Nino advisory indicated
 a 65 percent chance for 
El Nino
 from now through Spring. For WeatherNation:
Meteorologist Mace Michaels