On Thursday morning, the
National Oceanic and Atmospheric Administration (NOAA) released an updated outlook for the 2020 hurricane season
. In combination with scientists at the Climate Prediction Center and the National Hurricane Center, they have increased the outlook for this year to an "extremely active" season for number of tropical cyclones. Compared to an "average" season where there are 12 named storms, 6 of which become hurricanes, and 3 of
those
which become major hurricanes (category 3 or higher), this season's outlook calls for a above normal season with 19-25 named storms,  7-11 of which will become hurricanes, and 3-6 of which could become major hurricanes. https://youtu.be/_LKqtbk2D3E The main factors contributing to the outlook are the development of La Nina, an unusual cooling of Pacific waters. A La Nina pattern will reduce wind shear, favoring Atlantic tropical development, and potentially a more active season. Also, an enhanced West African Monsoon and warmer than average sea surface temperatures.
"This year, we expect more, stronger, and longer-lived storms than average, and our predicted ACE (Accumulated Cyclone Energy) range extends well above NOAA's threshold for an extremely active season," - Gerry Bell, Ph.D., lead seasonal hurricane forecaster at NOAA's Climate Prediction Center.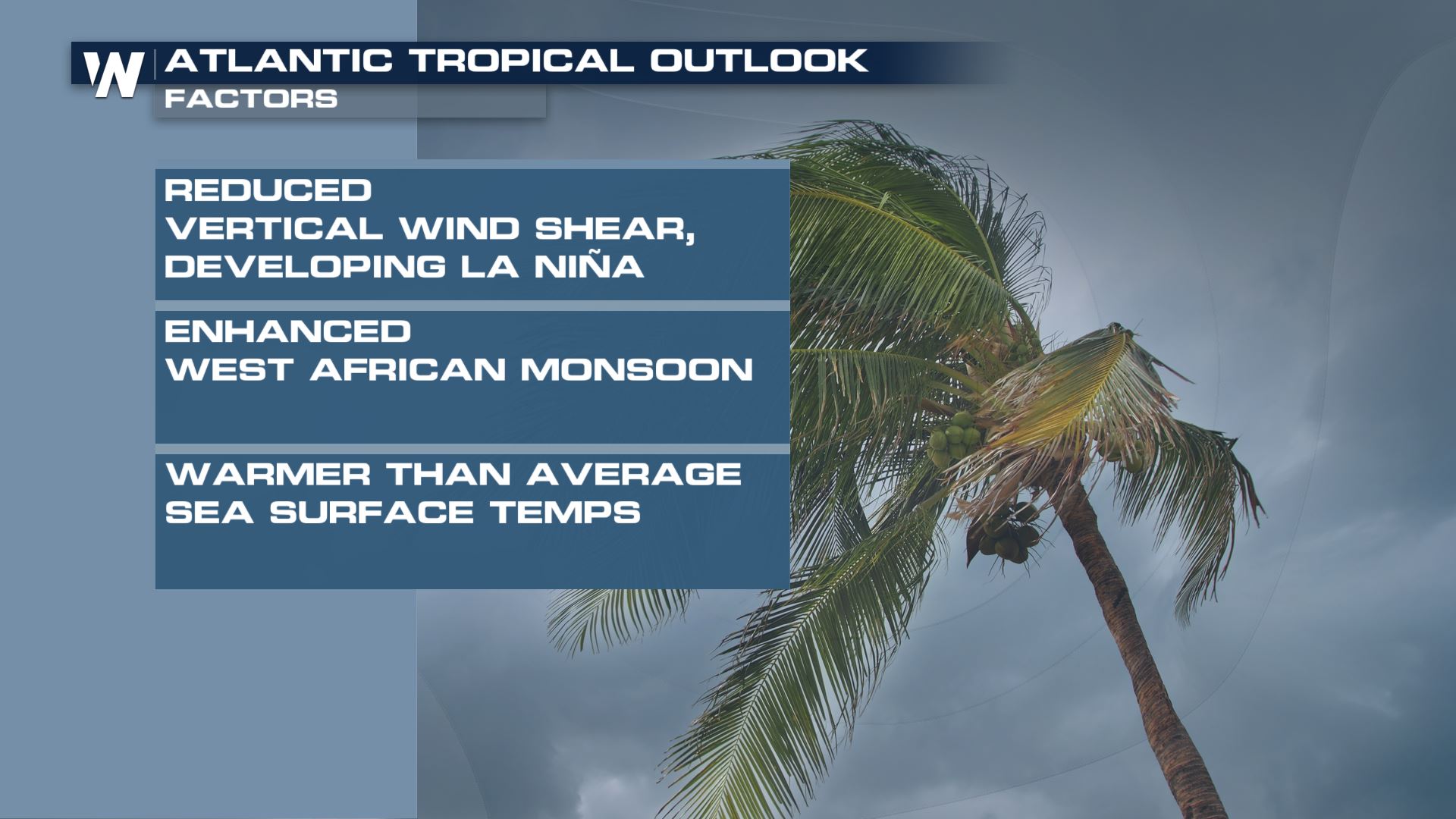 "This is one of the most active seasonal forecasts that NOAA has produced in its 22-year history of hurricane outlooks. NOAA will continue to provide the best possible science and service to communities across the Nation for the remainder of hurricane season to ensure public readiness and safety. We encourage all Americans to do their part by getting prepared, remaining vigilant, and being ready to take action when necessary." - U.S. Secretary of Commerce Wilbur Ross.
Regardless of the forecast, NOAA and WeatherNation want to remind you that "
it only takes one". 
No matter what the forecast calls for, it is so important to be prepared for the season ahead. Even if just one storm makes landfall where you are it will be "a bad season" for you. Always take steps to prepare for the worst case scenario.
CENTRAL PACIFIC OUTLOOK
https://www.youtube.com/watch?time_continue=739&v=kawYyXwS21g&feature=emb_logo NOAA, NWS Honolulu and the Central Pacific Hurricane Center have also posted their
hurricane outlook for the central Pacific basin
. They are predicting that this hurricane season will be near or below normal with the amount of Tropical Cyclones to develop, with 2-6 anticipated. An "average" season has 4 or 5 tropical cyclones. With higher than normal uncertainty in the forecast later in the year, they recommend preparing as soon as possible for the season. For more information on Hawaii's wet and dry season and how to be prepared for this hurricane season, you can follow this
link
to the NWS Honolulu and CPHC Facebook page.