Did you feel it? A 3.8 magnitude earthquake hit the Buffalo area early Monday morning, shaking homes! The quake happened at around 6:15 am local time. Thankfully, no major damage was reported as a result of the quake! This earthquake, although small was felt throughout western New York as reported by over 3,000 individuals.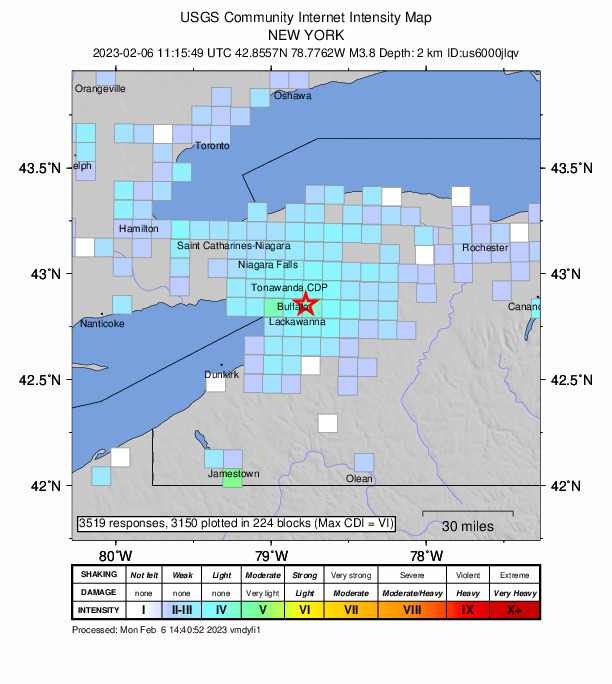 Western New York isn't necessarily known as a "hotspot" for earthquake activity but it is not totally uncommon. Per the USGS,
This part of southern Ontario and western New York State has had moderately frequent earthquakes at least since the first one was reported in 1840. The largest (magnitude 4.9) caused moderate damage in 1929 near Attica, New York. Earthquakes too small to cause damage are felt roughly three or four times per decade, although only one was felt during the 1940s and eight were felt during the 1960s.

Earthquakes east of the Rocky Mountains, although less frequent than in the west, are typically felt over a much broader region. East of the Rockies, an earthquake can be felt over an area as much as ten times larger than a similar magnitude earthquake on the west coast. A magnitude 4.0 eastern earthquake typically can be felt at many places as far as 100 km (60 mi) from where it occurred, and it infrequently causes damage near its source. A magnitude 5.5 eastern earthquake usually can be felt as far as 500 km (300 mi) from where it occurred, and sometimes causes damage as far away as 40 km (25 mi).
Recent changes from the USGS mean earthquakes are being measured in "Moment Magnitude" rather than the Richter scale. According to the USGS,
"a new more uniformly applicable extension of the magnitude scale, known as moment magnitude, or Mw, was developed. In particular, for very large earthquakes, moment magnitude gives the most reliable estimate of earthquake size"
Thankfully, due to the lower magnitude of this quake, no aftershocks are anticipated at this time.