[
WMO
] An operational system has been developed on the island of Hispaniola to produce and disseminate new early warning information on coastal flooding, which will help save lives and protect property in low-lying, populated coastal areas. There is potential to enhance this early warning platform in the future and to extend it to other Caribbean nations. The Dominican Republic and Haiti, which together comprise Hispaniola, face the threat of tropical cyclones each hurricane season, with high storm surges, flooding, and large waves. The growing tourism industry in the Dominican Republic has increased the number of people exposed to this hazard, whilst Haiti has suffered devastating impacts with far-reaching humanitarian consequences from hurricanes including Maria (2017) and Matthew (2016). Thanks to the World Meteorological Organization's 
Coastal Inundation Forecast Demonstration Project (CIFDP),
both the Dominican Republic and Haiti will now receive reliable and accessible storm surge forecasts provided by WMO's Regional Specialized Meteorological Center (RSMC) Miami operated by the 
US National Hurricane Center
. The USAID-funded CIFDP-Caribbean demonstration project was successfully completed in December 2018, with the main beneficiaries being the Dominican Republic, Haiti and other small islands. It was implemented by WMO and the Dominican Republic's national meteorological service, ONAMET, ensuring the maximum synergies of regional and national efforts.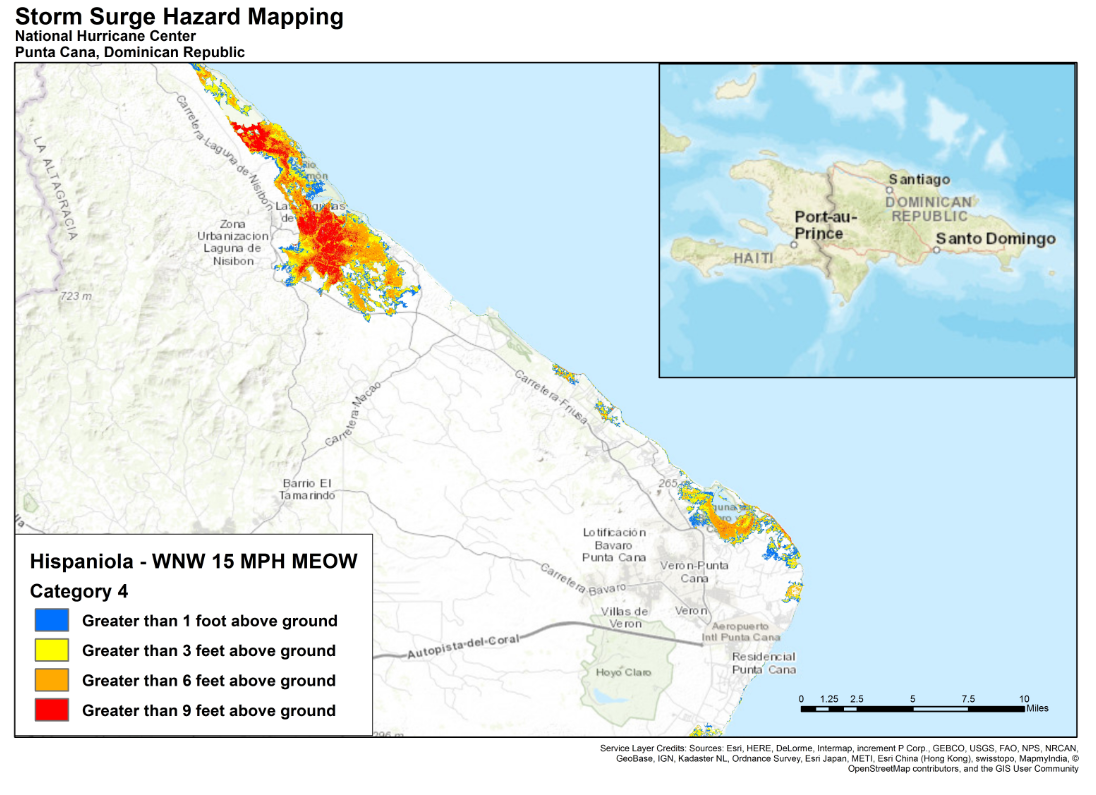 "Through this multi-year partnership with USAID and the World Meteorological Organization, we're able to bring the same life-saving technology used in the United States to Haiti and the Dominican Republic," said Jamie Rhome, a U.S. National Hurricane Center storm surge specialist. The National Hurricane Center uses the Sea, Lake, and Overland Surges from Hurricanes (SLOSH) hydrodynamic model to simulate storm surge along hurricane-prone portions of the U.S. coastline and has made an effort to do the same along some international coastlines within the Caribbean region.  For the purposes of CIFDP-Caribbean, NHC developed a new, specialized, version of SLOSH to include the physics of nearshore breaking waves. Based on climatology, over 16,000 hypothetical hurricanes were simulated and the potential storm surges were calculated. Composites of the resulting storm surges were then used to create high-resolution inundation maps using local topography. In locations that have a steep and narrow continental shelf, such as islands, waves can be a substantial contributor to the total water level rise observed during a tropical cyclone. For these areas, SLOSH has been coupled with a wave model to enable a more complete and accurate analysis of flood risk.
Hands-on training session
From December 3 to 7, 2018, the training on the pre-operational system for CIFDP-Caribbean was held in Santo Domingo, Dominican Republic.  Members of NHC Storm Surge Unit and emergency management experts from the United States convened a 1-week implementation workshop to train the staff at the ONAMET and Civil Defense to use the new early warning products. The new vulnerability maps and forecasting system will enable people living in hurricane-prone coastal areas to evaluate their risk flooding due to storm surge. The user-friendly design allows the host countries to utilize the systems independent of the system developer.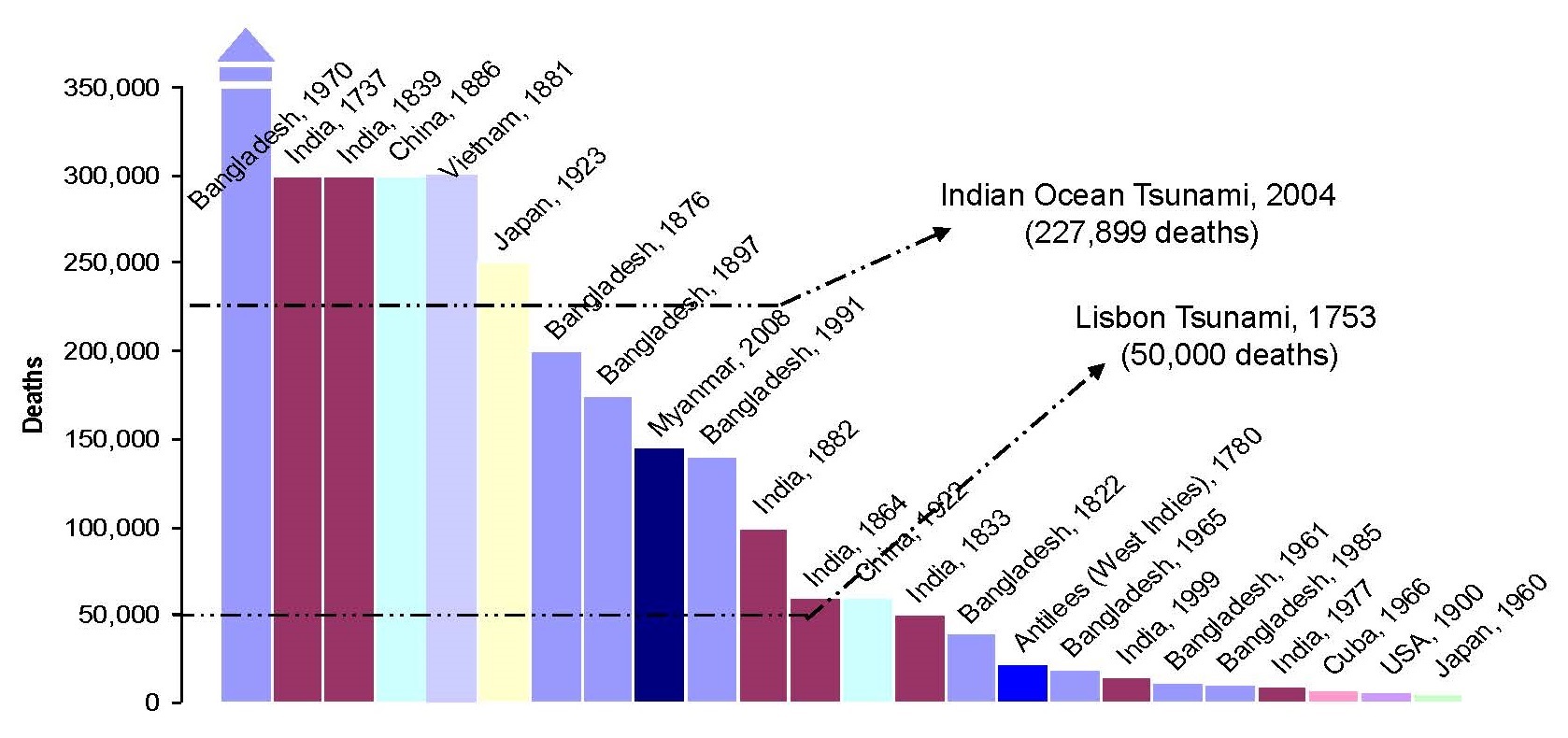 The CIFDP was initiated by WMO in 2009, with support from the 
Joint WMO-IOC Technical Commission for Oceanography and Marine Meteorology
 and the 
WMO Commission for Hydrology
, in order to improve safety-related services for coastal communities through the development of coastal inundation forecasting and warning systems at the regional scale. The unique factor in this demonstration project was the consideration of all sources of inundation (from both ocean and river sources), to provide the most comprehensive information for an early warning to coastal communities. To date, CIFDP has been carried out in 4 locations: 
Bangladesh (completed 2017),
 Caribbean, Fiji and Indonesia. The CIFDP-Caribbean contributes to the 
Caribbean Early Warning System (CARIBE-EWS),
 which is the regional arm of the IOC's tsunami and other coastal hazards working group. It covers 48 countries and territories, of which 70% are Small Island Developing States (SIDS). Edited for WeatherNation by Meteorologist Mace Michaels