[
CSU
]  
Colorado State University hurricane researchers
 continue to predict a near-average Atlantic hurricane season. They cite both near-average sea surface temperatures in the tropical Atlantic and a weakening El Niño event in the tropical Pacific as the primary reasons for the near-average prediction. El Niño tends to increase upper-level westerly winds across the Caribbean into the tropical Atlantic, tearing apart hurricanes as they try to form. While El Niño has weakened over the past several months, they anticipate that lingering warming in the central tropical Pacific should be a slight inhibiting factor for the remainder of the hurricane season. Last Thursday, NOAA issued their updated forecast, calling for better odds of an above average season. You can read more details of their forecast
at this link
. The tropical Atlantic currently has near-average sea surface temperatures. A warmer tropical Atlantic provides more fuel for developing tropical cyclones. Increased tropical Atlantic warmth is also associated with moister air and a more unstable atmosphere, both of which foster organized thunderstorm activity necessary for hurricane development. https://twitter.com/philklotzbach/status/1158429962661224453 Vertical wind shear was slightly stronger than normal across the Caribbean in July. This tends to be associated with quieter Atlantic hurricane seasons.
12 additional named storms
The CSU Tropical Meteorology Project team is predicting a total of 12 additional named storms to form after Aug. 1. Of those, researchers expect six to become hurricanes and two to reach major hurricane strength (Saffir/Simpson category 3-4-5) with sustained winds of 111 miles per hour or greater. These forecast numbers do not include Subtropical Storm Andrea and Hurricane Barry, which formed prior to Aug. 1. The team based this forecast on 40 years of historical data that include Atlantic sea surface temperatures, sea level pressures, vertical wind shear levels (the change in wind direction and speed with height in the atmosphere), El Niño (warming of waters in the central and eastern tropical Pacific), and other factors.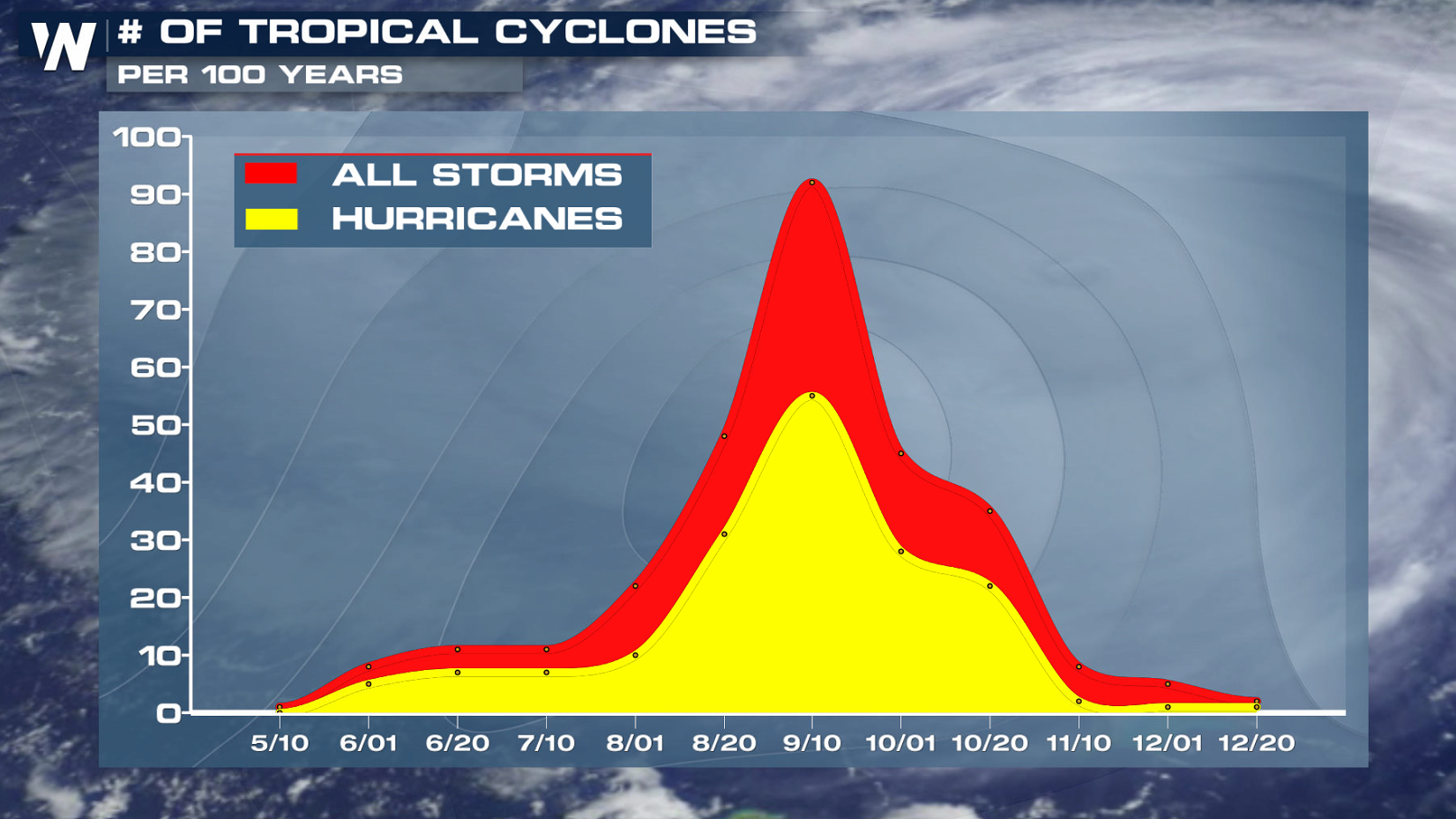 So far, the 2019 hurricane season is exhibiting characteristics similar to 1990, 1992, 2012 and 2014. "1992 and 2014 had below-average Atlantic hurricane activity, 1990 had near-average hurricane activity, and 2012 had above-average Atlantic hurricane activity," said Phil Klotzbach, research scientist in the Department of Atmospheric Science and lead author of the report. The team predicts that 2019 hurricane activity will be about 100 percent of the average season. By comparison, 2018's hurricane activity was about 125 percent of the average season. The 2018 season was most notable for Hurricanes Florence and Michael, which devastated the Carolinas and portions of the Florida Panhandle, respectively. Meteorologists at CSU have been issuing seasonal hurricane forecasts for more than 30 years. The late Dr. William Gray issued the first forecast in 1984.  From CSU, "We issue these forecasts to satisfy the curiosity of the general public and to bring attention to the hurricane problem. There is a general interest in knowing what the odds are for an active or inactive season." Edited for WeatherNation by 
Meteorologist Mace Michaels