Fall officially started on Tuesday, but cooler temperatures have been hard to come by for some spots across the country. While temperatures remain hot and potentially record-breaking for the central and southern Plains and western U.S. this weekend, a cold front is waiting in the wings to bring some much anticipated cold air to much of the country next week. The large ridge parked across the western U.S. will weaken enough into early next week to allow a strong cold front to slide south. The first front creeps south Sunday with cool air digging into the north and northwestern U.S. A reinforcing shot of cool air with a high pressure moving through the Rockies into Monday brings the cooler air even further south.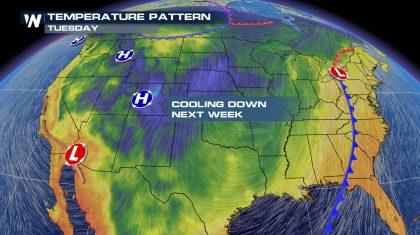 By Tuesday the cold front will be approaching the east coast and cooler than average temperatures are expected across much of the country. This blast of cooler air stays in place through the first few days of October. Even south Texas and Florida are expected to have temperatures below average with lower humidity as well. However areas west of the Rockies will be warmer than average during this time frame.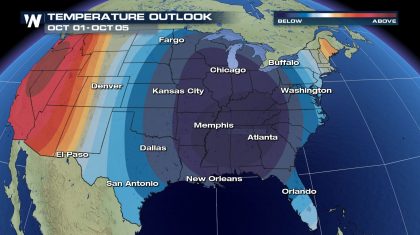 High temperatures next week through parts of the deep South will struggle to get out of the 70s. Spots in the north central U.S. including Chicago may have high temperatures in the 50s by the end of the week! Morning temperatures will also be quite cool with many waking up to temperatures in the 40s and 50s from Chicago to south Mississippi.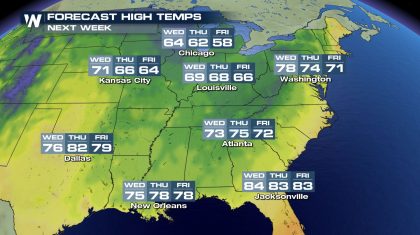 This pattern change features troughs and low pressures in the central and southern U.S. with ridges and high pressures across the western U.S. The position of the ridge allows more cold fronts and cool air to drain in from Canada into the first full week of October, continuing the cooler than average temperatures through October 9.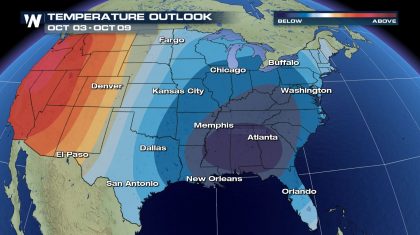 Cooler air moving into the Front Range will end a stretch of hot days in places like Denver, where there have been 75 days in 2020 with highs at or above 90°. Denver usually averages 31 days with highs at or above 90° throughout the year.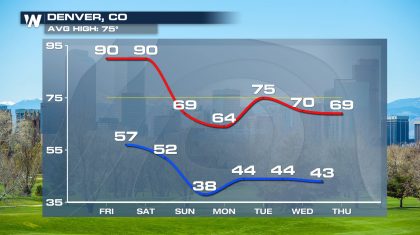 Stay with WeatherNation for the latest on the cooler weather moving in to the U.S. next week, along with breaking weather information on other top national weather headlines.