While the southwestern U.S. is enduring hot temps and dry conditions, the weather will be the exact opposite in the northwest over the next several days.  A cold front and a low pressure area will work together to cool things down, and spread moisture into the region.  And where it's cold enough, the result will be some high mountain snow! Here are the temperatures on Saturday afternoon.  Along and ahead of the cold front, temps were in the upper 80's and lower 90's.  But check out the cooler temps left in its wake.  Lower 50's in Spokane, and only 61 degrees in Seattle.  Portland was even cooler at 58 degrees.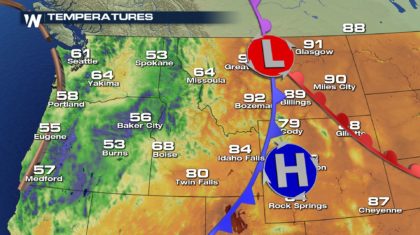 The 24 hour temperature changes are really impressive!  Places like Baker City, Oregon were 26 degrees cooler on Saturday behind the cold front.  Spokane was 21 degrees cooler on Saturday compared to Friday.  This cold front is already making a remarkable impact on the region.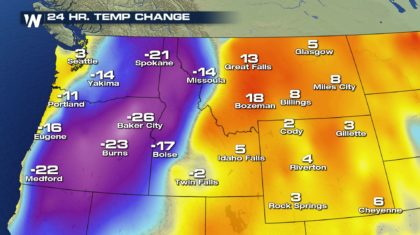 Low temps into Sunday morning will be fairly cool, mainly in the 40's and lower 50's.  Burns, Oregon will be chilly, with a forecast low of 31 degrees.  Baker City, Oregon won't be much warmer at 39 degrees.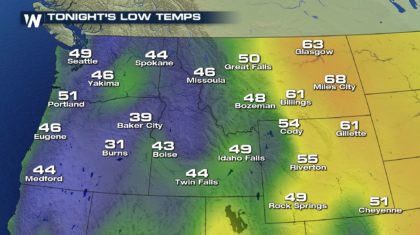 So things are certainly cooling down behind the cold front.  Meanwhile, a low pressure system is quickly rolling into the region.  It's coming in from the Pacific Ocean, and pulling moisture into a rather cool environment.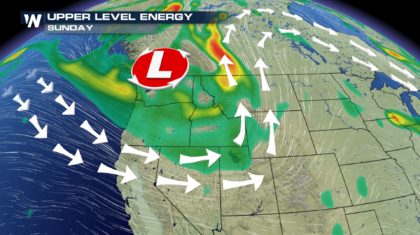 Where temps are cold enough, a bit of light snow will fall.  Elevations above 6,000 feet will be in the hunt for some June snow.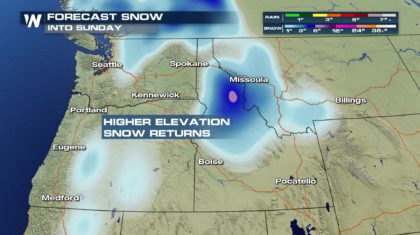 Winter Weather Advisories have been posted for the mountains of Idaho and Montana.  Generally, elevations above 6,000 feet can expect to see between one and three inches of snow. However, there may be isolated totals of up to six inches of snow.  The advisories are in effect overnight Saturday night into Sunday morning.  The snow will be over by Noon on Sunday.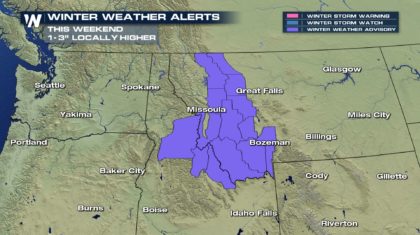 But even after the snow stops falling, the cooling trend will continue right through Monday.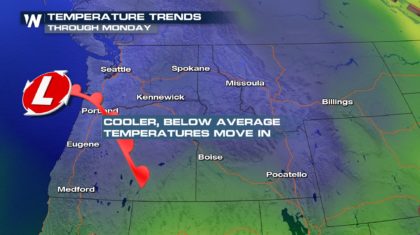 On Sunday, while Phoenix bakes in 106 degree heat, Seattle and Portland will enjoy the cool comfortable lower 60's.
And on Monday, when Las Vegas is enduring 102 degree temps, Seattle and Portland will be near the 70 degree mark.  Not too hot, not too cold, just right!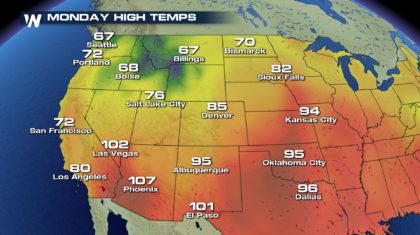 Seattle will stay at or below 70 through Friday of next week.  If you live in the southwest, it might be time to visit the Emerald City for some great seafood and pleasant temperatures.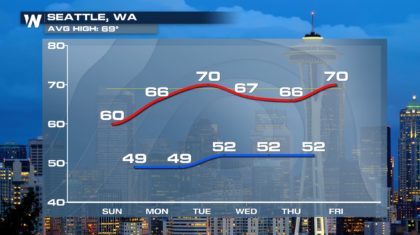 For WeatherNation:  Meteorologist Matt Monroe