Thick fog settled into Cajon Pass along I-15 in southern California Wednesday, reducing visibility to less than a quarter-mile and contributing to a pile-up on the southbound lanes.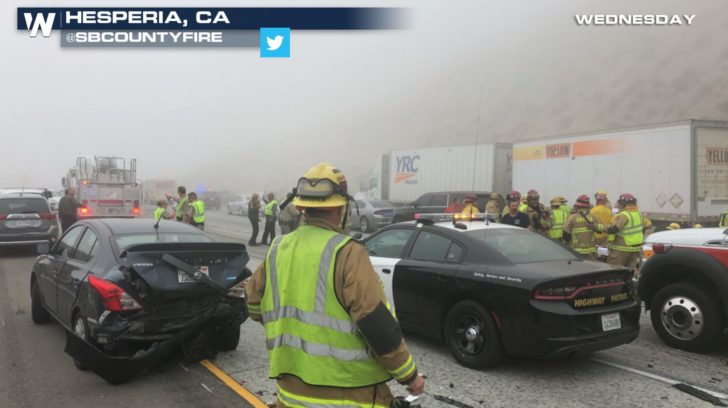 A look at the foggy conditions on I-15 SB courtesy @SBCOUNTYFIRE on Twitter The San Bernardino County Fire District took these pictures while on scene Wednesday. Officials on scene reported a visibility well below one-quarter of a mile.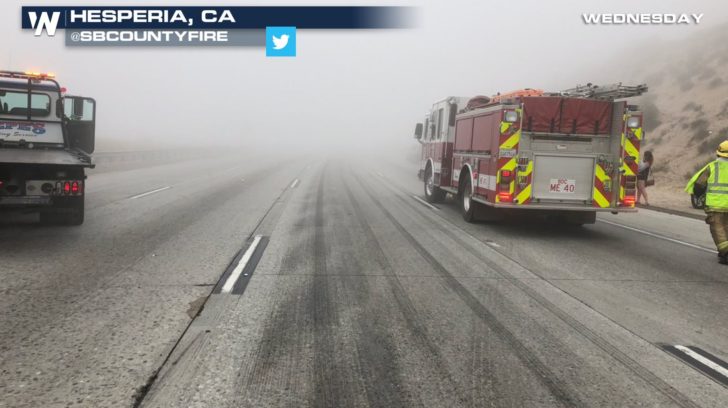 A look at the thick fog on I-15 SB courtesy @SBCOUNTYFIRE on Twitter There have been varying reports of the number of vehicles and person(s) involved, however a consensus of reports shows between 15-25 people injured, several vehicles involved, and no fatalities at this time. Visible satellite imagery over this area showed two interesting things. The first, was the thick fog over this part of the interstate where the accidents happened. Secondly, you can see an eddy (circulation, whirlwind, etc.) near San Clemente Island (bottom-left). https://twitter.com/SteveGlazier/status/1001946294464761856 May and June tend to feature more of these foggy, dreary mornings for *coastal* California. That's because a marine layer develops over the ocean and moves into the coastline. As the land heats up in Spring, the cooler, dense air begins to work inland toward the warmer, less-dense air.
Related Story: It's January and Central California's Foggy Season is Here
Be sure to check traffic and weather conditions before heading out, just in case you encounter dense fog such as this!
Main headline picture courtesy @SBCOUNTYFIRE on Twitter
For WeatherNation, Meteorologist Steve Glazier