As major
Hurricane Florence
barrels toward the United States, residents along the Southeast coast need to be prepared for the worst (and hope for the best).  Emergency plans should already be in place; know what to do in the event of a life-threatening situation.  State and local governments have already begun to prepare.  Over the weekend, the governors of Virginia, North Carolina, and South Carolina declared States of Emergency.  On Monday afternoon, the governor of Maryland also declared a State of Emergency.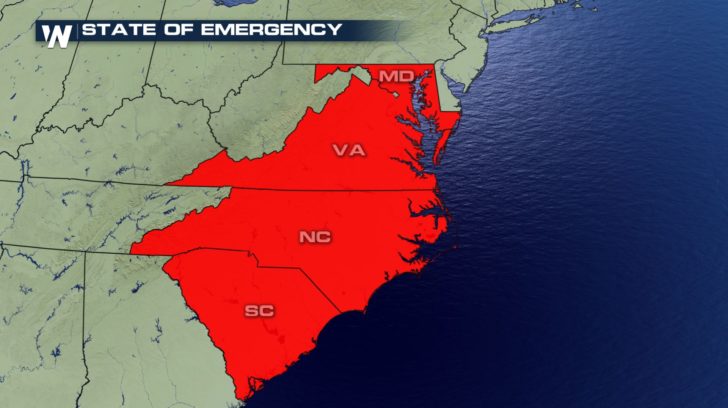 Mandatory evacuations were posted for several areas on Monday.  The Outer Banks of North Carolina, in particular, are very susceptible to hurricanes.  The threats of damaging wind, storm surge, and flooding prompted Dare County to issue evacuation orders for residents and tourists. https://twitter.com/DareCountyEM/status/1039156535983845376 In nearby Hyde County, officials have ordered a mandatory evacuation for tourists visiting Okracoke Island. https://twitter.com/HydeNC/status/1039198482781880322 By Tuesday, Governor Roy Cooper notified North Carolina residents of mandatory and voluntary evacuations throughout the coastal counties and inlet areas.  For more information regarding these evacuation areas, visit the
North Carolina Department of Public Safety website
. In neighboring South Carolina, Governor Henry McMaster ordered an evacuation of South Carolina's hurricane zones in coastal counties on Monday afternoon.  On Tuesday, the evacuation order for the southern most counties---Jasper, Beaufort, and Colleton (except Edisto Beach)---was lifted.  More information can be found at the
South Carolina Emergency Management Division website
. https://twitter.com/SCEMD/status/1039226727459893248 On Monday evening, residents of Virginia were advised by Governor Ralph Northam that anyone living in Zone A would need to evacuate. 
Click here to view Virginia's evacuation zone map
. https://twitter.com/VDEM/status/1039274333095579648 Evacuation orders and emergency notifications in other areas will be likely throughout the week.  Follow
WeatherNation
on air and online (
Twitter
and
Facebook)
for the latest information regarding Hurricane Florence. -
Meteorologist Joe Astolfi