Hurricane Ian made landfall in SW Florida on September 28, 2022 as a Category4 Hurricane. The final report from the National Hurricane Center released in early April found that Hurricane Ian was a Category 5 Hurricane (the highest category) when it was over the Gulf of Mexico. This is an upgrade from the initial storm reconnaissance and report during the storm, as post storm analysis showed the stronger wind speeds were achieved.
Shortly after entering the Gulf, an eyewall replacement cycle began. This structural change resulted in a larger radius of maximum winds (RMW), an expanded overall wind field, and surprisingly, a slight increase in intensity once the eyewall replacement cycle completed. At 0200 UTC 28 September, the eye of the 110-kt hurricane passed directly over the Dry Tortugas. Ian intensified further later than morning and reached its peak intensity of 140 kt (a category 5 hurricane) at 1200 UTC 28 September.
The storm weakened back into a Category 4 before landfall, officially making U.S. landfall on Wednesday September 28th in Florida as a Category 4 Hurricane, becoming the 4th CAT 4 to make landfall in the sunshine state. At the time, winds were sustained at 150 mph. Ian went on to make another U.S. landfall on mainland Florida near Pirate Harbor, a second U.S. landfall. The final landfall was as a CAT 1 Hurricane in South Carolina on Friday. Hurricane Ian was the 6th Category 4 or 5 hurricane to hit the U.S. Gulf Coast in 6 years, Ian's impacts were deadly and catastrophic for Southwest Florida, and will be remembered for years to come. The storm surge obliterated much of Lee County, home to Fort Myers, Ft. Myers Beach and Cape Coral. Bonita Springs saw tremendous storm surge and damage around Sanibel island was and still remains tremendous.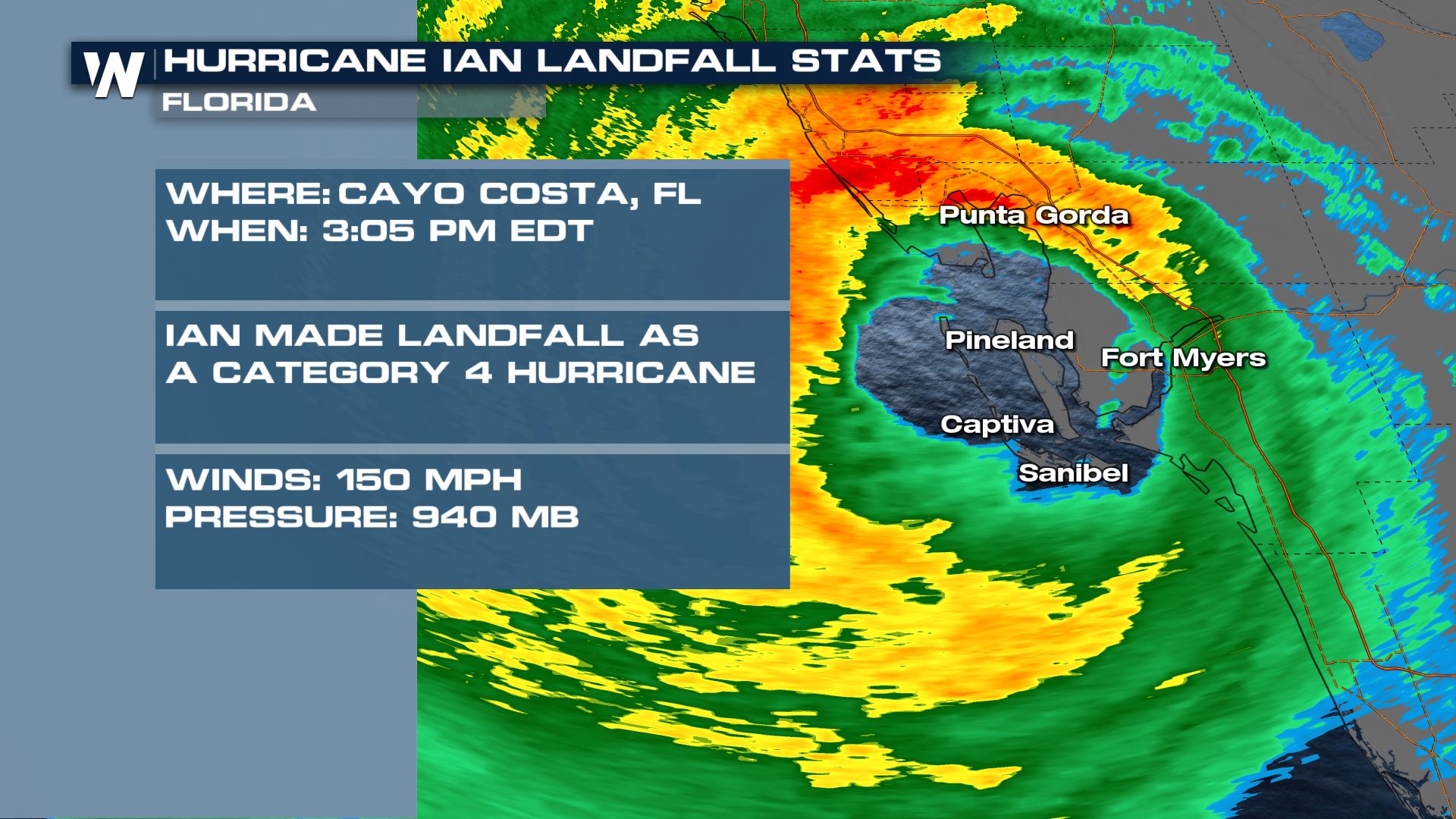 Last week the World Meteorological Organization (WMO) retired the names "Ian" and "Fiona" from the Atlantic basin, never to be used again due to their historical nature. The National Hurricane Center & FEMA held a press conference on April 3rd discussing how best to be prepared for the upcoming hurricane season and some of the biggest threats during and after a storm.
For more on the 2023 Hurricane Season, stay with WeatherNation for our Hurricane Preparedness Week in early May.