If you live in the Pittsburgh area, the weather has probably impacted your daily routine in some way over the last several days.  There was heavy rain in the area on Tuesday...  Heat Advisories on the 4th of July...  And today, the rain was so heavy in spots that local streets turned into rivers.  And despite clouds and flooding rain, Thursday was also incredibly muggy!  Anytime dewpoints are over 70 degrees, it feels incredibly humid.  Check out the dewpoints Thursday posted by the Pittsburgh National Weather Service office.  Way over 70 degrees! https://twitter.com/NWSPittsburgh/status/1014952294348189696 But as the tweet says... "Relief is on the way as a cold front approaches overnight!"  Unfortunately, more flooding could also be on the way as the cold front passes through. Here's the forecast for 11pm tonight.  Heavy rain is possible across Pennsylvania, New York State, and up through Vermont.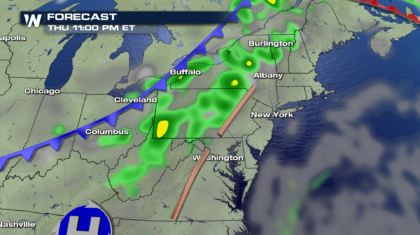 By 7am Friday morning, rain chances continue along and ahead of the cold front.  New York City could see heavy rain for the morning commute.  And rain will move right up the I-95 corridor into Maine.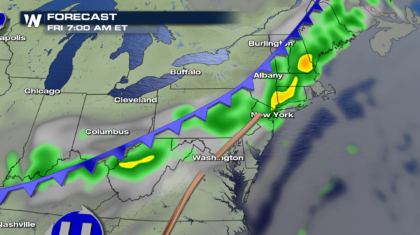 The front will gradually sink southward Friday, and by 7pm, most of the rain will be off the coast, and far to the south into Virginia.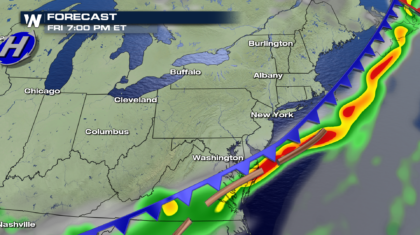 The threat of heavy rain, possibly one to three inches, has led to the issuance of Flash Flood Watches across much of Pennsylvania, portions of West Virginia, northern Virginia, Ohio, New Jersey, Long Island, and into the Boston area.  Most of these watches are in effect through Friday morning.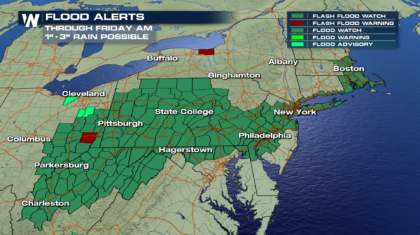 THE GOOD NEWS:
Cooler and less humid air will come in behind the cold front.  New York City will have a high temp of 77 degrees on Saturday.  That's 7 degrees below average.  It's going to feel great!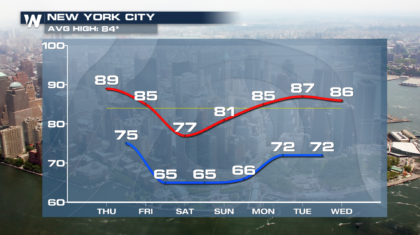 And Boston's high on Saturday will be 76 degrees, 5 degrees below average.  That's a nice change.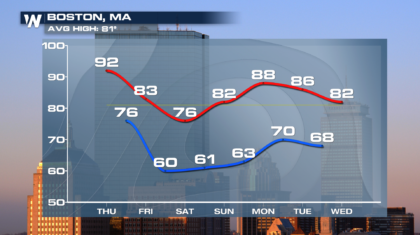 So hang in there.  Once the cold front moves through, drier and cooler weather is on the way. For WeatherNation:  Meteorologist Matt Monroe