When it comes to weather conditions in the Ohio Valley, there's good news, more good news, and bad news.  First, the good news.  There's no drought!  Unlike much of the southwest, the rain that's pushing through is part of a wet winter that will keep this part of the country out of drought criteria for quite some time.  More good news, the moisture that's coming with this round is in the form of rain, not snow.  While not as much fun as snow, rain certainly causes less travel issues.  But there is some bad news.  With moisture levels already above normal for the year, additional heavy rain is raising flood concerns.  Rivers and streams are already running high.  Portions of Ohio, Pennsylvania, and West Virginia could easily pick up one to three inches of rain through Friday night.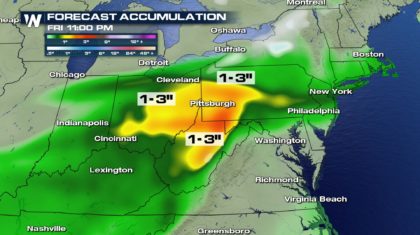 Flood Watches have been issued by the National Weather Service through Friday.  Cities include Pittsburgh, Morgantown, Charleston, Columbus, and Canton.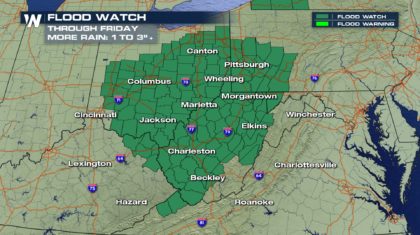 During the afternoon and evening, there is a Marginal Risk of severe thunderstorms.  The area outlined is just east of St. Louis, from Indianapolis south to Louisville, and into southeastern Ohio.  Severe storms could develop, producing straight line winds in excess of 58 mph.  There is also a slight chance for isolated tornadoes.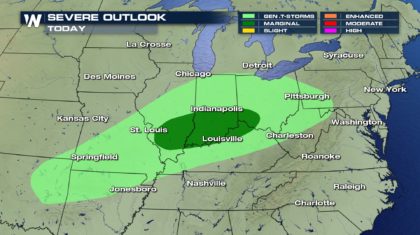 Heavy rain is in the forecast well into the evening and overnight hours.  Some of this moisture will spread into western New York State.  Rain combined with snowmelt from warm temperatures could cause flooding issues.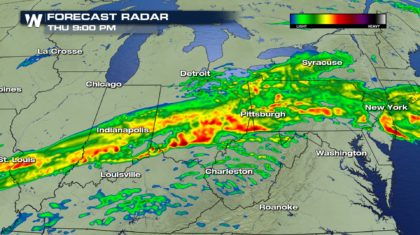 The National Weather Service has issued a Flood Watch through Friday for extreme western New York State.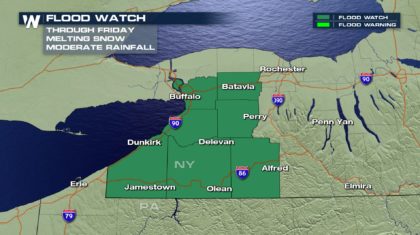 Winter moisture is usually a very good thing, except when too much snow or rain comes too quickly.  This could be the case today and tomorrow in the Ohio Valley, and western New York State.  It's a situation that should be monitored very closely. For WeatherNation:  Meteorologist Matt Monroe