https://www.facebook.com/WeatherNation/videos/10156285718794874/ It was in December of 2015 that NOAA's
next generation weather satellite
, GOES-S, started being assembled. "This is an operational satellite," said Tim Gasparrini,
GOES-R Series
Program Director at
Lockheed Martin
.  "There's millions of people that depend on the data coming off of this satellite.  And it's got to work, and it's got to work every minute of every day." https://twitter.com/twitter/statuses/967157935062228992 The satellite underwent two years of calibrations and vigorous testing to prepare for a life in outer space. "We had to build them to survive that environment and meet all the requirements not only at launch, carrying on for operations, but for ten years afterwards," said Dr. Frank Eparvier, who worked on the GOES-R Series
EXIS Instrument
at the
Laboratory for Atmospheric & Space Physics
. In July of 2017, WeatherNation was able to
get a first look at the completed satellite
, then an exclusive opportunity to
travel with GOES-S from Colorado to Florida
, where it's awaits liftoff on March 1. This weather satellite will join its predecessor,
GOES-East
, to watch over the entire western hemisphere.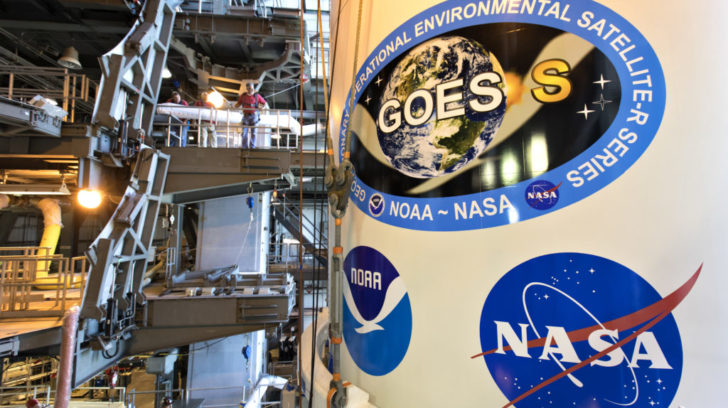 The payload fairing containing NOAA's Geostationary Operational Environmental Satellite-S (GOES-S) was lifted up by crane and moved into the United Launch Alliance (ULA) Vertical Integration Facility at Space Launch Complex 41 at Cape Canaveral Air Force Station in Florida. The fairing will be mated to the ULA Atlas V rocket. GOES-S is the second in a series of four advanced geostationary weather satellites. The satellite is slated to launch aboard the ULA Atlas V on March 1.
"GOES-17 will provide coverage of the Western US, Alaska, Hawaii, the Pacific Ocean, Mexico, and Central America," said Ajay Mehta, acting deputy assistant administrator for systems at
NOAA's National Environmental Satellite, Data and Information Service
(NESDIS). https://twitter.com/WeatherNation/status/966694210089955329 GOES-S will be working with GOES-East to continue to send back images and data that will assist meteorologists with forecasts and aid in decision making by community and national leaders. "We're now able to cover the entire domain space of what we're responsible for in terms of public safety and this data will have a fundamental role in improving our situational awareness and our forecast capabilities," said Dr. Louis Uccellini, director of the
National Weather Service
. https://youtu.be/sxSg0OdtzG8
United Launch Alliance NASA LSP & Delta II Program Manager Scott Messer talks about the upcoming mission
"This means more lives are saved and better environmental intelligence for state and local officials who, for example, may need to make decisions about when to call for evacuations ahead of life threatening wildfires," Mehta said. WeatherNation's correspondent John Van Pelt and I will be there for you in Florida for the GOES-S launch, to talk about the science and give you a front row seat to this historic event. https://twitter.com/WeatherNation/status/967128988148629504 For WeatherNation, I'm
Meteorologist Meredith Garofalo