After severe weather moved through the Great Lakes region on Friday, another round of severe storms is expected Saturday. A series of fronts moving across western sections of the Great Lakes brings a risk of severe thunderstorms and heavy rain for the late afternoon and evening.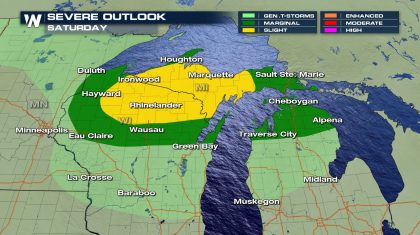 Northern Wisconsin and the western half of the Upper Peninsula of Michigan are in the slight risk area for severe thunderstorms, a level 2 out of 5. The marginal risk area, level 1 out of 5,  extends south to Green Bay and Eau Claire, Wisconsin and east to Traverse City, Alpena and the rest of the Upper Peninsula. Gusty straight line winds in excess of 60 mph are the primary threat with this storm system along with hail bigger than 1". A warm front moving north brings moisture and warm temperatures in the 70s and 80s while the front acts as a lifting mechanism for storms. Timing will be in the late afternoon and early evening.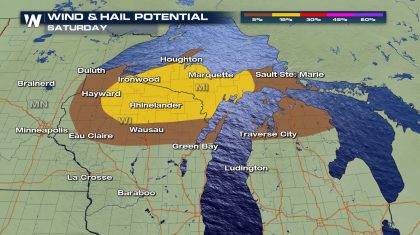 A brief tornado will also be possible with the strongest storms generated by this system. It is unusual to have a tornado risk this late in the year in this part of the country but there is enough wind turning with height for a tornado threat. The primary risk area for a brief torado is northeast Wisconsin into the western part of the UP.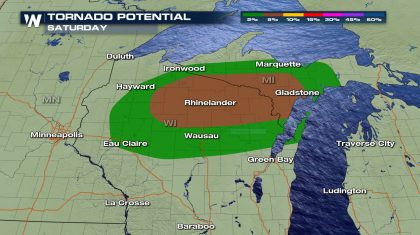 While showers and a few thunderstorms will be ongoing through the early afternoon, main thunderstorm development is unlikely until the mid-afternoon hours. Once thunderstorms develop they will continue through the evening.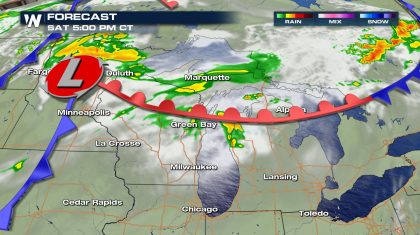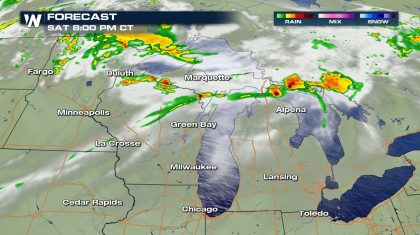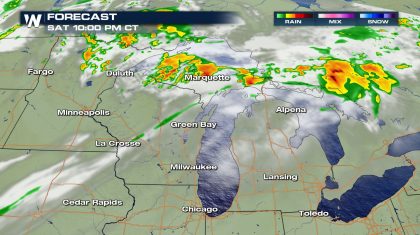 As the low moves into Canada overnight into Sunday morning, the severe thunderstorm threat will diminish. Heavy rain will continue for some parts of northern Michigan overnight. Rain totals will be in the 1-2" range across the board with locally higher amounts possible.Widespread flooding is not expected, but there could be a few spots of brief flooding in areas that pick up pockets of heavy rain. WeatherNation will keep you up-to-date on the severe weather potential on-air and online through the weekend.