While both the western and the eastern U.S.  have been dealing with powerful winter storms, the mid-section of the country has been relatively quiet the last few days.  But that's about to change.  Energy from the western storm, that has brought several feet of snow to the Sierra Nevada region, is moving eastward.  And while feet of snow are not expected, heavy snow is on the way to the upper Midwest Monday and Tuesday. Things will start to ramp up Sunday night.  Low pressure will work into the eastern Dakotas.  Moisture will surge northward from the Gulf of Mexico, while cold air wraps around the system from Canada.  It's the perfect setup for a major winter storm across the plains and the upper Midwest!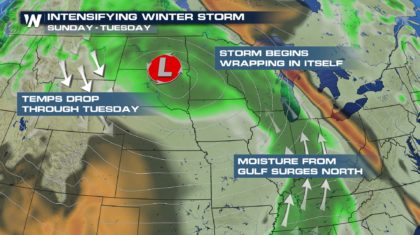 Winter Storm Warnings and Winter Storm Watches stretch across the Dakotas, into Minnesota and Wisconsin.  These winter storm alerts are likely to be expanded and upgraded as we move closer to the event.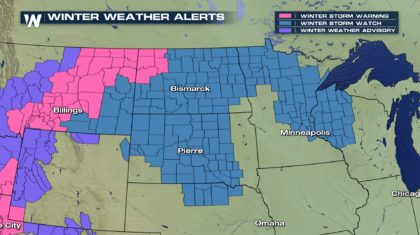 In many locations, precipitation may start to fall as either rain, or a wintry mix.  In the graphic below, Minneapolis could be one of these spots, with rain falling in the city Sunday night.  Sleet and freezing rain will be possible across northern North Dakota.  Residents in these areas may also get a coating of ice and freezing rain.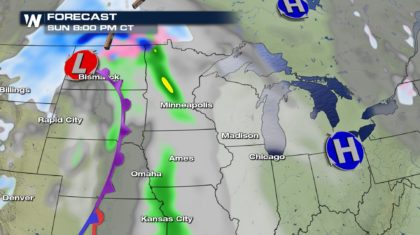 By early Monday morning, North Dakota will likely be covered with fresh snow.  The dark blue shading in the graphic below indicates where the heaviest snow could be.  Minneapolis will be picking up heavy snow by this point.  Farther south, rain will be mode of precip across Iowa.  Temps there will be a little too warm for snow.  We'll also see snow start to spread into western Wisconsin by Monday morning.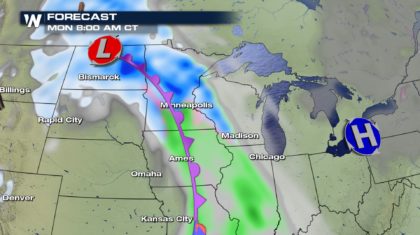 By Monday evening, the snow will be moving through Wisconsin, into Michigan, and into northern Indiana and Ohio.  And snow will still be falling across North and South Dakota.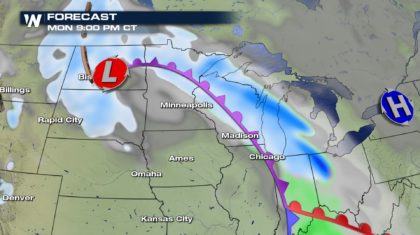 On Tuesday morning, we can expect more snow across the Dakotas, spreading along an occluded front all the way into eastern Ohio and western Pennsylvania.  There could also be a wintry mix in southern Minnesota and northern Iowa.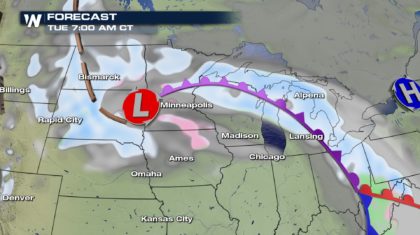 By Tuesday evening, the majority of snow will be pushing northward into Canada.  There could be a little snow on the backside of the storm, bringing light snow into Iowa.  Snow will also linger in Wisconsin Tuesday night.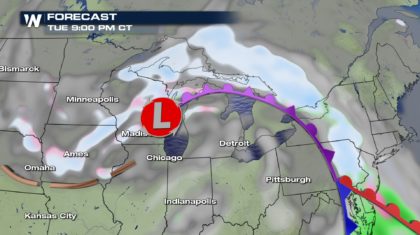 This winter storm is expected to put down some significant snow totals for the Plains and the Upper Midwest.  On the graphic below, the heaviest snow will fall in the pink and purple shaded areas, where forecasts are calling for at least 6 to 12 inches of snow.  The dark blue shaded areas indicate about half that amount, 2 to 5 inches of snow.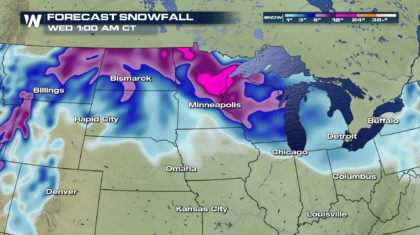 Below is a list of several cities impacted by the storm with potential snowfall totals and time frames.  Some of these locations could also pick up freezing rain and ice, as rain transitions into a wintry mix, and then snow.  Ice accumulations will generally be less than a tenth of an inch, but this could cause very hazardous driving conditions.
Bismark, ND  
  10" - 14"  Snow.  1/10" Ice.  Sunday night through Tuesday morning.
Fargo, ND  
  4" - 7"  Monday.
Pierre, SD  
  7" - 10"  1/10" Ice.  Sunday night through Tuesday morning.
Minneapolis, MN  
  5" - 8"  Monday.
Duluth, MN  
  6" - 12"  Sunday night through Monday night.
Madison, WI
    2" - 4"  1/10" Ice.  Monday and Tuesday.
Milwaukee, WI  
  2" - 4"  Monday through Tuesday.
Lansing, MI  
  2" -3"  Monday night through Tuesday. Stay tuned to WeatherNation TV for the very latest information on this winter storm. For WeatherNation:  Meteorologist Matt Monroe