After an active hurricane season in 2019, it's hard to believe the next season is already here. Hurricane season
began on May 15
for the Pacific Basin, and begins June 1 for the Atlantic basin.
NOAA is expecting an above average season for 2020
, so it's time to get READY with WeatherNation during Hurricane Prep Week May 25-31. We'll help you get your plan together, understand the science behind tropical systems, and much more so you can be prepared this hurricane season. Whether you live on the coastline or inland, it is important to
know your risks
when it comes to tropical systems.  Coastal communities are most at risk of destructive winds, dangerous storm surge, and are more likely to have to evacuate. Communities even hundreds of miles away from coastlines are still at risk, with the threat of high winds, flooding rainfall, severe weather & tornadoes, and the longer-lasting threat of flooding and power outages that could occur days or weeks after a storm hits.
GETTING READY FOR HURRICANE SEASON
https://youtu.be/SaBV_Ibdr2o
KNOW YOUR RISKS
WHAT'S THE FORECAST THIS SEASON?
Hurricane season forecasts have already been released for the 2020 Atlantic and Pacific basins, including those from NOAA and
Colorado State University
. NOAA expects an active season for overall number of systems in the Atlantic basin with a total of 13-16 named storms, 6-10 of which are expected to become hurricanes. 3-6 of those hurricanes are expected to strengthen into a category 3, 4, or 5 (major) hurricane.   In the central Pacific basin,
NOAA expects a less active season
as compared to normal with  2-6 named storms.
[Related Article: NOAA Releases 2020 Atlantic hurricane forecast
] https://youtu.be/wFLALzSIRYo While seasonal outlooks give us some idea of what to expect, there is no way to know for certain just what the season will have in store for YOUR area.  Seasonal outlooks cannot forecast exactly when, where, or if storm will strike. Remember, it only takes *one* to impact your area to become a "bad season".  So, it's important to prepare before a storm threatens.
LIVE INLAND? YOU AREN'T IMMUNE TO HURRICANES!
Even if you live nowhere near a coastline, impacts from tropical systems can still occur. As seen in recent storms such as Hurricane Harvey (2017) and Hurricane Florence (2018), inland impacts can sometimes become even more extreme and far-reaching than those right near the coast. Tropical Storm Allison (2001) and Hurricane Irene (2001) and Hurricane Lee (2001) all brought devastating inland impacts. Understand more about inland threats. https://youtu.be/FBKLFsUUMyk
UNDERSTANDING STORM SURGE
Along the coast, storm surge is often the greatest threat to life and property from a hurricane.  
Storm surge
has come along with some of the most powerful storms in history.
Surge Vulnerability Facts (source: NHC)
From 1990-2008, population density increased by 32% in Gulf coastal counties, 17% in Atlantic coastal counties, and 16% in Hawaii (U.S. Census Bureau 2010)
Much of the United States' densely populated Atlantic and Gulf Coast coastlines lie less than 10 feet above mean sea level
Over half of the Nation's economic productivity is located within coastal zones
72% of ports, 27% of major roads, and 9% of rail lines within the Gulf Coast region are at or below 4 ft elevation (CCSP, SAP 4-7)
A storm surge of 23 ft has the ability to inundate 67% of interstates, 57% of arterials, almost half of rail miles, 29 airports, and virtually all ports in the Gulf Coast area (CCSP SAP 4-7)
Storm surge is one of the major factors to determine local evacuations. Unsure if you live in an evacuation zone? Contact your local emergency officials, or take some time to research it on the internet. https://youtu.be/TTBZj-WgjSA
PREPARE AT HOME
GET YOUR SUPPLY KIT READY
Once your know your risks, you should put together an essential hurricane supply kit. There are two types of "kits" you should put together...one if you're sheltering at your home during a storm, and one that you can grab and go should you need to evacuate.
[Get your supplies ready to shelter at home Click here for a full list of essentials from FEMA ]
Here's what to pack in your "go kit" in case you will need to evacuate: https://youtu.be/5hqtqotWSzQ
COMMUNICATING THROUGH A TROPICAL SYSTEM
Effective communication is critical to forecasters and emergency management to relay potentially life saving information to the public when tropical systems threaten. When a storm hits, sometimes the basic communication methods we are all familiar with, such as cell phones and internet, can fail. Learn more about communicating before and during the storm. https://youtu.be/MZBVzwhub6A
PREPARING YOUR BOAT BEFORE A TROPICAL SYSTEM
Many who live along the coast need to know what to do to secure their boat or vessel before a storm strikes. Boats can be greatly damaged, or cause damage to other property of if not properly secured or removed before a storm. https://youtu.be/Cmtuk8oJjW8
Additional Helpful Tips: 
ABOUT THE SCIENCE
We get it. There's A LOT of jargon, phrases, and information that can make understanding tropical cyclones difficult. Understanding the basics may help when a storm threatens.
TROPICAL TERMINOLOGY
It is important you understand certain 
tropical weather terminology
to be better informed when a storm threatens. The difference between a tropical depression, tropical storm, and hurricane is simply wind speed. Each designation says nothing about particular impacts. Each system is unique, and listening to details of the forecast is key to being prepared and taking action if needed. https://youtu.be/TzvW4GDKAHs
WHAT IS THE SAFFIR-SIMPSON SCALE?
The Saffir-Simpson Hurricane Wind Scale is a 1 to 5 rating based on a hurricane's sustained wind speed, with 5 being the highest. This scale estimates potential property damage. Hurricanes reaching Category 3 and higher are considered major hurricanes because of their potential for significant loss of life and damage. Category 1 and 2 storms are still dangerous, however, and require preventative measures.  (
Source: NHC
) https://youtu.be/Bkk325N0HCI
WHAT CAUSES A HURRICANE TO FORM?
Most tropical cyclones start as a disorganized cluster of thunderstorms in the tropical latitudes around the Globe, known as a tropical wave. Under the right atmospheric conditions, tropical waves can transform into full blow tropical storms or, eventually, hurricanes. https://youtu.be/52DohTDxb4g
WHY ARE STORMS GIVEN NAMES?
As tropical systems develop and strengthen, they must reach a certain wind speed threshold to be given a name. According to
NHC history
, the use of easily remembered names greatly reduces confusion when two or more tropical storms occur at the same time.  Names are determined years in advance of each season by the
World Meteorological Organization
for different ocean basins around the world.
UNDERSTANDING THE FORECAST "CONE"
Listening to forecast details can mean the difference between being prepared and caught off guard. Before a storm strikes, you'll often see a forecast "cone" to represent the expected forecast track of a system.  Learn how to interpret the forecast track "cone" from the National Hurricane Center, and also how we relay that information visually on WeatherNation. https://youtu.be/HbA0aLkFDKw
WHAT PART OF A HURRICANE IS THE MOST POWERFUL?
When a hurricane threatens landfall, most often the most impacts will be felt on the "front right quadrant" in relation to the direction of movement. Impacts can and will be felt on all "sides" of a storm, but the threat of highest winds, storm surge, and indirect impacts, such as tornadoes, are often increased in the front right quadrant. https://youtu.be/X78lTSZQTNU
RIDE ALONG WITH THE "HURRICANE HUNTERS"
Do you ever wonder how data is gathered about tropical cyclones? To that, we turn to the "hurricane hunters"- teams of engineers, meteorologists, data scientists, pilots and others who fly directly into the heart of a storm to gather critical data about the cyclone. Get a look into the storm and data collected by NOAA's Hurricane Hunters and learn how the information they gather is critical to understand hurricanes and making a forecast. https://youtu.be/yk3cEMJZRrA
WHY CERTAIN STORM NAMES WILL NEVER BE USED AGAIN
What do the names Katrina, Michael, Andrew, and Sandy all have in common? They are
4 of the 89 tropical names
that will never be used again to identify a tropical cyclone. The World Meteorological Organization uses names to identify cyclones around the world, but some storms become so costly or destructive, they can never be used again. https://youtu.be/m6CbfsXgjL0
[Related link: Watch the top 5 most destructive hurricanes in U.S. history]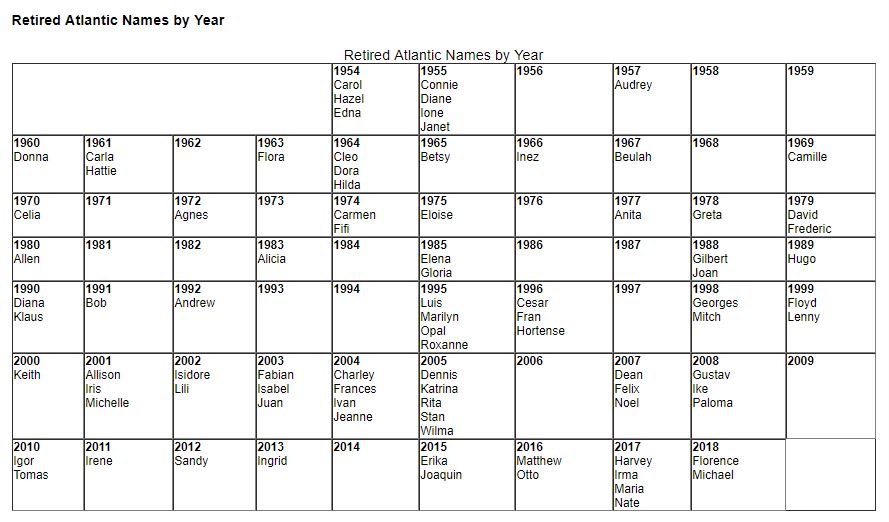 Source: https://www.nhc.noaa.gov/aboutnames_history.shtml
Being prepared before hurricane season is key to reacting quickly when a storm threatens your area. Understanding your risks where you live, and knowing how to react can mean the difference between saving your life and property when a storm approaches. WeatherNation will continue to follow any and all systems that threaten the U.S. and Caribbean Islands throughout hurricane season to make sure you stay informed long before a storm strikes Still have questions? Be sure to watch Hurricane Prep Week on WeatherNation, or get in touch with us on
Facebook
or
Twitter.