A one-two punch of winter weather is taking aim at the Northeast United States this week. The first punch will be a smaller, weaker hit Monday, followed by a possible knockout blow on Wednesday and into Thursday.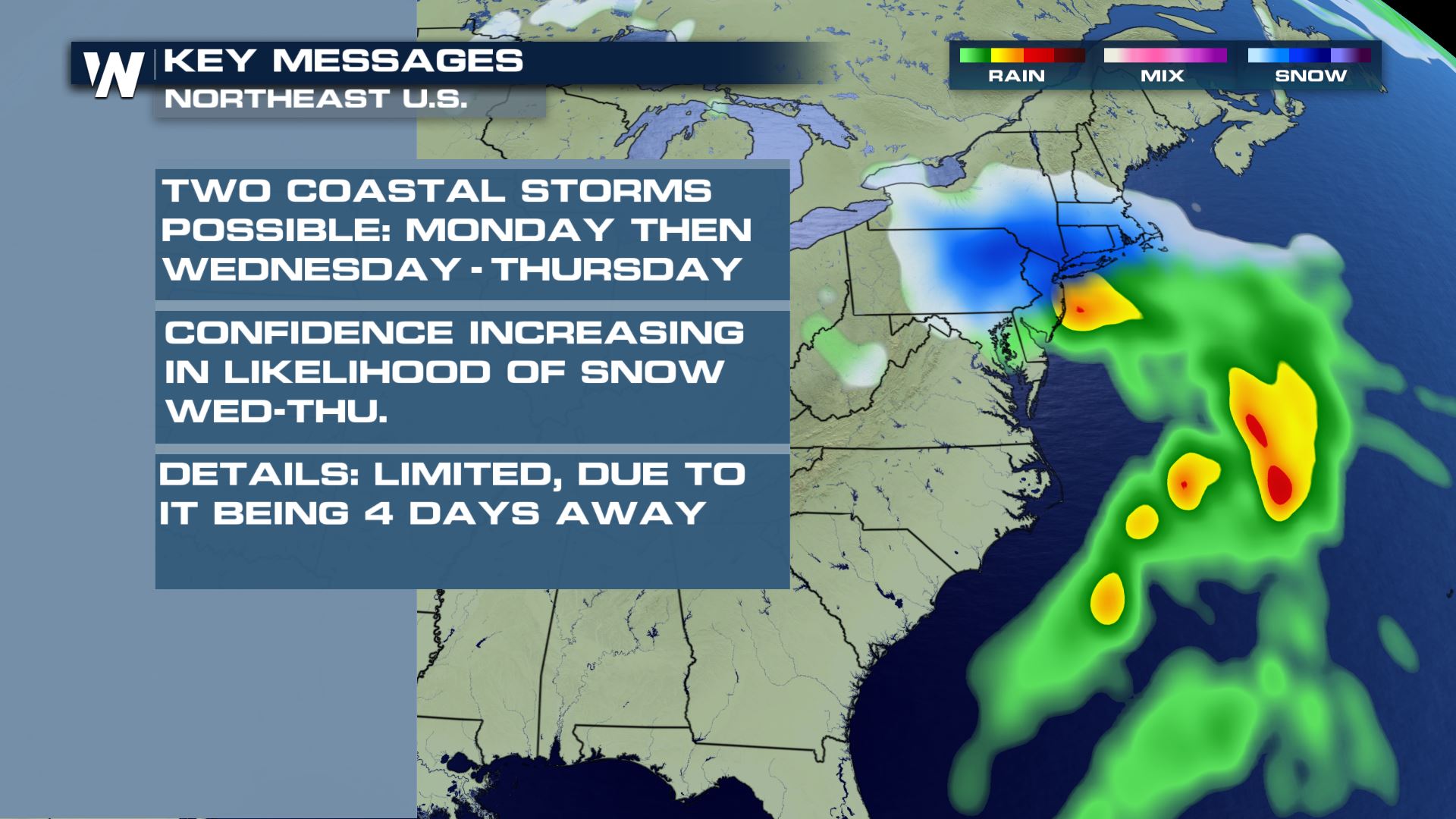 Monday's weather system will likely be a wintry mix of rain and snow, due to a lack of very cold air, whereas the storm system Wednesday to Thursday has a much higher snow potential because of much colder temperatures.
Winter Weather Alerts
Winter Weather Alerts have been filling in from West Virginia, Virginia, Maryland and into Pennsylvania in anticipation of our first snow system.
Winter Weather Advisories
have been issued in purple for tonight (Sunday) through Monday afternoon for some totals between 3-6".
Winter Storm Warnings
have been issued along the southern Appalachians in pink for heavy snow that could get up to 1" per hour.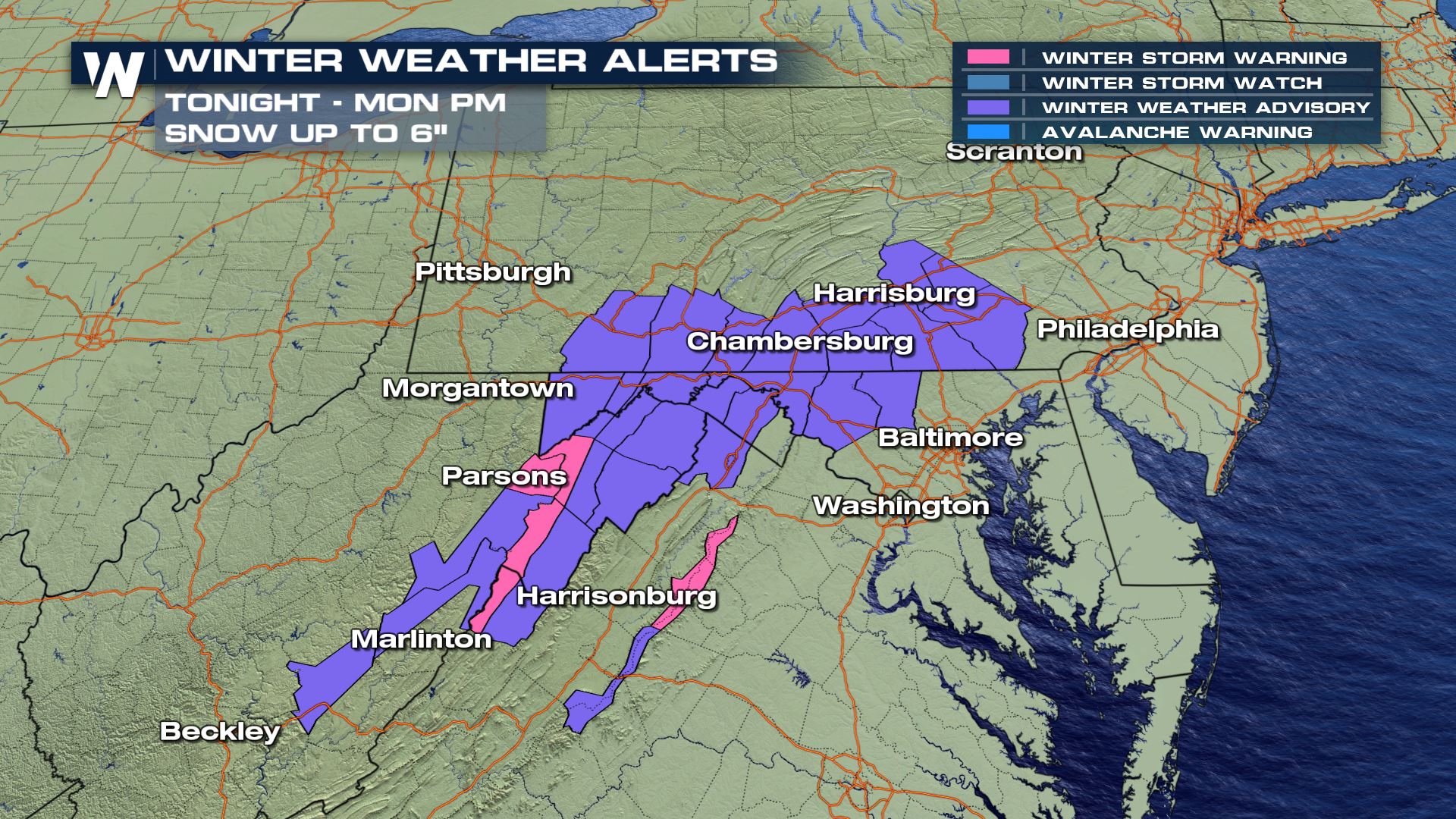 Forecast
On Monday morning, a rain snow mix will be moving across the Appalachians and mid-Atlantic. Many of the cities along the I-95 corridor should stay warm enough to remain rain, however the precipitation may end as snow Monday afternoon.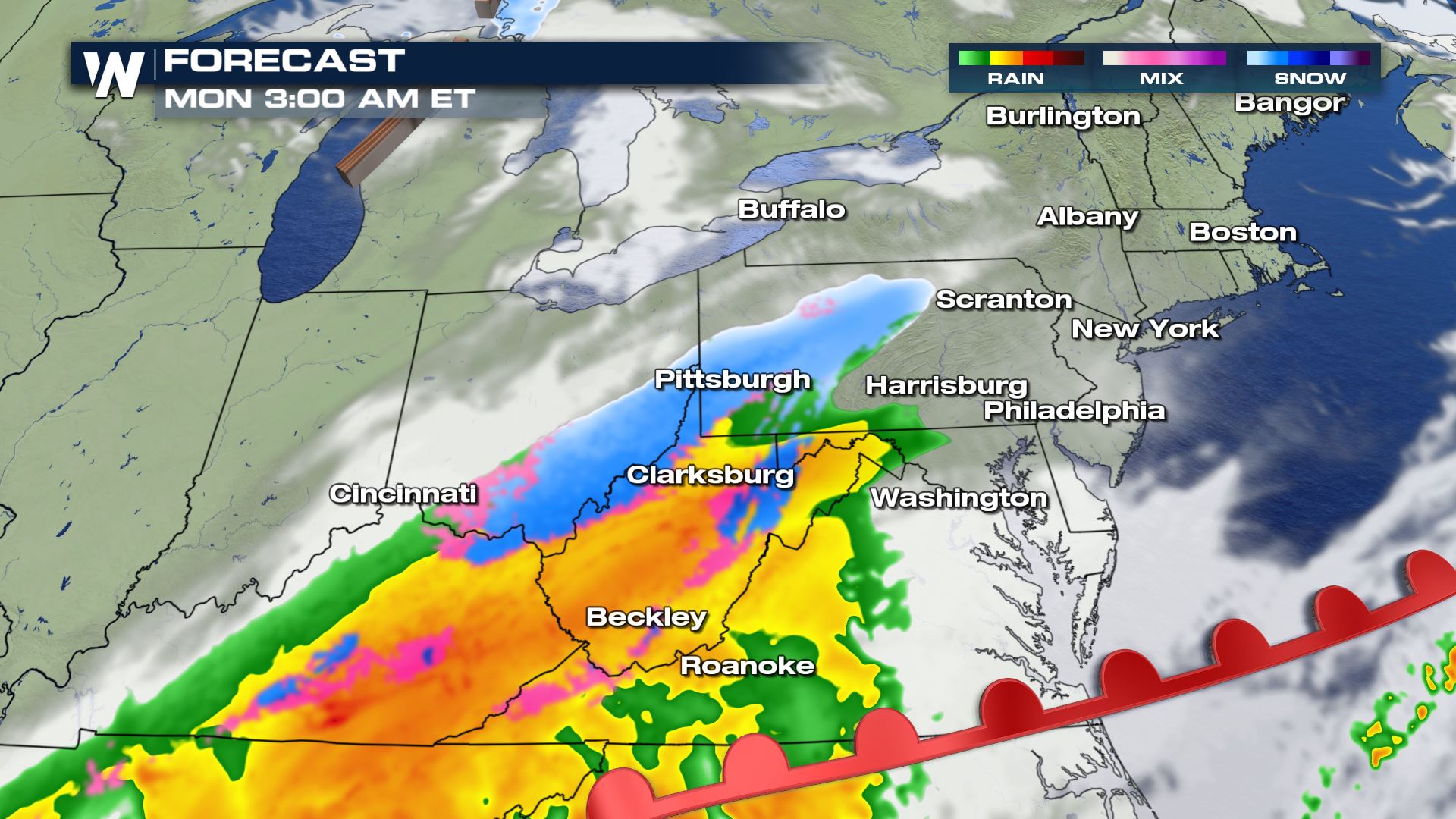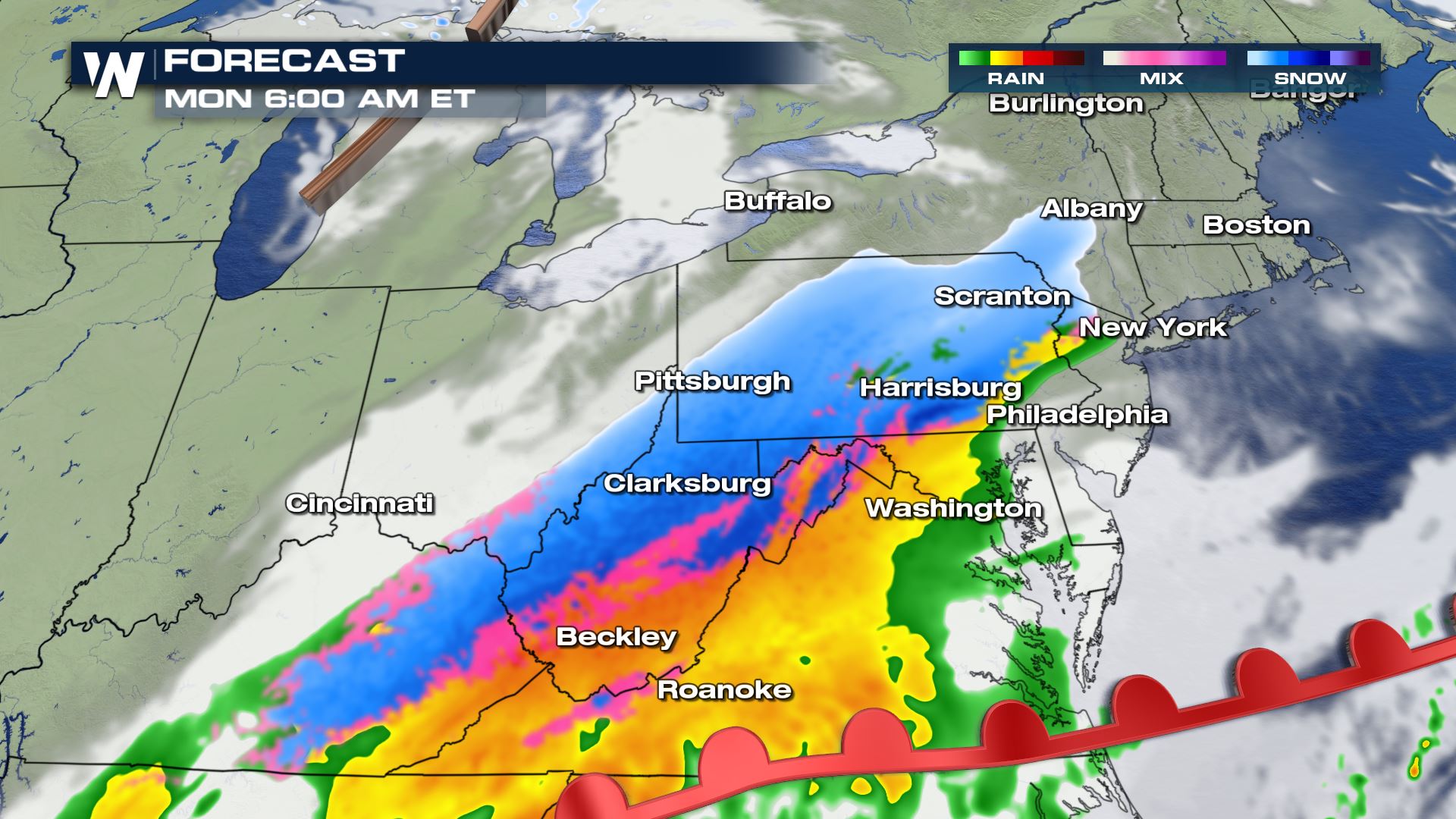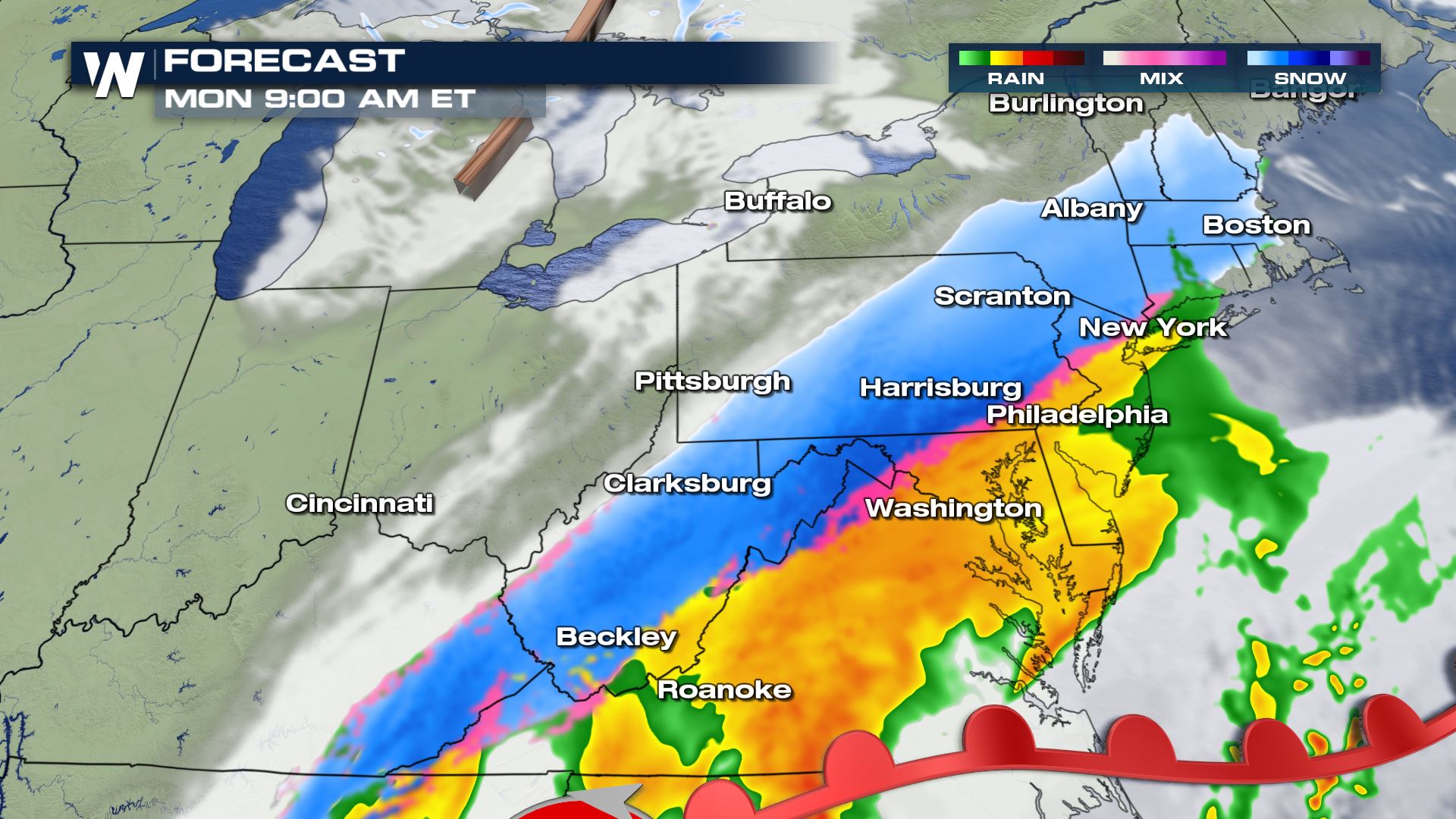 By Monday afternoon, a quickly-moving low pressure will be crossing Virginia Beach with rain for the I-95 corridor but snow inland, away from the Atlantic Ocean.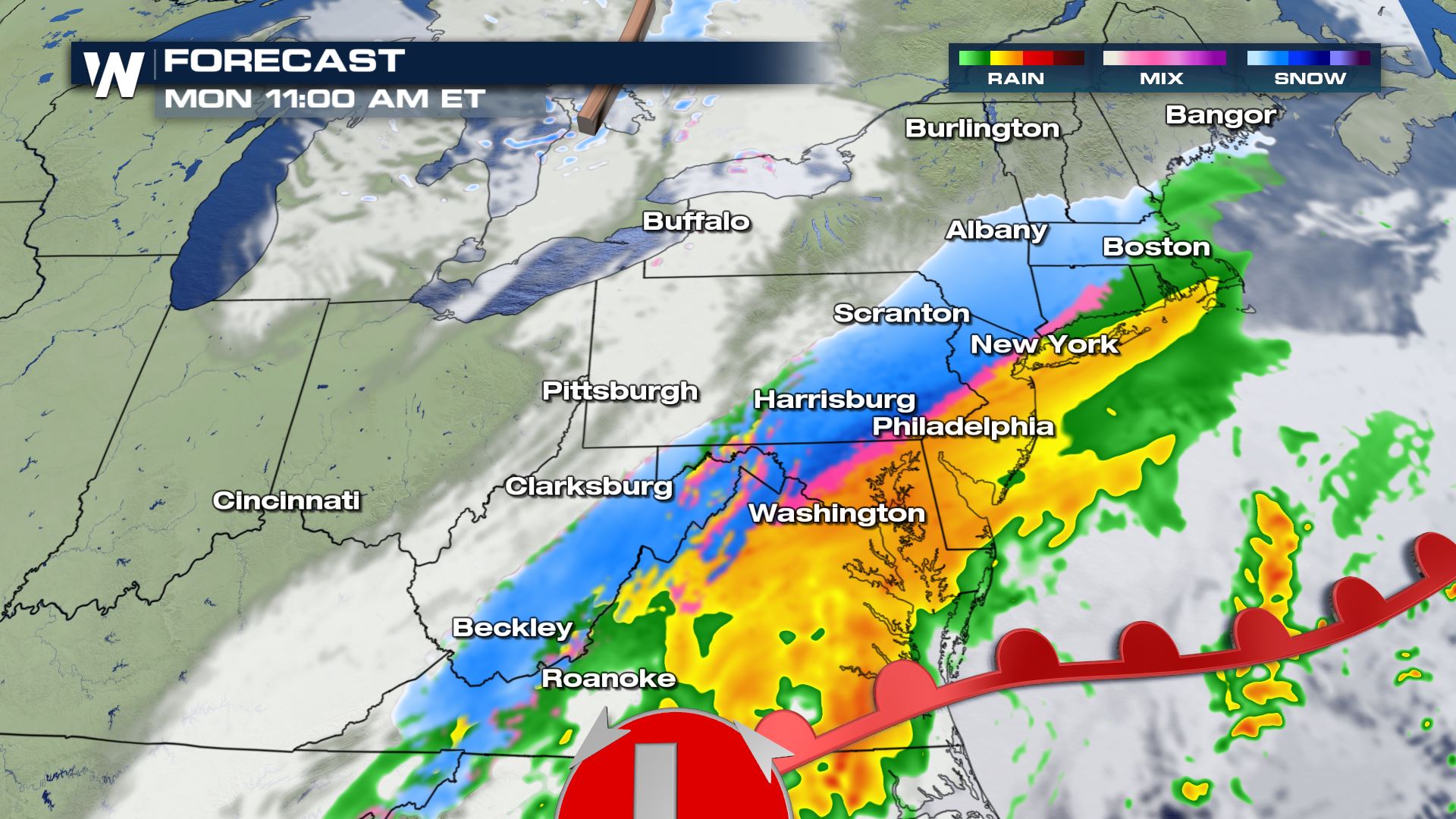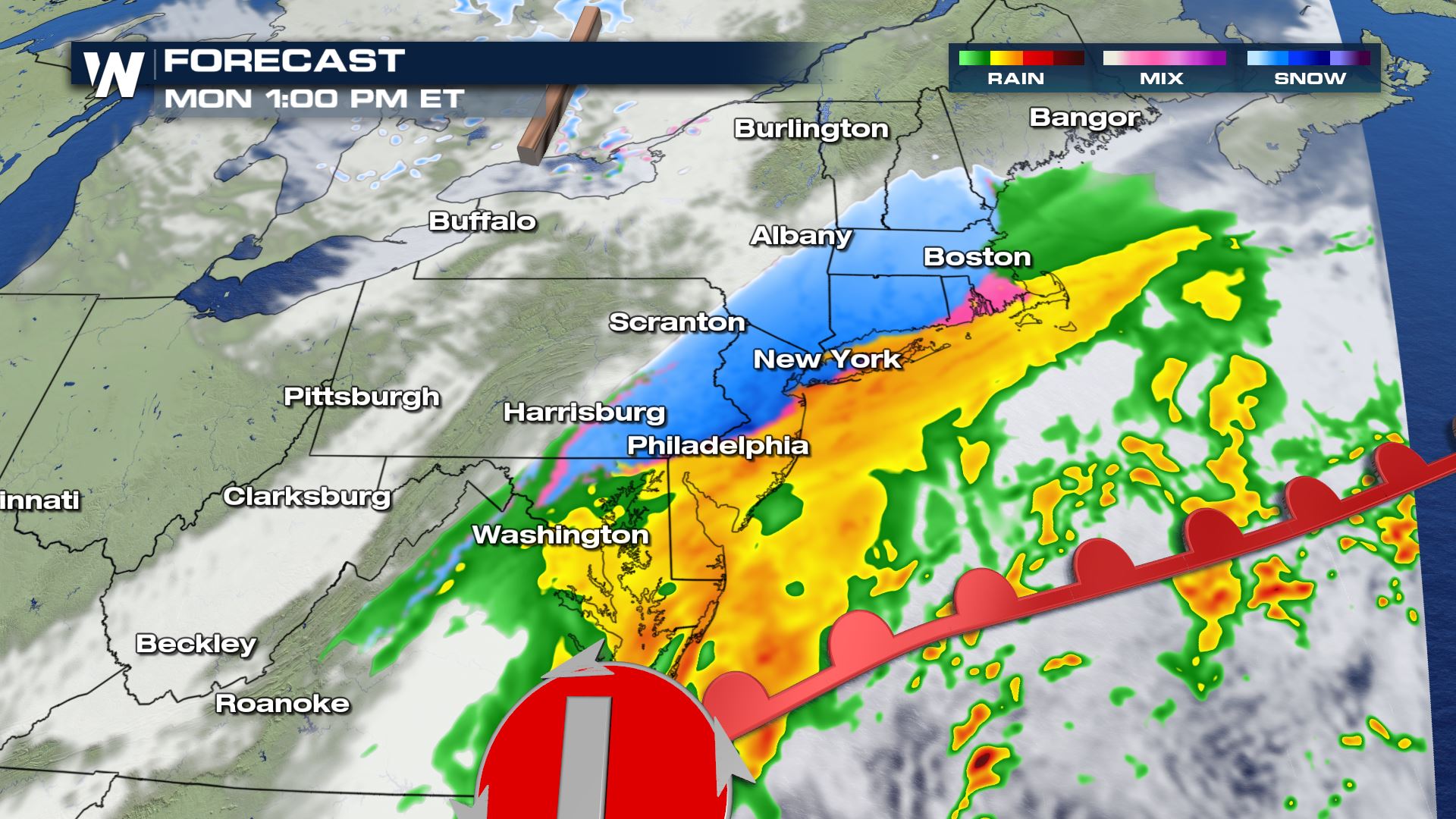 By Monday night, we're expecting an inch or two of rainfall for parts of Tennessee, Virginia, North Carolina, Maryland, and Delaware. On the snowier side of things, we expect one to three inches of snowfall for Boston, Hartford, New York, Allentown, and Pittsburgh. A few spots in West Virginia, south Pennsylvania and Maryland could get several inches of snowfall!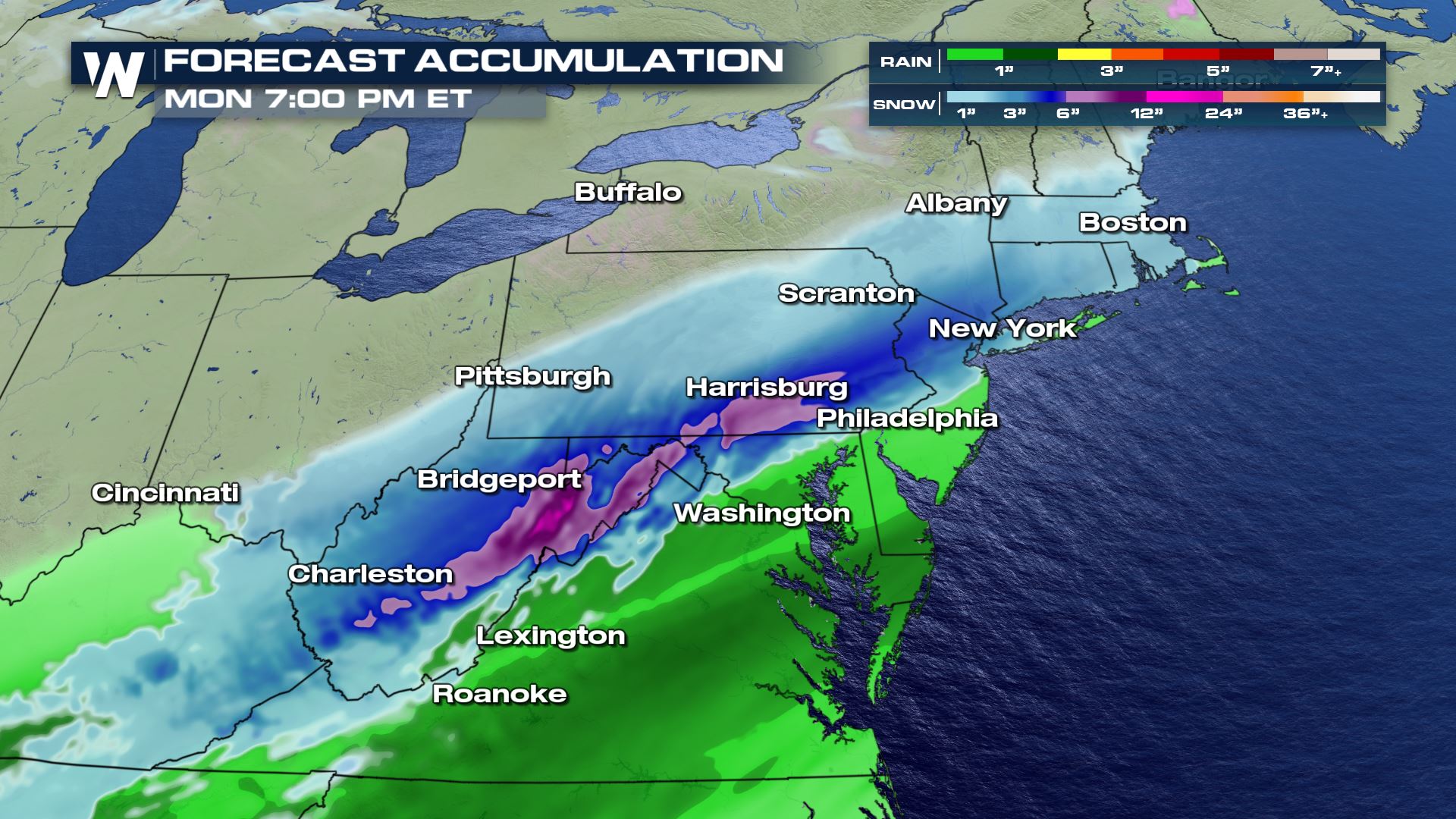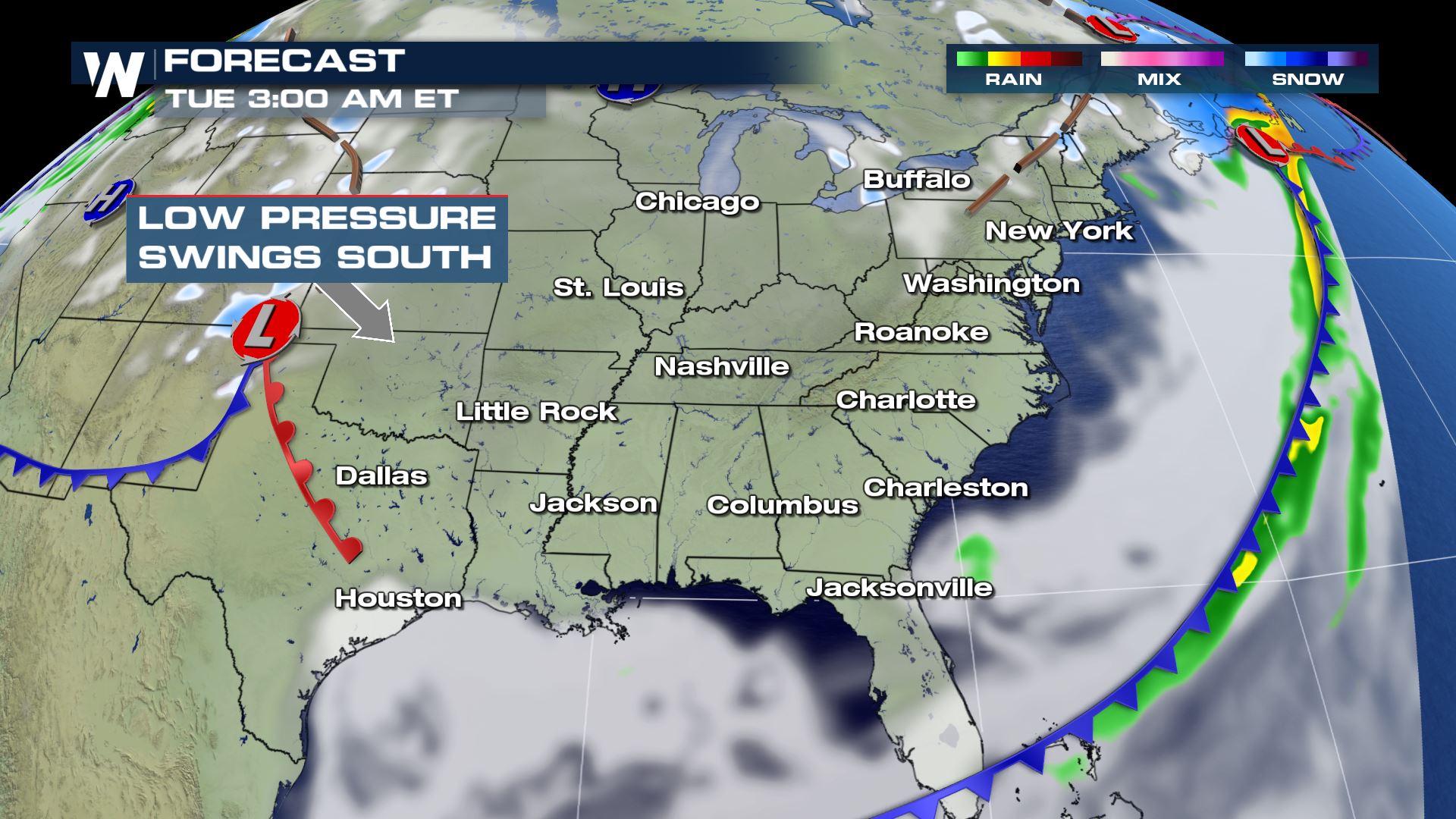 Tuesday will be the day to watch an area of low pressure ejecting off the Rocky Mountains and diving to the south and east. This low pressure will then trek toward the northern Gulf Coast.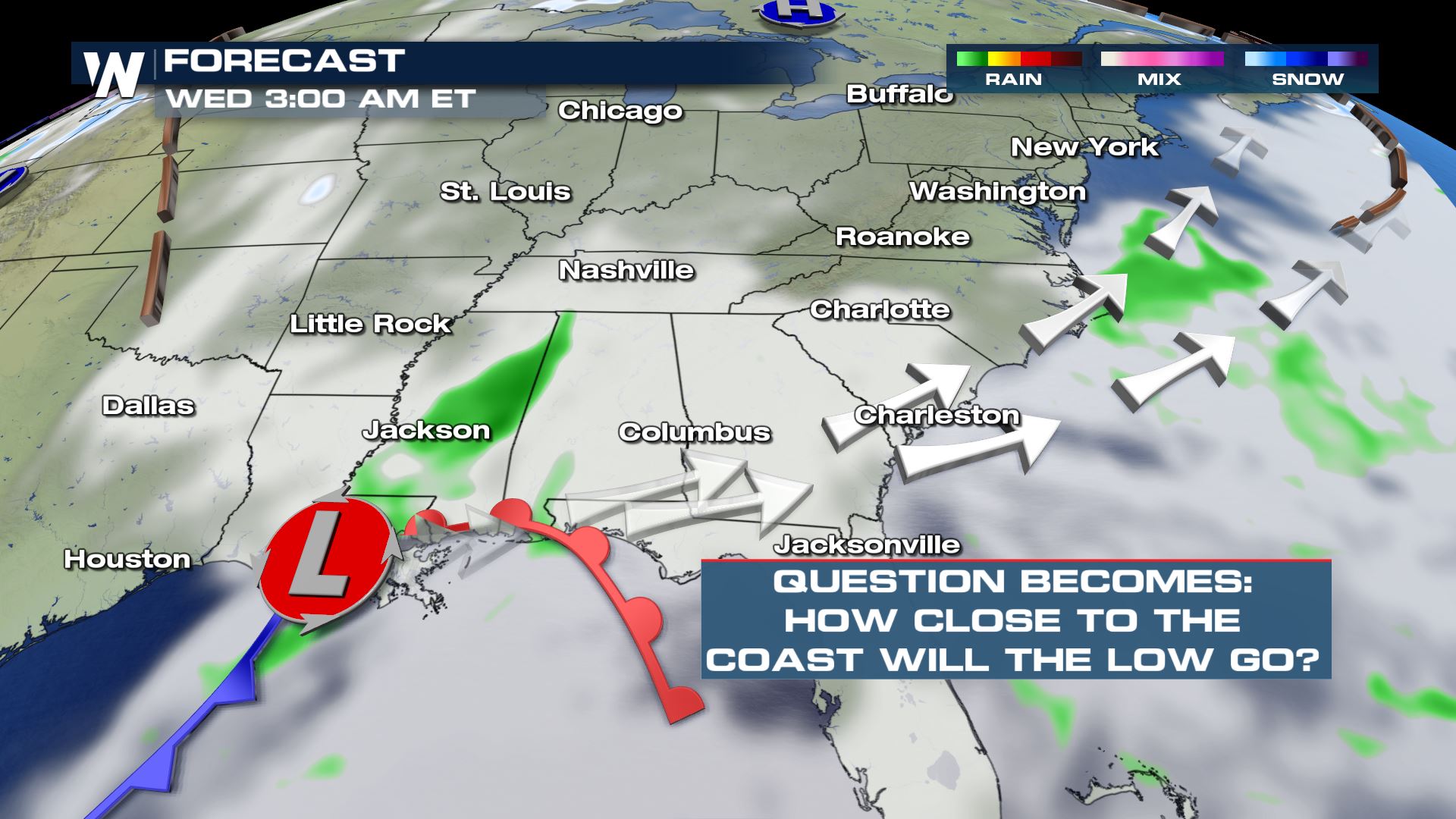 On Tuesday night and early Wednesday, this low pressure system will start to take aim at the mid-Atlantic states. It's then that we will either get a high impact event, if the low pressure center moves closer to the shoreline, or a low impact event, if the low pressure center moves farther away from the coast.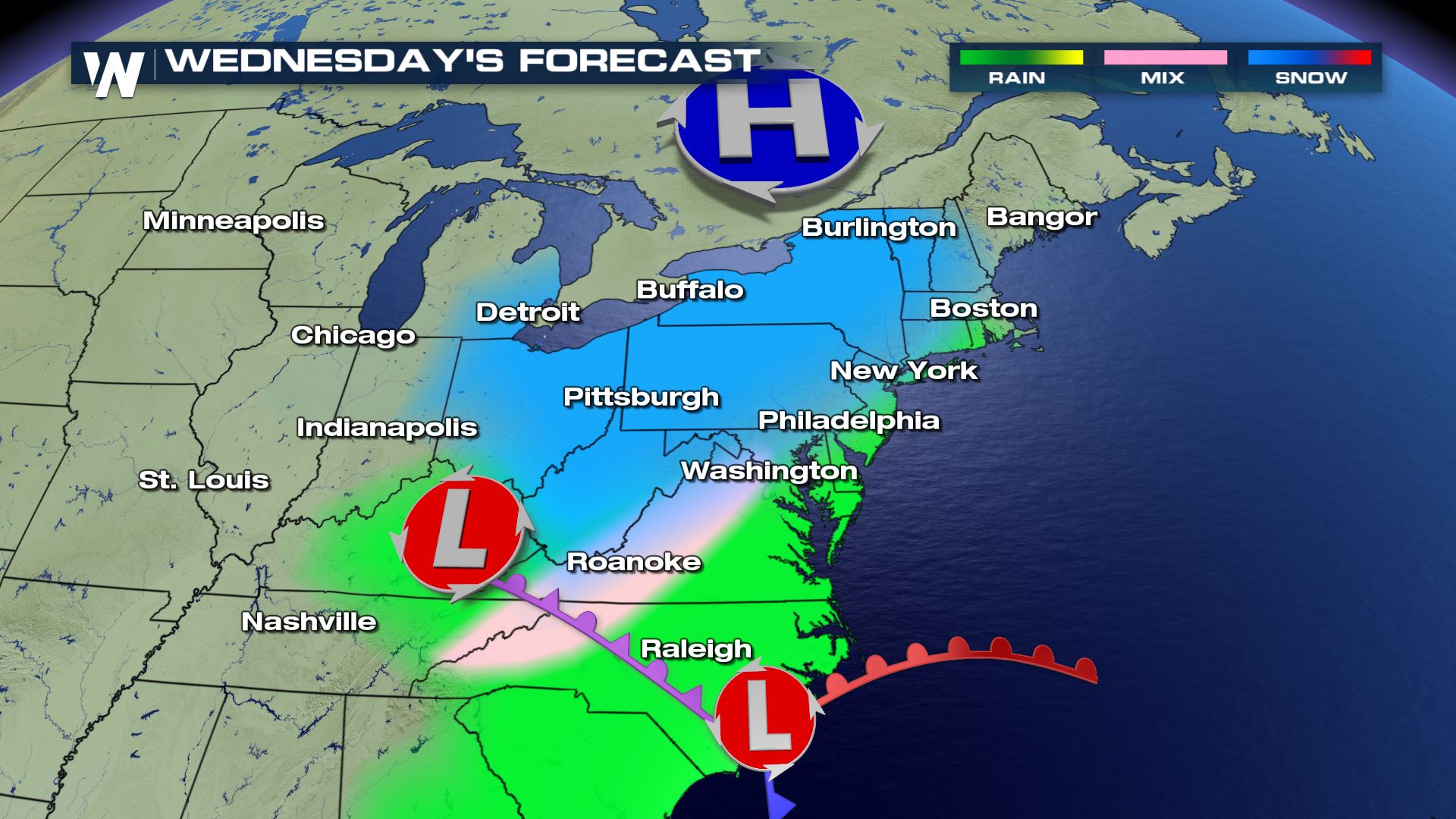 As of the latest forecast, the most likely scenario will be for a couple of areas of low pressure to move across the Southeast U.S. states and bring a wintry mix to the southern Appalachians. Then, the most likely scenario is for heavy precipitation, including snow, to spread across the mid-Atlantic and Appalachian region.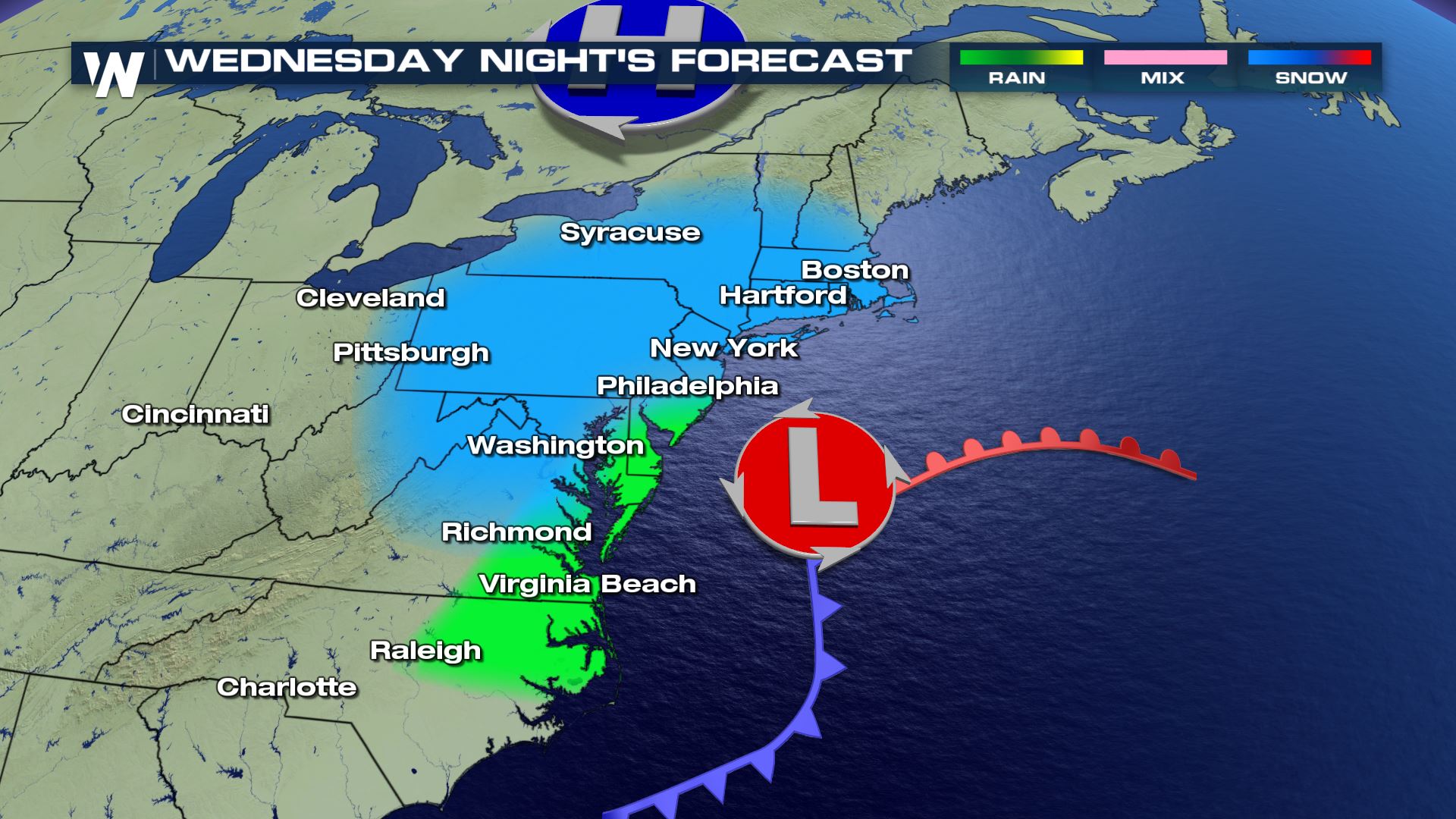 There is considerable weather model agreement that the low pressure center will move just southeast of New Jersey and Long Island Wednesday night into Thursday. If the low pressure center stays close enough to the coast, this could have high impacts. Continue to stay with WeatherNation as we sort out the details regarding the incoming winter storms!