A late season storm is heading to Colorado, and it's about to dump some serious snow on the Rocky Mountains.  This is great news for several reasons.  We'll discuss those reasons in a moment.  But first, let's talk about timing.
TIMING AND SETUP:
The storm system has several low pressure areas.  This will draw moisture up from the Gulf of Mexico, while bringing in colder air from northern regions.  When you combine cold air with moisture, SNOW!  And in this case, plenty of it.  The snow begins on Friday, and continues overnight into Saturday morning.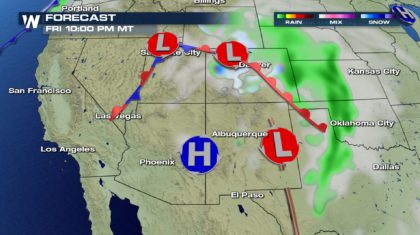 This is going to be a significant storm, producing some rather healthy snowfall totals.  Most areas above 9,000 feet will see between five and ten inches of snow.  There will be some isolated totals near 15 inches.  Winter Storm Advisories and Winter Storm Warnings are in effect through Saturday morning.  Please use extreme caution when traveling in the mountains.  Road closures are possible, and road conditions could become quite hazardous.  Expect travel delays as well.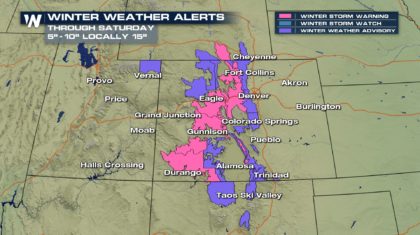 THE GOOD NEWS:
First, it's still ski season in parts of Colorado, and April snow is music to the ears of both skiers and ski resorts.  This is actually the final weekend of skiing for several resorts including Breckenridge, Eldora, and Purgatory.  So the snow will come at a perfect time to cap off this year's season.  Nothing like some fresh powder to end off on a good note!  Winter Park, Loveland, and Arapahoe Basin are all still open as well.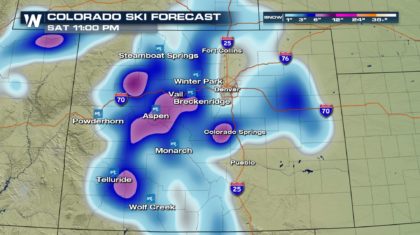 MORE GOOD NEWS:
Colorado's snowpack serves two other very important purposes.  First, snow eventually turns into usable water for residents of the state.  Major cities like Denver and Colorado Springs depend heavily on snowmelt.  And this year, the snowpack is below normal across much of Colorado.  Statewide snowpack is averaging just 69 percent.  Some of southern Colorado's basins are less than one-third of normal levels.  This latest round of snow certainly won't bring snowpack levels back to 100 percent, but every bit of late season snow helps.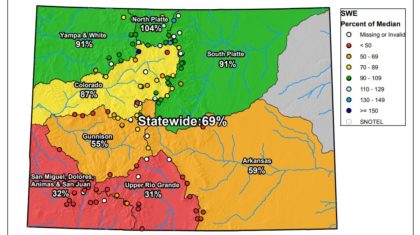 And second, moisture from the snow will also help with fire mitigation.  Check out the drought monitor below.  The southern half of Colorado is in moderate to extreme drought.  Any moisture received now, may help alleviate fire danger later this summer when moisture is scarce, and lightning strikes are common.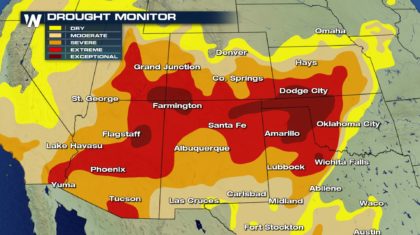 So enjoy what could be the last major round of snow this season.  And drive carefully if you're traveling in the mountains. For WeatherNation:  Meteorologist Matt Monroe