Thunderstorms occur during every month of the year in the United States, but the summertime has more lightning strikes - and deaths - than any other season. In fact, from 2006 to 2019,
more than 70% of the annual lightning deaths
occurred in the months of June, July, and August. Unfortunately, 
four people have already been killed
in the United States by lightning strikes in 2020.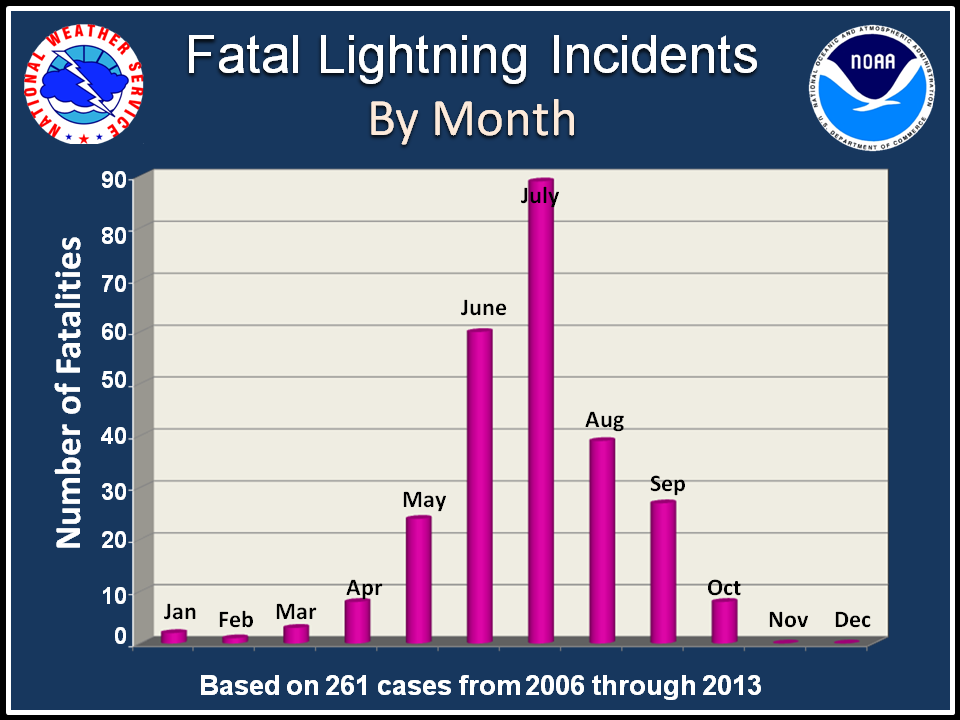 Not only are the summer months the peak of thunderstorm season, but they also tend to be when more people are venturing outside or out on the water. If your plans take you outdoors this summer, be sure to stay aware of thunderstorms in the forecast and avoid being outside when storms are possible. Sometimes, avoiding thunderstorms is difficult or nearly impossible, especially when your plans take you outside over multiple days. You will never be safe outside in a thunderstorm, but here are some tips that will help reduce your risk of being struck by lightning if you can't seek shelter inside a well built structure. For more information about general lightning safety,
check out this article
.
Camping, Hiking, and Other Wilderness Activities
https://twitter.com/NWSCheyenne/status/1273889973289148416 If you're hiking and can't make it back to your car or a sturdy structure, head downhill and away from peaks or ridge tops. Do not stop moving if you're in an exposed area or an open field.
Avoid open shelters, picnic pavilions, caves, and tents.  These are not safe and may increase your chance of being struck indirectly or directly by lightning.
Stay away from water, including low lying areas and puddles.
Take shelter in a group of smaller trees among larger trees. Lone larger trees and small groups of trees should be avoided.
Shed all metal objects you may have including frame backpacks, trekking poles, crampons, jewelry, and pocket change.
As a last resort, crouch down on the balls of your feet, keeping them close together and cover your ears. This position is called a lightning crouch and is the last resort when lightning threatens.
If you feel hairs on your head, legs, or arms tingling and/or standing on end, it means the electrical field for a lightning strike may be in place.  If you feel this, take action immediately to reduce your chances of being struck by lightning.  Move away from tall conductors of electricity and adopt the "lighting crouch" position.
If you're camping near your vehicle or a structure with plumbing or wiring, get to those shelters immediately and stay inside for 30 minutes after the last rumble of thunder. Additional information about what to do in the backcountry can be found
here.
Boating and Diving
https://twitter.com/NWSTampaBay/status/1271445784081264650 Thunderstorms are particularly dangerous for boaters. They can form quickly and create dangerous winds, big waves, torrential downpours, waterspouts, and of course, lightning. Have an escape plan if you're going to be out on the water when thunderstorms are possible. For mariners, or recreational boaters caught on open water, know where the safest place is on your vessel.
According to the National Weather Service, "A lightning strike to a vessel can be catastrophic, especially if it results in a fire or loss of electronics.  If your boat has a cabin, stay inside and avoid touching metal or electrical devices. If your boat doesn't have a cabin, stay as low as you can in the boat."
The majority of lightning injuries and deaths occur on small boats without a cabin. Large boats, especially those with cabins or lightning protection equipment, are relatively safe. Once inside the boats cabin, stay away from metal surfaces and off the radio unless it's an emergency.
If you're scuba diving and the boat you are in does not have a cabin, you are safer diving deep into the water for the duration of the storm or as long as possible.