https://twitter.com/NWSWPC/status/1339153718227443713 A major winter storm is set to hit the Northeast over the next 48 hours. Max snow totals could top out in the one to two foot range in some of the same spots impacted by a
storm on Monday
. Stay with WeatherNation for constant updates as any small variation in track could mean big changes for the forecast.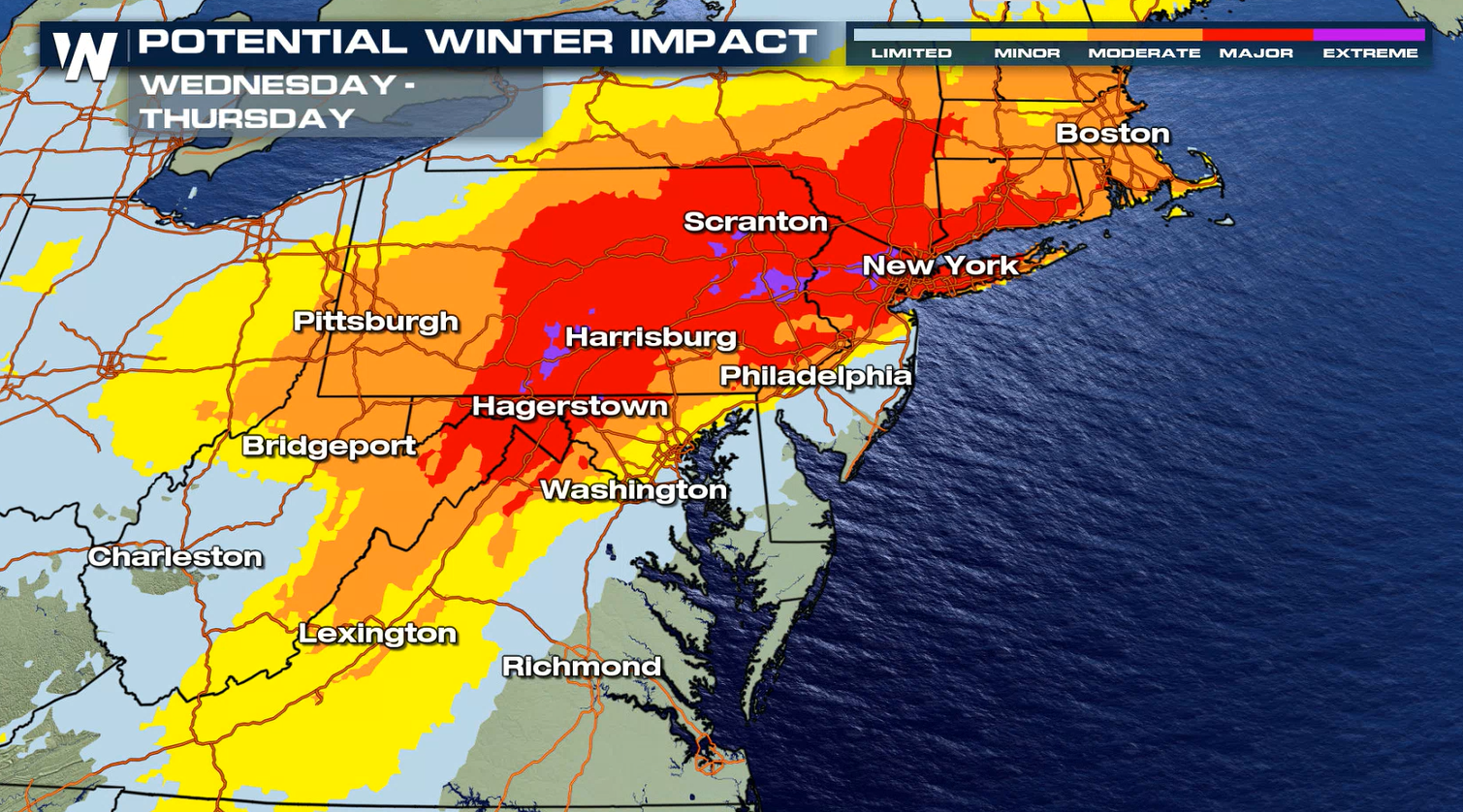 Winter Alerts
As an area of low pressure builds off the South Carolina coast, a potent upper level trough will swing across the United States. After bringing snow to the West and
south central Plains
, a wintry mix will build in the Mid-South and Mid-Atlantic first. Cold air spilling in from a ridge to the north will keep temperatures around the freezing mark in the Mid-Atlantic, but it will be fighting milder air coming in with the storm from the south. This could mean a chance for freezing rain and ice accumulations at or above 0.10".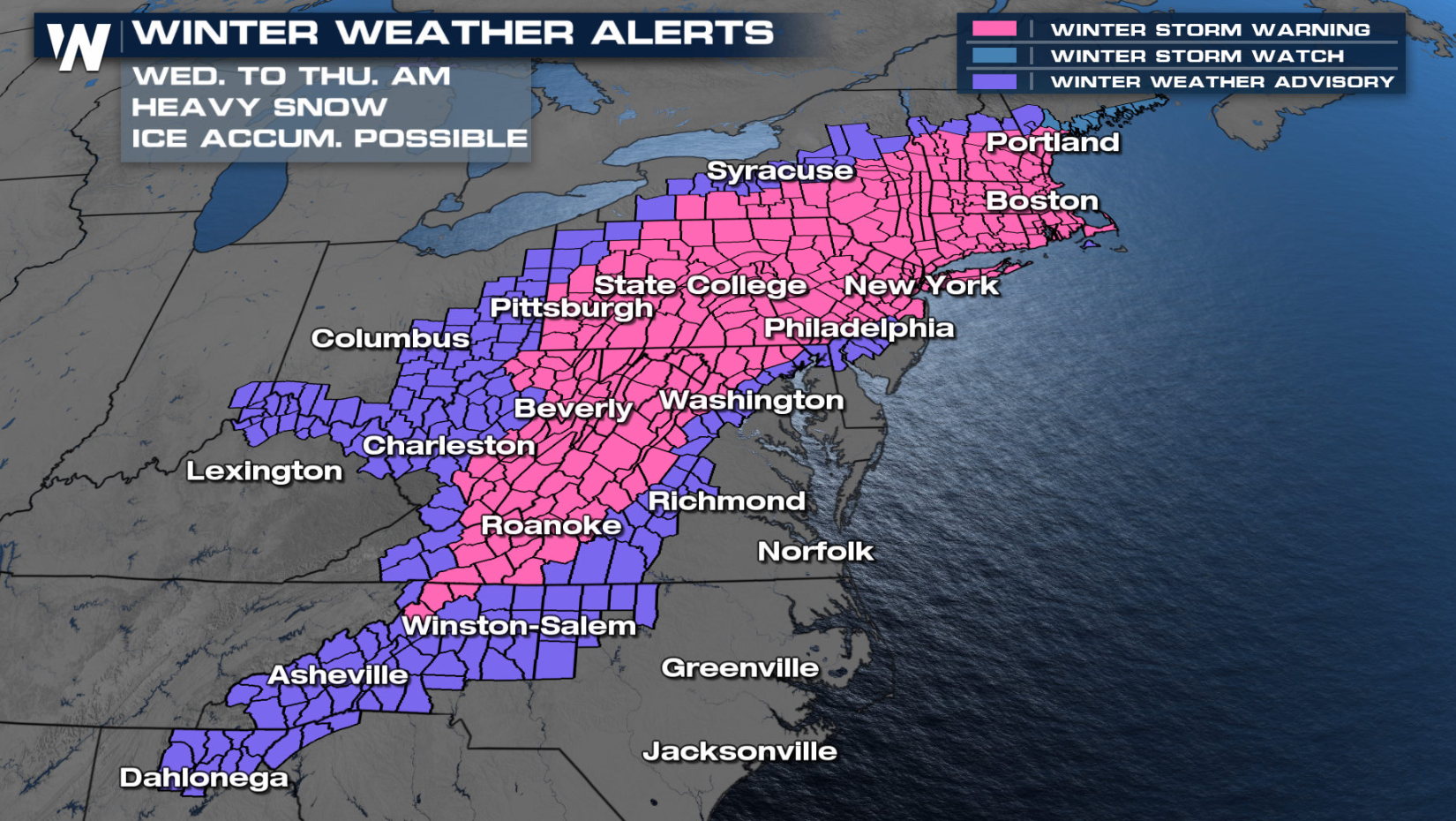 In the Ohio Valley, where temperatures are a bit cooler to the north, moisture will quickly transition to snow. Below is the latest model forecasts, with
a closer look at timing and precipitation type
.
Forecast
By the afternoon, snow is expected to fill in through southern Ohio, and the Southern Appalachians of West Virginia, Virginia and Pennsylvania.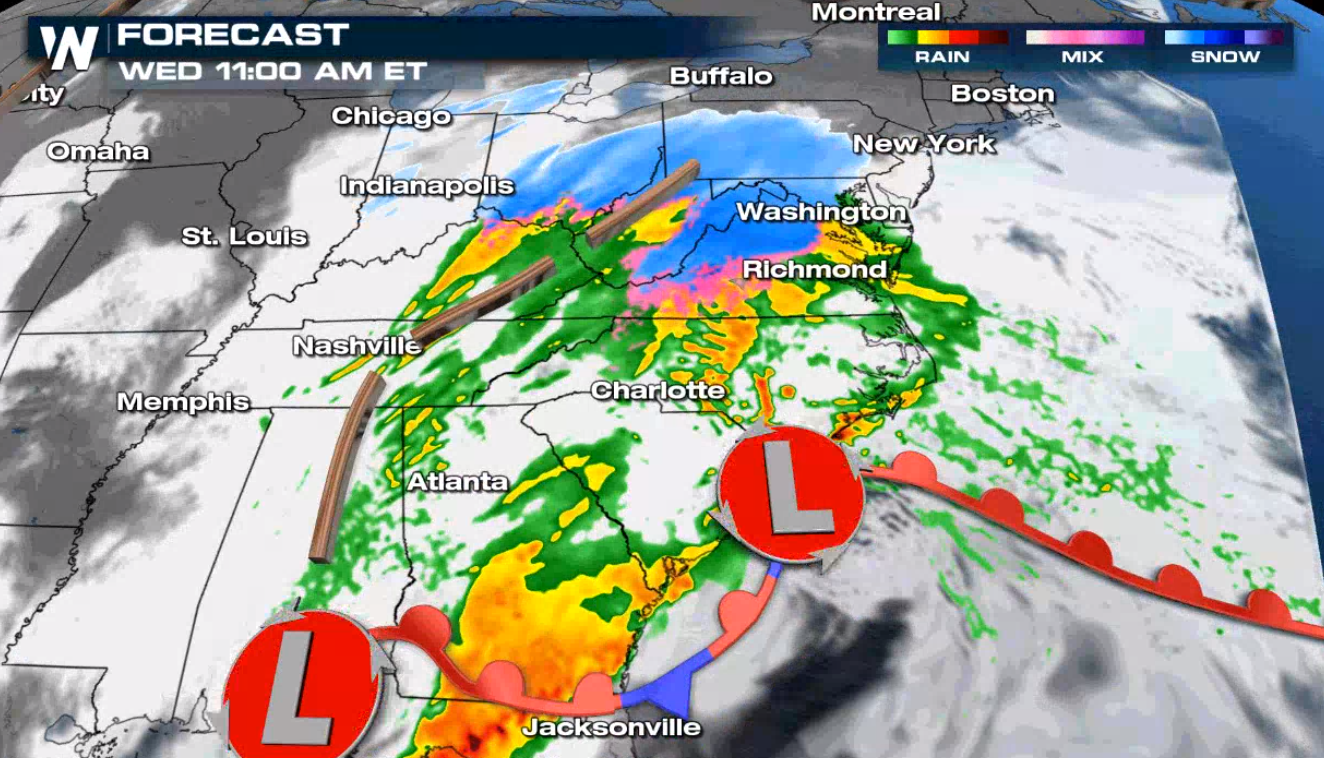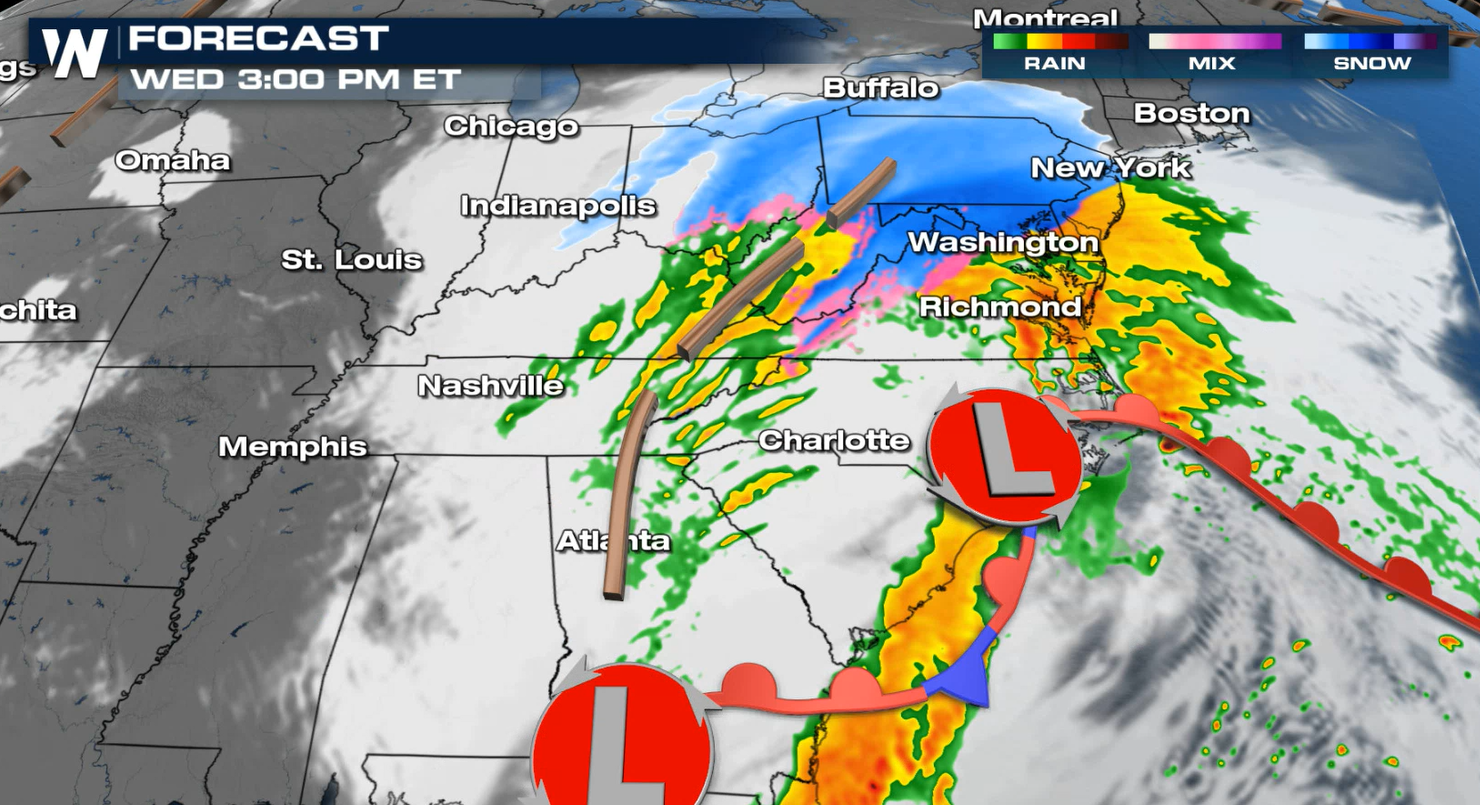 By Wednesday evening and night, snow will extend as far north as Cleveland, Ohio; all of Pennsylvania, and into northern New Jersey, New York, Connecticut, etc. pick up on the snow too.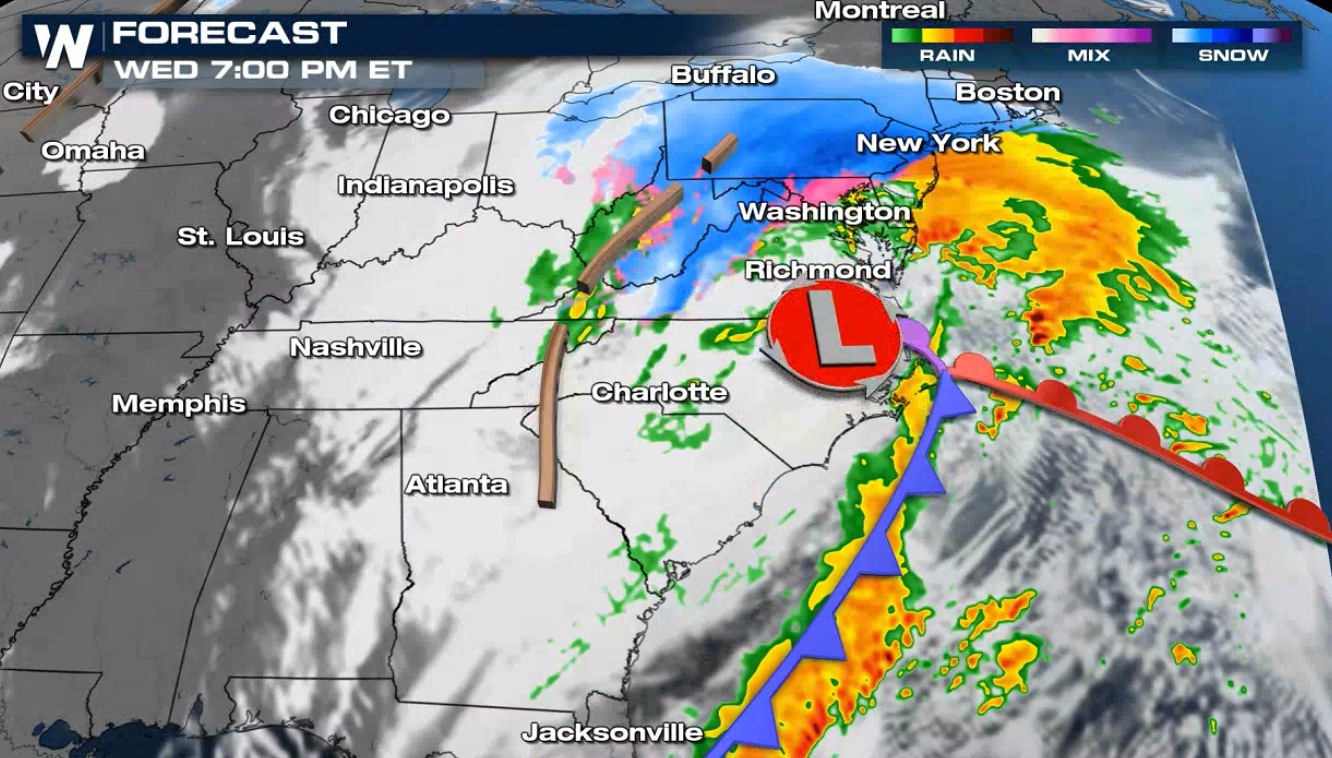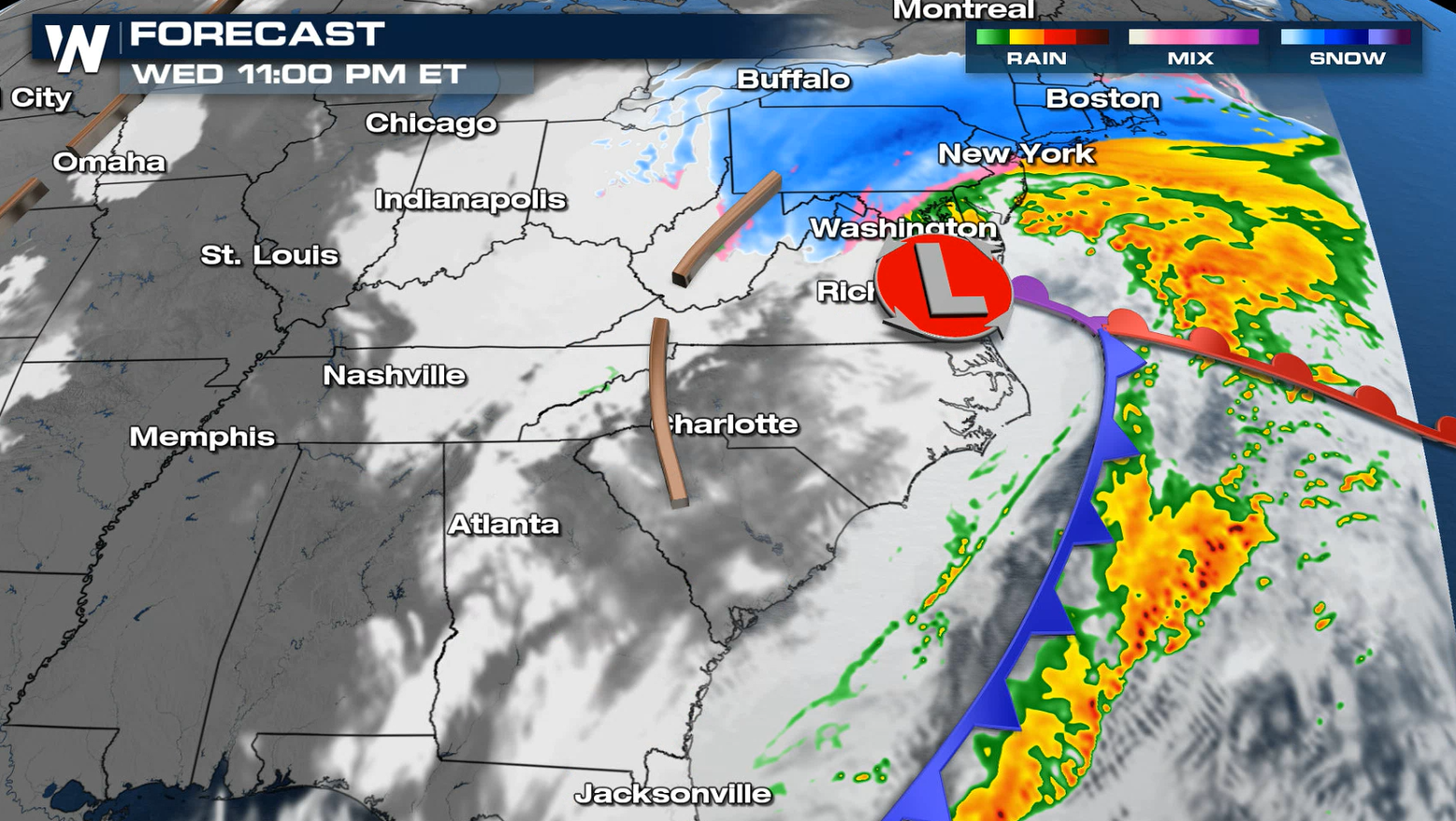 As the system progresses north overnight, the snow will push through Pennsylvania and into the metro I-95 corridor. Snow will change to rain/wintry mix will also push north as temperatures are boosted above freezing by southerly winds.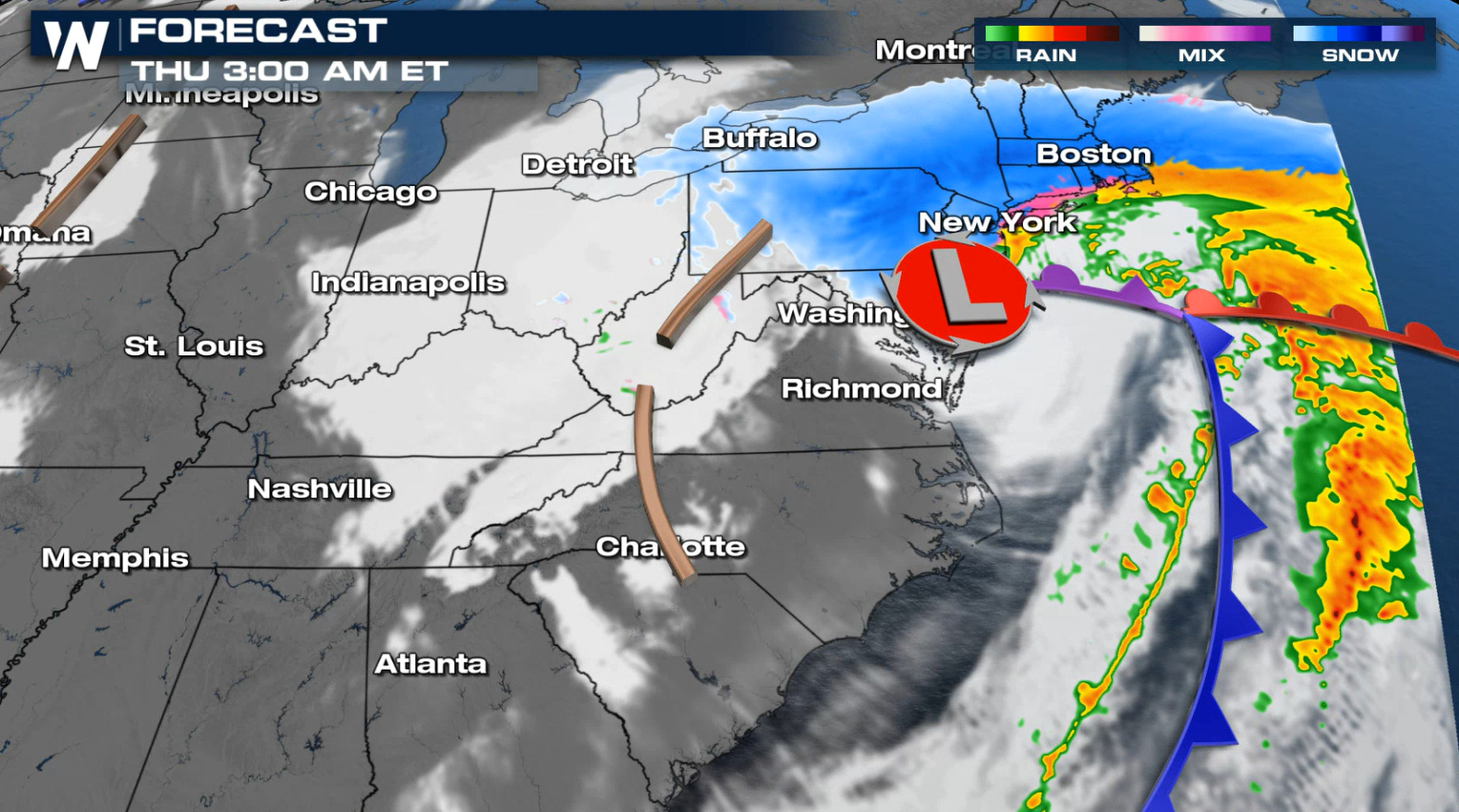 Snowfall rates could be an inch an hour or more. The potent nature of the storm and the clash of the cold, dry air from the north and the warm moist air from the south with destabilize the atmosphere. We can't rule out thundersnow and near zero visibility as the storm rolls through.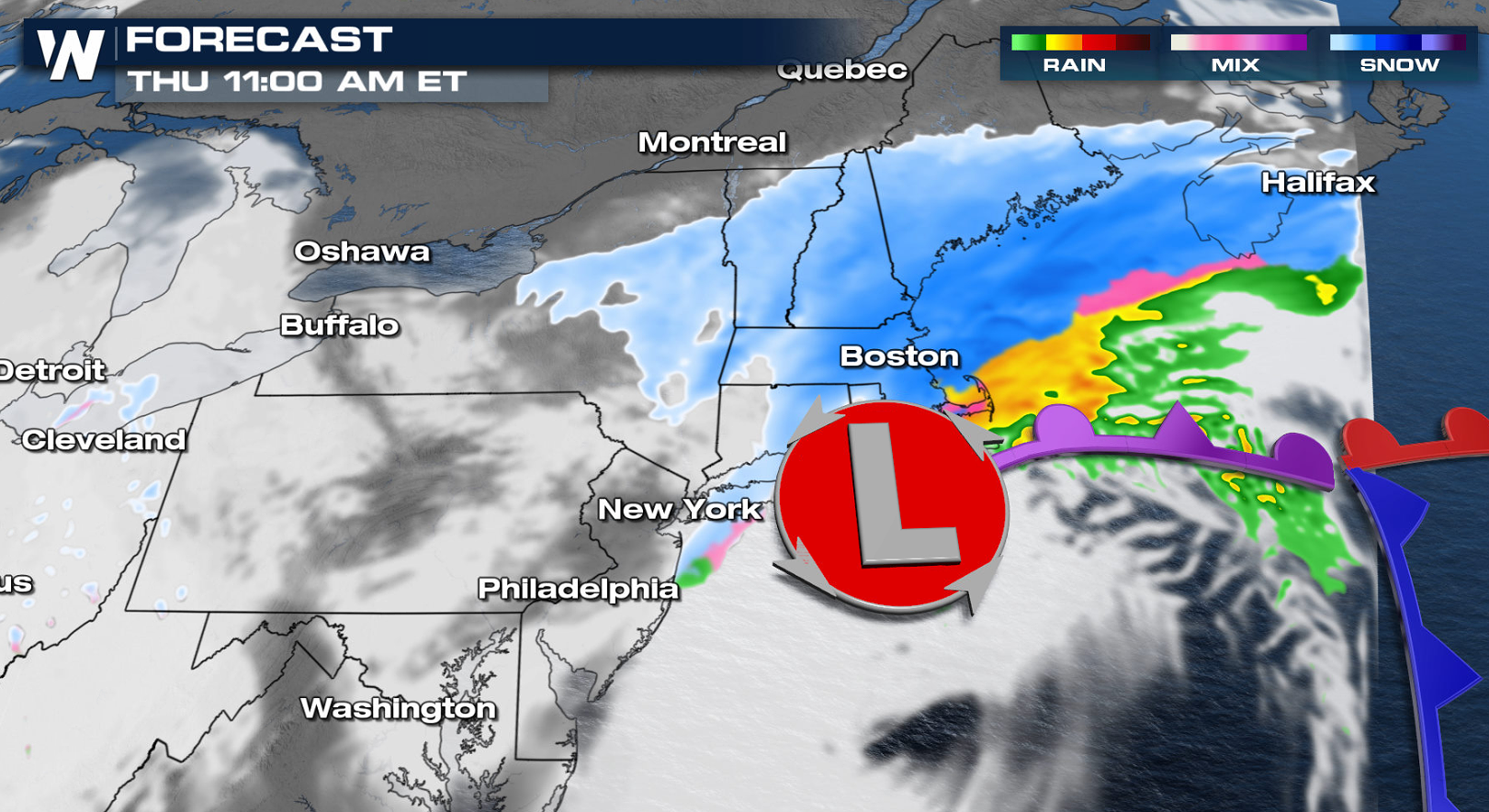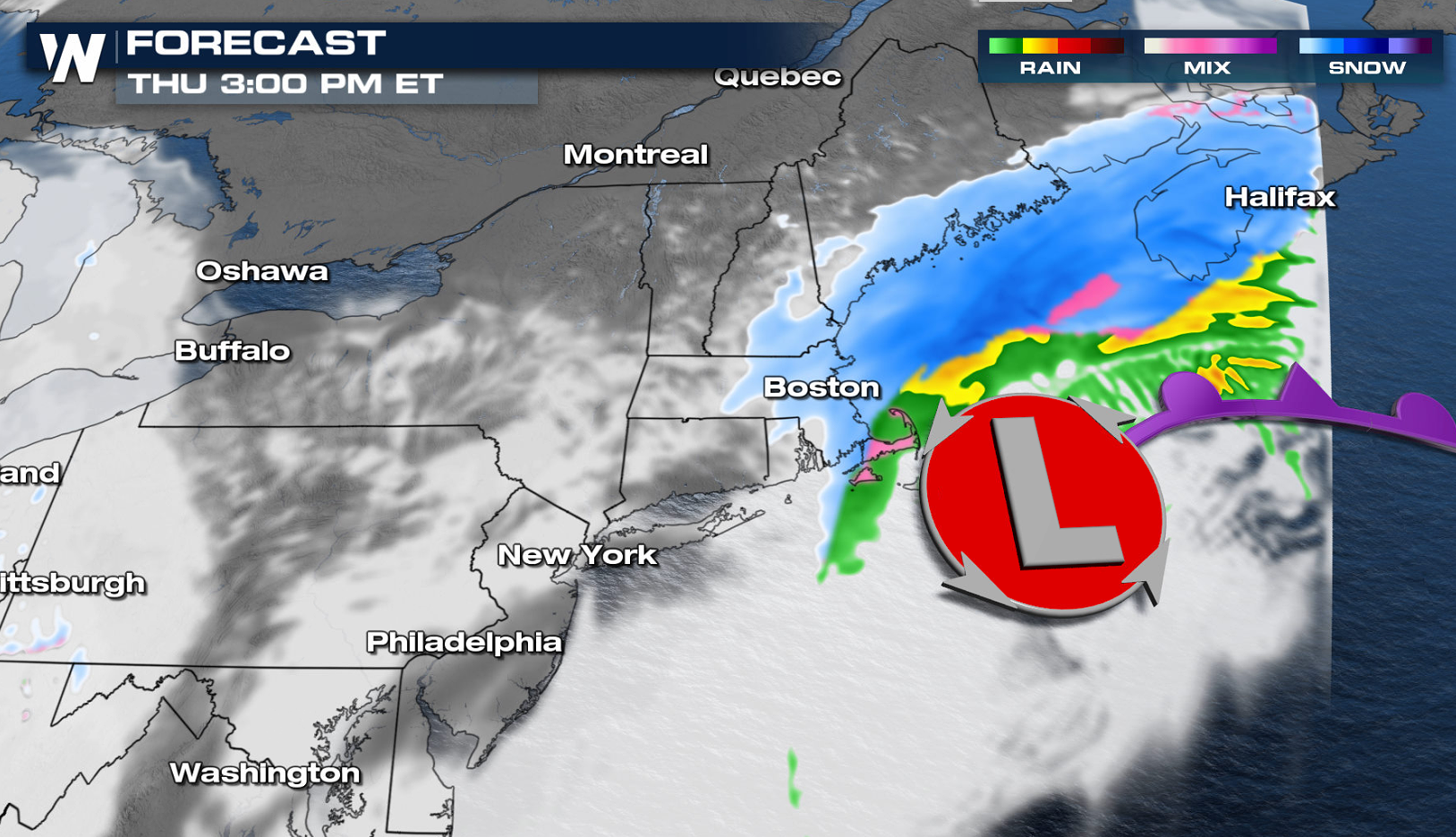 By Thursday afternoon, snow will reach the Boston area. Heaviest accumulations there will be through midday and Thursday afternoon. Coastal areas will struggle nailing down precipitation type. Rain and wintry mix will be the dominant force, limiting snow totals. We will also be watching the trademark northeasterly winds for any flooding and erosion impacts as water is pushed on shore.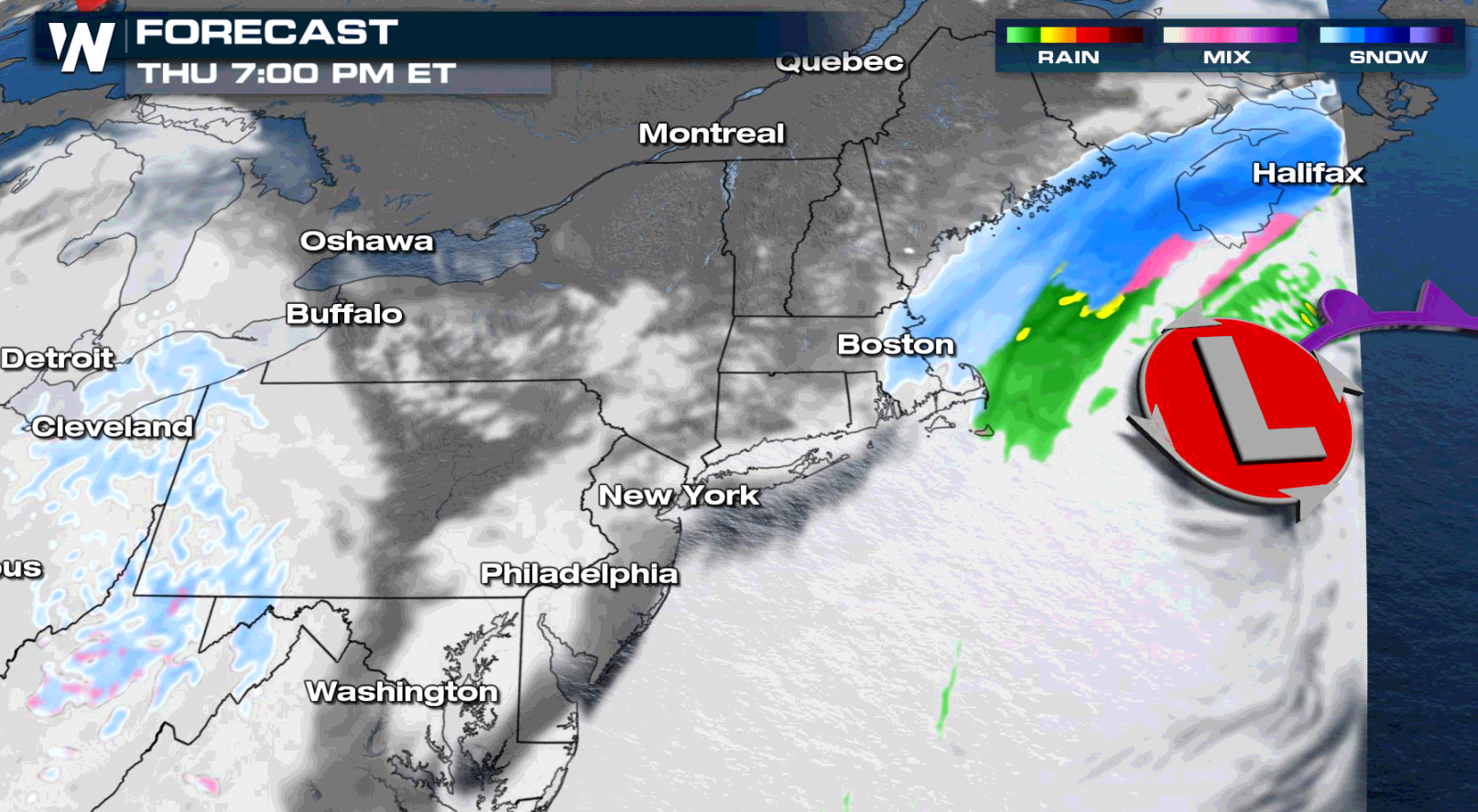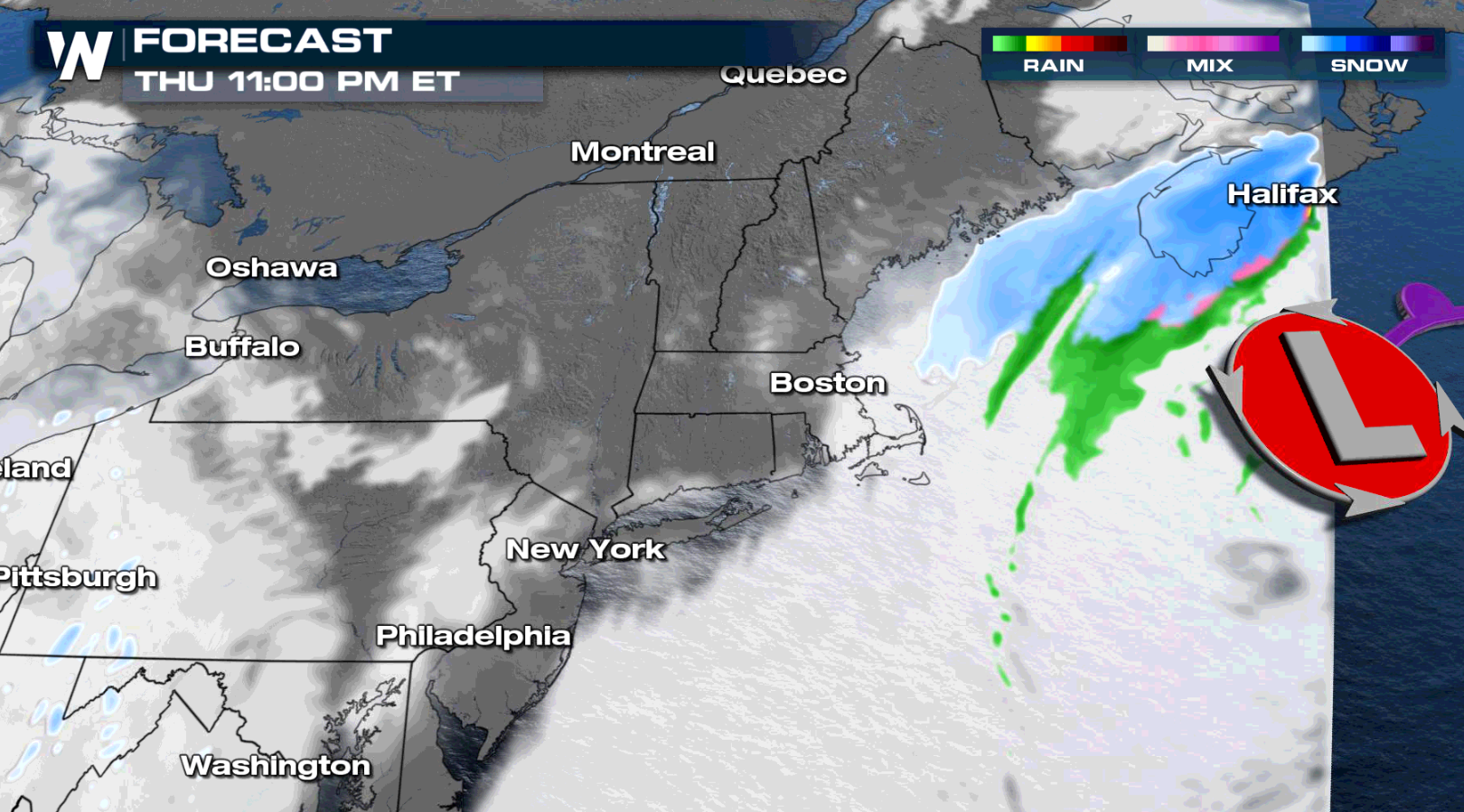 Snow totals will be highest farther inland, west of the I-95 corridor. Model consensus has a swath of one to two feet of snow possible from West Virginia to Connecticut. The image below also includes Monday's snowfall forecast. We STRESS, these are preliminary forecast totals. A lot can change in the next 48 hours, so please check in often for updates.
Snowfall Forecast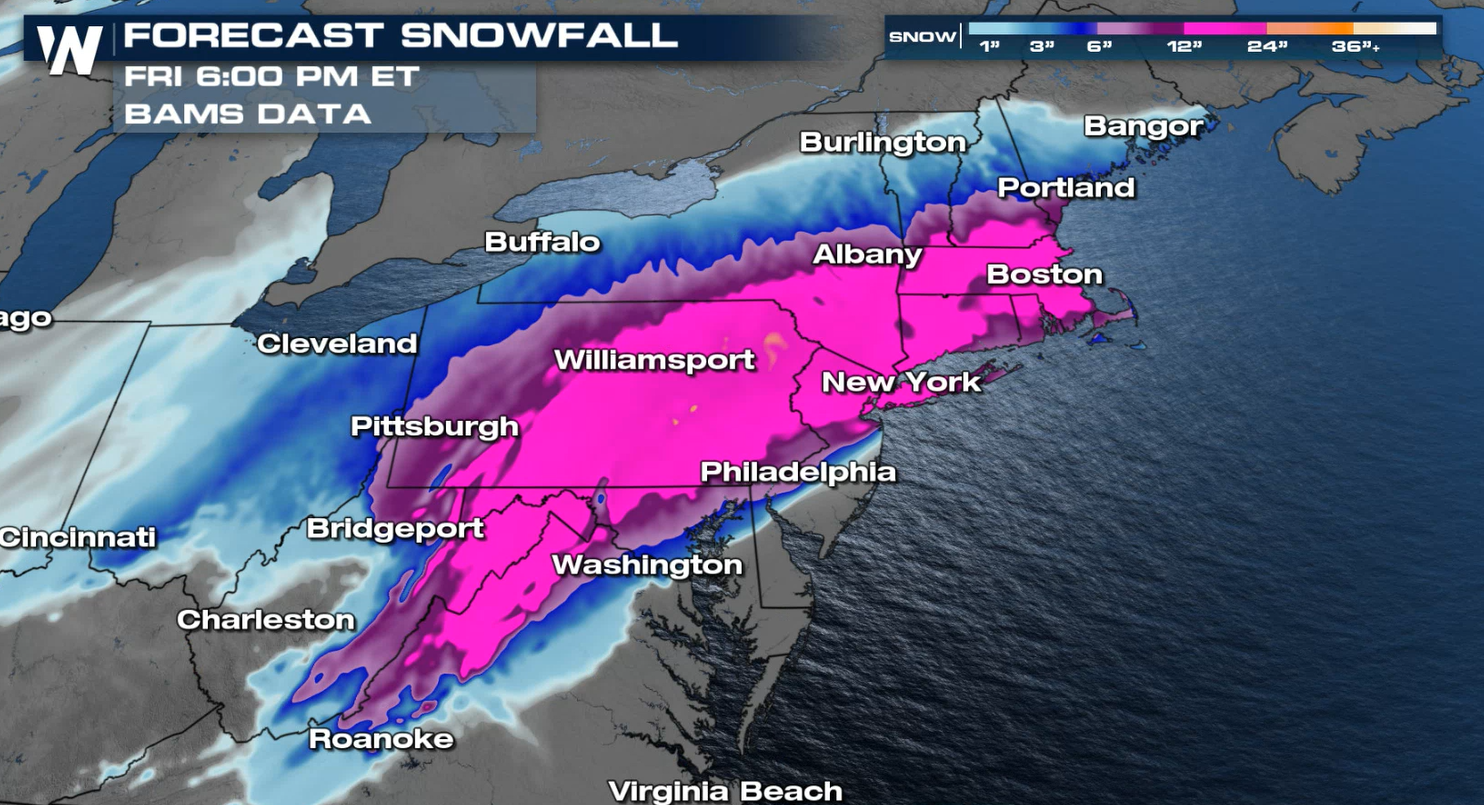 Ice Forecast
Ice will also be a factor with this weather system
. Areas of Virginia, North Carolina and West Virginia could see ice accumulation leading to power outages and travel hazards.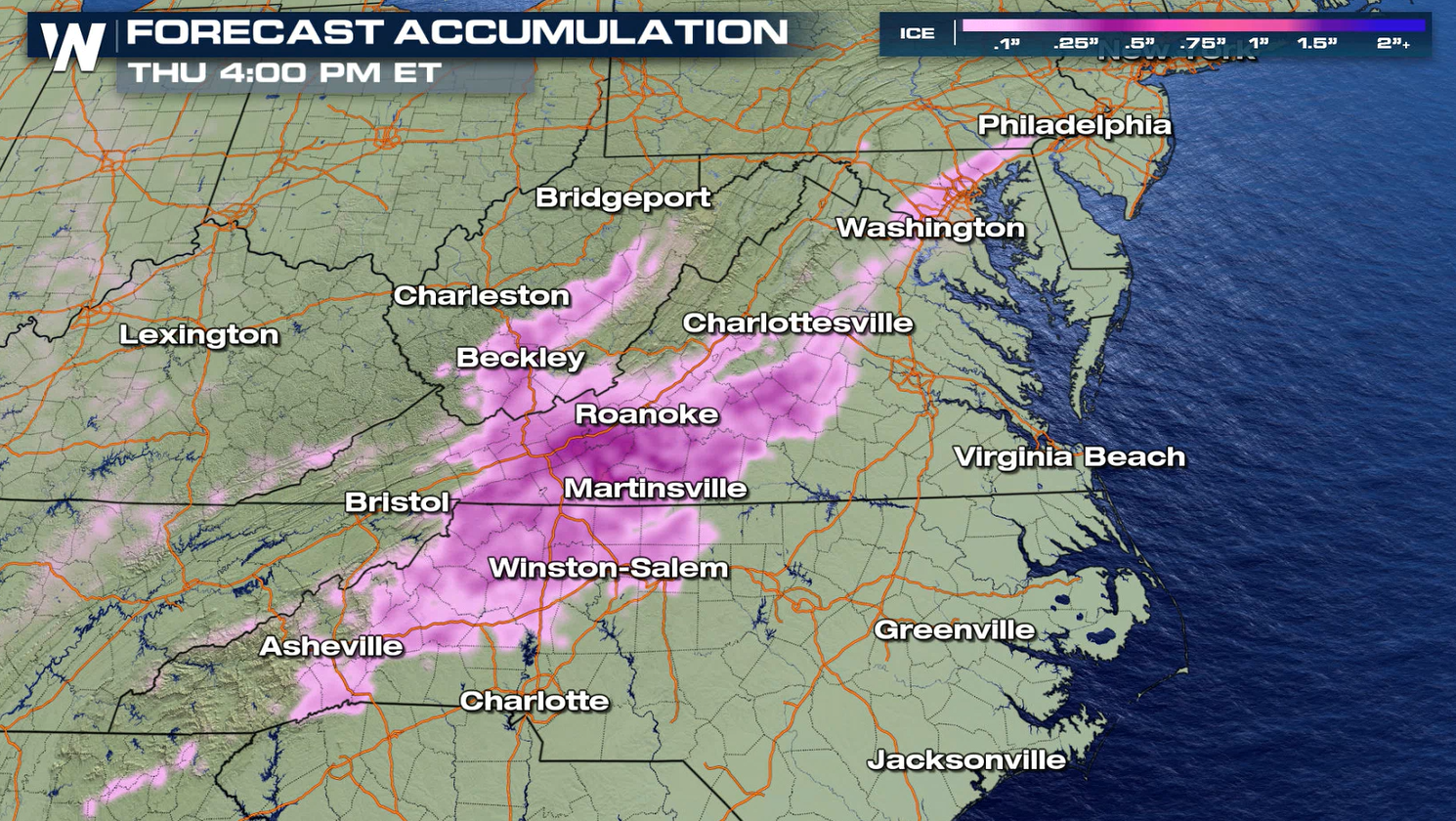 More updates on this storm are on the way all day on WeatherNation.