As if the eastern U.S. hasn't seen enough rain and snow lately, another system is going to bring another round of moisture into the weekend.  Most areas will see rain.  But parts of the Great Lakes will see a little light snow. The system will form in the Gulf of Mexico later this week.  By Friday, the storm will spread rain from Florida to Pennsylvania.  Eventually, the rain will advance father to the north, and fall on areas with existing snowpack.  This could cause flooding to occur as the snowmelt combines with the rain.  There could also be coastal flooding and river flooding where the rainfall is heavy. Snowfall from this system will be confined to the western great lakes region.  And totals there should be remain relatively light.  Just a few inches are expected.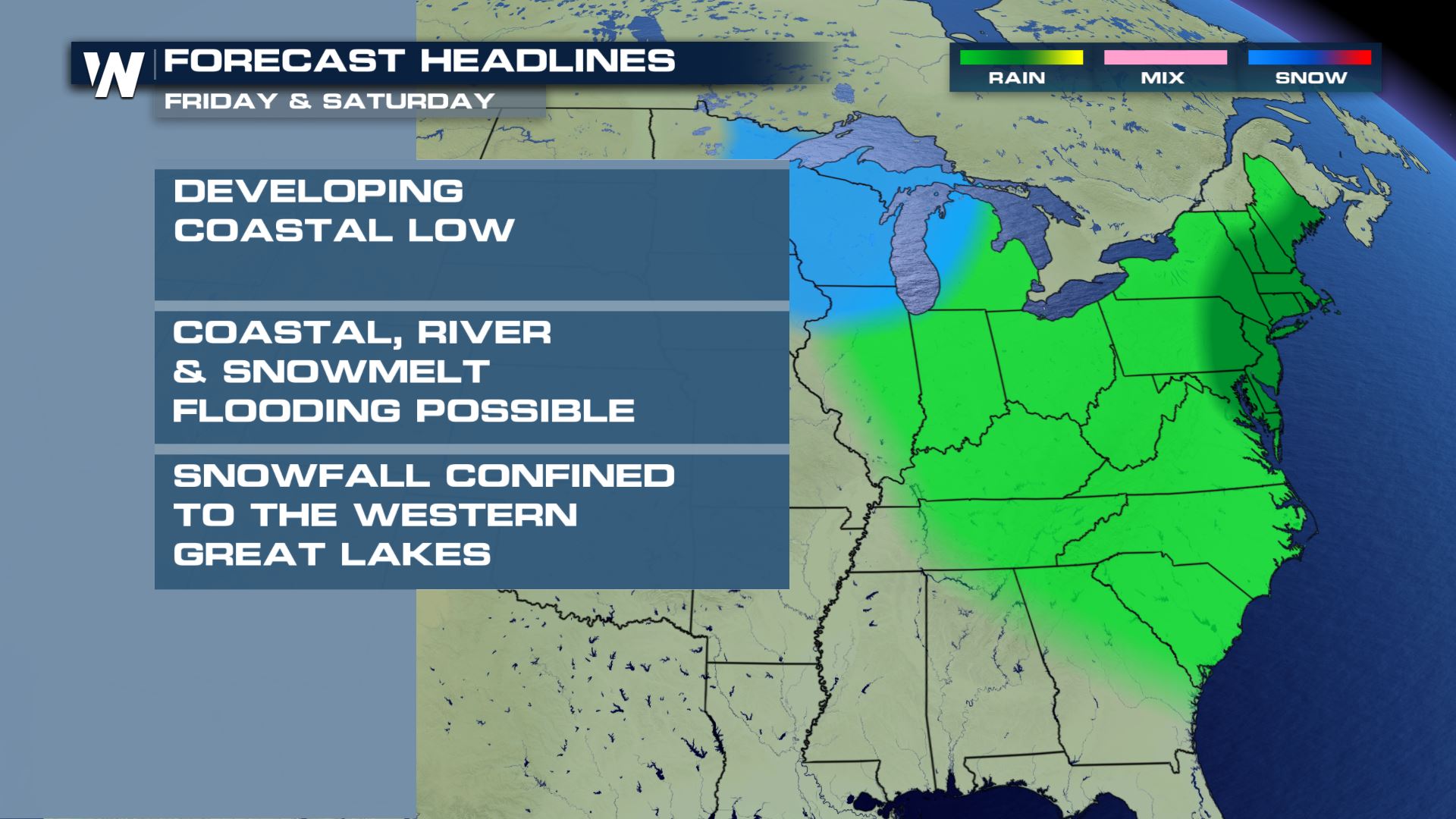 On Friday, the center of the storm system will be in the northeastern Gulf of Mexico.  At that point, it will be close enough to the coastline to pull moisture off the Atlantic Ocean, spreading rain from Florida, up through the Carolinas and the Tennessee Valley, into Virginia and Pennsylvania.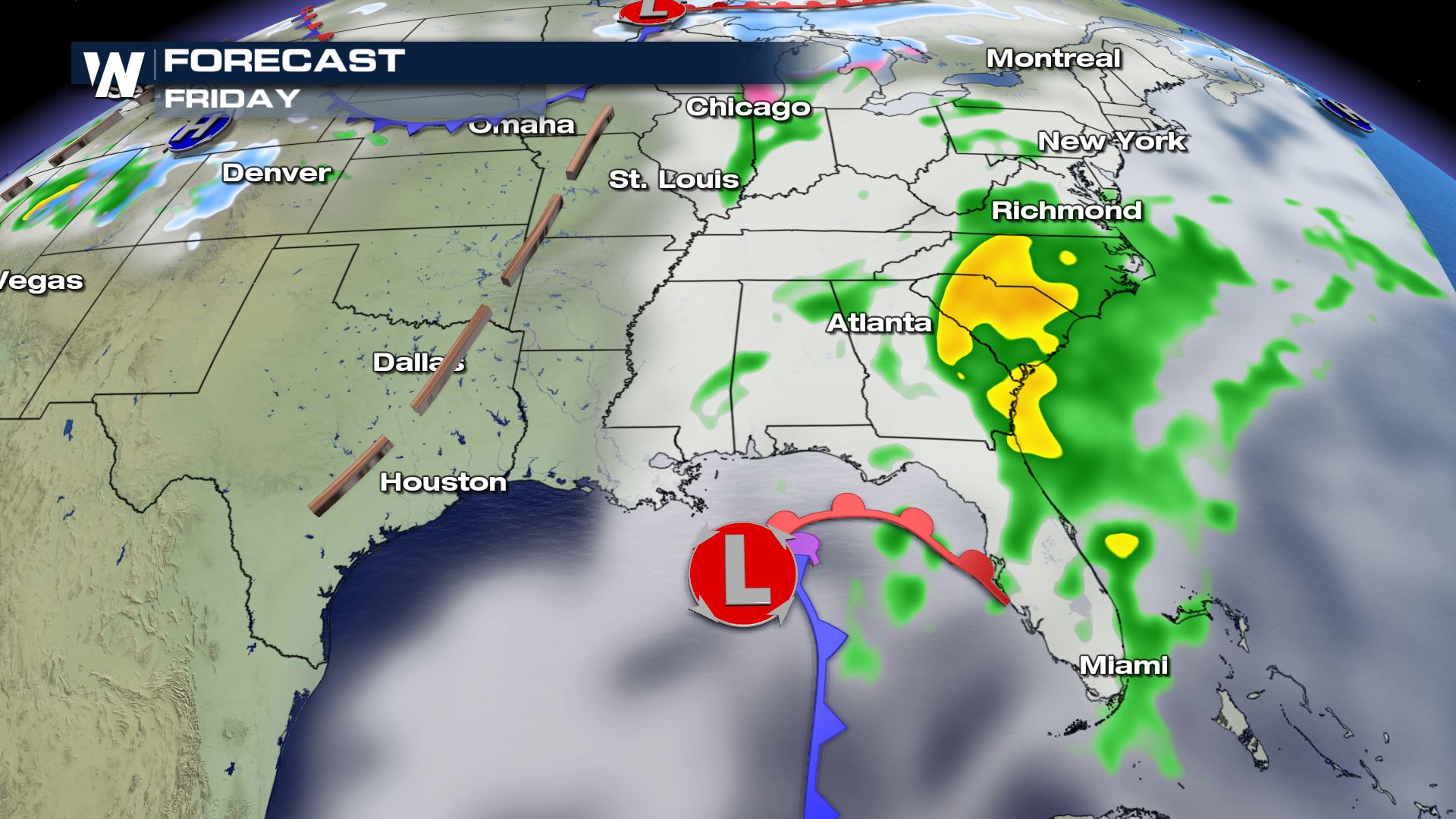 Soaking rain will be possible in all areas shaded in green in the graphic below.  However, rainfall could be the heaviest in the Carolinas, Georgia, and northern Florida.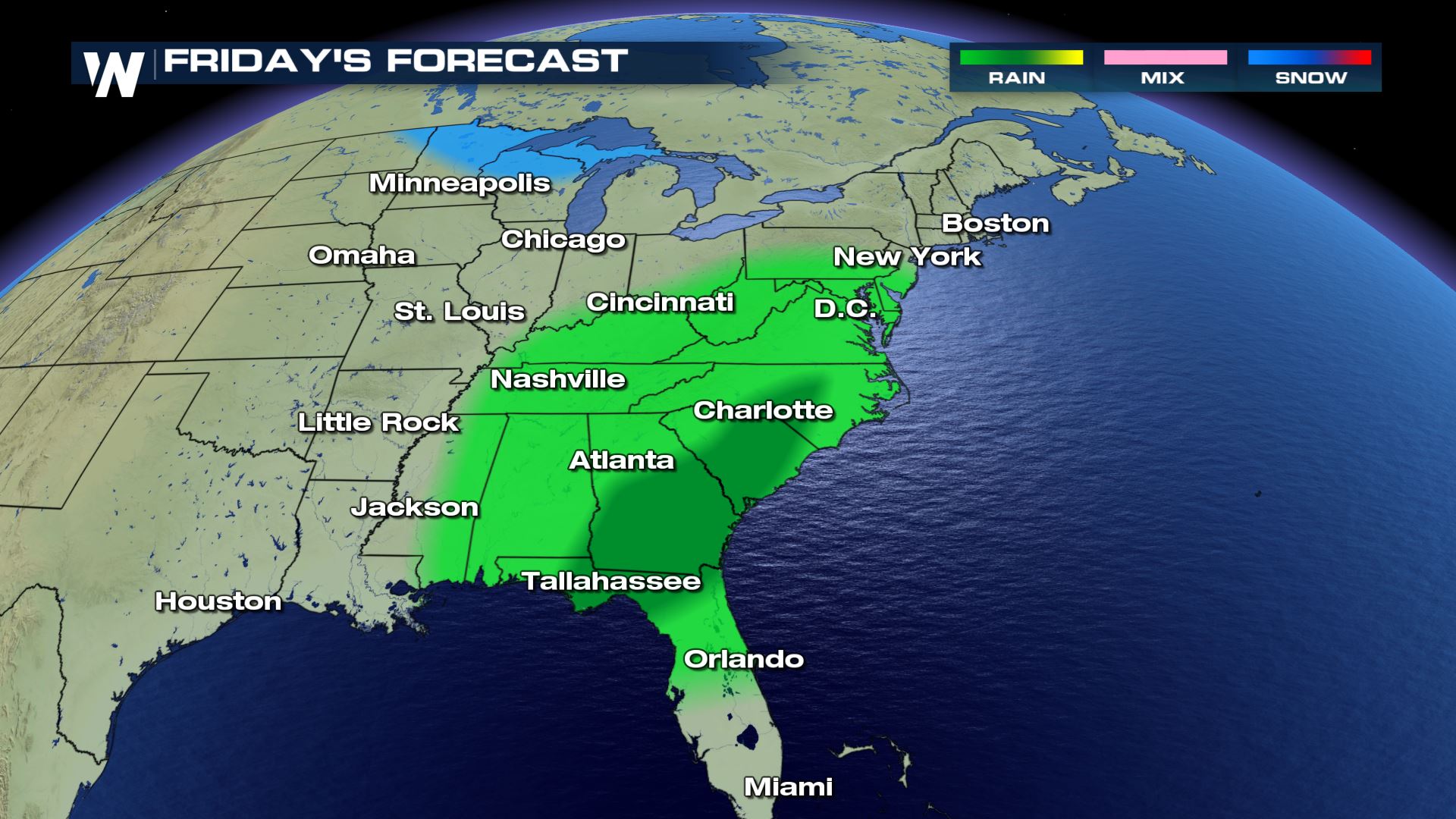 By Saturday, the center of the storm will rapidly make its way up the east coast.  It essentially will become a weak Nor'easter, and spread rain farther to the north, all the way into Maine.  There will also be fairly strong winds around the low pressure center.  Expect gusty winds from Long Island, all the way up the coastline into Maine.  This includes Boston and Cape Cod.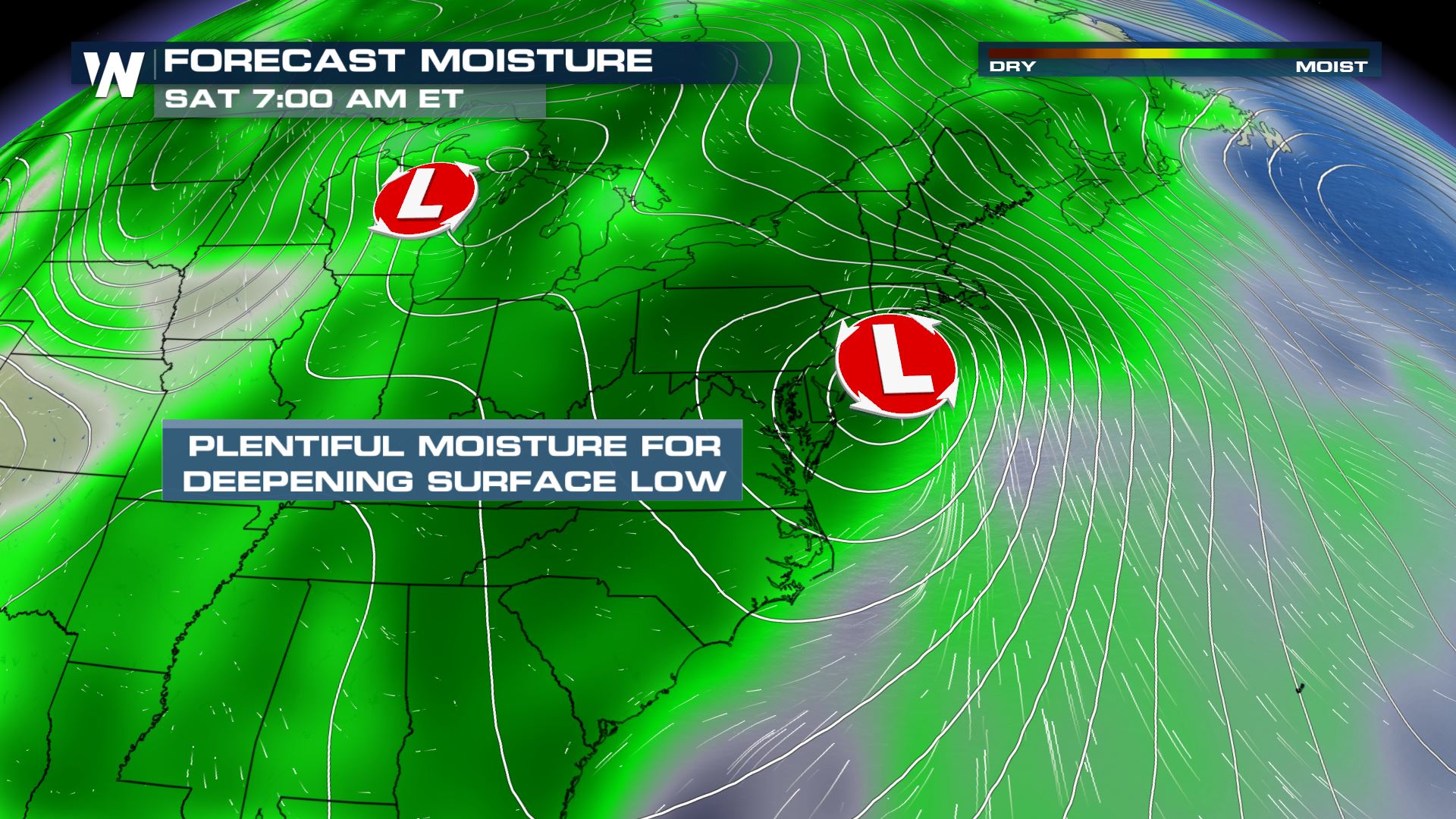 On Saturday, rain and gusty winds will be the primary story with this storm.  However, on the backside of the system, snow will be possible.  Eastern Minnesota and Iowa, Wisconsin, and western Michigan will see light snow.  Chicago will be right on the rain/snow line.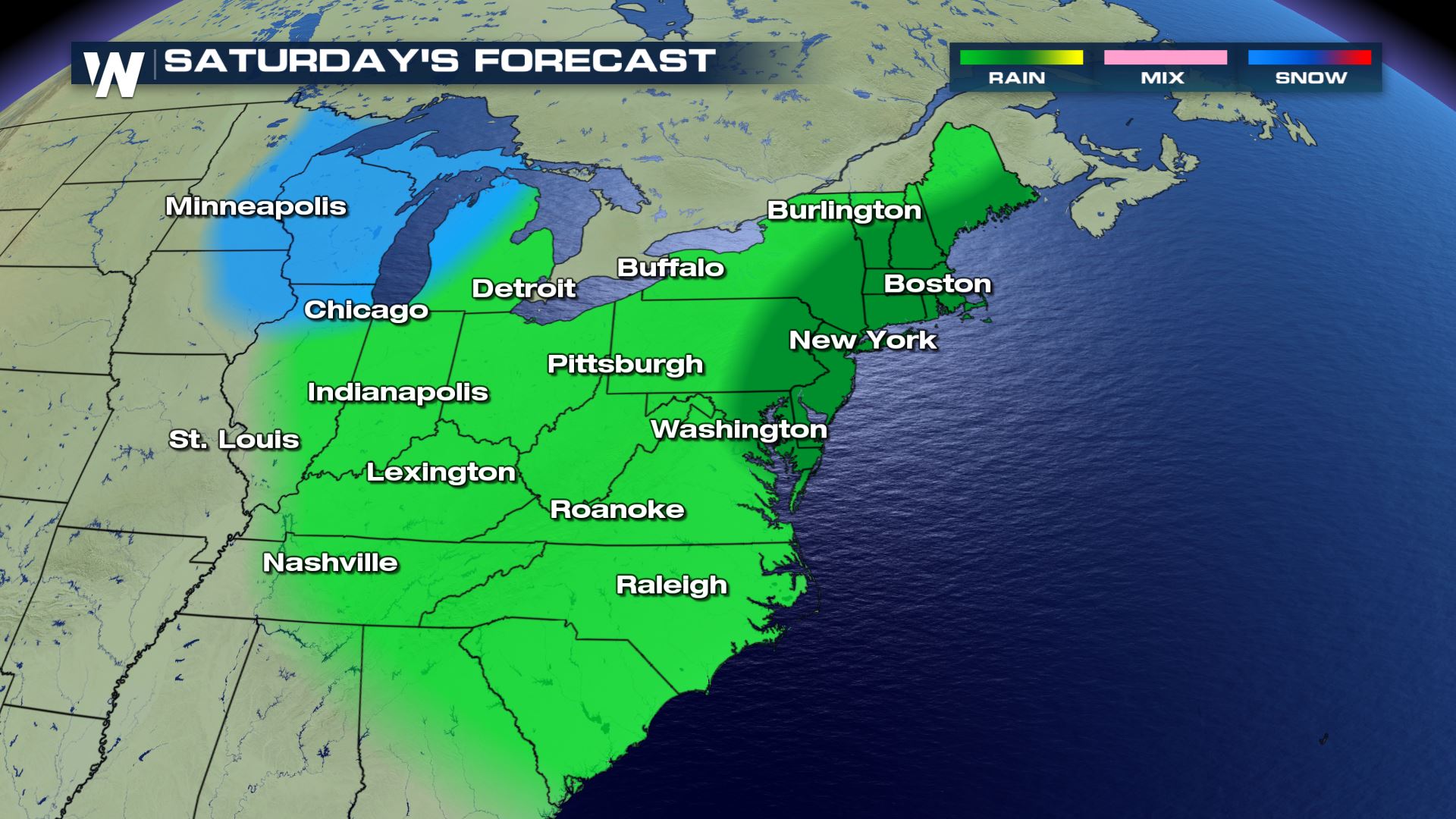 While this storm is not expected to have major impacts on the eastern U.S., millions of people will be under clouds and showers.  Rain will fall on cities from Charlotte, to Washington D.C., to Providence, Rhode Island.  Below are the forecasts for those three cities.  The quick moving storm will begin on Friday, and conclude on Saturday.  Most areas will enjoy a nice sunny finish to the weekend after the storm passes.