The start to Atlantic Hurricane Season is just a few days away, with the Eastern Pacific Hurricane Season already underway! The National Oceanic and Atmospheric Administration (
NOAA
) has released their 2022 forecast for the season. In combination with scientists at the Climate Prediction Center (
CPC
) and the National Hurricane Center (
NHC
), they expect this year to be above average for the number of tropical cyclones. This year, NOAA is calling for: an ABOVE average season with: 14-21 named storms, 6-10 hurricanes and 3-6 of those becoming major hurricanes. An "average" hurricane season is one where there are: 14 named storms, 7 of which become hurricanes, and 3 of
those
which become major hurricanes (category 3 or higher).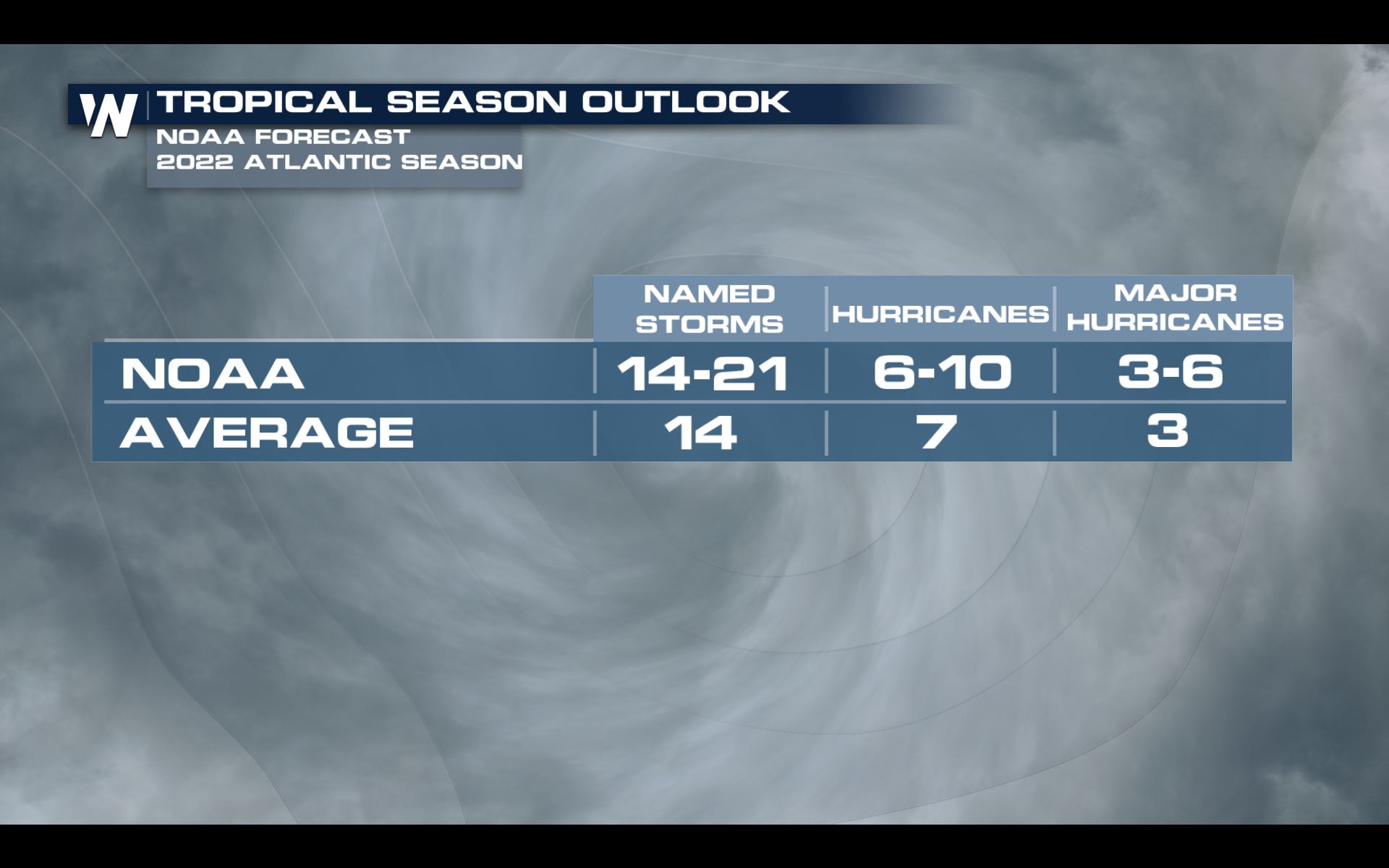 Forecasters predict a 65% chance of an above-normal season, a 25% chance of a near-normal season, and a 10% chance of a below-normal season. https://twitter.com/NOAA/status/1529123058858053638 Forecasters at Colorado State University are also calling for an above average season. Forecasters call on the ongoing "La Nina"  in the Pacific ocean and above average sea temperatures as contributing to the above-average season prediction.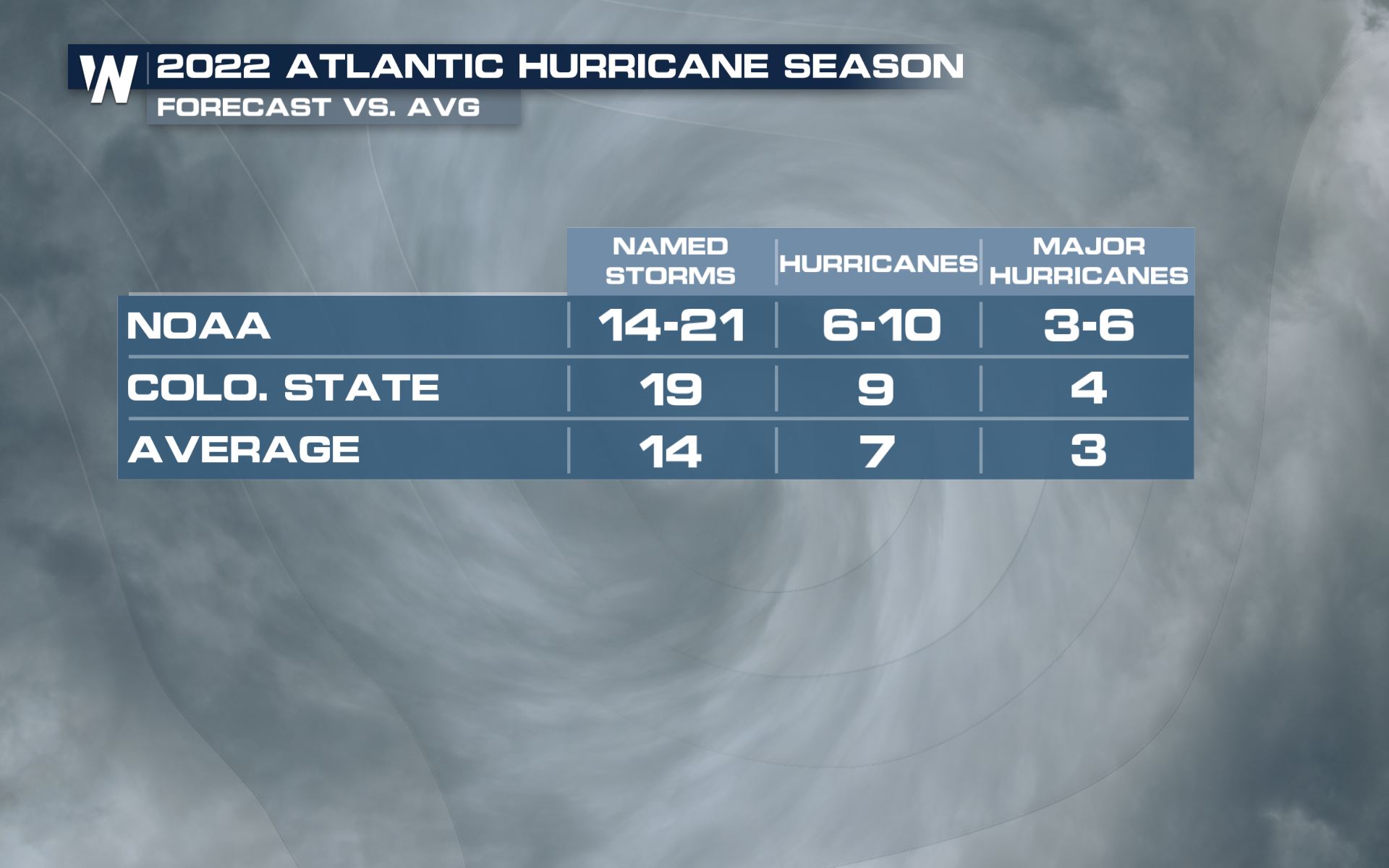 To recap last year's forecast, NOAA called for 13-20 named storms, 6-10 of which will become hurricanes, and 3-5 of which could become major hurricanes. Official numbers came out to 21 named storms, 7 hurricanes and 4 major hurricanes. Overall, NOAA's 2021 forecast was pretty accurate. No matter what the forecast calls for, it is so important to
be prepared for the season ahead
. Even if just one storm makes landfall where you are it will be "a bad season" for you. Always take steps to prepare for the worst case scenario. NOAA Administrator Rick Spinrad, Ph.D. wants to remind you that "
it only takes one",
"As we reflect on another potentially busy hurricane season, past storms — such as Superstorm Sandy, which devastated the New York metro area ten years ago — remind us that the impact of one storm can be felt for years ... Since Sandy, NOAA's forecasting accuracy has continued to improve, allowing us to better predict the impacts of major hurricanes to lives and livelihoods."
CENTRAL PACIFIC OUTLOOK
NOAA, NWS Honolulu and the Central Pacific Hurricane Center have also posted their
hurricane outlook for the central Pacific basin
. They are predicting that this hurricane season will be near or below normal with the amount of Tropical Cyclones to develop, with 2-4 anticipated. An "average" season has 4 or 5 tropical cyclones.
"This year we are predicting less activity in the Central Pacific region compared to normal seasons," said Matthew Rosencrans, NOAA's lead seasonal hurricane forecaster at the Climate Prediction Center. "The ongoing La Niña is likely to cause strong vertical wind shear making it more difficult for hurricanes to develop or move into the Central Pacific Ocean."
For more information on Hawaii's wet and dry season and how to be prepared for this hurricane season, you can follow this
link
to the NWS Honolulu and CPHC Facebook page.